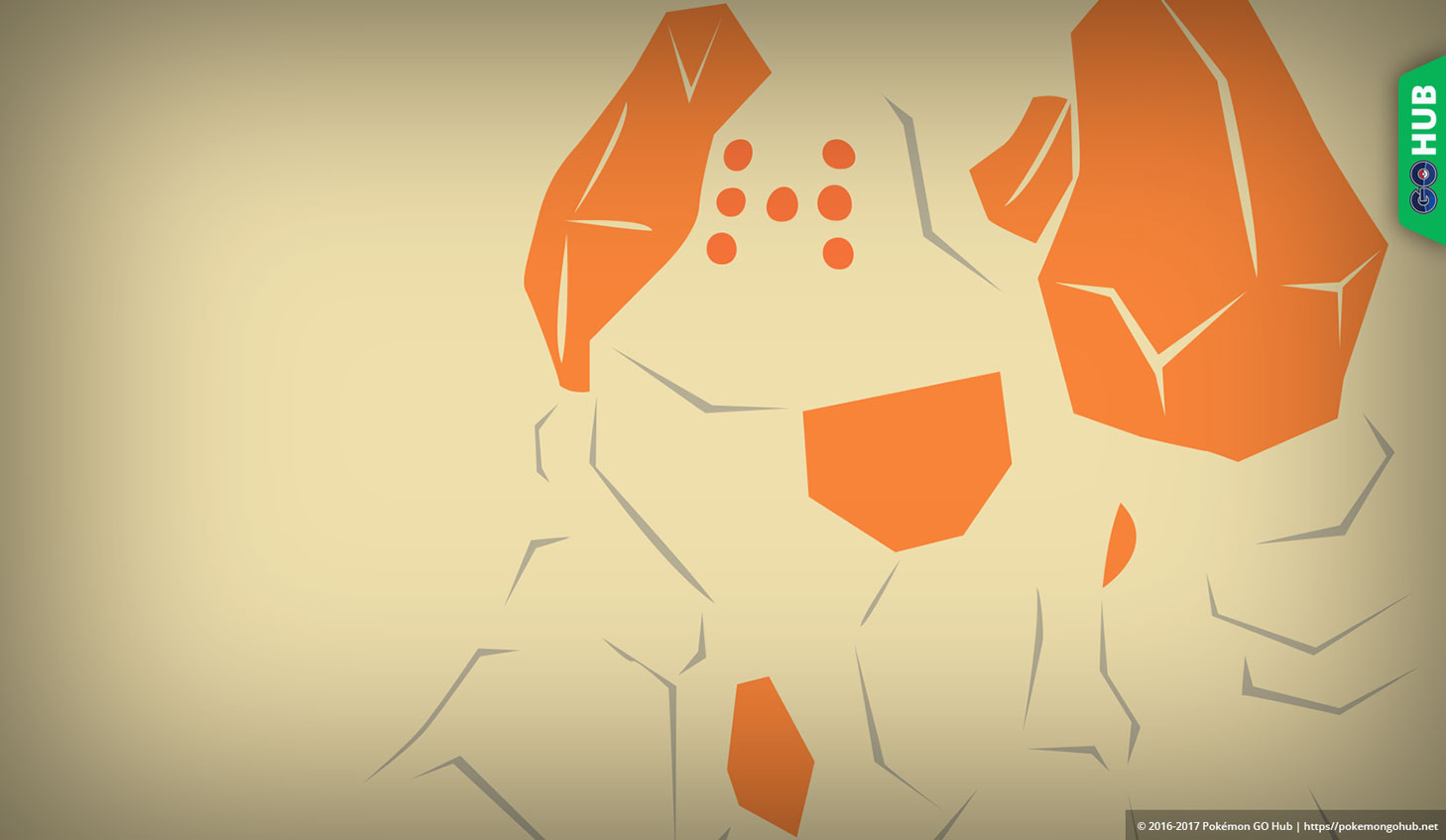 Regirock raid is a level 5 Legendary Raid boss in Pokémon GO, with 41777 Raid Boss CP, a pure Rock typing and interesting moves. Due to it's single type, it is very easy to pick Regirock counters. This page describes best Regirock raid counters, fight and moves overview and Regirock raid IV / CP chart
Regirock max capture combat power is as follows:
1764 CP at L25, perfect IVs
2205 CP in

Partly Cloudy

weather at L25, perfect IVs
In this guide, you will learn which counters are best suited against the Legendary Pokémon, Regirock. To take down Regirock you need a minimum of 4 players, but our recommendation is to go with around 5-7 trainers.
Regirock raid counters
Regirock raid counters encompass a wide variety of Pokemon that deal SE damage to it. Best Pokémon to use against Regirock counters are strong Fighting types as they take reduced / neutral and deal SE damage. Be careful when fighting a Zap Cannon Regirock.
Regirock raid counters
Regirock
Weakness 

Fighting




Ground

Water




Grass

Steel

Boosted by


Partly Cloudy

Best Pokémon vs Regirock
Machamp
Counter

Fighting

Dynamic Punch

Fighting

Best all around counter, takes reduced or neutral damage from all Regirock attacks.
Kyogre
Waterfall

Water

Hydro Pump

Water

Best in

Rainy

weather if Regirock doesn't have Zap Cannon.
Hariyama
Counter

Fighting

Dynamic Punch

Fighting

Similar to Machamp, but a little less powerful.
Groudon
Mud Shot

Ground

Solar Beam

Ground

Very strong in

Sunny

weather, on par with Fighting types.
Heracross
Counter

Fighting

Close Combat

Fighting

Exeggutor
Bullet Seed

Grass

Solar Beam

Grass

Vaporeon
Water Gun

Water

Hydro Pump

Water

Breloom
Counter

Fighting

Dynamic Punch

Fighting

Poliwrath
Rock Smash

Fighting

Dynamic Punch

Fighting
Important note: do not use Gyarados against Regirock as it takes double super effective damage from Zap Cannon and super effective damage from all Rock moves.
Our choice of Fighting counters is not surprising as Regirock has access to the following moves:
Rock Throw

Rock

Rock Smash

Fighting

Stone Edge

Rock

(1 bar, charged)
Focus Blast

Fighting

(1 bar, charged)
Zap Cannon

Electric

(1 bar, charged)
Fighting type Pokémon take reduced damage from Rock attack, making them the best overall Regirock counter choices. If possible, always fill your front line with Machamps, Hariyamas, Brelooms and even Heracross.
Kyogre and Vaporeon, despite taking SE damage from Zap Cannon, are bulky enough to deal a considerable amount of damage. In the Ground and Grass department, we'd recommend Groudon with Solar Beam and Exeggutor, while Rhydon is a budget version of Groudon (yes, you can finally use your 100% IV Surf Rhydon here!).
Additional Regirock Counters
Mewtwo with Focus Blast

Fighting

Sceptile with Leaf Blade

Grass

Venusaur with Solar Beam

Grass

Dragonite with Steel Wing

Steel

/Outrage

Dragon
Weather Effects on Regirock counters
Modifications for the counters above:
In

Rainy

weather Kyogre is the best all around Regirock counter, but not if Regirock has Zap Cannon (Rainy boosts electric also)
Groudon shines in

Sunny

weather, as Mud Shot and Solar Beam are both boosted. Grass Pokémon with Solar Beam also rise in efficiency, but they're still not as good as

Fighting

types
Final Notes
Take advantage of

Fighting

types when battling against Regirock in Cloudy weather
To catch a weather boosted Regirock, raid during Partly Cloudy weather
A level 20, 100% IV Regirock will be 1764 CP, and weather boosted will be 2205 CP
Avoid using Pokémon that will take super effective damage, unless if they have a high CP and DPS value
Regirock Raid IV and CP chart
ATK
DEF
STA
MAX CP
Normal
Weather
15
15
15
1764
2205
15
15
14
1759
2199
15
14
15
1761
2202
14
15
15
1755
2193
15
15
13
1754
2192
15
14
14
1756
2196
15
13
15
1759
2199
14
15
14
1750
2187
14
14
15
1752
2191
13
15
15
1745
2182
15
15
12
1748
2186
15
14
13
1751
2189
15
13
14
1754
2193
15
12
15
1757
2196
14
15
13
1745
2181
14
14
14
1747
2184
14
13
15
1750
2188
13
15
14
1740
2176
13
14
15
1743
2179
12
15
15
1736
2171
15
15
11
1743
2179
15
14
12
1746
2183
15
13
13
1749
2186
15
12
14
1751
2190
15
11
15
1754
2193
14
15
12
1739
2175
14
14
13
1742
2178
14
13
14
1745
2181
14
12
15
1747
2185
13
15
13
1735
2170
13
14
14
1738
2173
13
13
15
1741
2176
12
15
14
1731
2165
12
14
15
1734
2168
11
15
15
1727
2159
15
15
10
1738
2173
15
14
11
1741
2177
15
13
12
1744
2180
15
12
13
1746
2183
15
11
14
1749
2187
15
10
15
1752
2190
14
15
11
1734
2168
14
14
12
1737
2172
14
13
13
1740
2175
14
12
14
1742
2178
14
11
15
1745
2182
13
15
12
1730
2163
13
14
13
1733
2167
13
13
14
1736
2170
13
12
15
1738
2173
12
15
13
1726
2158
12
14
14
1729
2162
12
13
15
1732
2165
11
15
14
1722
2153
11
14
15
1725
2156
10
15
15
1718
2148
15
14
10
1736
2170
15
13
11
1739
2174
15
12
12
1741
2177
15
11
13
1744
2180
15
10
14
1747
2184
14
15
10
1729
2162
14
14
11
1732
2165
14
13
12
1735
2169
14
12
13
1737
2172
14
11
14
1740
2175
14
10
15
1743
2179
13
15
11
1725
2157
13
14
12
1728
2160
13
13
13
1731
2164
13
12
14
1733
2167
13
11
15
1736
2170
12
15
12
1721
2152
12
14
13
1724
2155
12
13
14
1727
2159
12
12
15
1729
2162
11
15
13
1717
2147
11
14
14
1720
2150
11
13
15
1723
2154
10
15
14
1713
2142
10
14
15
1716
2145
15
13
10
1734
2167
15
12
11
1736
2171
15
11
12
1739
2174
15
10
13
1742
2177
14
14
10
1727
2159
14
13
11
1730
2162
14
12
12
1732
2166
14
11
13
1735
2169
14
10
14
1738
2172
13
15
10
1720
2151
13
14
11
1723
2154
13
13
12
1726
2157
13
12
13
1728
2161
13
11
14
1731
2164
13
10
15
1734
2167
12
15
11
1716
2146
12
14
12
1719
2149
12
13
13
1722
2152
12
12
14
1724
2156
12
11
15
1727
2159
11
15
12
1712
2141
11
14
13
1715
2144
11
13
14
1718
2147
11
12
15
1720
2151
10
15
13
1708
2136
10
14
14
1711
2139
10
13
15
1714
2142
15
12
10
1731
2164
15
11
11
1734
2168
15
10
12
1737
2171
14
13
10
1725
2156
14
12
11
1727
2159
14
11
12
1730
2163
14
10
13
1733
2166
13
14
10
1718
2148
13
13
11
1721
2151
13
12
12
1723
2155
13
11
13
1726
2158
13
10
14
1729
2161
12
15
10
1711
2139
12
14
11
1714
2143
12
13
12
1717
2146
12
12
13
1719
2150
12
11
14
1722
2153
12
10
15
1725
2156
11
15
11
1707
2135
11
14
12
1710
2138
11
13
13
1713
2141
11
12
14
1715
2144
11
11
15
1718
2148
10
15
12
1703
2130
10
14
13
1706
2133
10
13
14
1709
2136
10
12
15
1711
2139
15
11
10
1729
2161
15
10
11
1732
2165
14
12
10
1722
2153
14
11
11
1725
2157
14
10
12
1728
2160
13
13
10
1716
2145
13
12
11
1718
2148
13
11
12
1721
2152
13
10
13
1724
2155
12
14
10
1709
2137
12
13
11
1712
2140
12
12
12
1714
2143
12
11
13
1717
2147
12
10
14
1720
2150
11
15
10
1702
2128
11
14
11
1705
2132
11
13
12
1708
2135
11
12
13
1710
2138
11
11
14
1713
2142
11
10
15
1716
2145
10
15
11
1698
2123
10
14
12
1701
2127
10
13
13
1704
2130
10
12
14
1706
2133
10
11
15
1709
2136
15
10
10
1727
2158
14
11
10
1720
2150
14
10
11
1723
2154
13
12
10
1713
2142
13
11
11
1716
2145
13
10
12
1719
2149
12
13
10
1707
2134
12
12
11
1709
2137
12
11
12
1712
2140
12
10
13
1715
2144
11
14
10
1700
2125
11
13
11
1703
2129
11
12
12
1705
2132
11
11
13
1708
2135
11
10
14
1711
2139
10
15
10
1693
2117
10
14
11
1696
2120
10
13
12
1699
2124
10
12
13
1701
2127
10
11
14
1704
2130
10
10
15
1707
2133
14
10
10
1718
2147
13
11
10
1711
2139
13
10
11
1714
2142
12
12
10
1704
2131
12
11
11
1707
2134
12
10
12
1710
2137
11
13
10
1698
2123
11
12
11
1701
2126
11
11
12
1703
2129
11
10
13
1706
2132
10
14
10
1691
2114
10
13
11
1694
2118
10
12
12
1696
2121
10
11
13
1699
2124
10
10
14
1702
2127
13
10
10
1709
2136
12
11
10
1702
2128
12
10
11
1705
2131
11
12
10
1696
2120
11
11
11
1698
2123
11
10
12
1701
2126
10
13
10
1689
2111
10
12
11
1692
2115
10
11
12
1694
2118
10
10
13
1697
2121
12
10
10
1700
2125
11
11
10
1693
2117
11
10
11
1696
2120
10
12
10
1687
2109
10
11
11
1689
2112
10
10
12
1692
2115
11
10
10
1691
2114
10
11
10
1684
2106
10
10
11
1687
2109
10
10
10
1682
2103