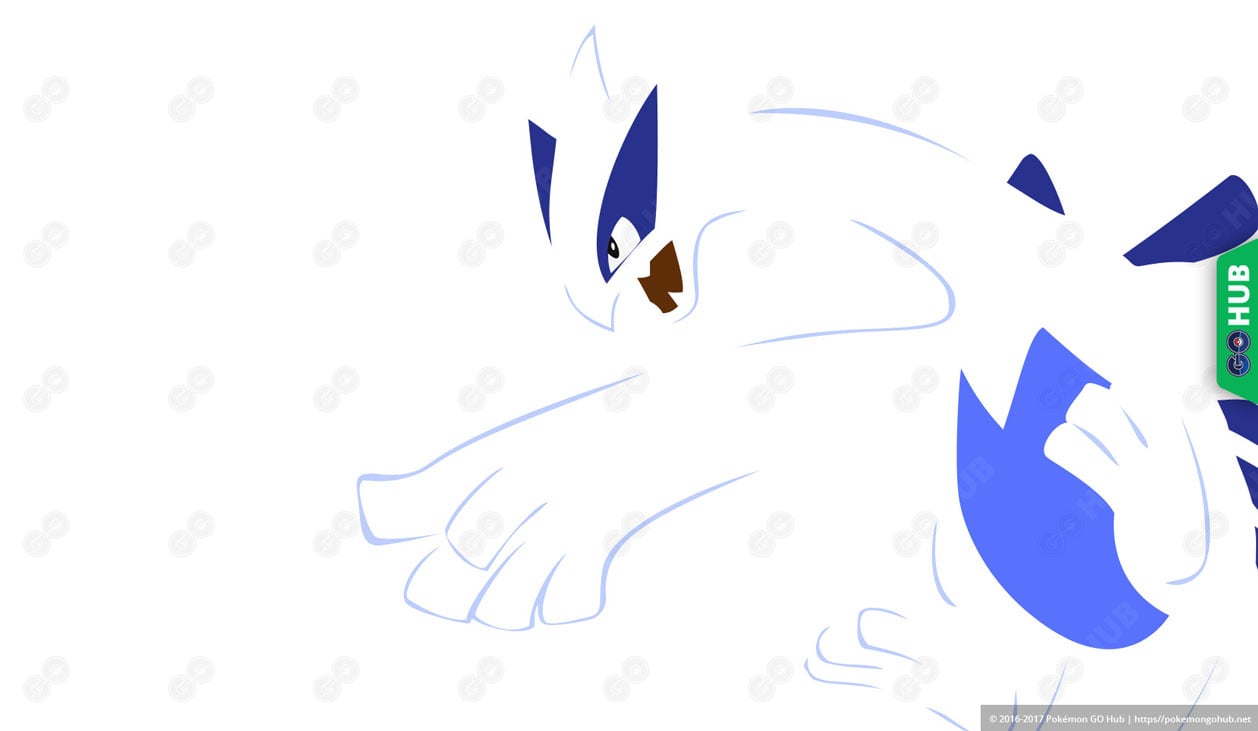 Lugia is one of the Legendary Tier 5 Raid Bosses in Pokemon GO. This page details best Lugia Raid counters and good strategies on how to defeat it. A shiny Lugia is available from raids.
Lugia Boss CP is 42753 CP and has the following raid catch CPs:
1969 – 2056 – perfect IV Lugia, LVL 20, no weather boost
2462 – 2570 – perfect IV Lugia, LVL 25,

Windy

weather boosted
Best Lugia Raid Counters
The following table depicts the strongest Pokémon you can use versus a Lugia. Be on the lookout for that Hydro Pump, as some Lugia counters can be OHKO-ed with it!
Lugia raid counters
Lugia
Weakness 

Electric




Rock

Dark

Ghost

Ice

Boosted by 

Windy

Supreme Lugia Counters

Raikou

Thunder Shock

Electric

Wild Charge

Electric

Best all around counter, takes reduced or neutral damage from Sky Attack and Hydro Pump, has enough bulk and deals a lot of damage. If you ask us, Raikou is worth every ounce of Stardust invested.

Tyranitar

Bite

Dark


Smack down

Rock

Crunch

Dark


Stone Edge

Rock

Best counter vs non-Hydro Pump Lugia, regardless of the moveset you choose. Smack Down is a beast, let's face it, and both Rock and Dark typed moves deal increased damage to Lugia.
Great Lugia Counters

Mewtwo

Confusion

Psychic

Shadow Ball

Ghost

Confusion / Shadow Ball Mewtwo is a great option versus Lugia, despite her taking reduced damage from Confusion. SB Mewtwo is just a beast!

Zapdos

Thunder Shock

Electric

Thunderbolt

Electric

Good ol' Zappy is a great counter, especially if you have Thunder Shock instead of Charge Beam. Super useful if you're not filled to the brim with Raikous.

Golem

Rock Throw

Rock

Wild Charge

Electric

Alolan Golem is a beast, and Rock Throw in conjunction with Wild Charge makes it shine superbly. Do use, do please use!
Good Lugia counters

Gengar

Shadow Claw

Ghost

Shadow Ball

Ghost

Jolteon

Thunder Shock

Electric

Thunderbolt

Electric

Omastar

Rock Throw

Rock

Rock Slide

Rock

Kyogre

Waterfall

Water

Blizzard

Ice

Rayquaza

Dragon Tail

Dragon

Outrage

Dragon


Ancient Power

Rock
Lugia Raid Counters Explained
Lugia's possible movesets are as follows:
Extrasensory

Psychic

 (fast)
Dragon Tail

Dragon

(fast)
Futuresight

Psychic

 (charge)
Sky Attack (charge)
Hydro Pump 

Water

 (charge)
Before we go into deeper analysis, remember that Lugia can't be soloed. Before joining raid make sure you are using Pokémon with proper movesets.
Lugia takes Super Effective damage from electric, dark, ice, ghost and rock type moves, due to its dual psychic and flying type. The best Pokemon to fight Lugia is either a Raikou or a Tyranitar, depending on Lugia's moveset.
Be aware that a Lugia with Hydro Pump will destroy any Pokémon that is weak to Water. Don't underestimate this, as a HP Lugia counters most of her own counters.
In addition, all steel and psychic type Pokemon take reduced damage from psychic type moves.
Also steel, rock and electric type take reduced damage from flying type moves, so keep that in mind.
Additional Lugia Counters
These Pokemon are weaker than the counters mentioned above, but they are still viable, especially in large raid groups:
Considerably weaker, but still viable counters, mostly used in large groups as throw away attackers:
Ampharos with Charge Beam/ Zap Cannon

Magcargo with Rock Throw/ Stone Edge

Sudowoodo with Rock Throw/ Stone Edge

Granbull with Snarl/ Crunch

Lanturn with Charge Beam/ Thunderbolt

Kabutops with Rock Smash/ Ancient Power
Lugia IV and CP chart
The following chart shows Lugia IVs and CP from 100% to around 84.4%. The whole table would be simply too massive to include, so we opted out for the top 16-sih percentages.
ATK
DEF
STA
MAX CP
Normal
Weather
15
15
15
2056
2570
15
15
14
2051
2564
15
14
15
2053
2566
14
15
15
2046
2558
15
15
13
2047
2559
15
14
14
2048
2560
15
13
15
2050
2562
14
15
14
2041
2552
14
14
15
2043
2554
13
15
15
2036
2545
15
15
12
2042
2553
15
14
13
2044
2555
15
13
14
2045
2557
15
12
15
2047
2558
14
15
13
2037
2546
14
14
14
2038
2548
14
13
15
2040
2550
13
15
14
2031
2540
13
14
15
2033
2541
12
15
15
2026
2533
15
15
11
2038
2547
15
14
12
2039
2549
15
13
13
2041
2551
15
12
14
2042
2553
15
11
15
2043
2555
14
15
12
2032
2541
14
14
13
2034
2542
14
13
14
2035
2544
14
12
15
2037
2546
13
15
13
2027
2534
13
14
14
2028
2536
13
13
15
2030
2538
12
15
14
2022
2527
12
14
15
2023
2529
11
15
15
2016
2520
15
15
10
2033
2541
15
14
11
2034
2543
15
13
12
2036
2545
15
12
13
2038
2547
15
11
14
2039
2549
15
10
15
2040
2551
14
15
11
2028
2535
14
14
12
2029
2537
14
13
13
2031
2539
14
12
14
2032
2541
14
11
15
2034
2542
13
15
12
2022
2528
13
14
13
2024
2530
13
13
14
2025
2532
13
12
15
2027
2534
12
15
13
2017
2522
12
14
14
2019
2524
12
13
15
2020
2525
11
15
14
2012
2515
11
14
15
2013
2517
10
15
15
2006
2508
15
14
10
2030
2538
15
13
11
2031
2540
15
12
12
2033
2542
15
11
13
2034
2543
15
10
14
2036
2545
14
15
10
2023
2529
14
14
11
2025
2531
14
13
12
2026
2533
14
12
13
2028
2535
14
11
14
2029
2537
14
10
15
2031
2539
13
15
11
2018
2523
13
14
12
2019
2525
13
13
13
2021
2526
13
12
14
2022
2528
13
11
15
2024
2530
12
15
12
2013
2516
12
14
13
2014
2518
12
13
14
2016
2520
12
12
15
2017
2522
11
15
13
2007
2509
11
14
14
2009
2511
11
13
15
2010
2513
10
15
14
2002
2503
10
14
15
2003
2504
15
13
10
2027
2534
15
12
11
2028
2536
15
11
12
2030
2538
15
10
13
2031
2540
14
14
10
2020
2525
14
13
11
2022
2527
14
12
12
2023
2529
14
11
13
2025
2531
14
10
14
2026
2533
13
15
10
2013
2517
13
14
11
2015
2519
13
13
12
2016
2521
13
12
13
2018
2523
13
11
14
2019
2525
13
10
15
2021
2526
12
15
11
2008
2510
12
14
12
2010
2512
12
13
13
2011
2514
12
12
14
2013
2516
12
11
15
2014
2518
11
15
12
2003
2504
11
14
13
2004
2506
11
13
14
2006
2507
11
12
15
2007
2509
10
15
13
1997
2497
10
14
14
1999
2499
10
13
15
2000
2501