Last month as asked to see your best photos of Poison or Psychic type Pokémon, and what amazing entries we had! This month I wanted to mix it up with a theme that was very open to interpretation, with 'favourite' being the theme. Whether that is your favourite Pokémon, your favourite place, favourite colour, favourite photography technique, just share a favourite and tell us why!
This was SO hard to pick a header photo from, so many incredible entries. Thank you amazing AR community!
Unedited Images
The below AR images have not been edited in any way.
'Dance with flowers' by nana15AR, Hiroshima City, Japan.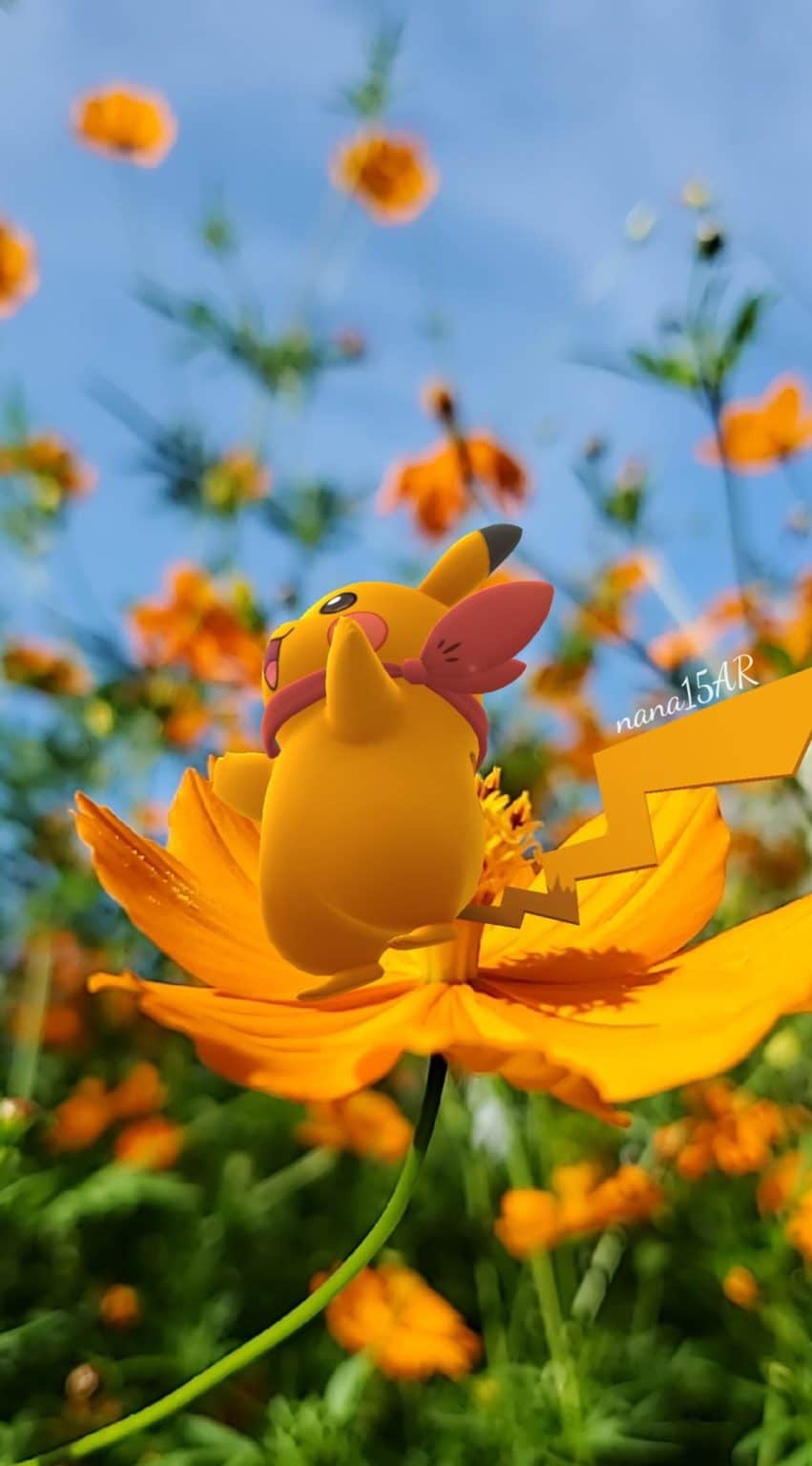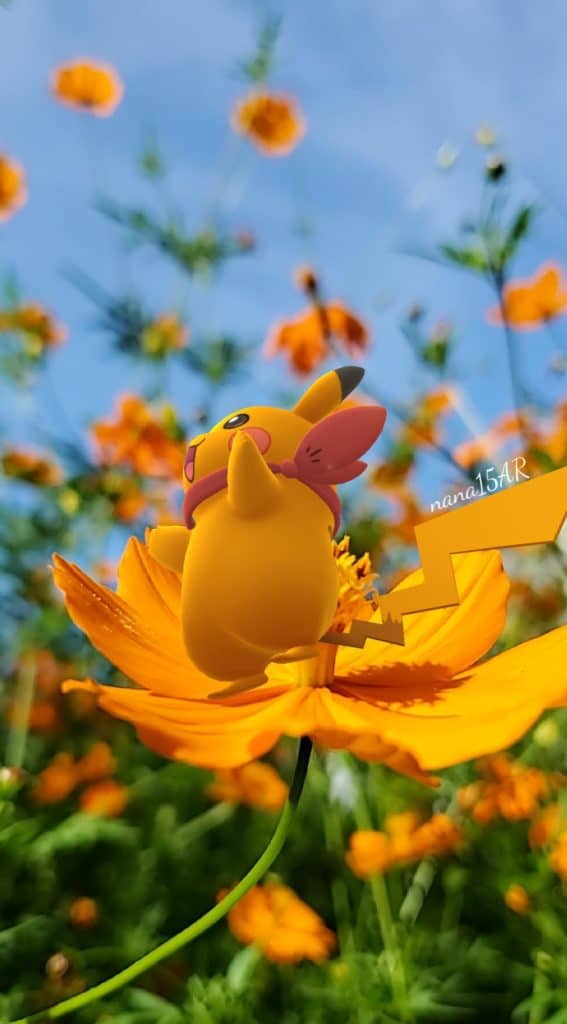 'Pikachu danced with the cosmos happily swaying in the wind toward the blue sky.'
'Tiny throwback' by Rhanique, Leeuwarden, The Netherlands.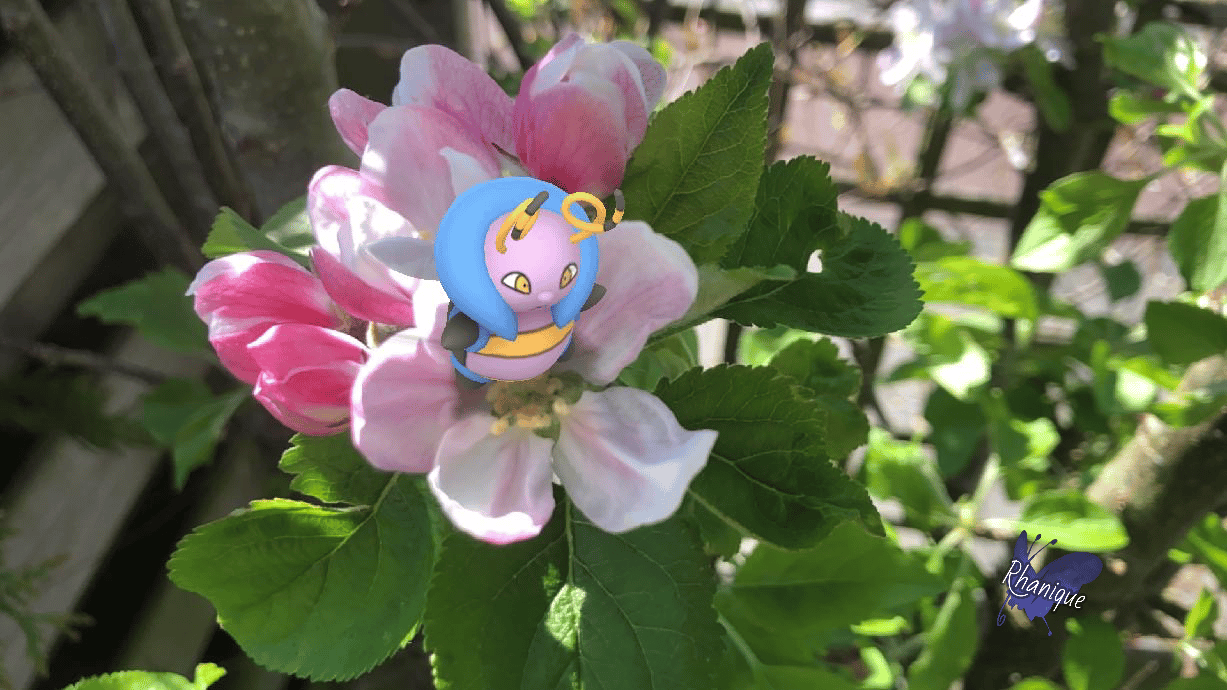 'This was the second photo for which I used the tinypokemon technique. I had just read Kitty's article about it and became inspired. (She'll probably add a link? EDITOR NOTE – I will! Here 🙂 ). Anyway, it was the start of learning more AR techniques and getting to know the wonderful people in the AR community. That's why this is one of my favourite AR photos. 💕'
'Hanging Burmy' by PoKeOptimum, Santipur, West Bengal, India.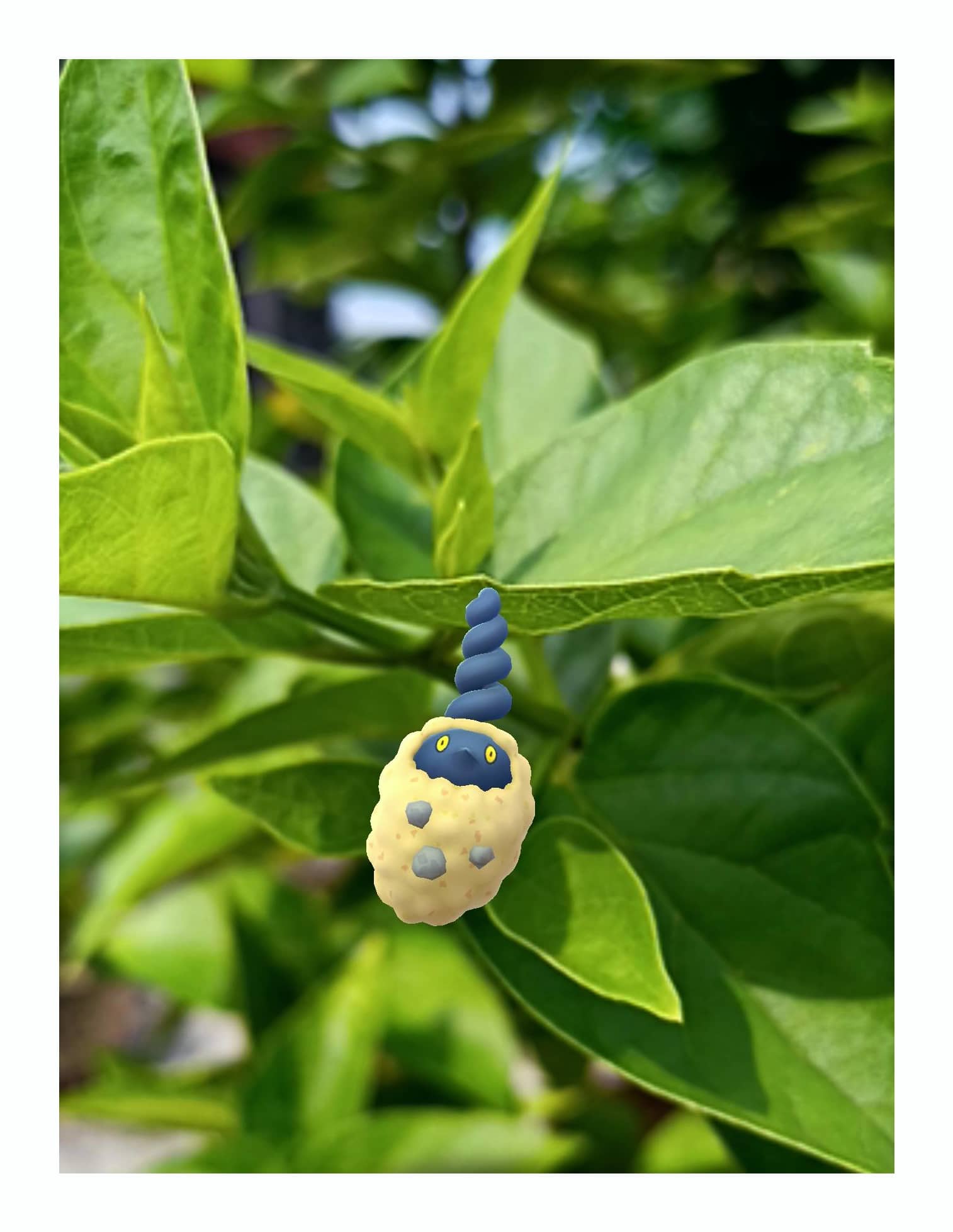 'My shiny Burmy is very unruly….He don't want to stay in Pokéball for a minute…. Just hanging on our backyard mango tree 🥭…!!!'
'visit to a shrine or temple 🏮' by ずんだオレ, Atago Shrine.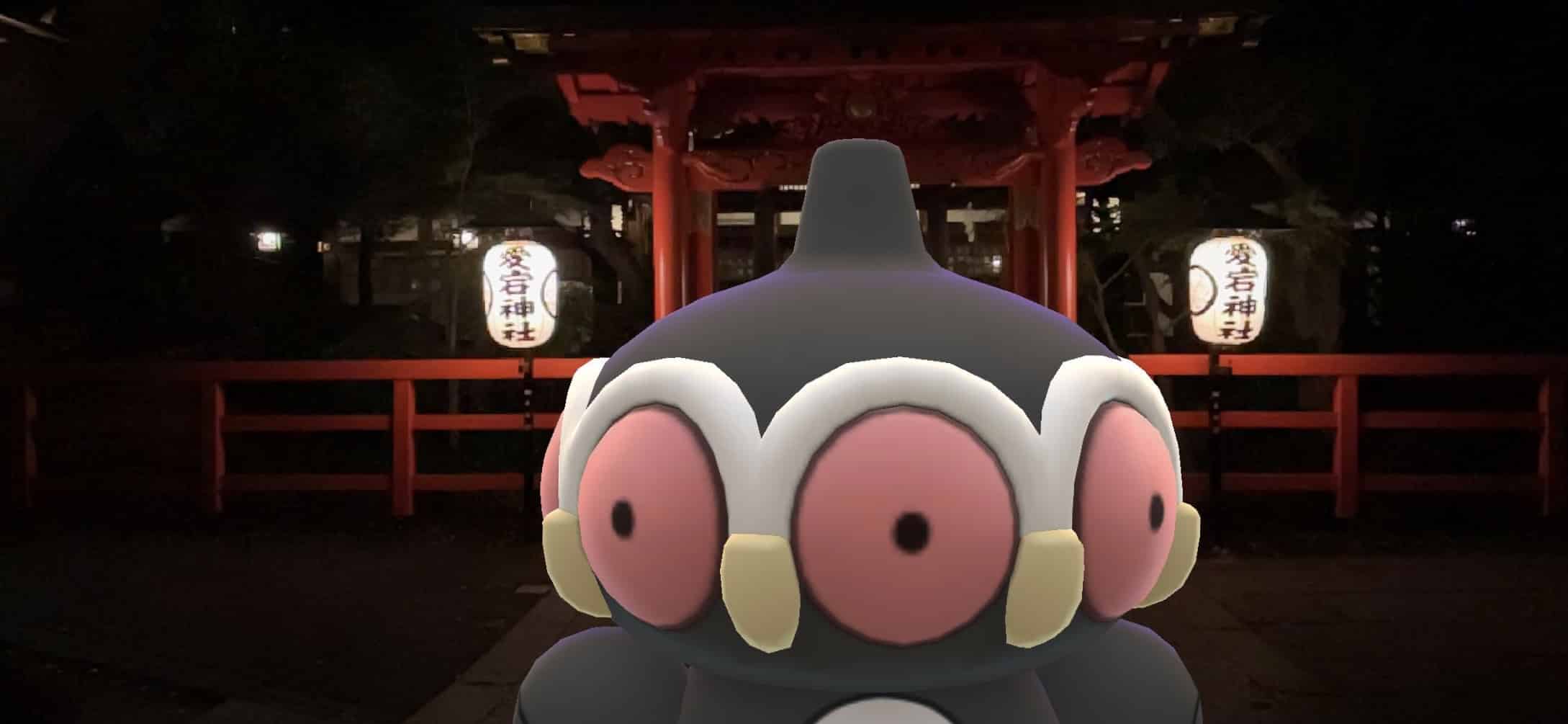 'Favorite Pokémon is Claydol'
By 007Fireking, Tokyo, Japan.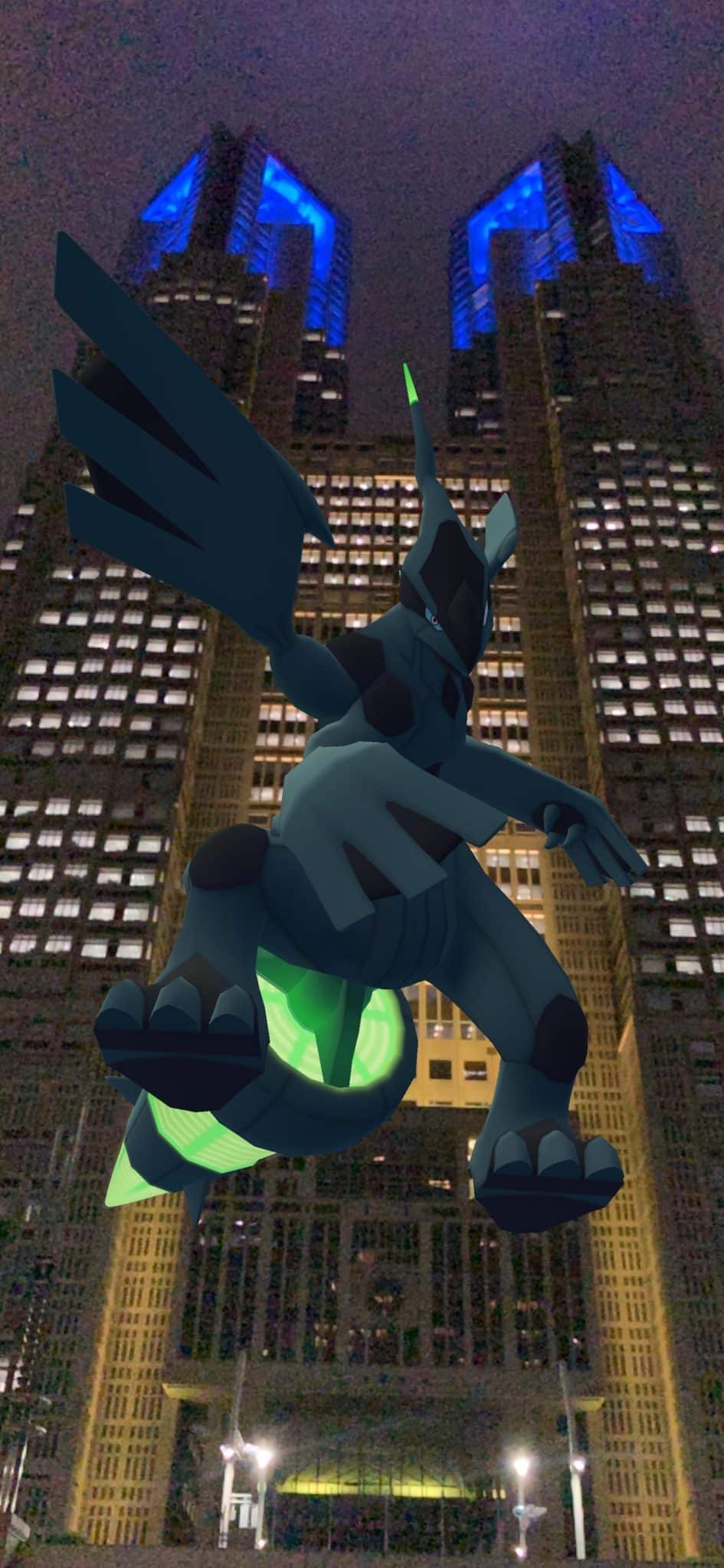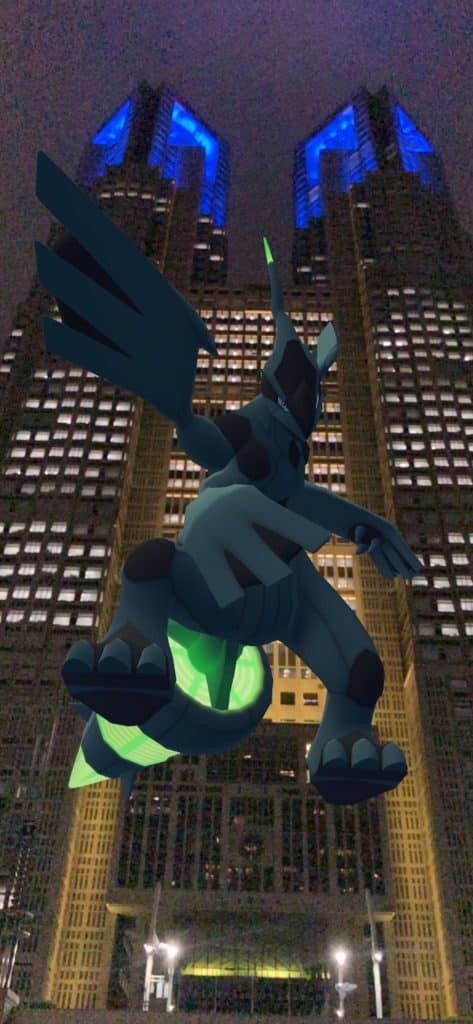 'Zekrom appears at the Tokyo Metropolitan Government Building'
'Peak flavor!' by SilverBullet00, Seattle, Washington, United States of America.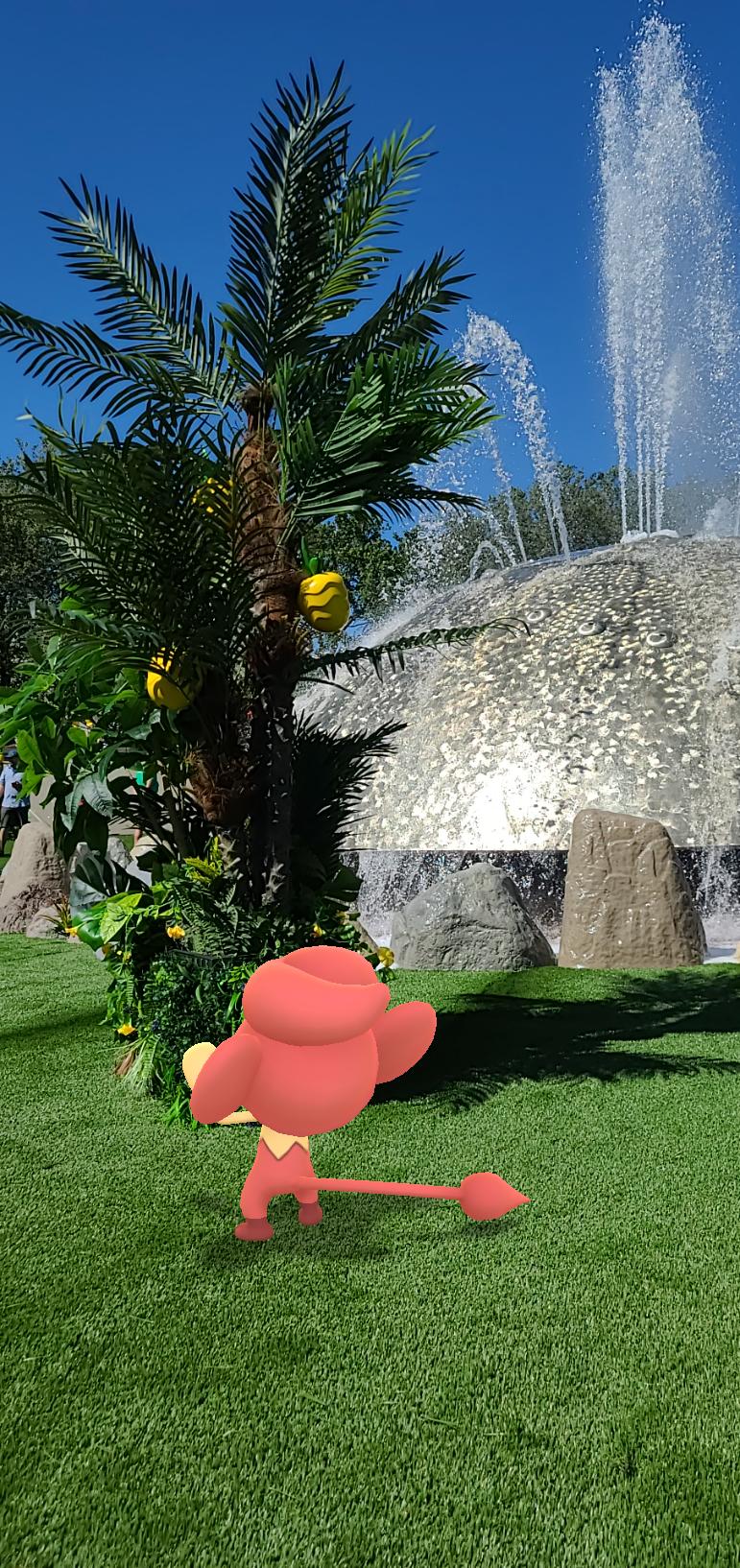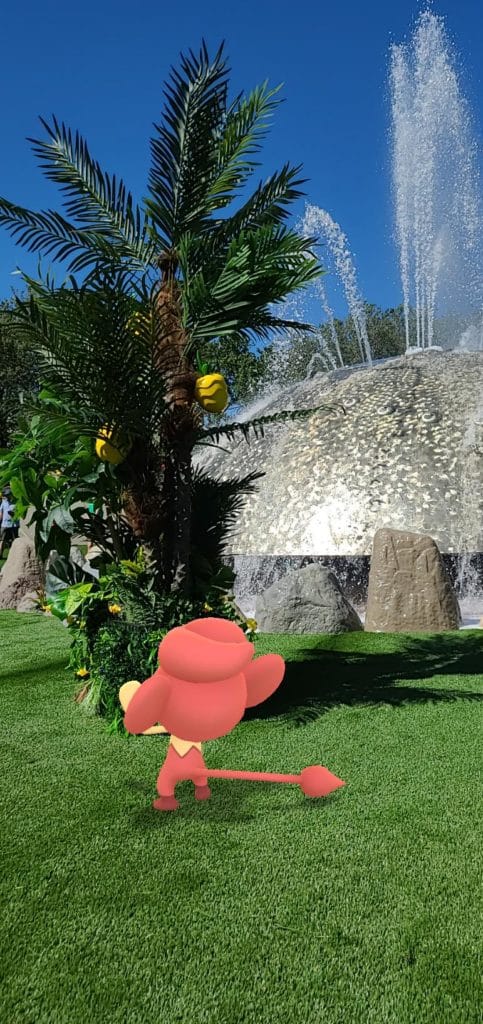 'Pansear gets the brilliant is a to roast some Pinap berries for his new friends!'
'Bathed in light…' by nana15AR, Hiroshima City, Japan.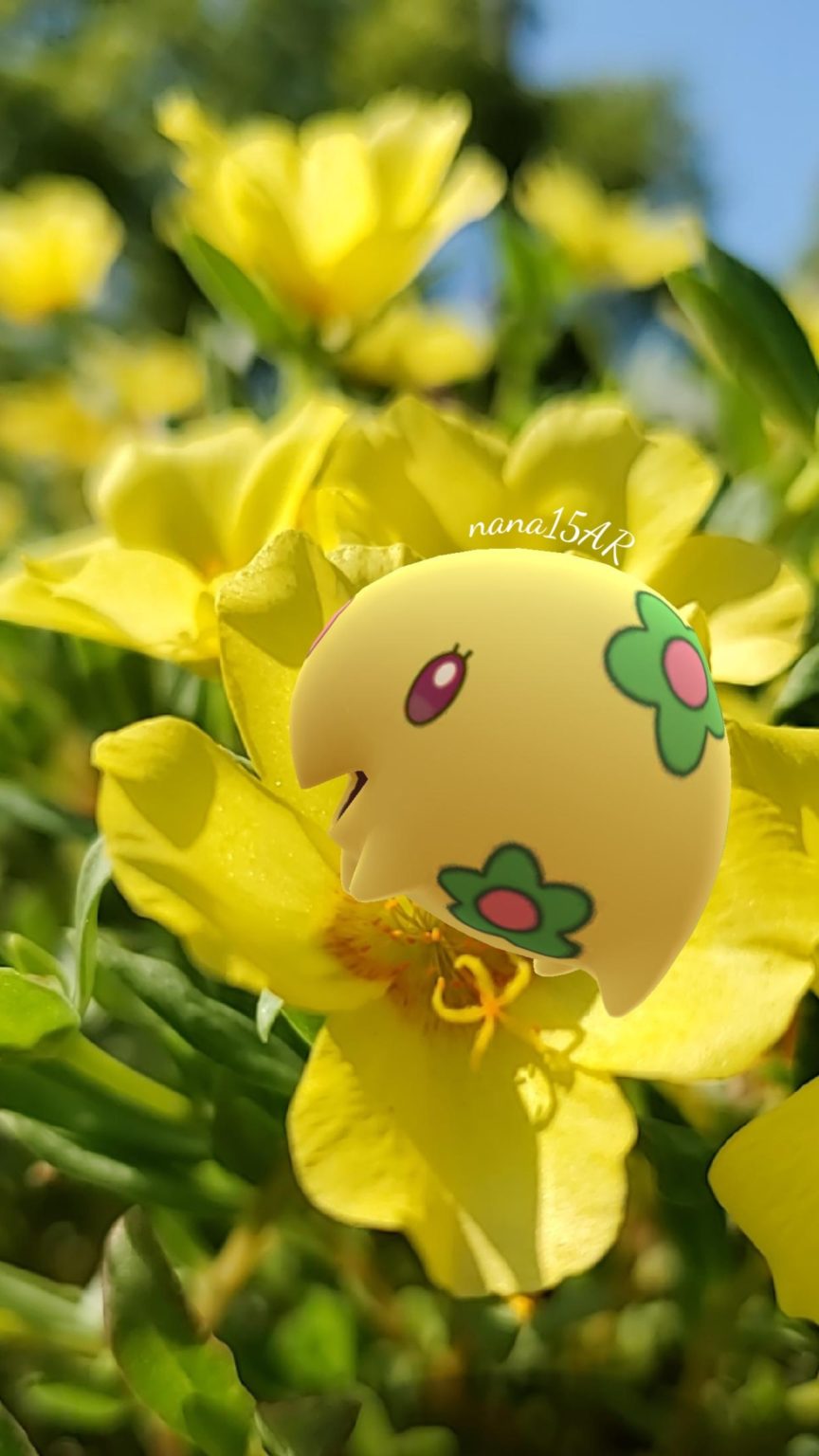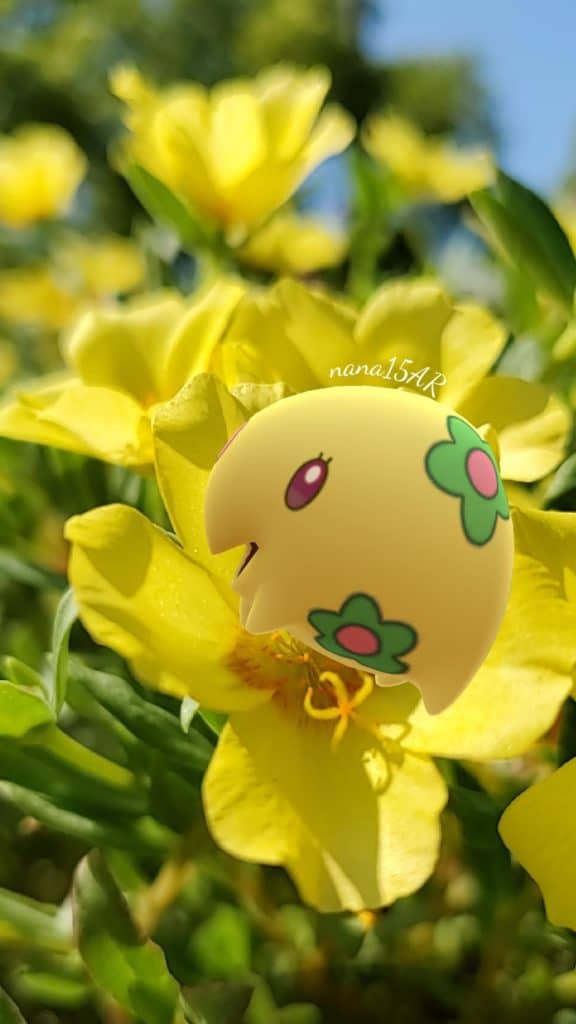 'I looked up with sparkling eyes bathed in light.
What fun things are waiting for me from now on.'
By Charm2Sul, Houston, Texas.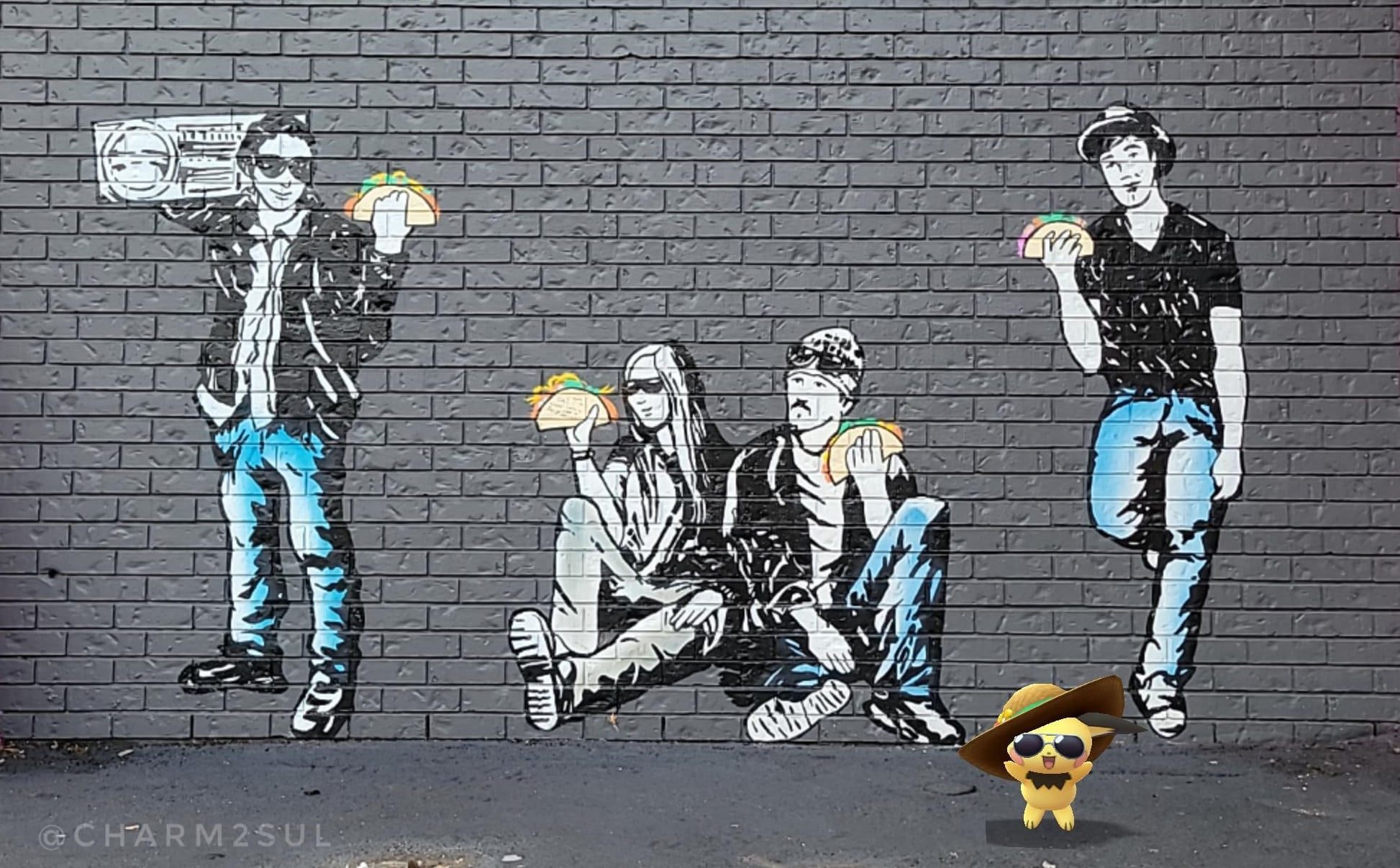 'Pichu's favorite: Taco Tuesday'
'Master of Time comes to Taiwan' by pokemoninlife, CHIMEI Museum, Tainan, Taiwan.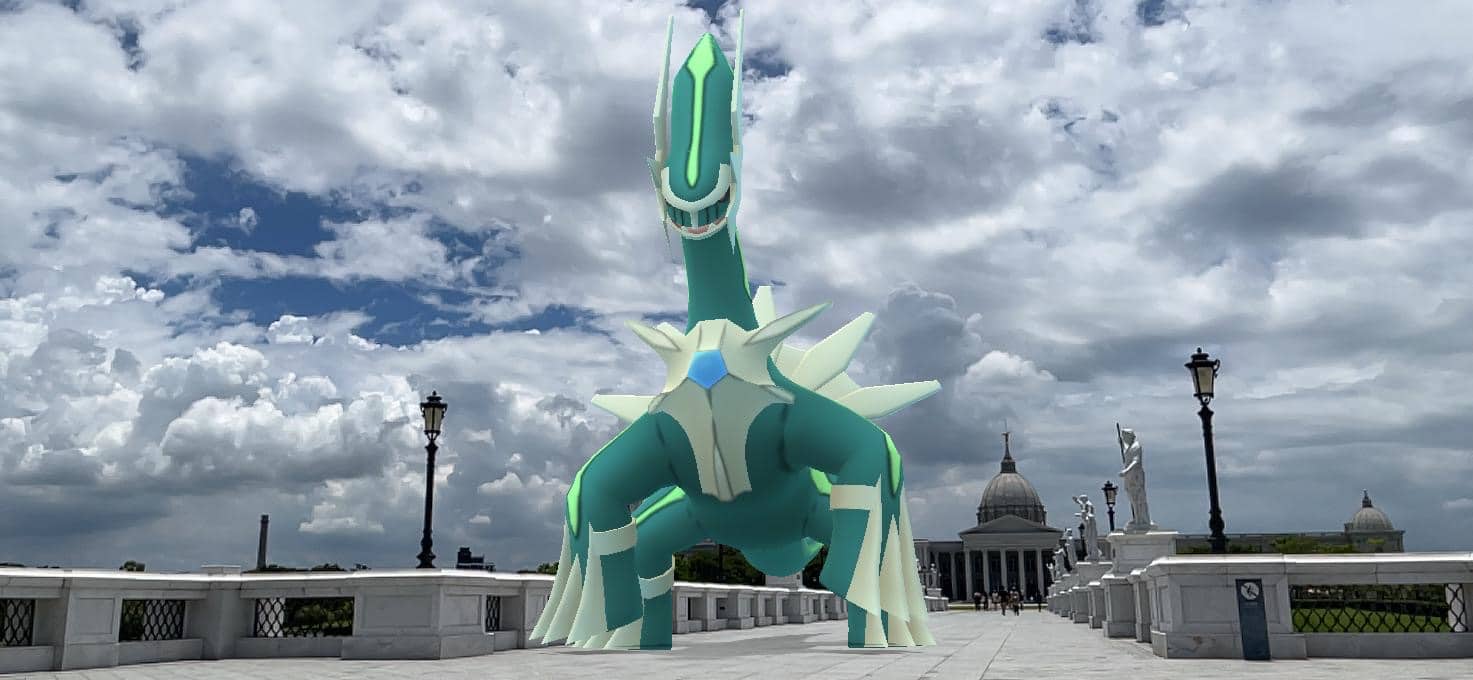 'Shiny Dialga comes from another time. Maybe it senses some strange power here, so it comes to CHIMEI Museum in Tainan. If we're lucky, we can meet shiny Palkia coming after.'
'Graffiti Artist' by Narwhal611, Washington, USA.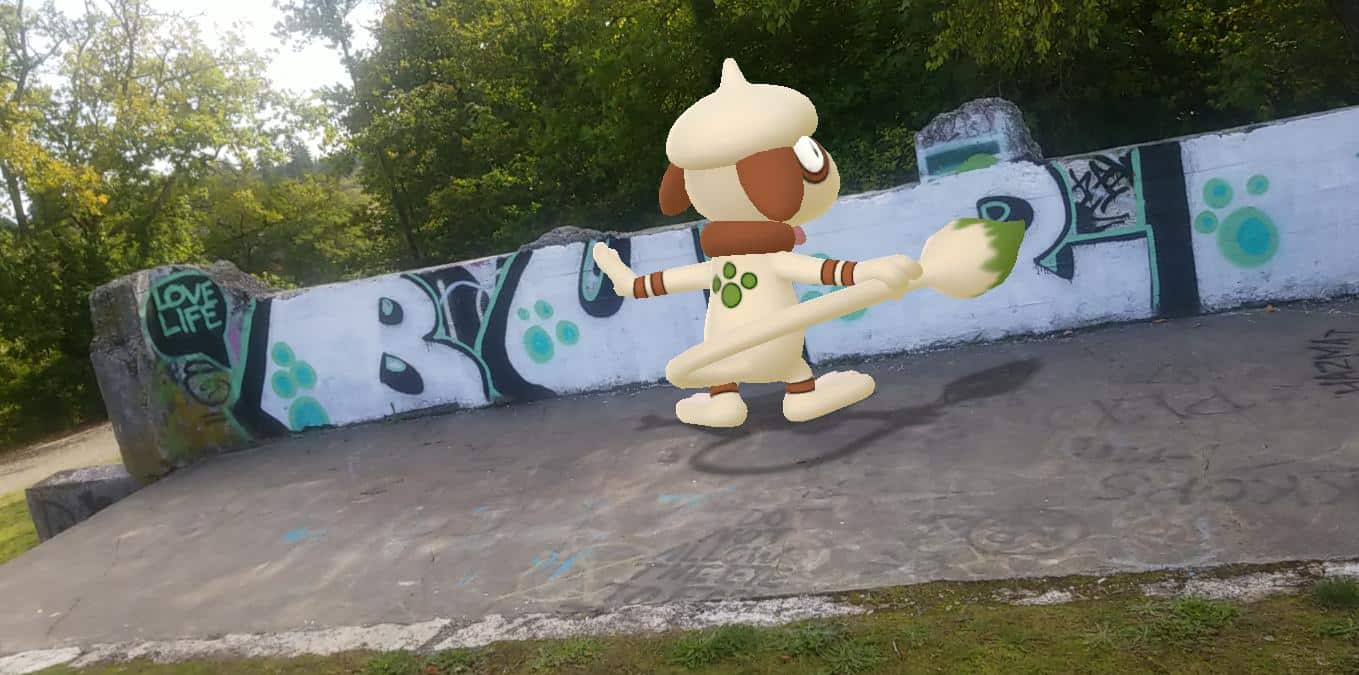 'I began noticing lots of green paw prints on walls near where I was going to school, I recognized the look and realized only one specific Pokémon could be responsible. So I hid and waited for almost 5 hours, I heard what sounded like water being splashed, and when I looked I saw this.'
'Cute little prayer' by nana15AR, Hiroshima City, Japan.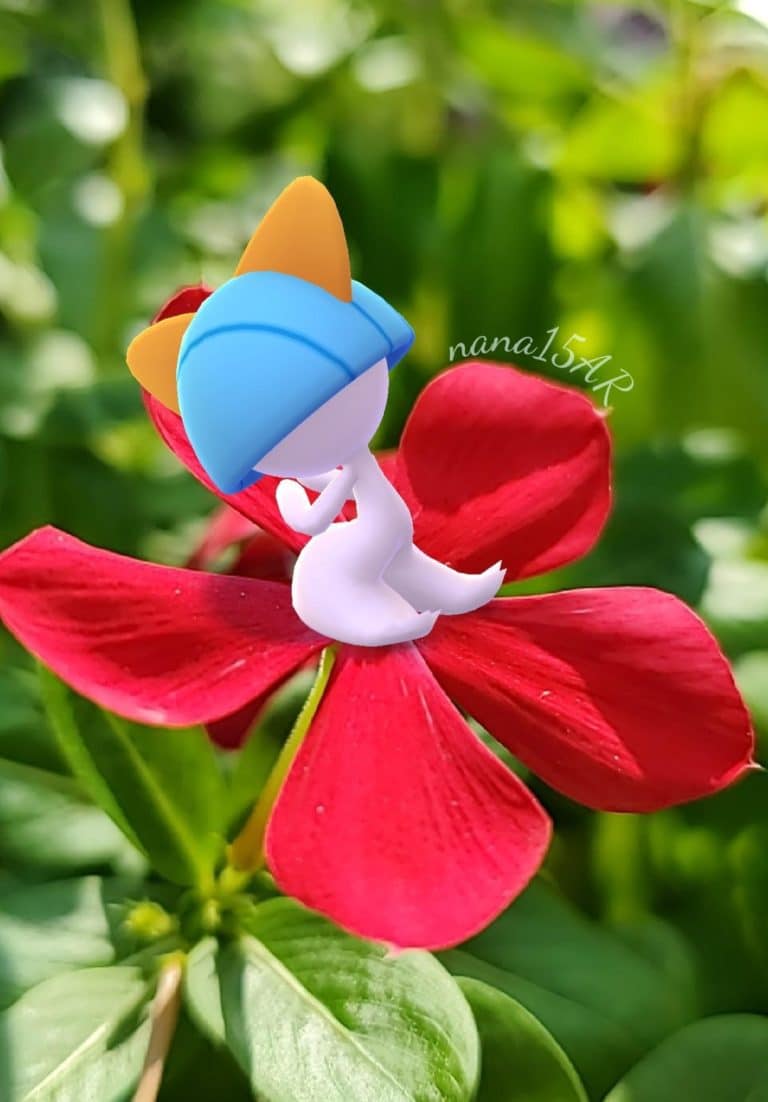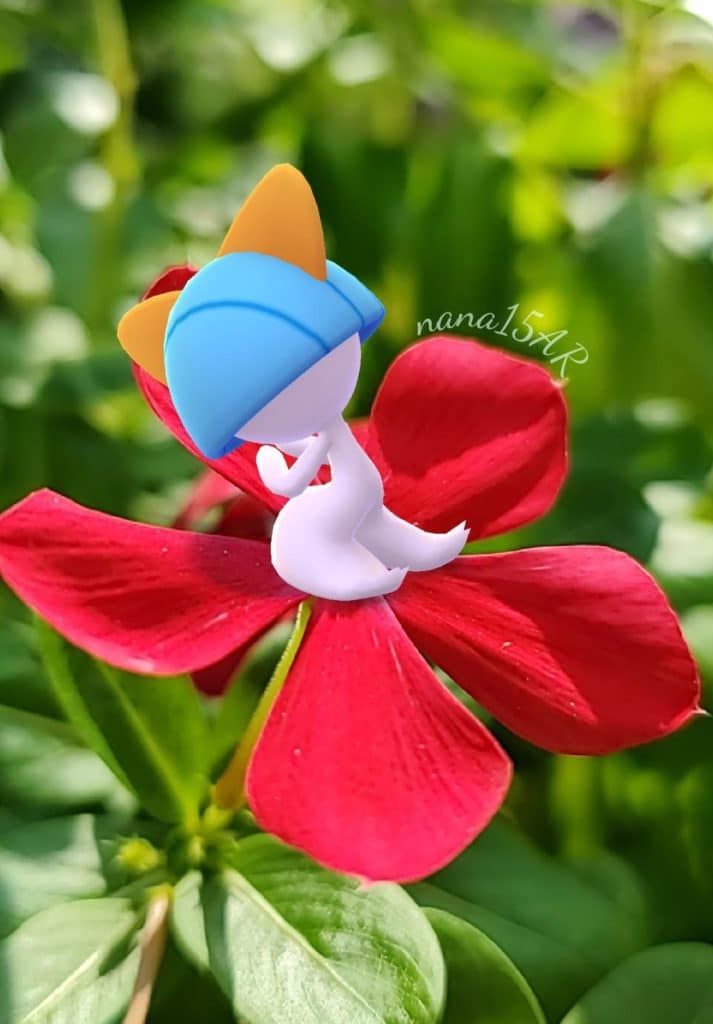 'May your days be peaceful and smiling.'
'Beautiful Beautifly' by Vinikolekar, Bangalore, India.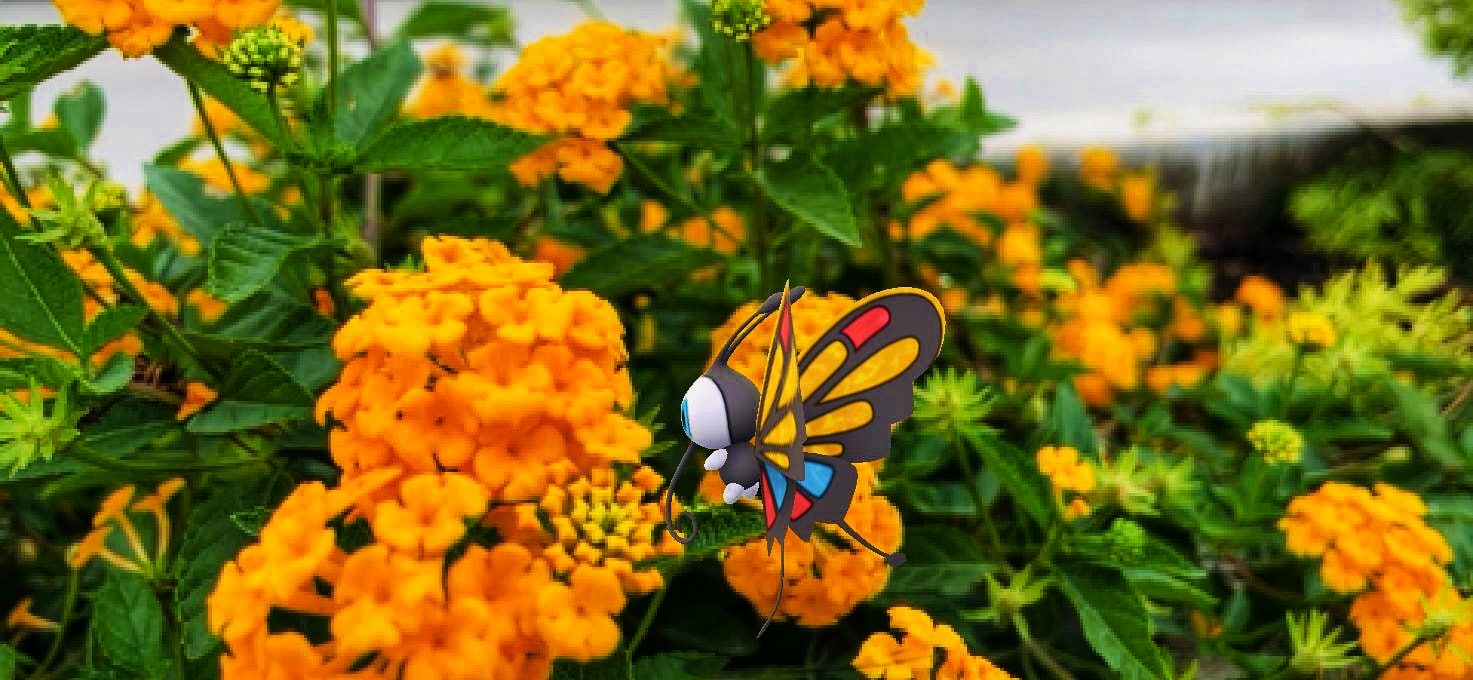 'Final Boss' by YubelBuster, Germany, Hessen.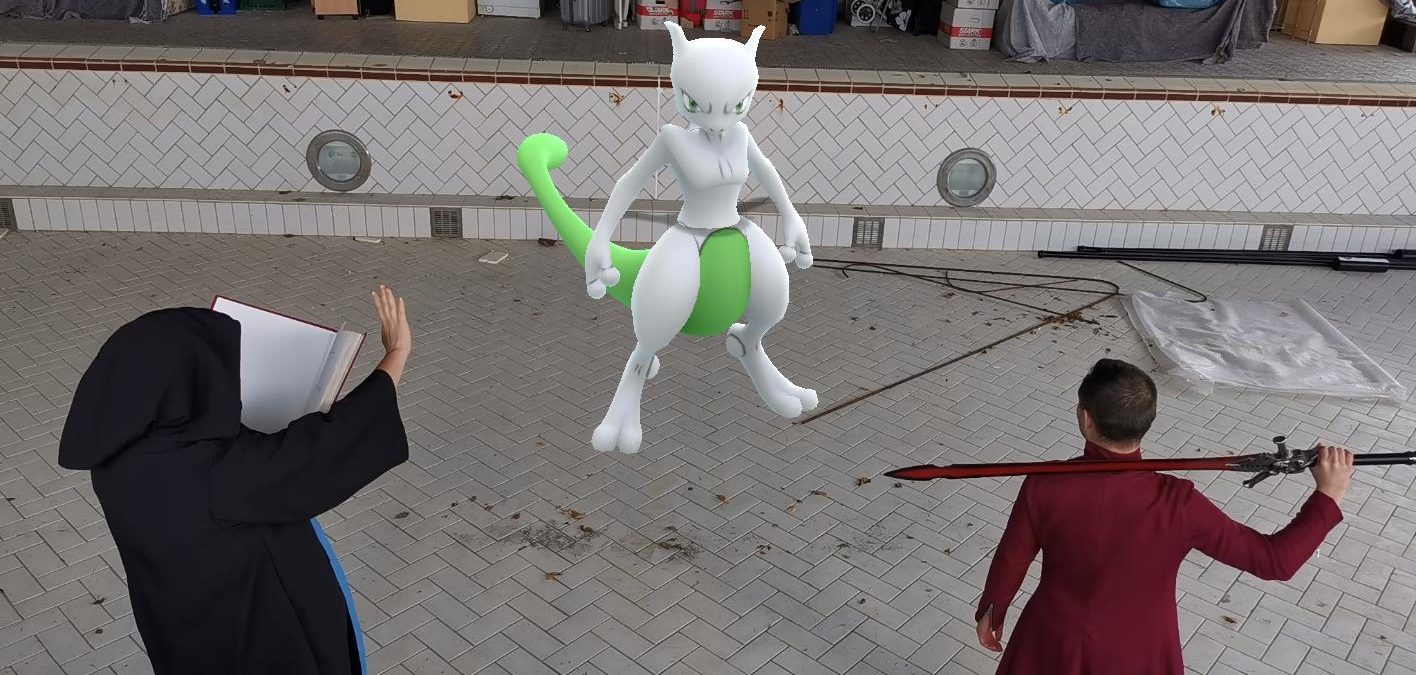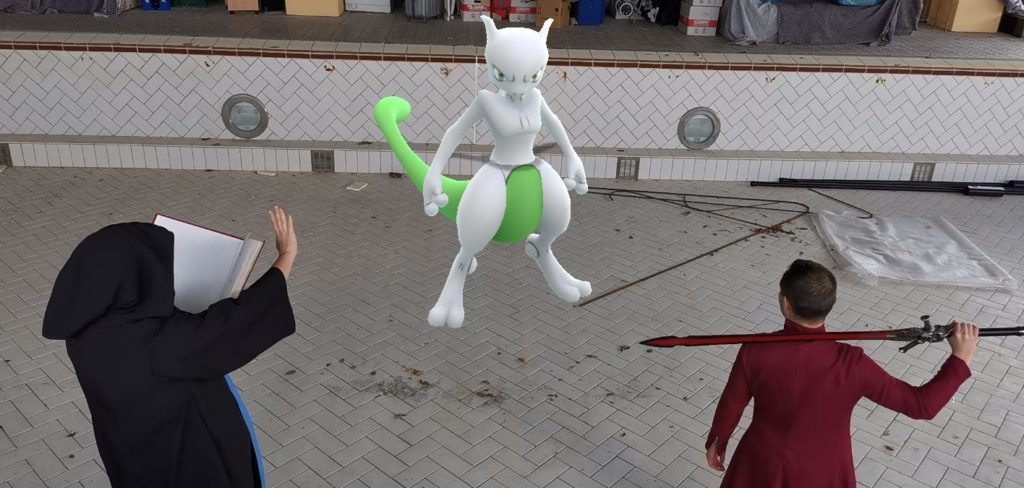 'Mewtwo was my favorite Pokémon ever since I watched the first movie back when I was a child. So my best friend (guy on the left) and I decided to make this foto at an abandoned swimming pool as if Mewtwo was the final boss of a classic RPG.'
By 007Fireking, New Jersey, USA.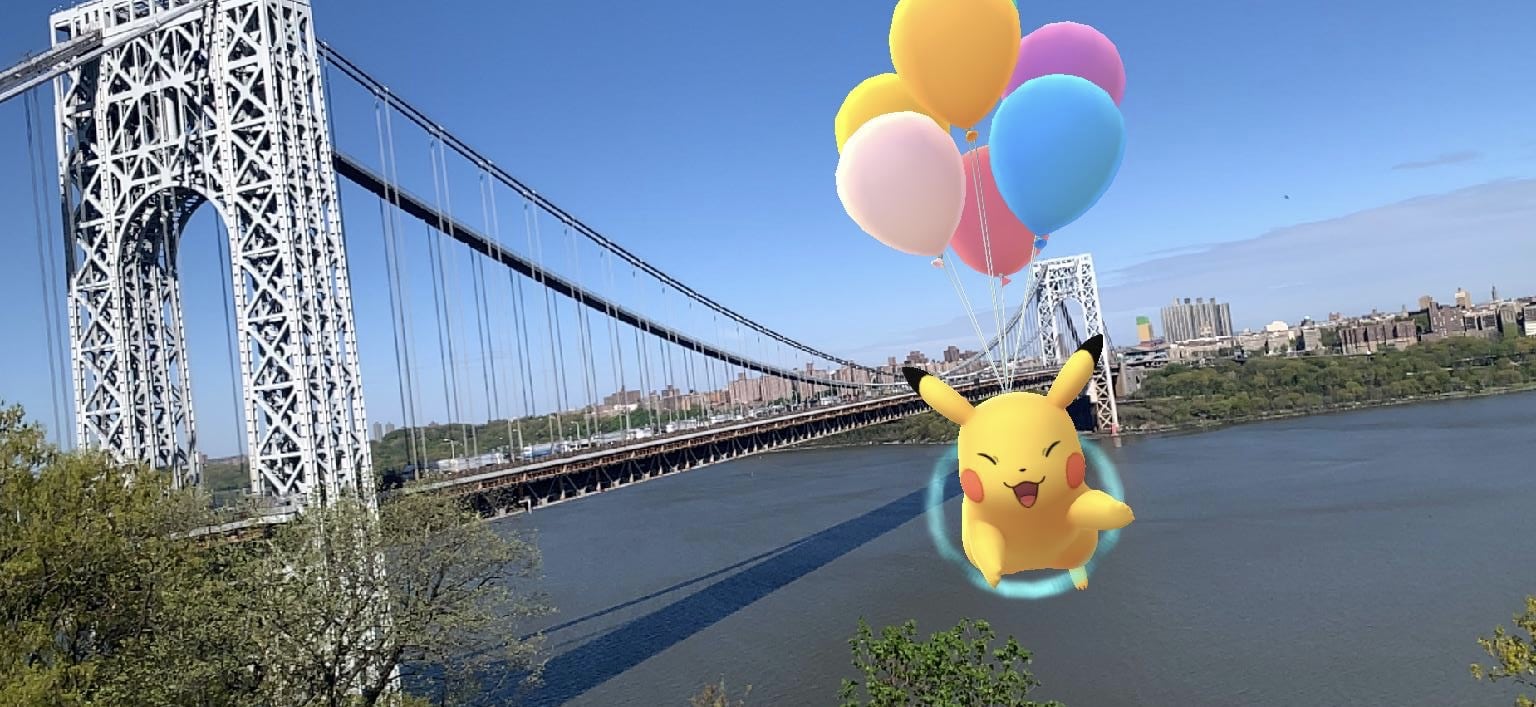 'Successfully crossed the Hudson River'
'Haunter Haunting the Pier!' by PkmnGoMatt, Brighton.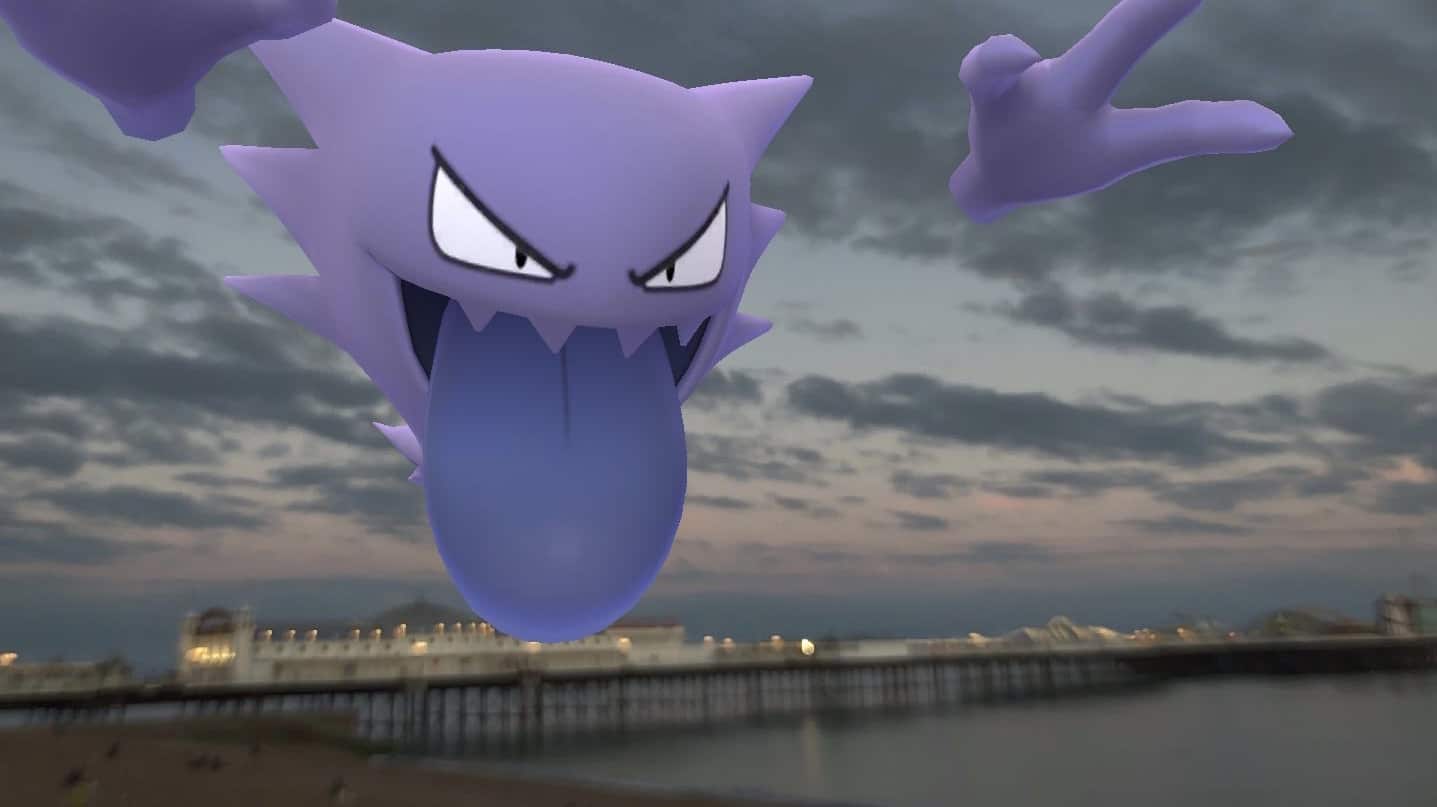 'Haunter is one of my absolute favourite Pokémon, I remember playing my Pokémon red version and not being able to evolve it due to it being a trade evolution so just using it for the Elite 4 anyway! I also really love doing the Bokéhmon style photos, I really liked how it added a more dramatic effect to this particular photo.
'Hitmon-pop&lock' by SPSx22, London, UK.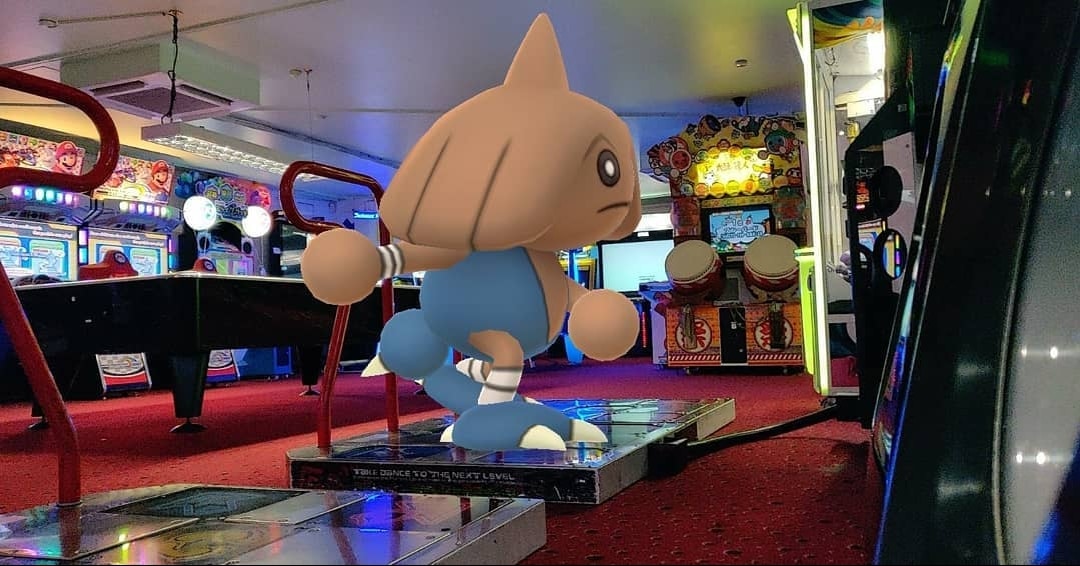 'One my my favorite places to go in London is this basement arcade in Soho. I love playing the driving games or beat em' ups, but also to watch others play as well. When one day I say this Hitmontop absolutely killing it on the dance machine, I'd never seen anything like it!!'
By りむ 𓆏 Limu, Japan.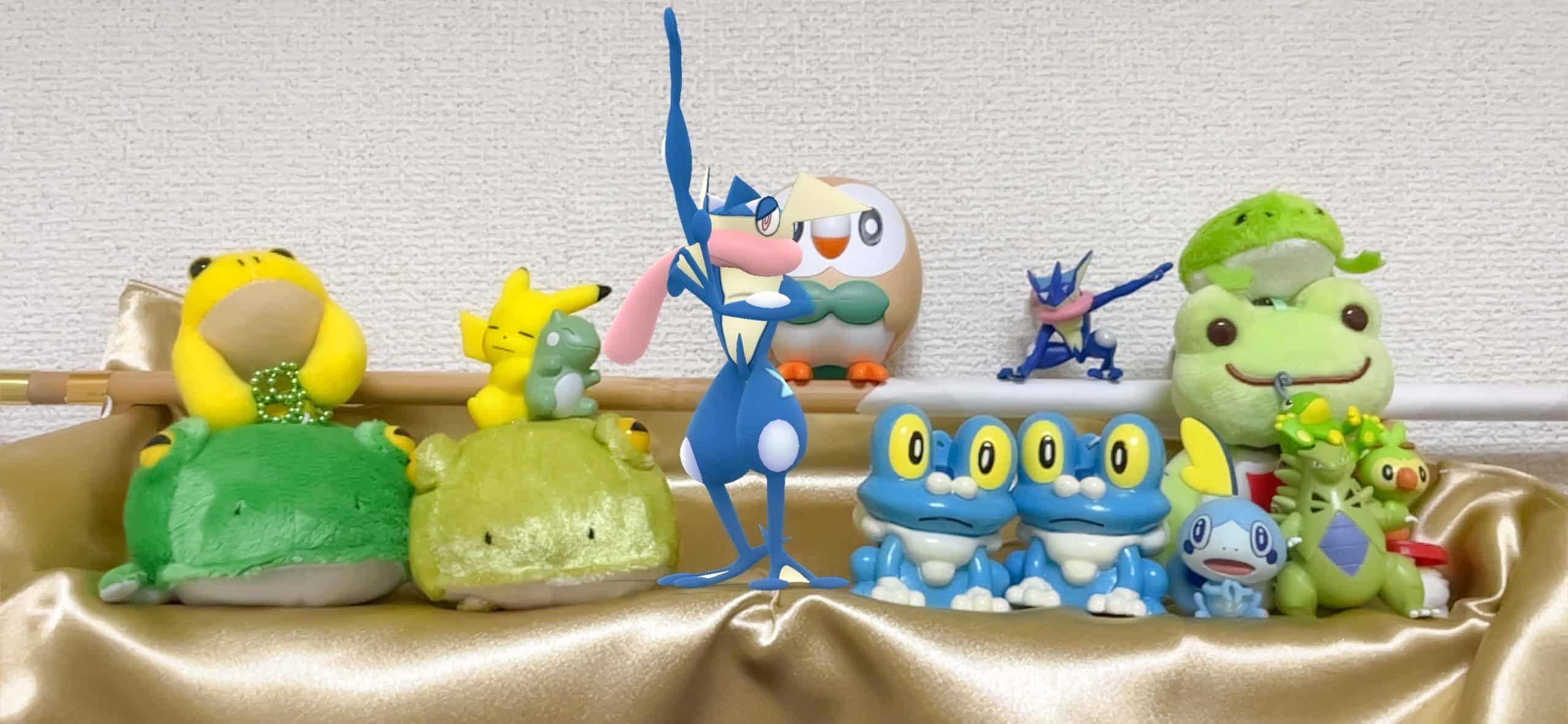 'I like frogs!'
'Selfie!' by WatershipBound, Rochester, NY, USA.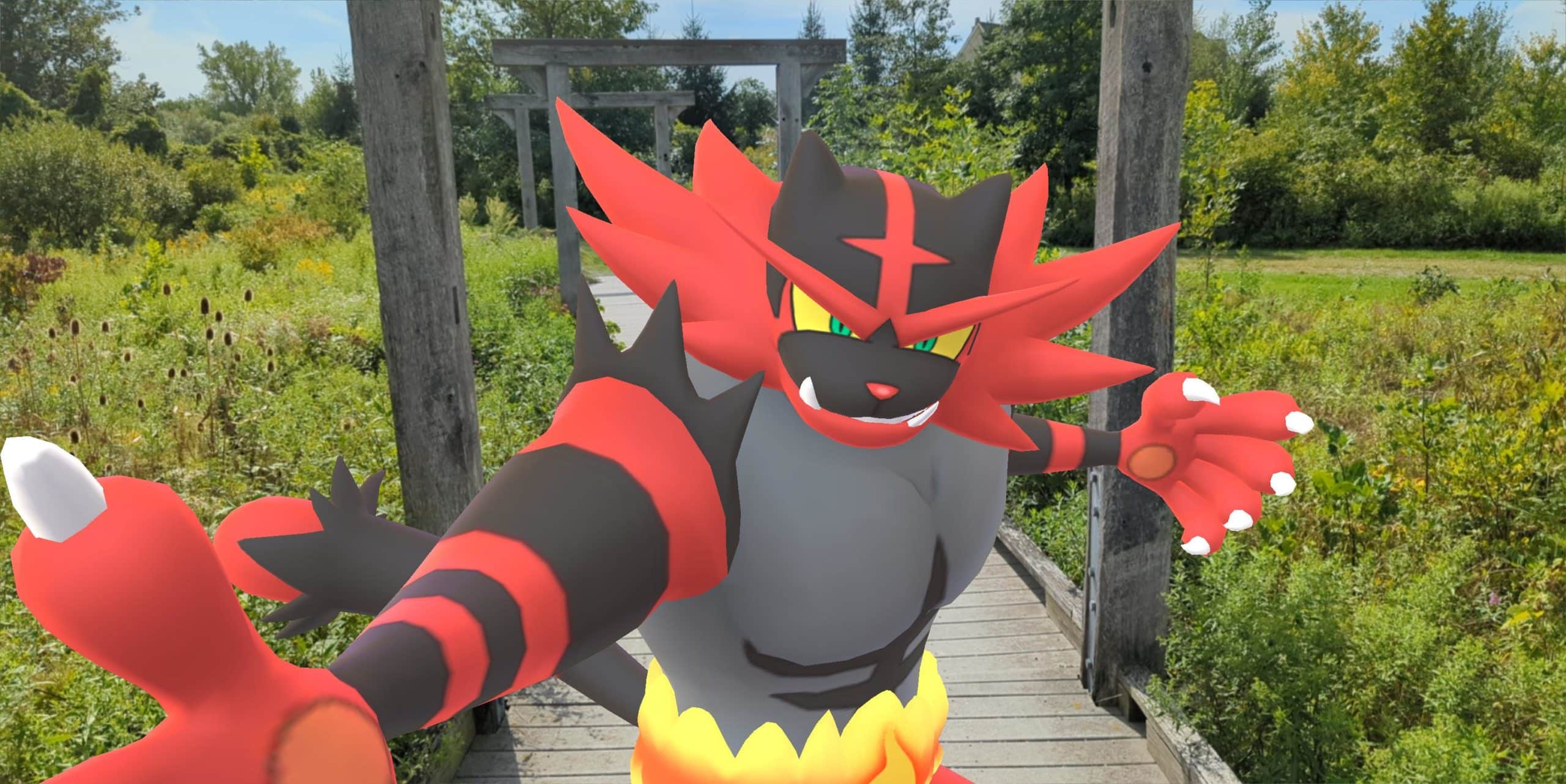 'This was my first time taking pics of Incineroar. He's a super cool Pokémon and I was really happy with the way he poses – totally in line with his personality. When I got up close, I realized that with the right camera angle it looks like he's taking a selfie.
I took this photo at Meridian Park in Rochester, NY – one of my favorite nearby spots for AR pictures. Also, incineroar is now one of my favorite Pokémon to photograph.'
'Hashigui Rock' by ACE📸, Wakayama, Japan.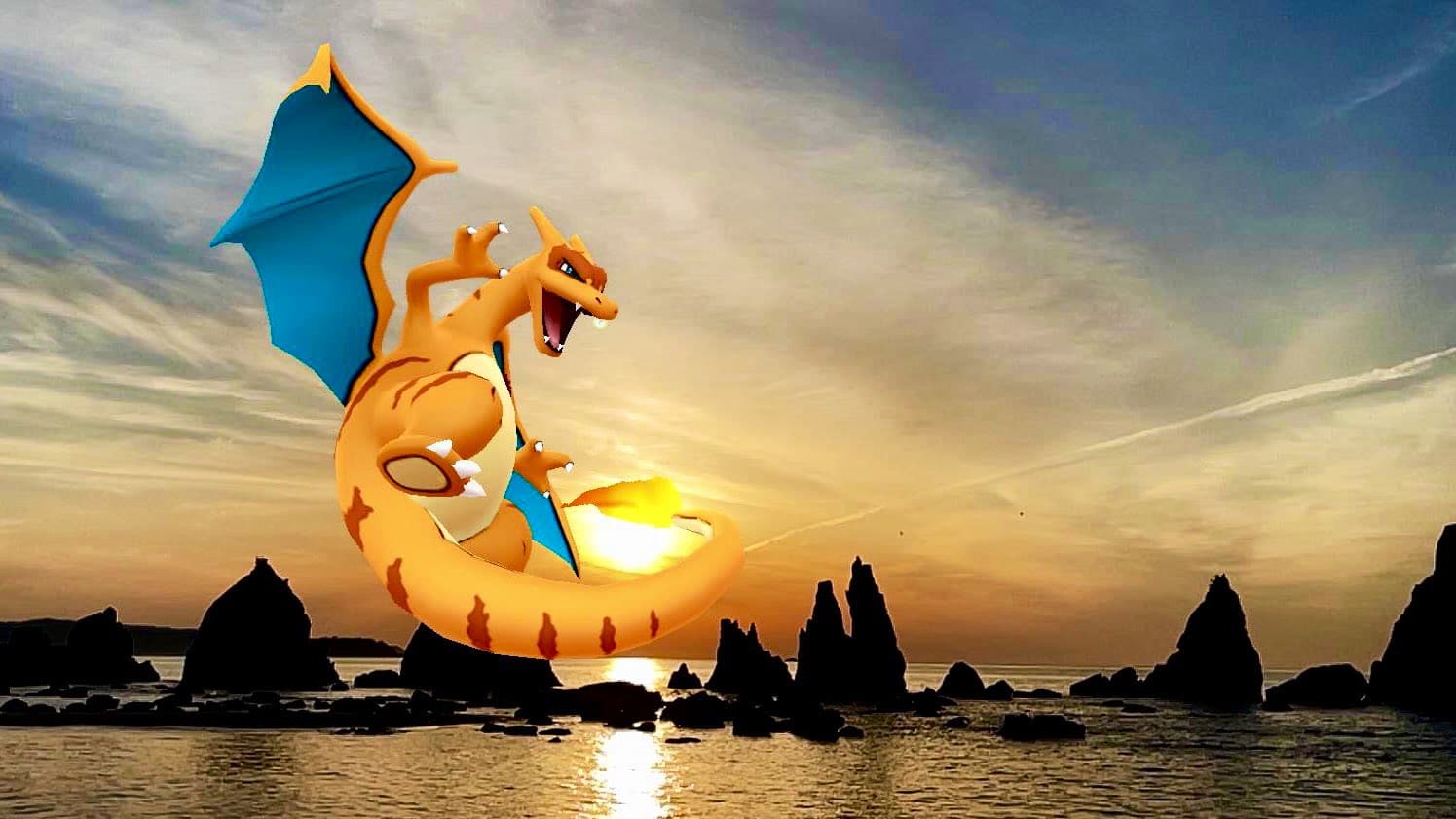 'Stretching some 850 m from Kushimoto towards Oshima Island are found about 40 odd-looking rock formations. The name, literally meaning "bridge pilings", comes from the way these rocks look like the pilings of a bridge that links Kushimoto with Oshima Island. There is also a legend that ciaims Kobodaishi, the monk who founded Koyasan, built this natural marvel, its slihouette at sunrise is truly a sight worth seeing.'
'lets have a staring contest!' by ずんだオレ, Niiza Sogo Undo Koen Multipurpose Athletic Field.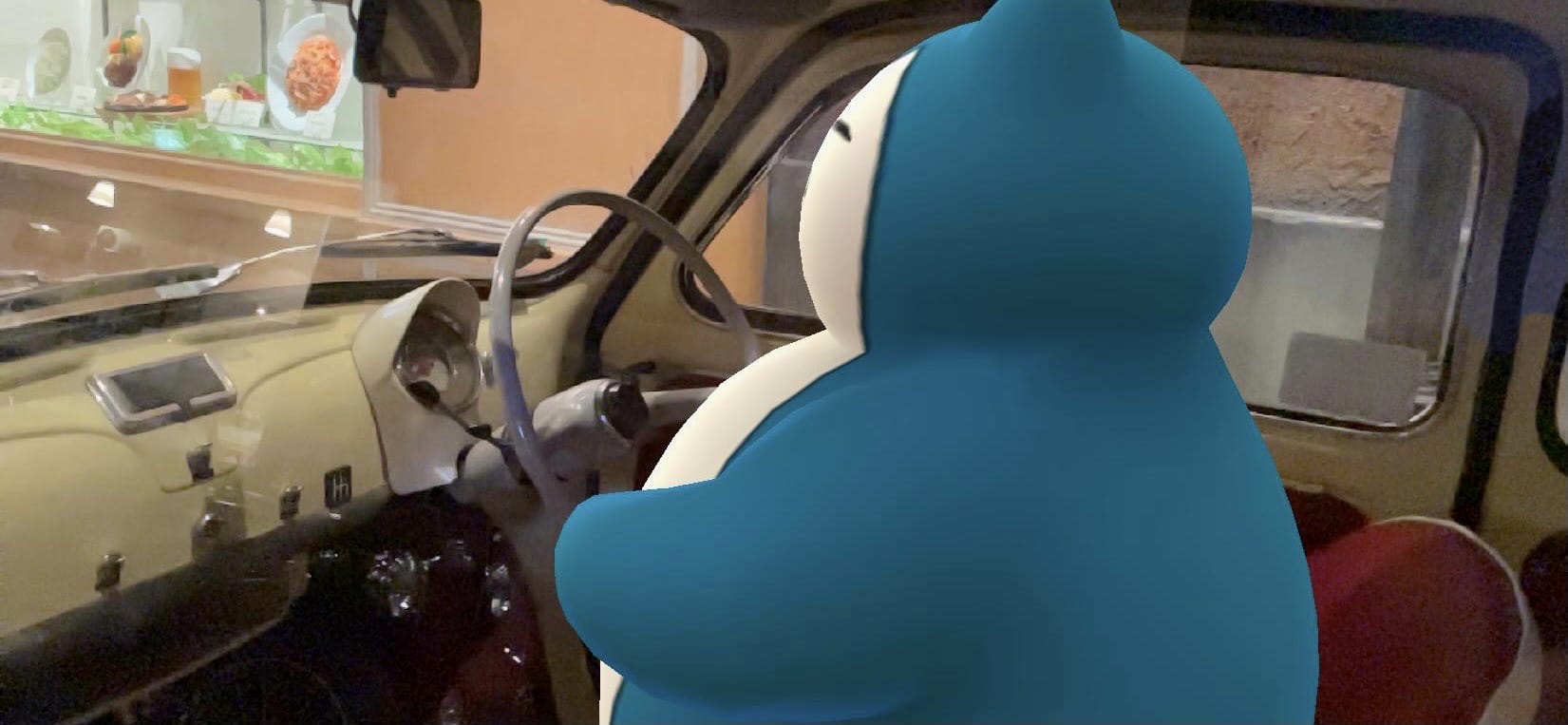 'With the cat lets have a staring contest!'
'Alola 'Oe, until we meet again' by SilverBullet00, Honolulu, Hawaii, United States of America.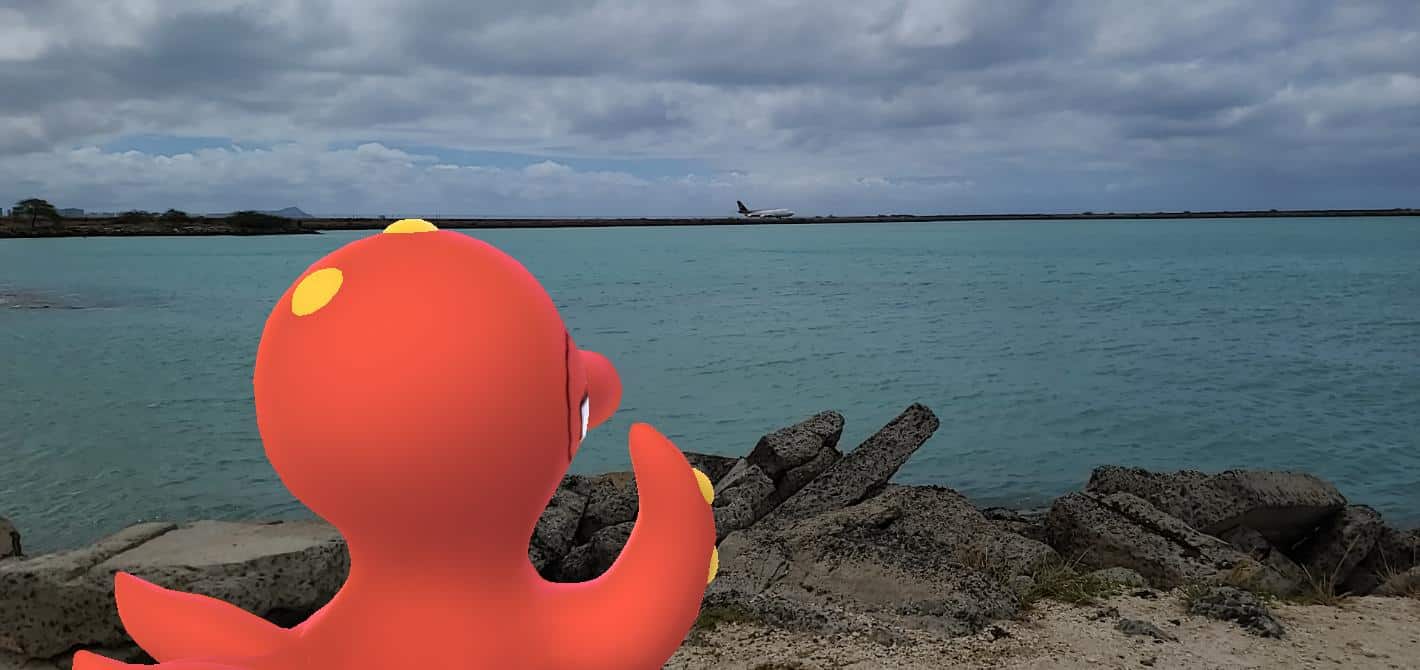 'Octillery bids farewell to new friends bound for the Paldea region'
'Buzzzzzzzzz!!!' by PoKeOptimum, Santipur, West Bengal, India.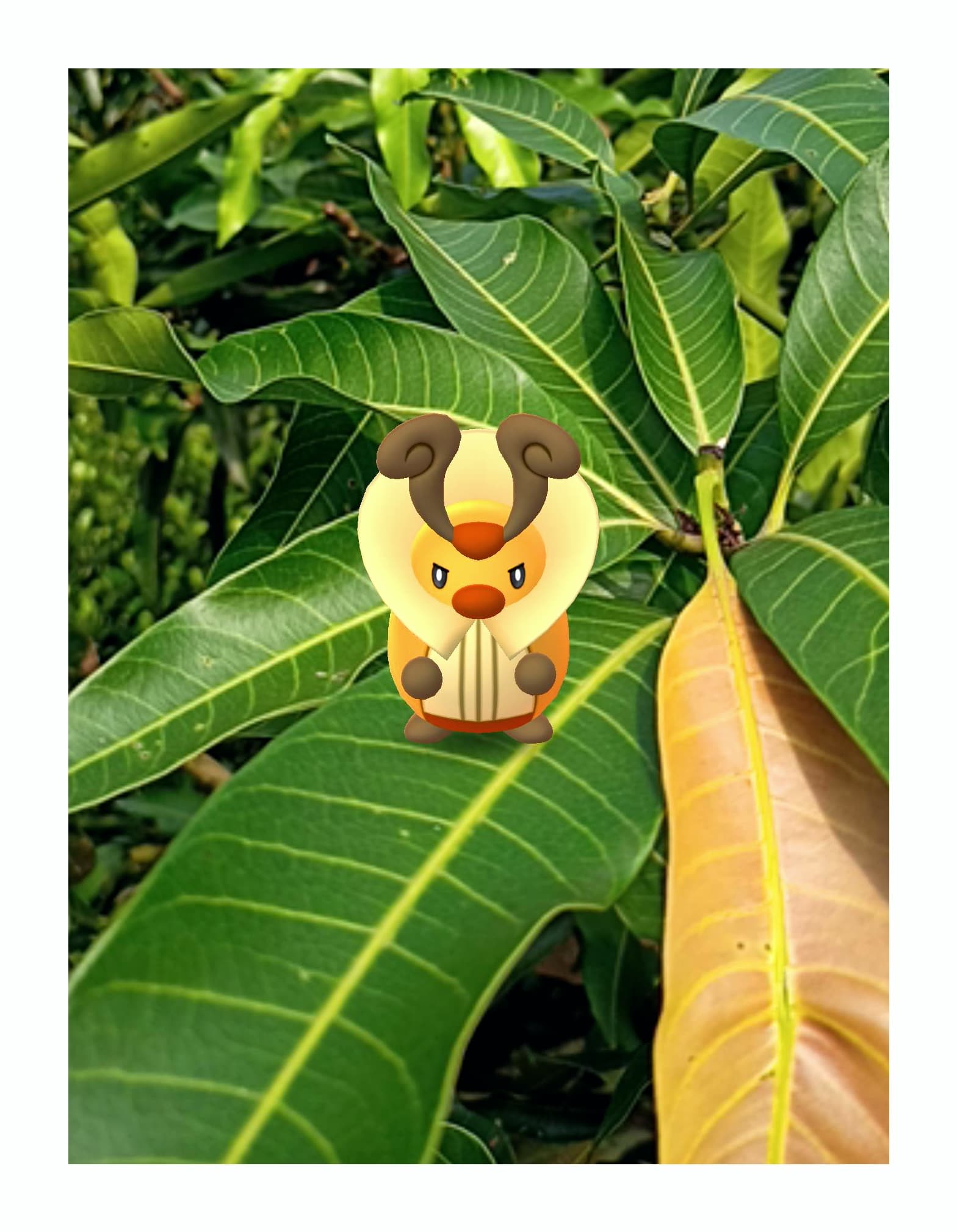 'Watering my free🙂…..OMG!!!!! It's a shiny kricketot🪲😱!!!!'
'Pidove's Happy Tears' by nana15AR, Hiroshima City, Japan.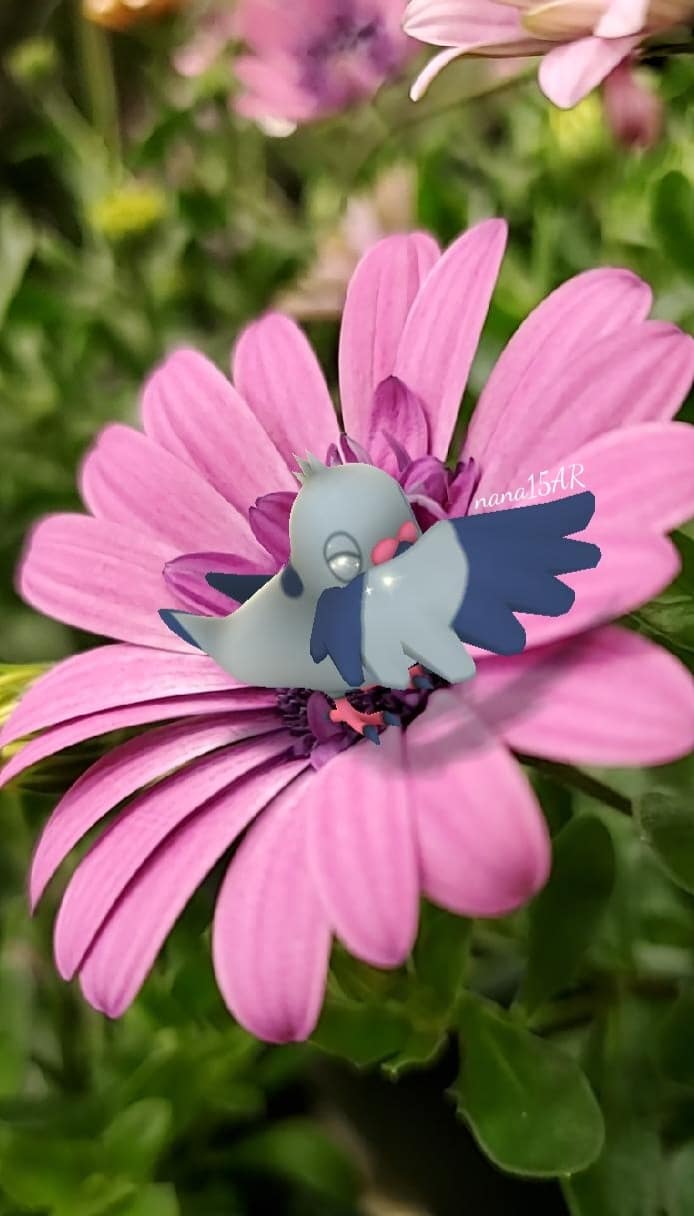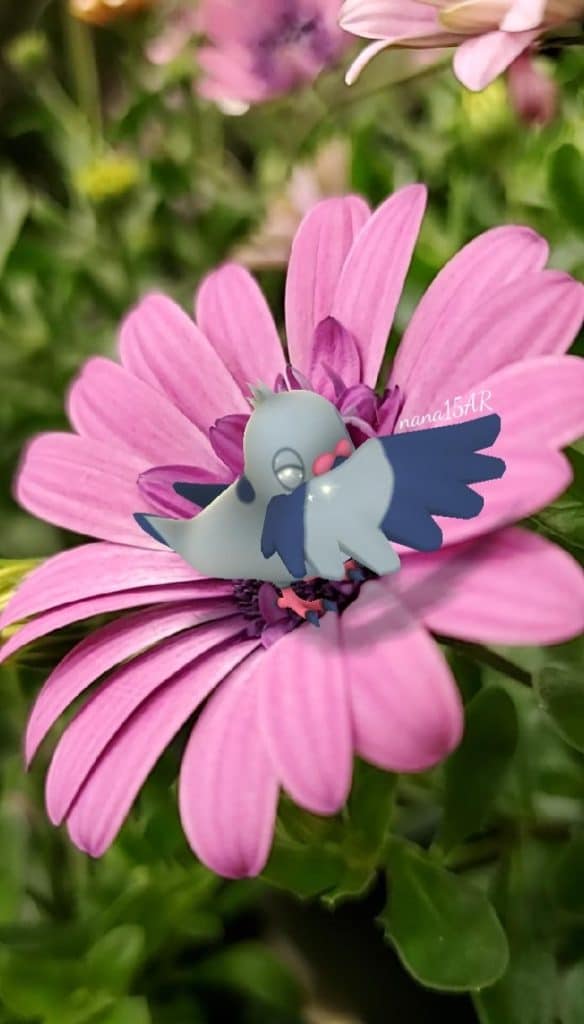 'Pidove was very happy.
He felt happiness from the bottom of my heart and got wet with tears.'
'The Little Shiny Guy' by RockStarRithvik, Bengaluru, Karnataka, India.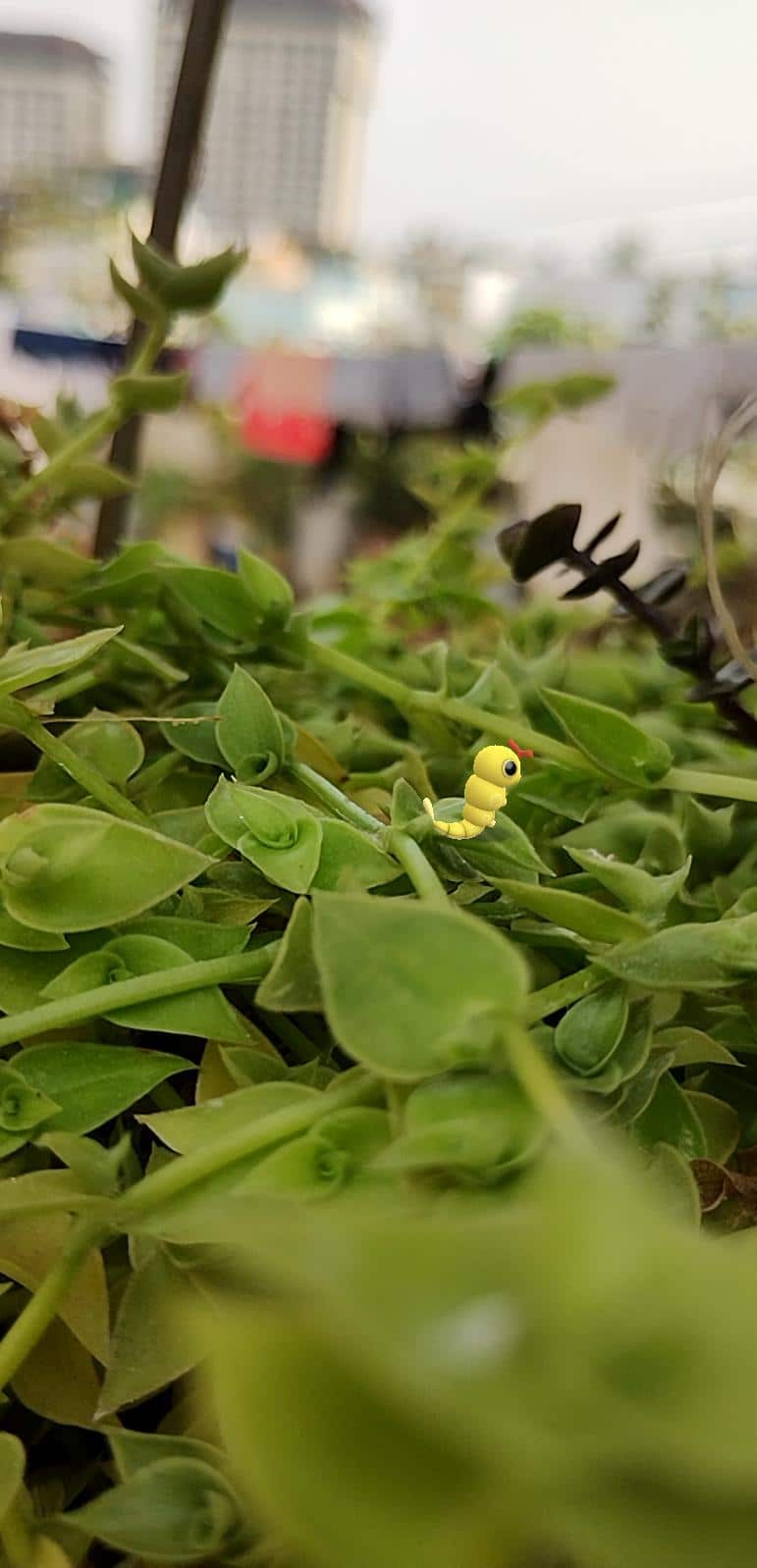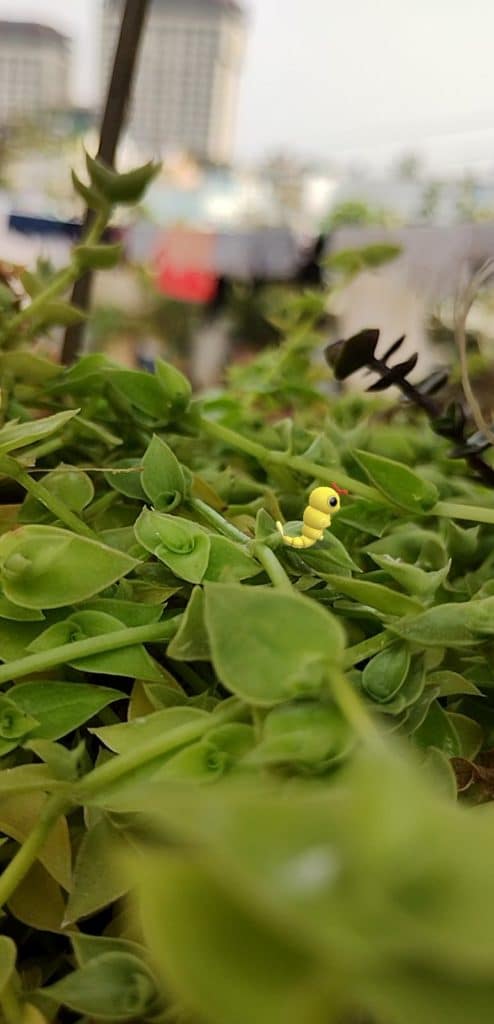 'Caterpie is one of my favorite shinys ever!
This snap was taken when I saw this plant hanging on the terrace. Was too small and was hanging from a height so I decided to use Tiny Pokémon technique which I love to use and surprisingly a bit of Bokeh also got added in the background lol.'
Edited Images
The below AR images have been edited or filtered in some way.
'The ampharos at the lighthouse' by ElKhan32, Wales, UK.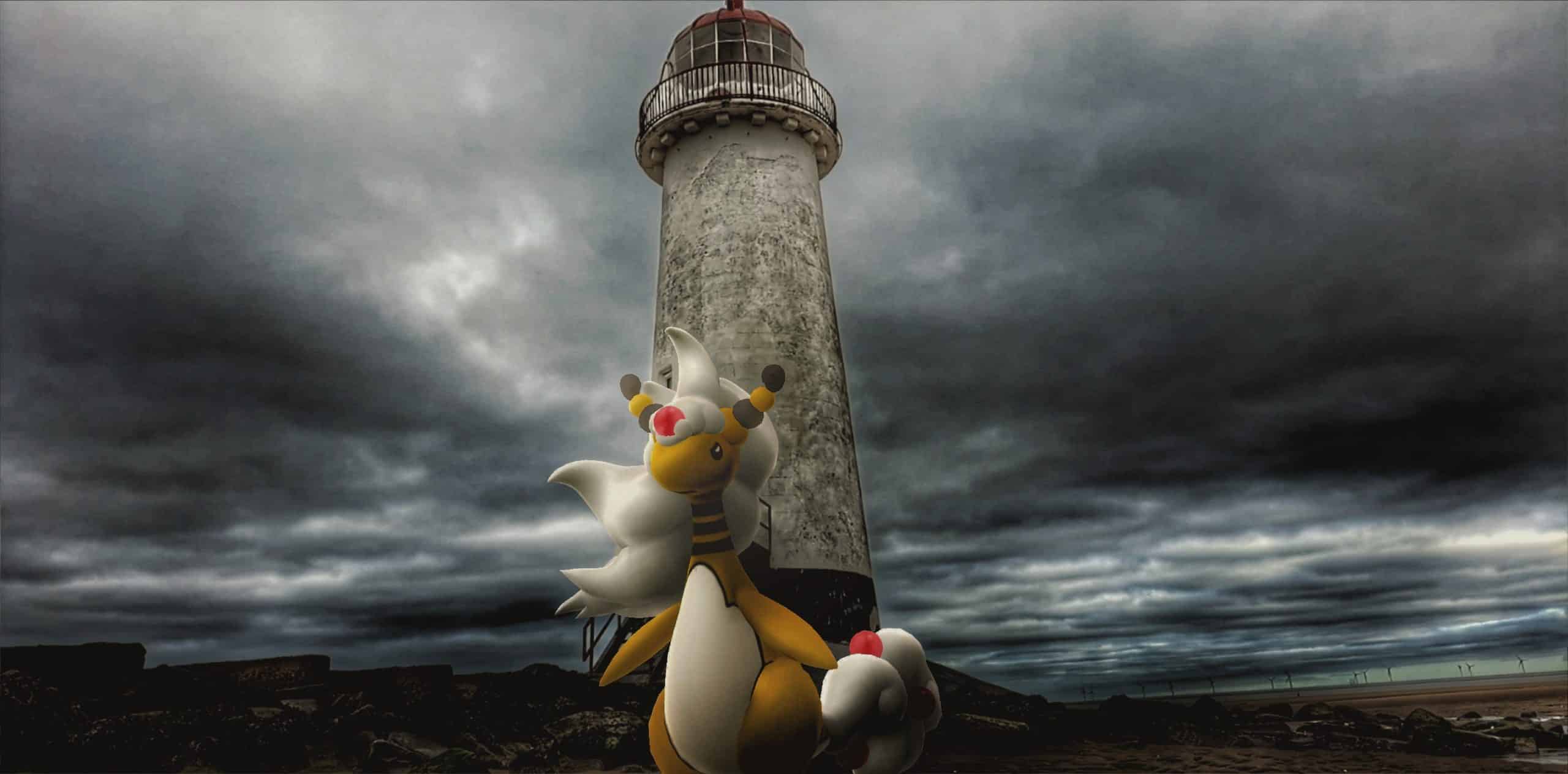 'In my first play through if Pokémon silver I had a little mareep. I grew that sheep to evolve it and it was my partner through that game. In the short story where you have to get medicine for another ampharos my heart felt so connected like I was helping a fellow ampharos. Favorite part of a Pokémon game yet. This picture takes me back to that kid with his electric sheep with a torch playing his gameboy colour at night.'
'If you know you know.' by PopPunkPokemonYT, Alola Region.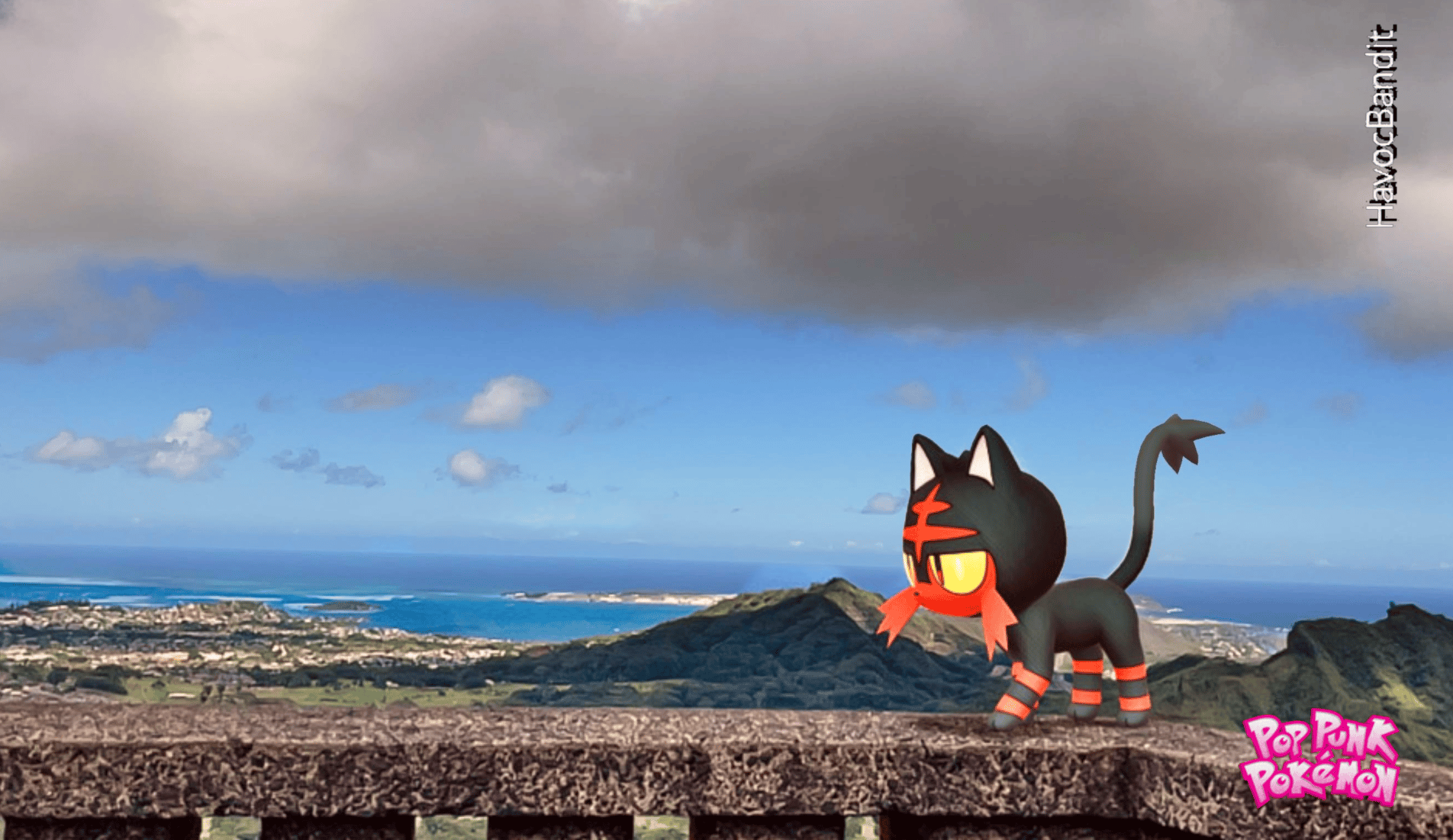 'Litten is my favourite Pokémon ever. It mirrors my sass and comforting nature.'
'Dream Capsule' by Feresk, Amlan, Negros Oriental, Philippines.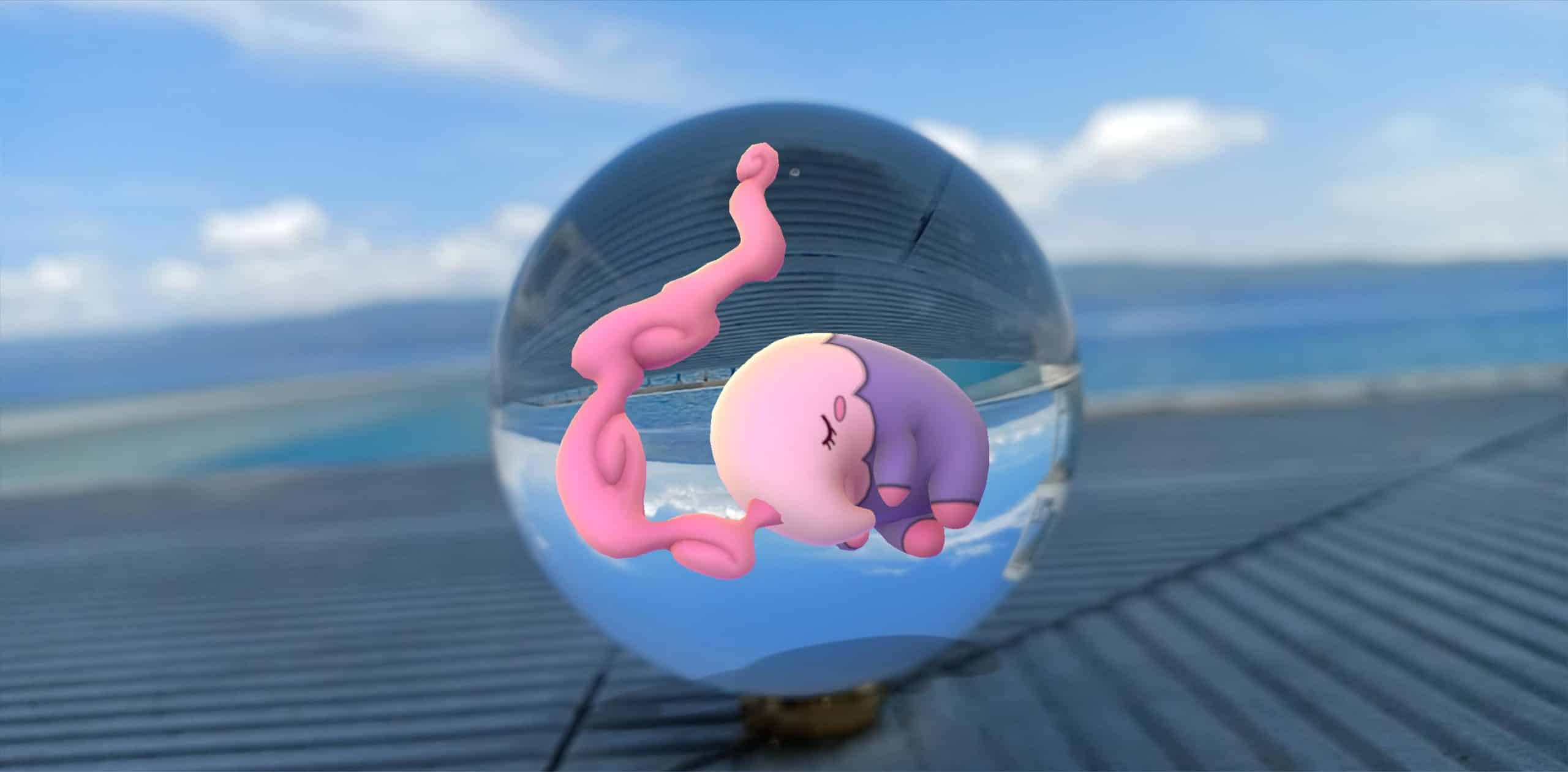 'One of my now-favorite toys in AR photography is my collection of three crystal balls. They give a whole new range of possibilities and gimmicks that Pokémon can use in real world settings.'
'My Pokémon Professor' by Espeon Willow, Melbourne, Australia.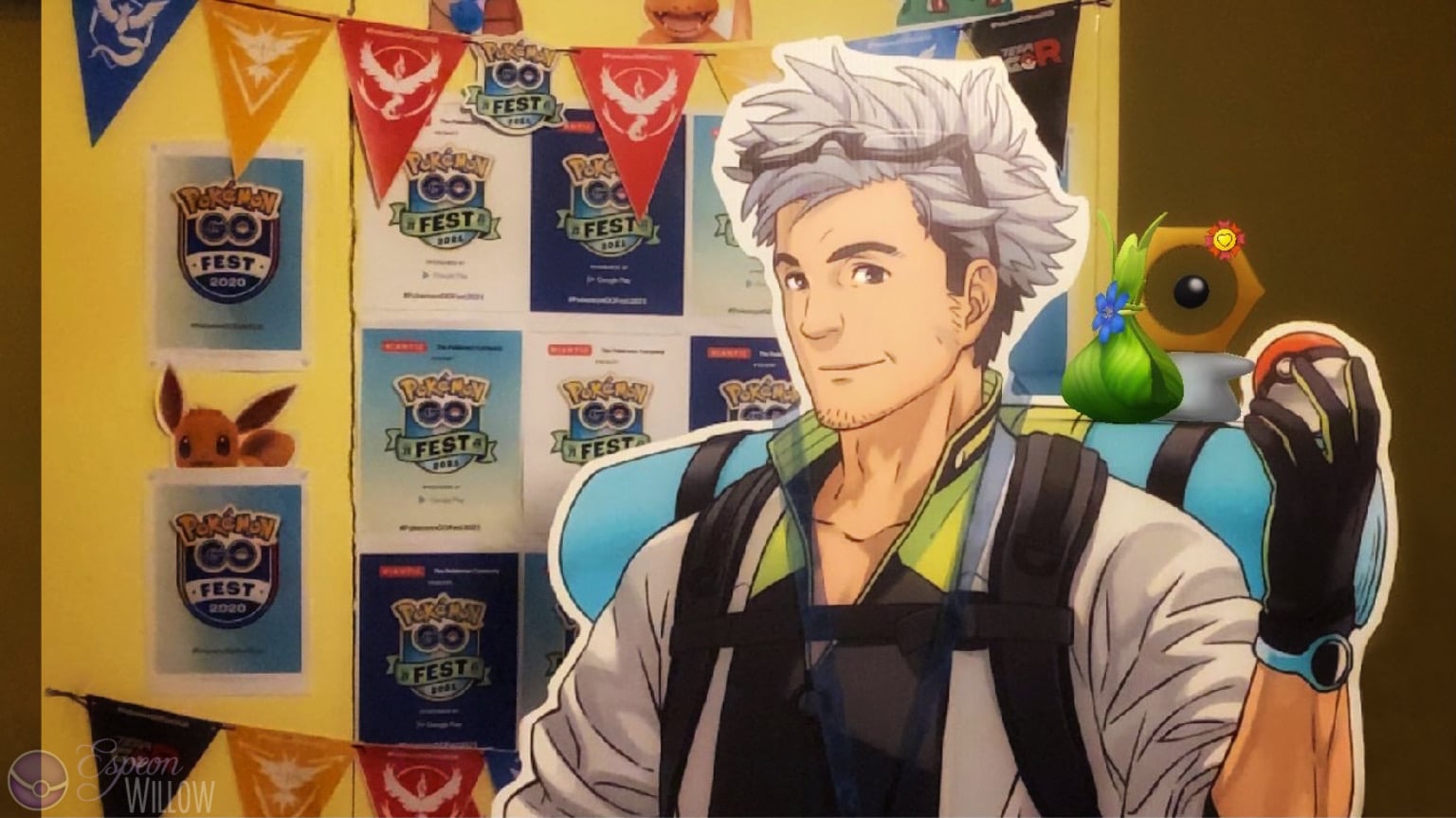 'When I think of my absolute "favourite" thing in the world, it is none other than Professor Willow. Although to call him just my favourite character would probably fall short of what he means to me. He is there to guide me in game and to inspire and provide me comfort in real life. Not everyone is a fan of the characters of Pokémon GO, but for me the game just wouldn't be the same without him. Professor Willow will always be my Pokémon Professor.'
'He Threw What at You?' by Hex_Manifesto, Charlotte NC.
'He Threw What at You? Depicts my favorite (sorry this is how we spell it) Pokémon Alakazam in his mega form using telekinesis to launch a attack of… Spoons? That's right he could crush you with his mind throw whole cars at you but his weapon of choice is spoons! Which also happens to be the utensil of choice for my favorite dessert… ICE-CREAM!!!'
'Real steel' by ElKhan32, Essex, UK.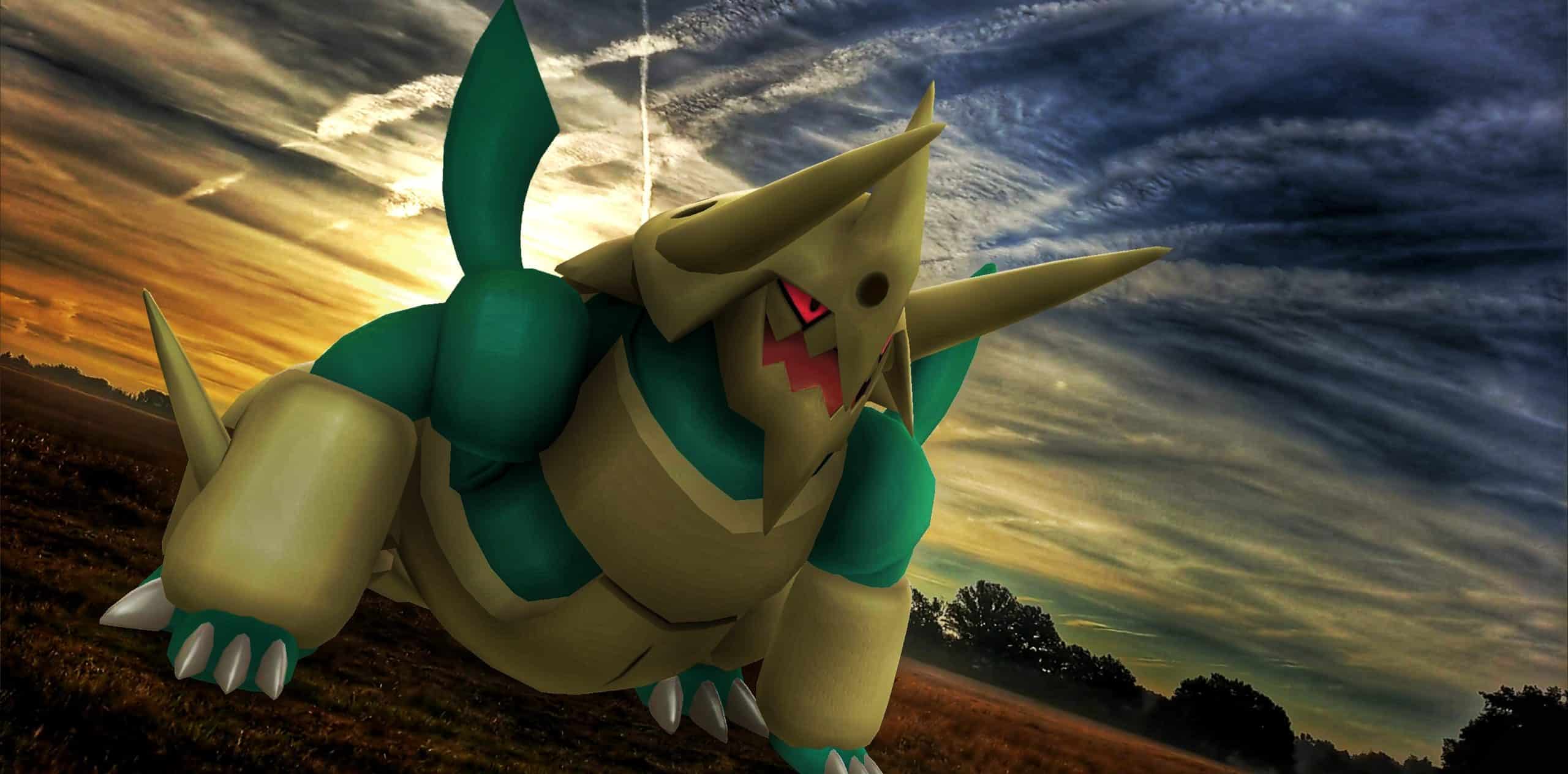 'This little aron was a old school lucky trade involving trading a OG 2016 mon. It turned out to be 98% at a time when aggron was all the raid recommended would give you. So I maxed it. Got to flex that shiny aggron. It became my favorite mon for raids.'
'Tapu Lele enjoying the day on Akala Island' by PKMNsnaps, California, United States.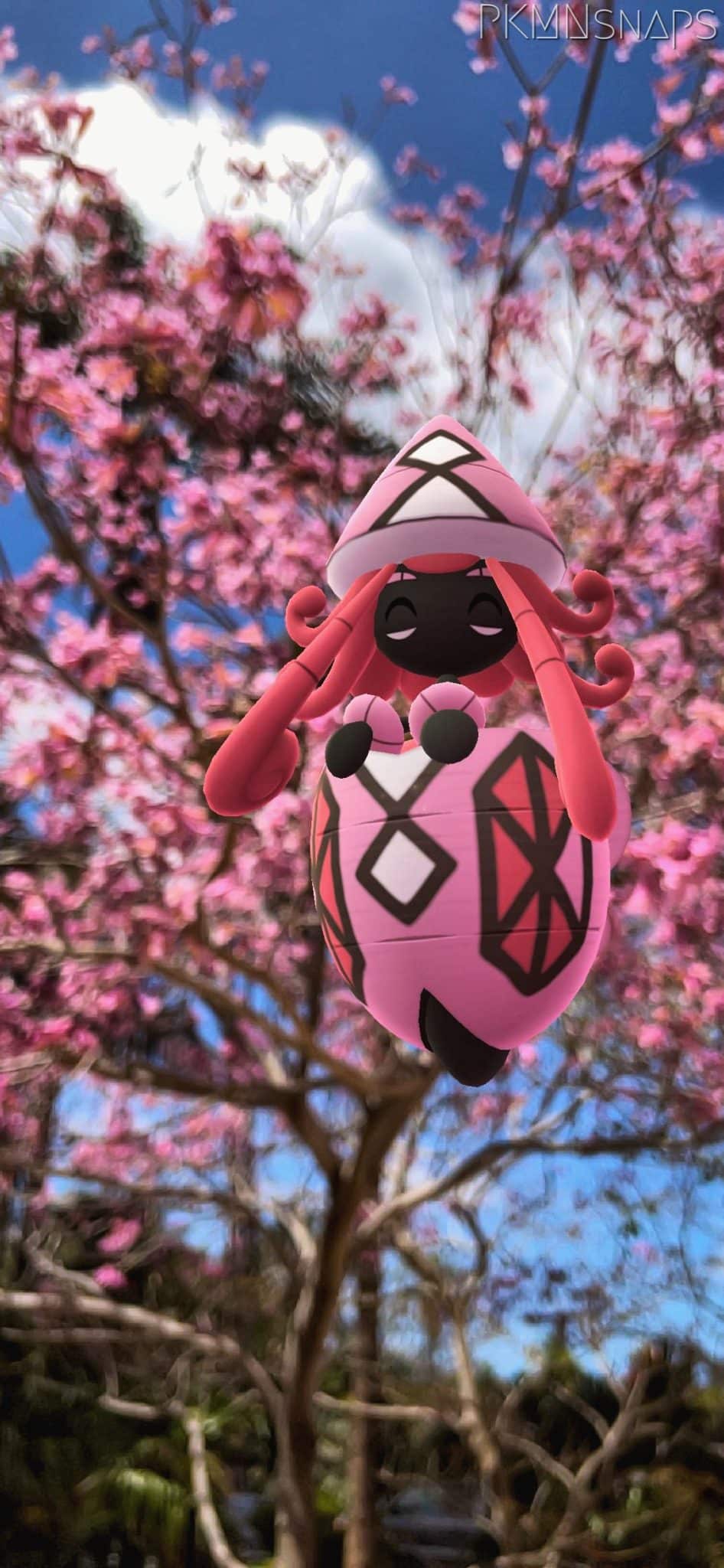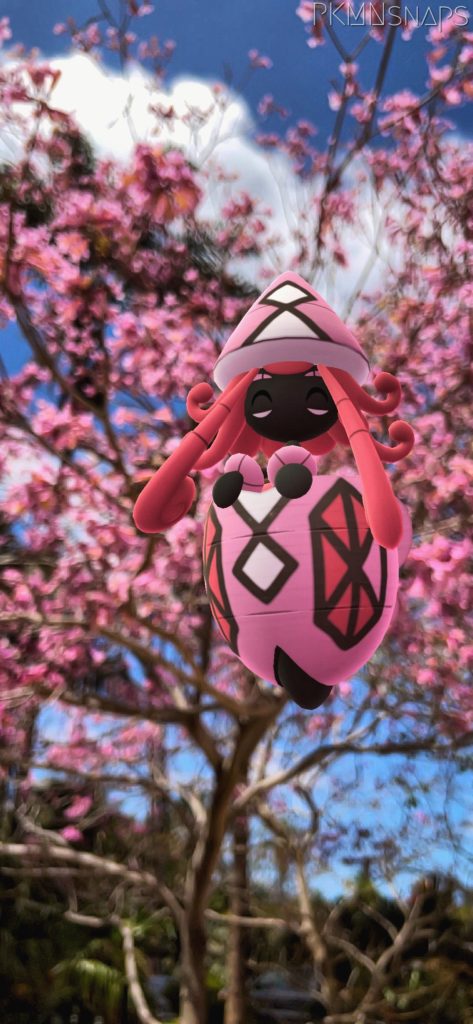 'I saw this tree at my local park and knew I had to get Tapu Lele in the shot. It took a bit of finessing to have it spawn high enough in the air, but once it was, I used the fake bokeh method and got the perfect shot!'
'Sky on Fire' by Mythical Lae Snaps, Sydney, Nova Scotia.
'The Vulpix/Ninetales line has always been my favourite Pokémon. This photo was taken when you still had to take wild ar photos. This amazing sunset appeared after beldum community day and I knew I had to shoot the fire fox against a sky on fire. The contrast is so beautiful! Sometimes I miss the old days of wild AR photography but it's cool to see how far it's come and hopefully how much further it will go!'
'Rayquaza defends Krimml Falls' by by PoGoMiloUKYT, Austria.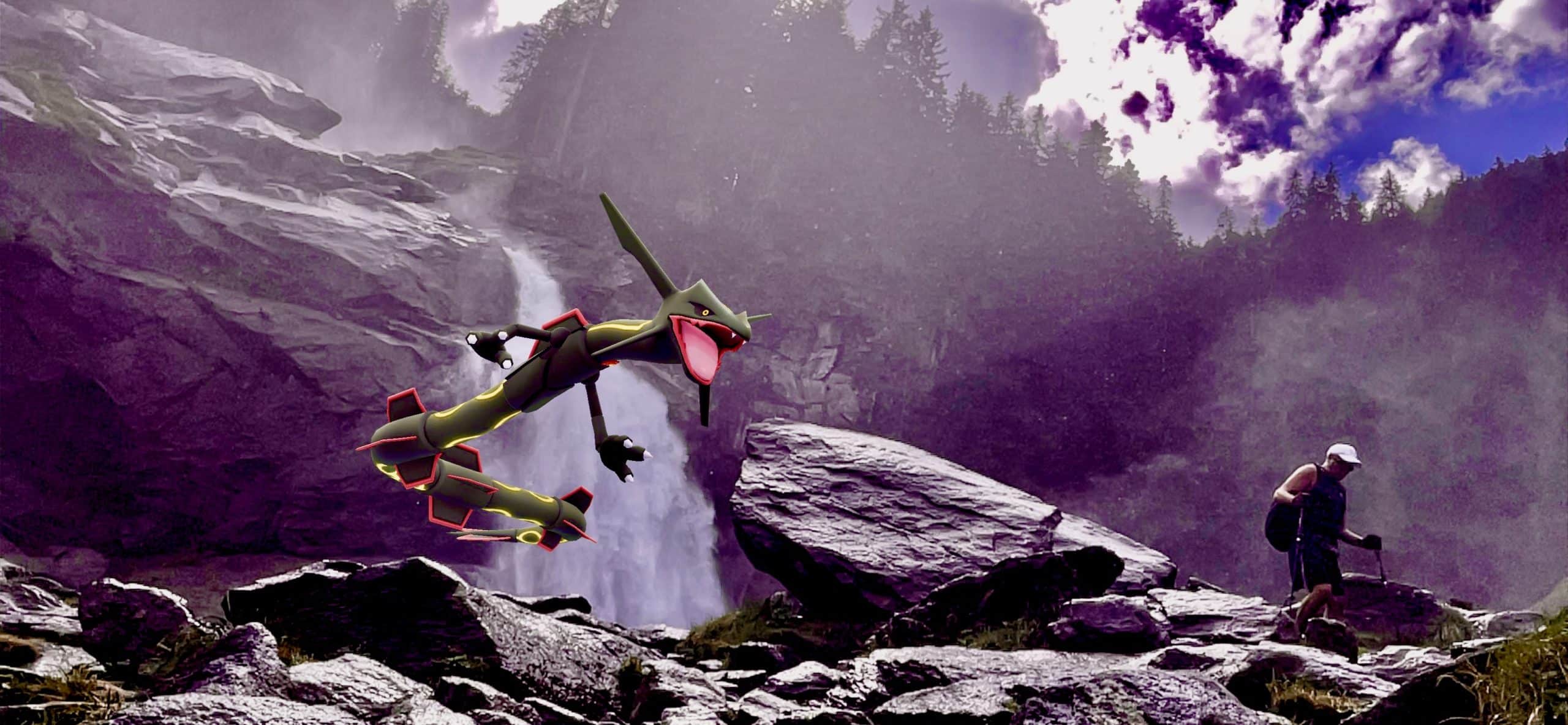 'At the beginning of September I was on a 9 day road trip around Europe, Austria for the majority, in my MX5. The scenery and locations made for some epic AR shots but this one has to be my favourite!
Visiting the dramatic Krimml Waterfall in Austria you're met with heavy and intense water spray from the bottom of the waterfall. So snapping this GO snapshot was tricky.
Testing out a few Pokémon, Rayquaza interacted with the rocky environment really well. What made this shot was the person legging it from the waterfalls, only just snapped them within frame but it makes the shot.
My Shundo Rayquaza at Krimml Falls.'
By Danicho003, Huancayo, Perú.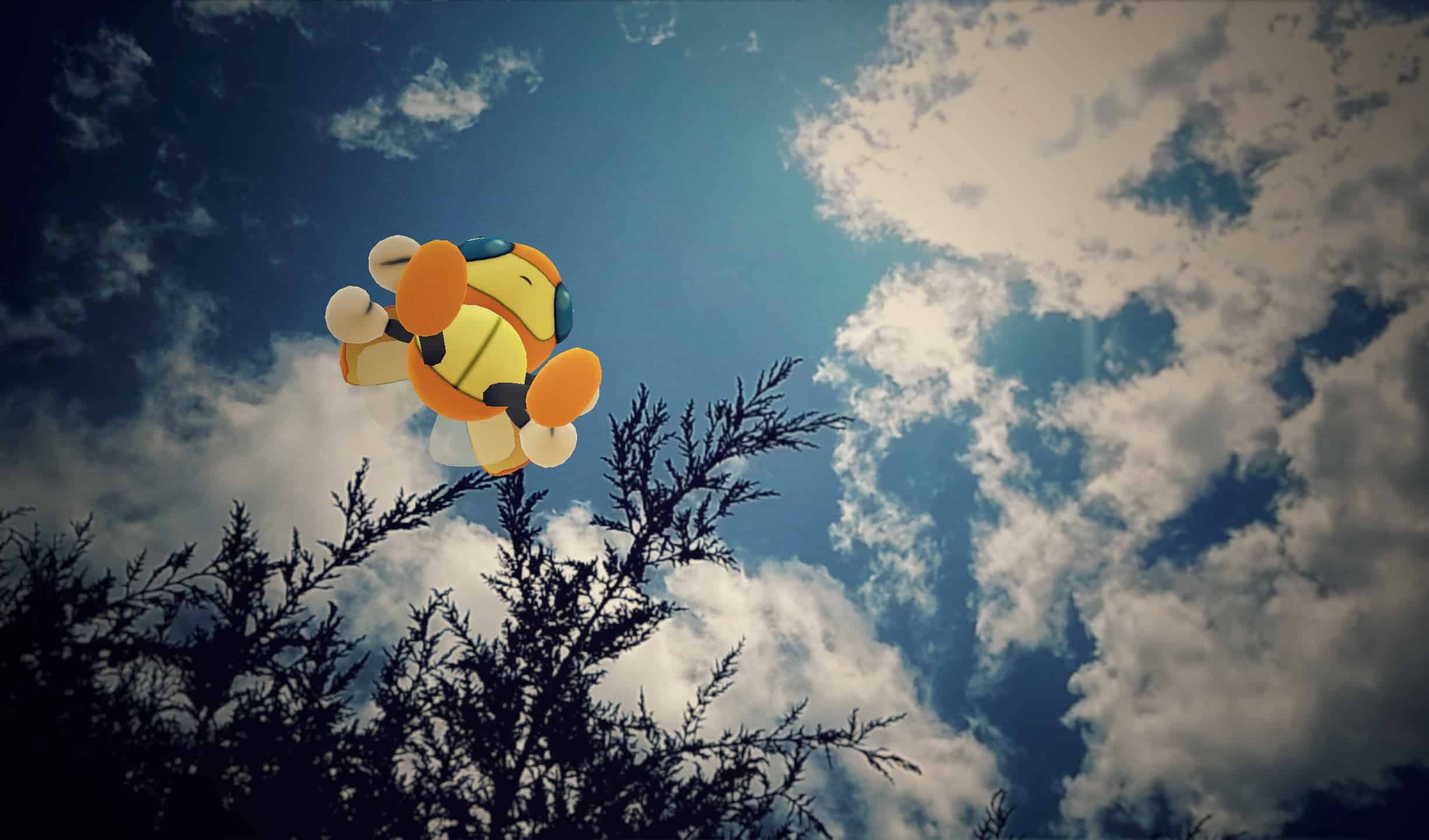 'This photo means a lot to me, we can see the Pokémon flying in the skies, just like my grandmother did when she passed away, I took the photo days after she died.'
'Emolga's Moon Viewing' by La Vie en rose, Japan.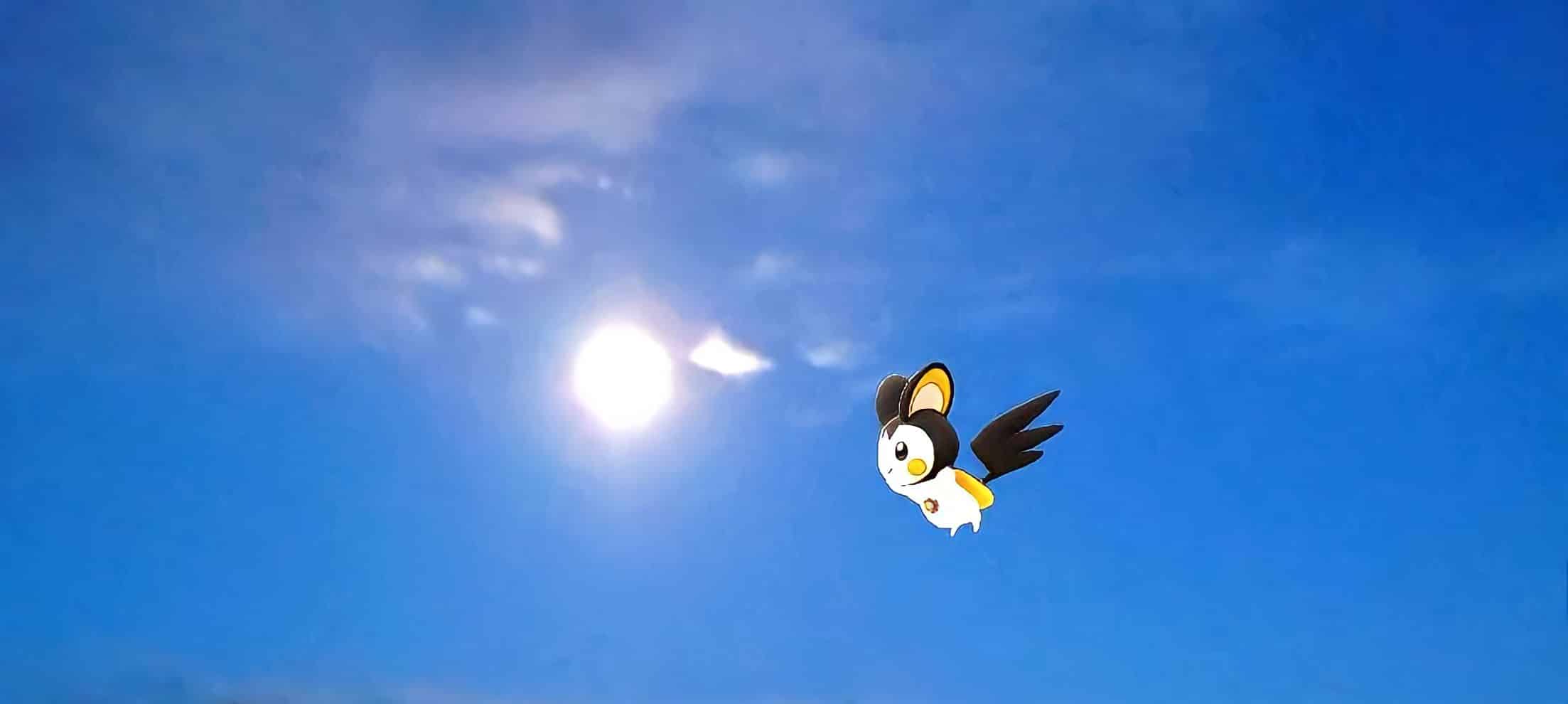 'Moon viewing is an autumn tradition in Japan. We love the beautiful full moon.'
'The ninja' by ElKhan32, Essex, UK.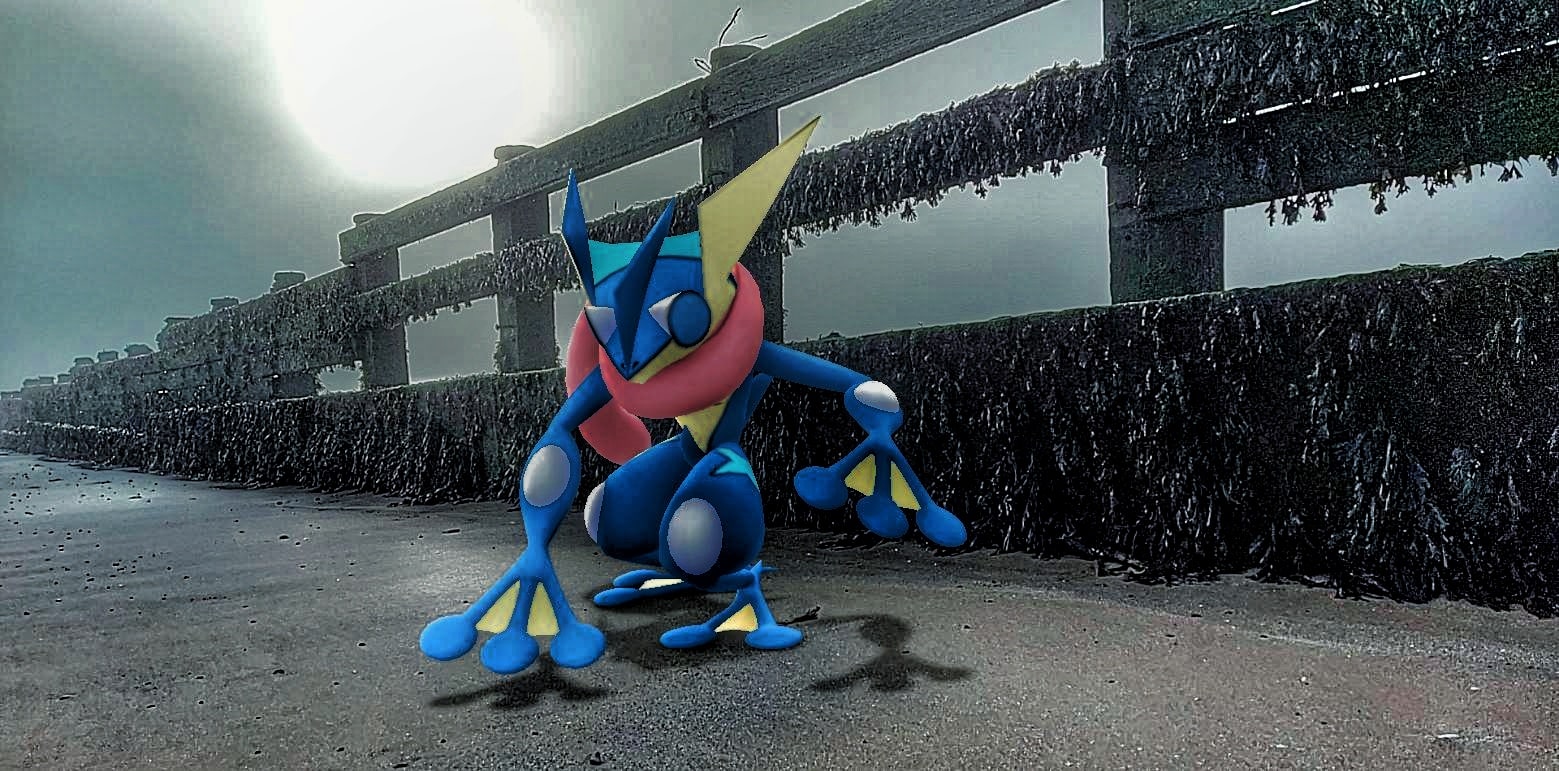 'This is my favorite spot for ar pics, down by the sea. Its a little tucked away and hidden but a lot of my pics are taken there.'
'Shinx and the colors of their back paws' by shinyshinx.science, British Columbia, Canada.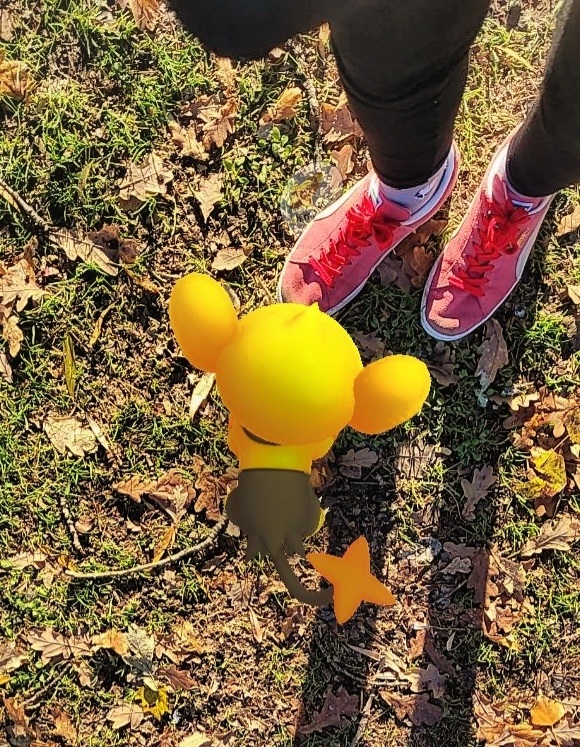 'The reason that males and females of the same species show differences in appearance is called sexual dimorphism. Due to its smaller tuft and yellow back paws, I can tell that this one Shinx is female.
Now, for every Shinx with yellow back paws and every Shinx with black back paws, there is another Shinx with back paws of a color that falls in the middle between yellow and black. Everything in biology happens as a spectrum. That's the natural way of things! '
'1/3 of a Murder' by Feresk, Siaton, Negros Oriental, Philippines.
'My favorite color is purple, and this is one of my favorite takes of a purple-colored Pokémon.'
'An Icy Treat' by Pokémon ARtographer, Hawaii, US.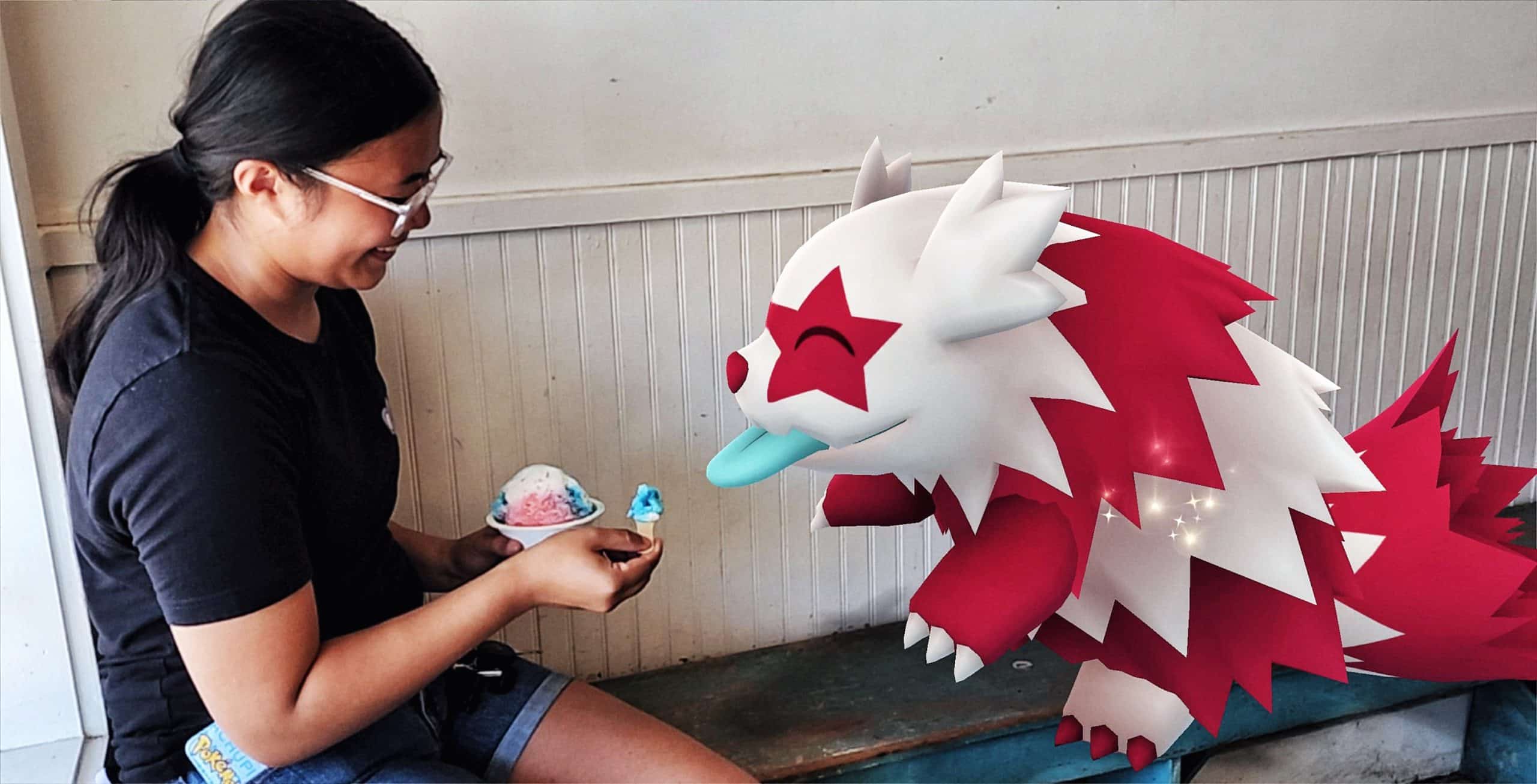 'Briana shares some of her favorite treat with her newest buddy! Nothing like some tasty, cold shave ice on a hot day!'
AR Masters
The below images are taken by our AR Masters.
'It's so fluffy!' by Earl0flemongrab, Camber Sands.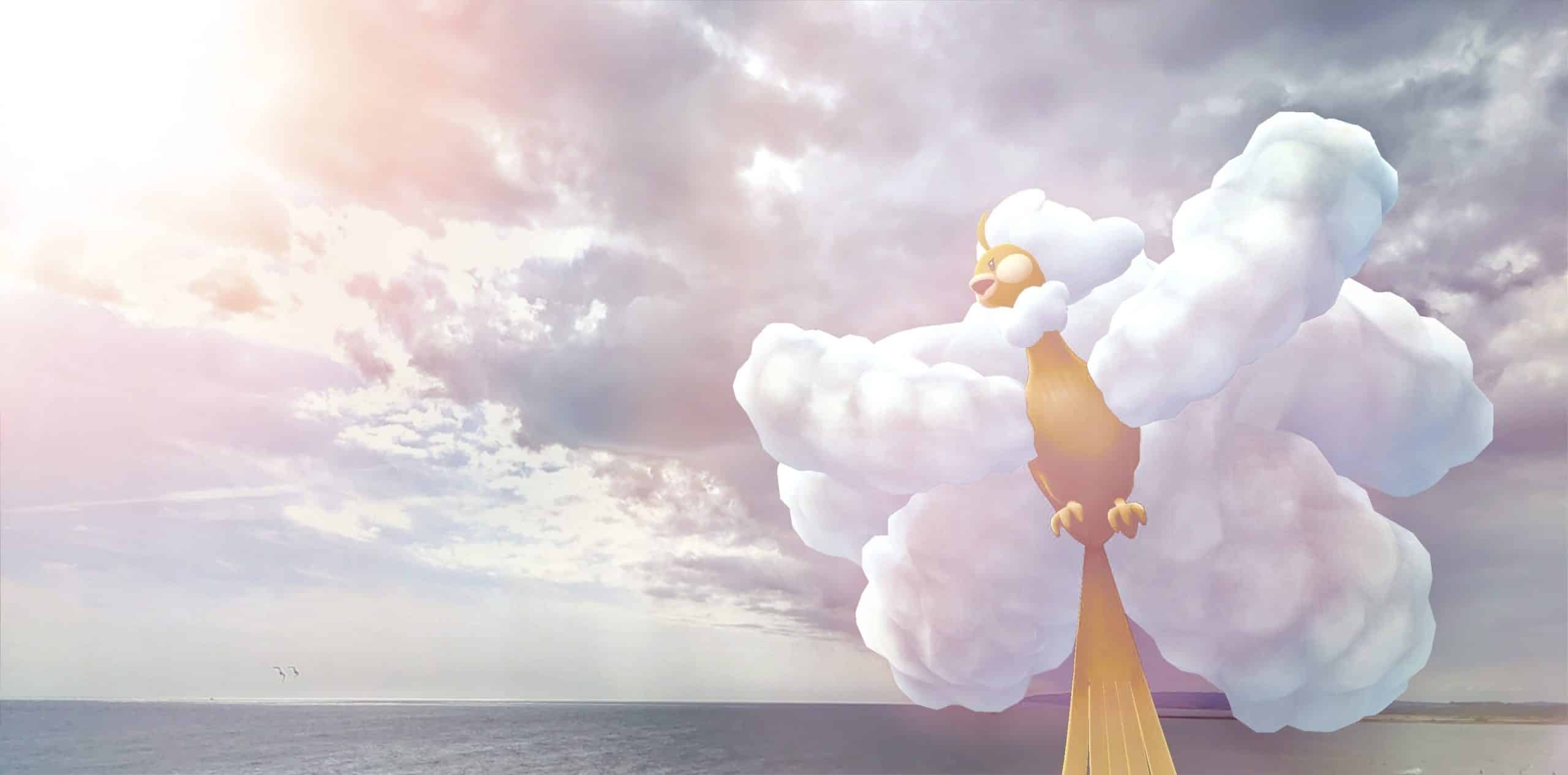 'Charizard is my favourite Pokémon but that's so over done so I decided to choose one of my favourite looking mega Pokémon. Mega Altaria just looks so fluffy and the clouds on this day were a perfect match.'
'Youth Gone Wild' by kittypokemonsalot, Lincolnshire.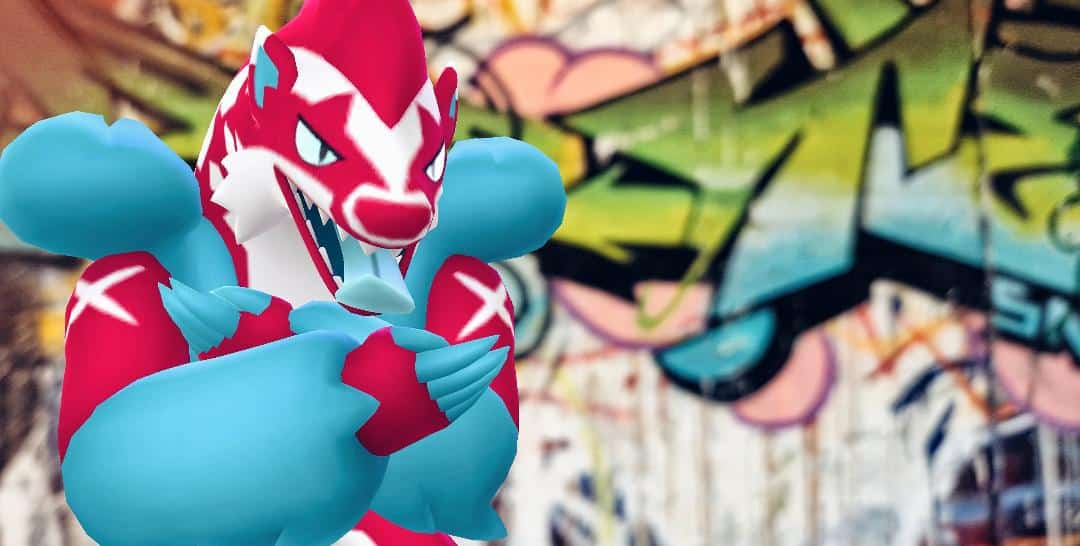 'For my 'favourite', I opted to highlight one of my favourite techniques, Bokéhmon, along with one of my favourite shiny Pokémon, Obstagoon. I love that Obstagoon is such an obvious reference to Gene Simmons from Kiss, with the whole family having glam rock and Kiss specific references'
Next Submission Theme
For our next submission theme, we have our annual spooky season Halloween theme! Submit your creepiest, most scary AR photos ready to celebrate the eeriest time of the year. Entries must be submitted by 25th October to be considered, full rules at the link here.