For an AR game from an AR company, we don't actually often get much in the way of AR updates to Pokémon GO. As a huge fan of the AR modes this is quite disappointing at times as there is so much potential to be had, especially when you look at Peridot and Pikmin Bloom and their much more intelligent AR modes.
So you can imagine my delight when I got tagged in this tweet from FleeceKing:
How cool is this? 👀

New sky update for Adventure Week in AR mode 🌌 #PokemonGO pic.twitter.com/pRVIpZ749K

— FleeceKing (@ItsFleeceKing) July 27, 2023
A real actual AR mode update?! I found out while I was at work, so cut to me running outside into the car park to excitedly test this out while my colleagues wondered what on earth was wrong with me. (Hint, it's Pokémon, it's always Pokémon). The sky looks so beautiful in game, so to find out it was also available in AR mode was everything.
How it Works
The first thing to note is that this particular AR update only works in the 'live' mode AR, with a wild Pokémon you have not yet caught. It doesn't work with Buddy Mode or AR+, so you are restricted to photographing the Pokémon you encounter in the wild.
To use this mode, encounter your chosen Pokémon, and you'll see in the top right corner of the screen an option to toggle AR on or off. When you turn that on, your Pokémon will then appear in the real world!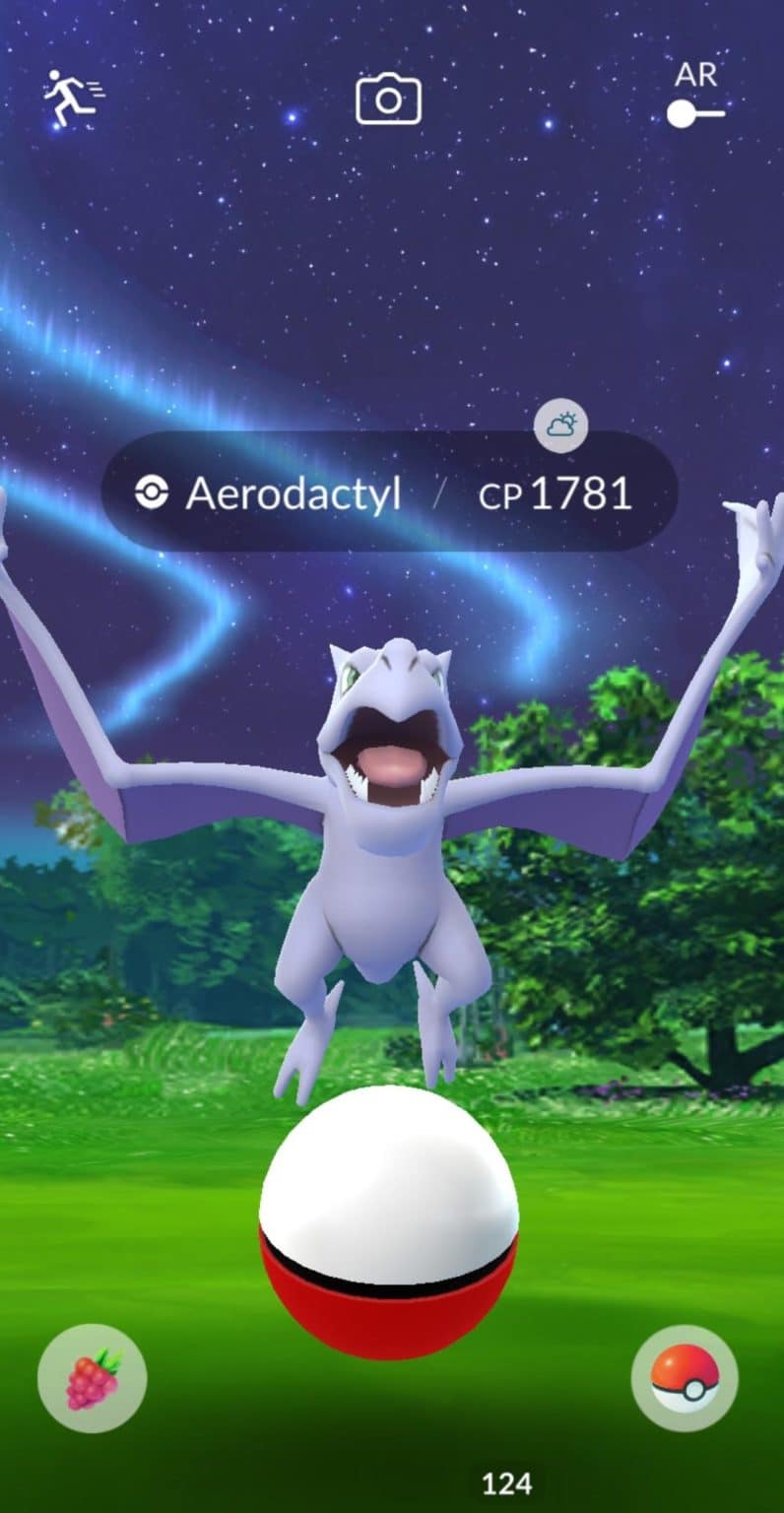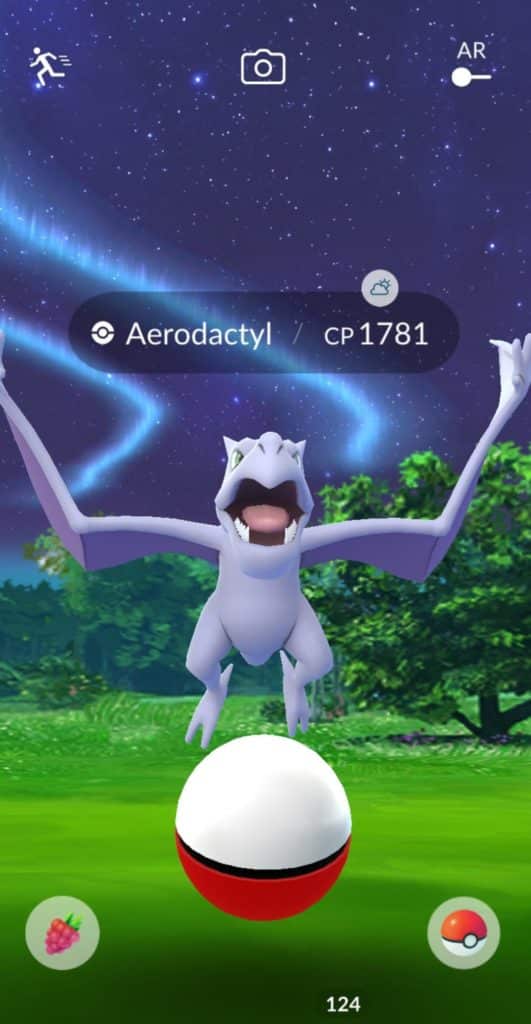 I've experimented with this method for photographing Pokémon quite a bit, and it can be quite tricky. Of all the different AR modes, it is the least intuitive and developed. You don't get much control in the standard live AR mode, and unfortunately the skies do not appear in the AR+ mode which gives you more options for positioning your Pokémon.
My major tips for anyone wishing to use this particular temporary AR update to your advantage are:
Photograph your Pokémon in a wide open space with plenty of skies
Larger, or flying Pokémon are easier to photograph because of their proximity to the sky
Night time, or dusk, work best
Here's an example taken in the day time with a busy background of trees, it just doesn't work in the same way! The Aurora Borealis effect makes sense with dark skies, and in this it really doesn't work. (and is a bad photo generally, just to show you how it looks in the day time)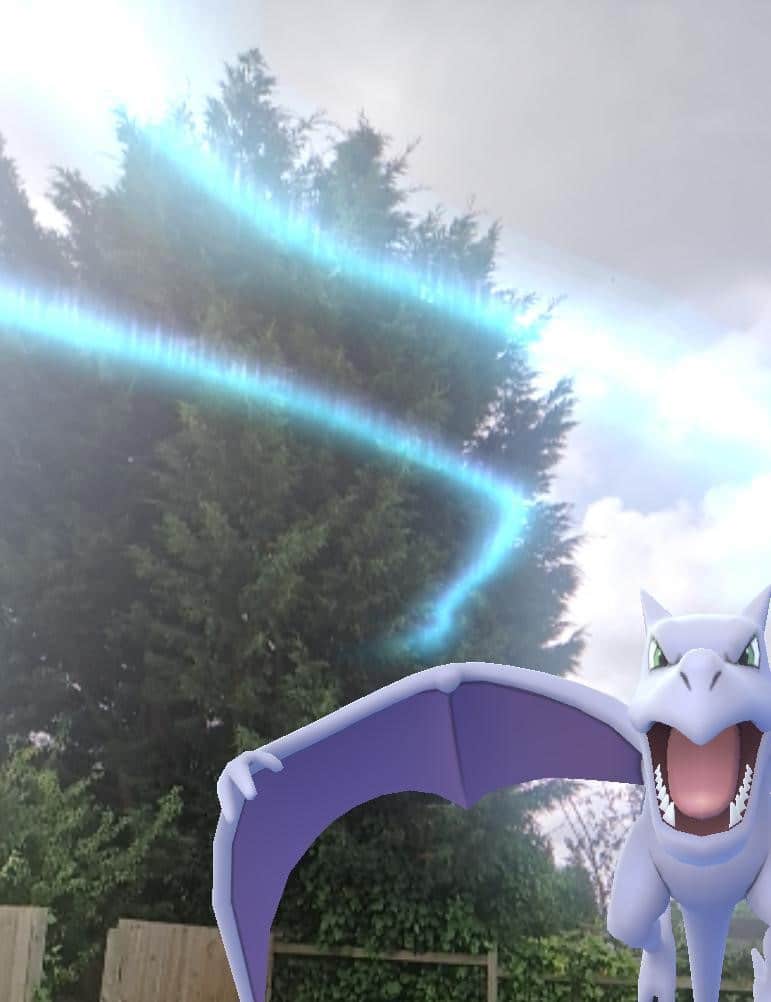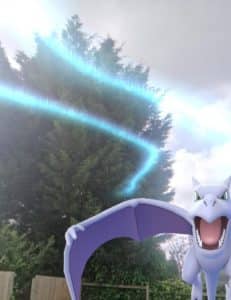 At night time however, this Northern Lights effect really shines! I tend to keep stack of Pokémon field research encounters, so I used these to try to see which Pokémon worked best to photograph. The bigger, the better! I sadly didn't have an Aerodactyl in my stack to try, which I think would have been fantastic, but I did have a Turtonator and an Alolan Exeggutor.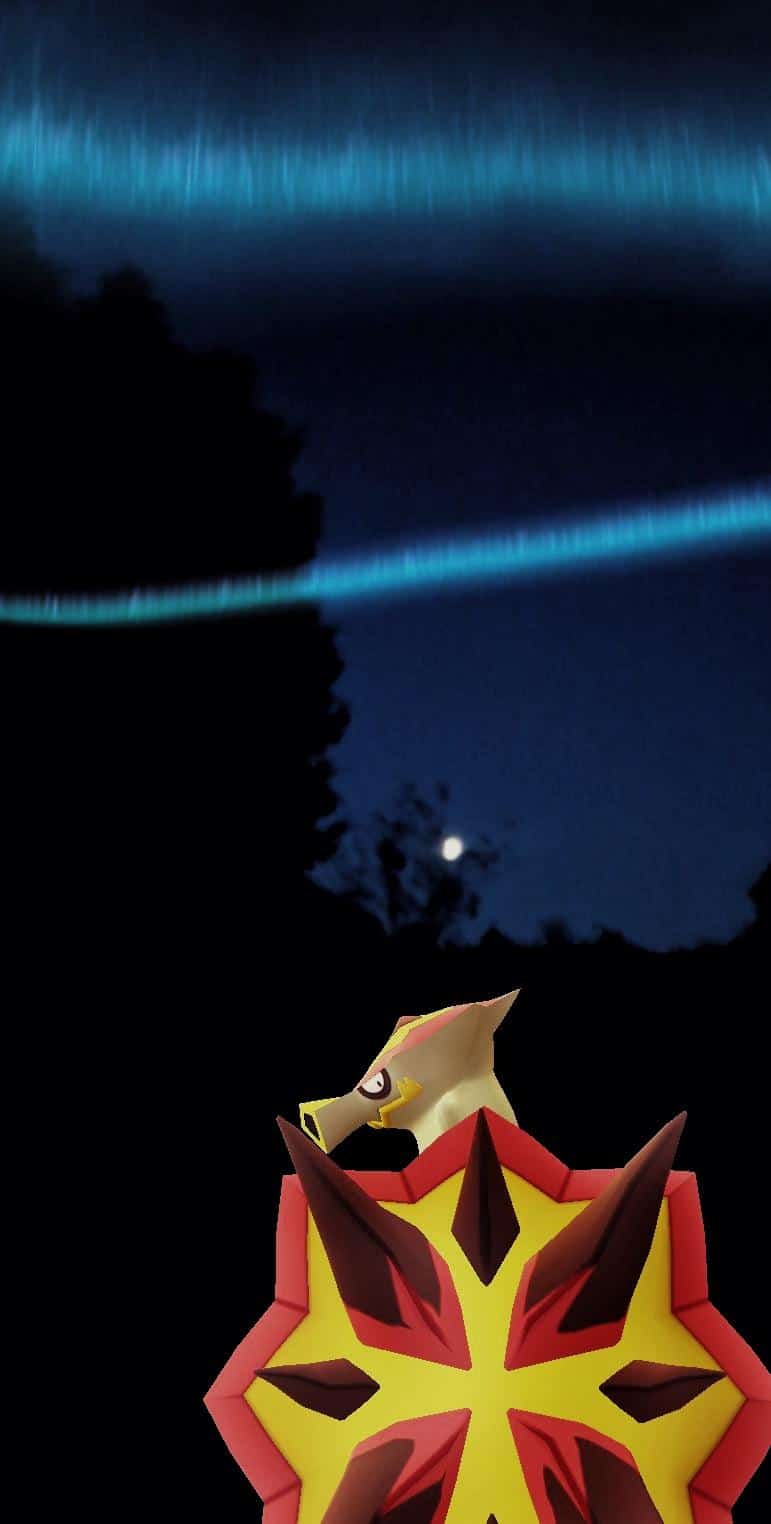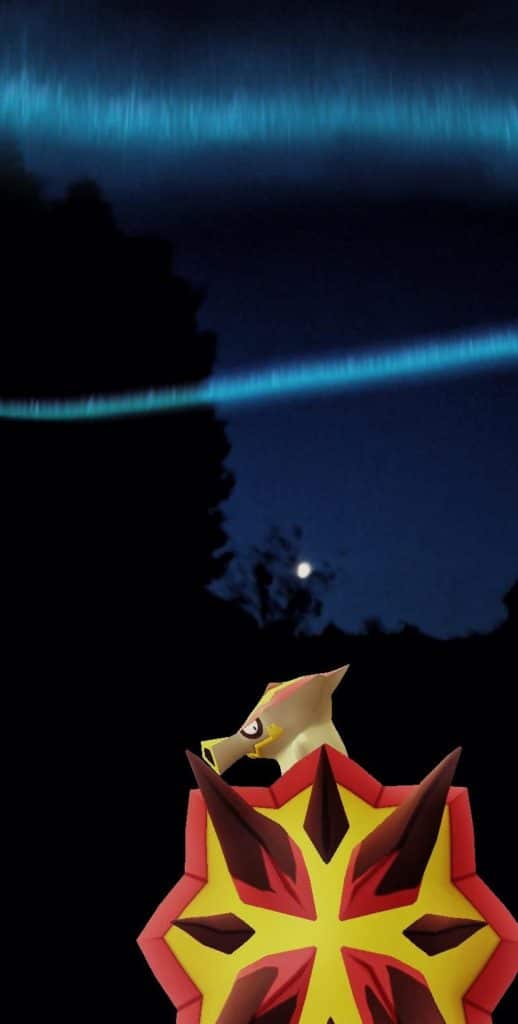 With Turtonator I made the mistake of including some trees in the photograph, but I wanted the moon in shot and didn't have the time to travel to somewhere more open as it was about 11pm in the UK when I took these. Those long summer days aren't ideal for this particular method. However, with Alolan Exeggutor being SO much taller, I had more options, and I think produced a more better AR photograph.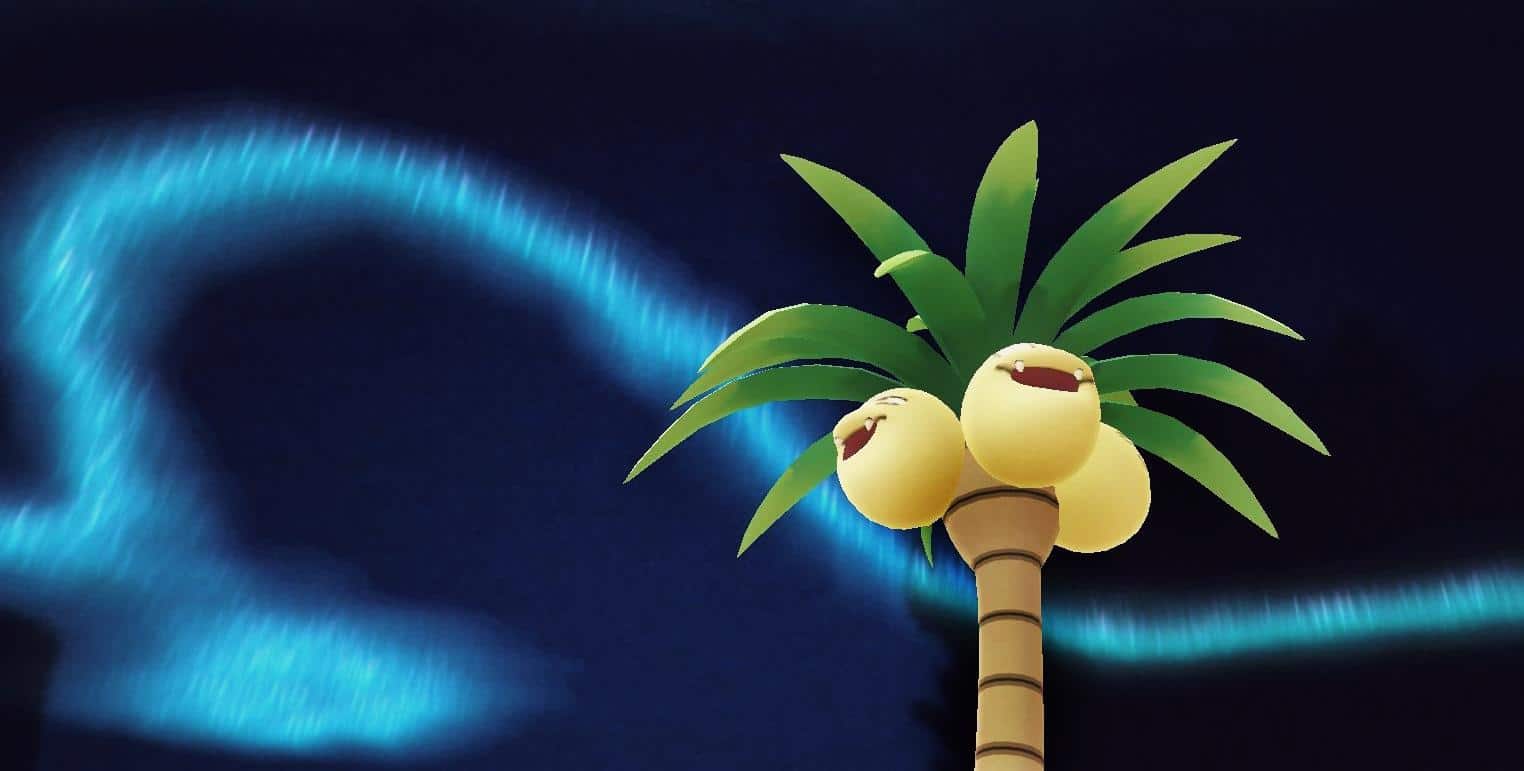 I did edit both of these photos lightly using Snapseed, an app on my phone. I did a little dodging and burning to add in some shadows to make the Pokémon less dramatic against the dark skies background.
This is a really fun new update for the AR mode, and while temporary, it gives me great hope that we might see more things like this in the future. I hope we will see it expanded to other AR modes in the future that gives AR photographers more variety in choices of poses, Pokémon and locations.