Last month our theme was final evolutions, and the amazing AR community submitted truly incredible work! This month I wanted to keep the theme a little more open, so the only rule is that the photo must include a shiny Pokémon.
As always, the information for the next submission theme is at the bottom of the article!
Unedited Images
The below AR images have not been edited in any way.
'Looks delicious' by nana15AR, Hiroshima City, Japan.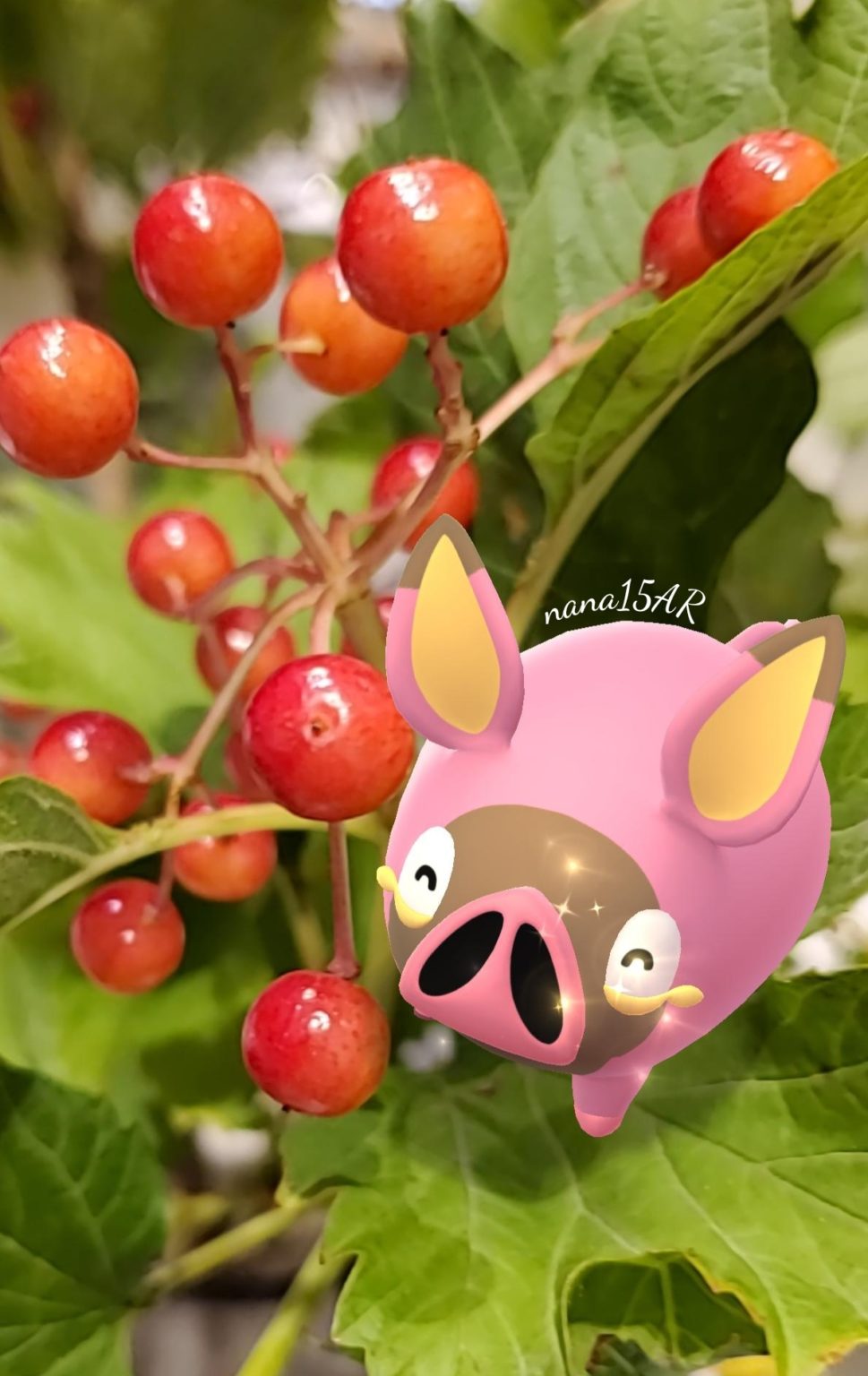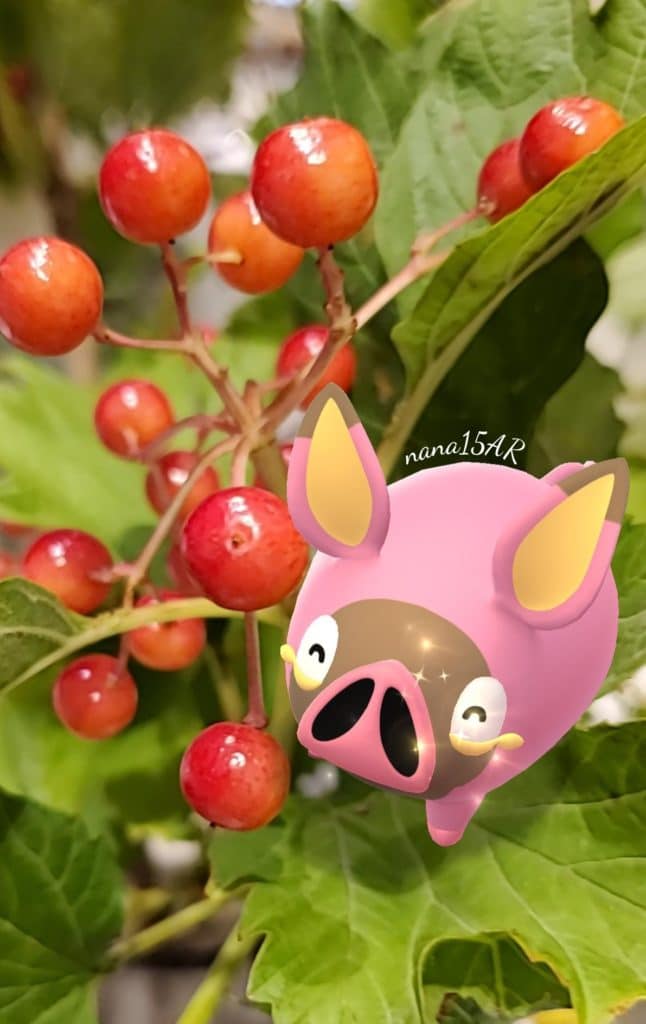 'Lechonk is disappointed when he learns that this fruit is not delicious.'
'Sunset Guardian' by mingosanch, Waimea, Hawaii, USA.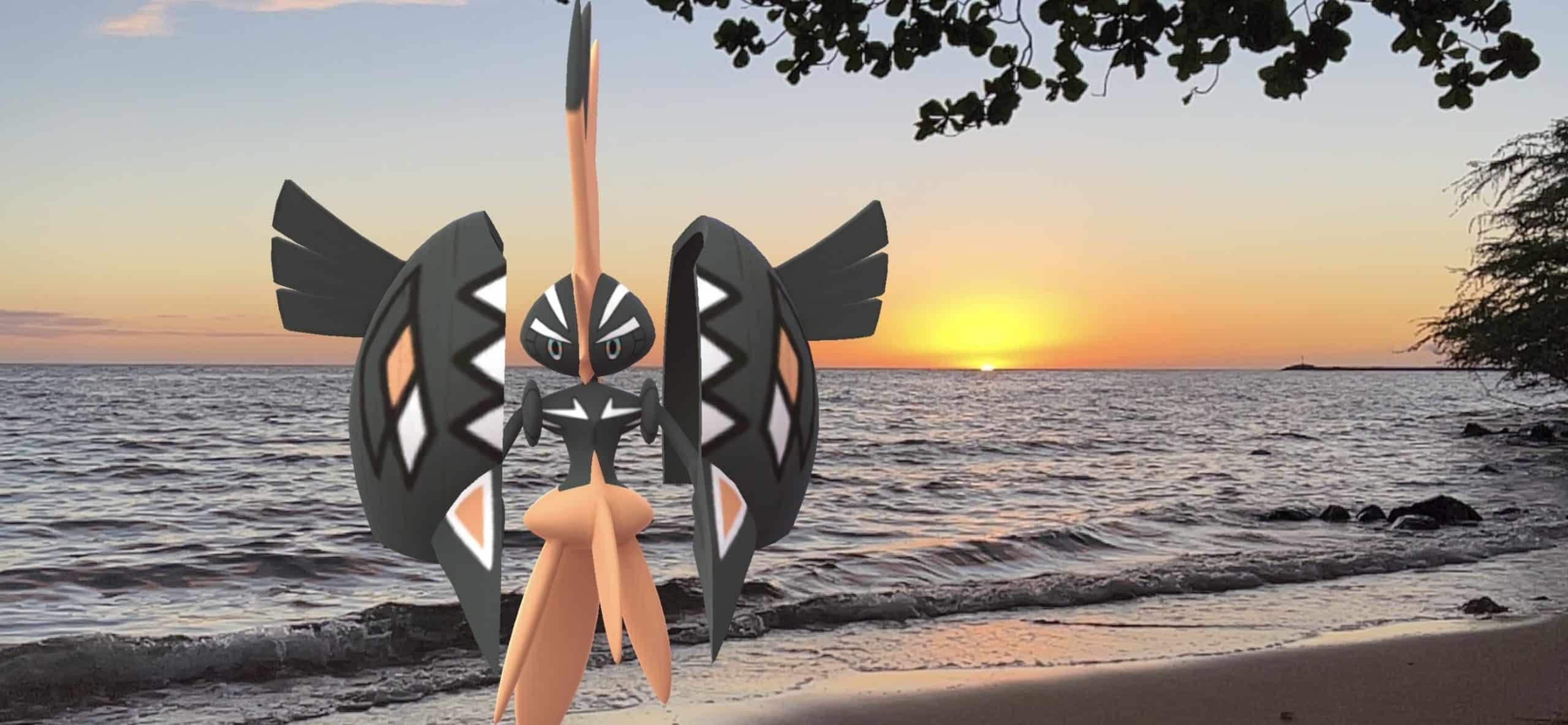 'My family and I happened to be driving along the western coast of the Big Island as the Sun approached the horizon on my last night in Hawaii, meaning we were in prime position to see a gorgeous sunset. Shiny Tapu Koko was the perfect Pokémon to photograph with the setting Sun, as both a guardian of Alola and a black and orange Pokémon.'
'Floating Flower' by ao, Japan.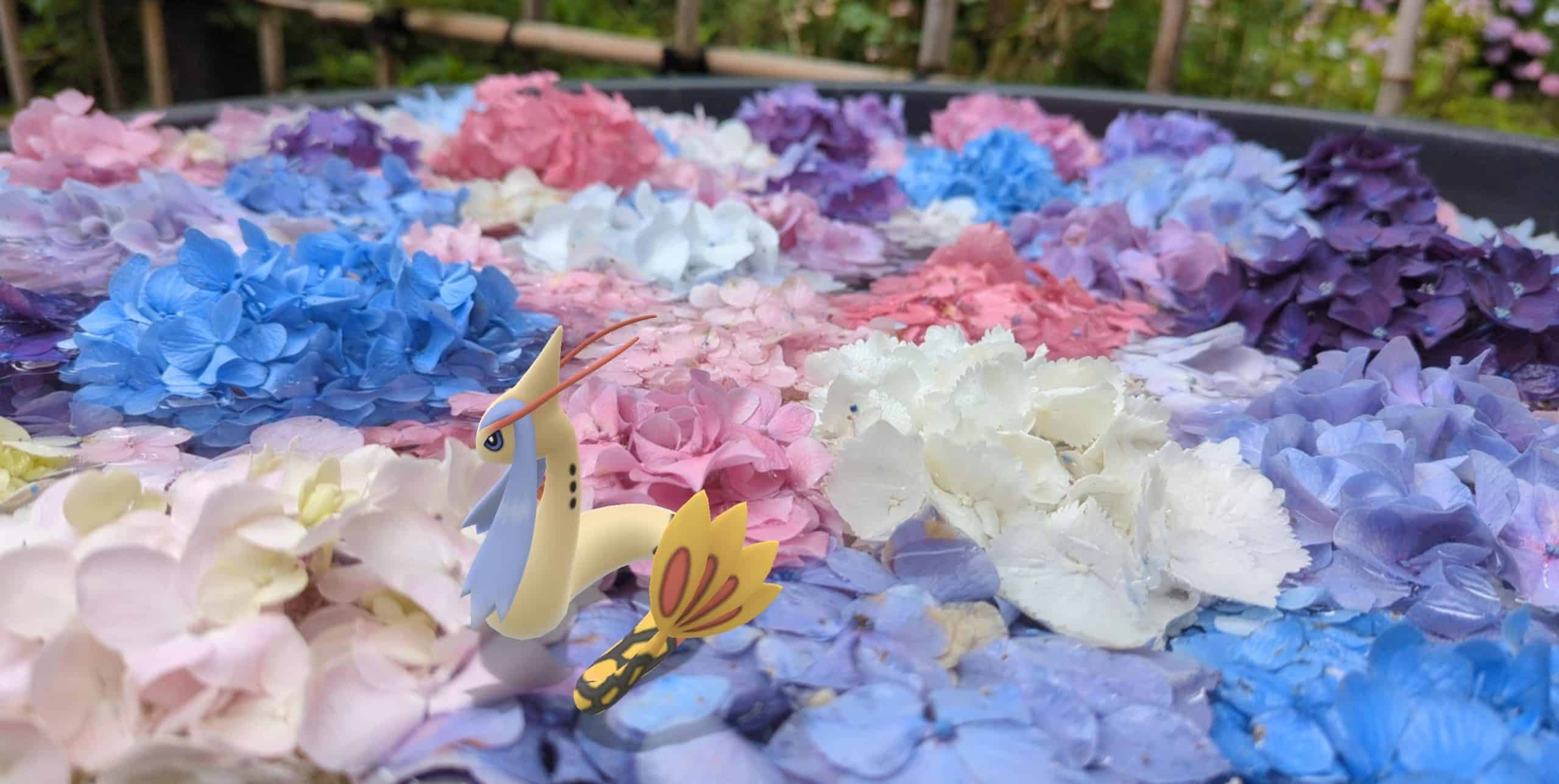 'Milotic wandered into the floating flower. Milotic is also beautiful, just like the flower.'
'彼岸花が咲く頃に' by kerolimu りむ, 近所 .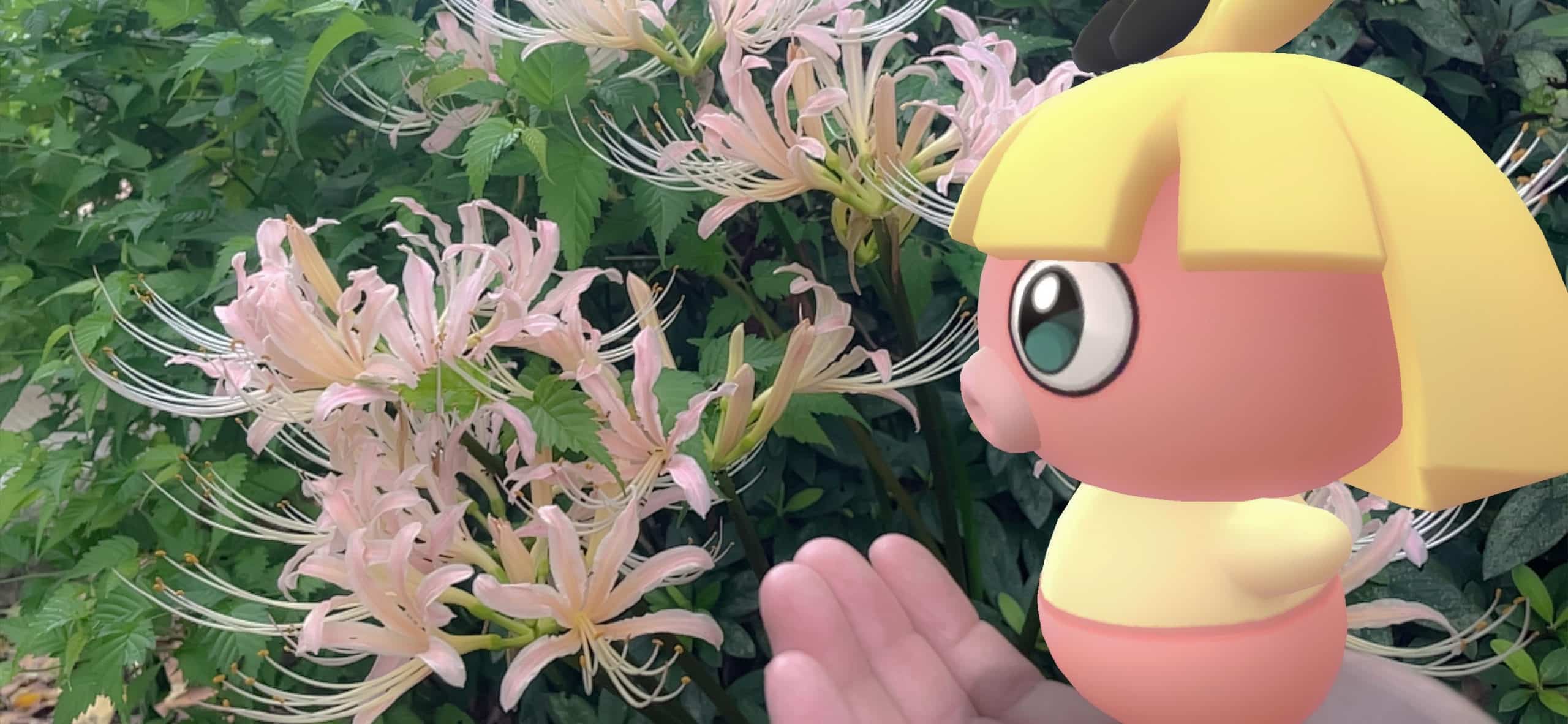 'An Evening Encounter' by RoseDiamond10, California, USA.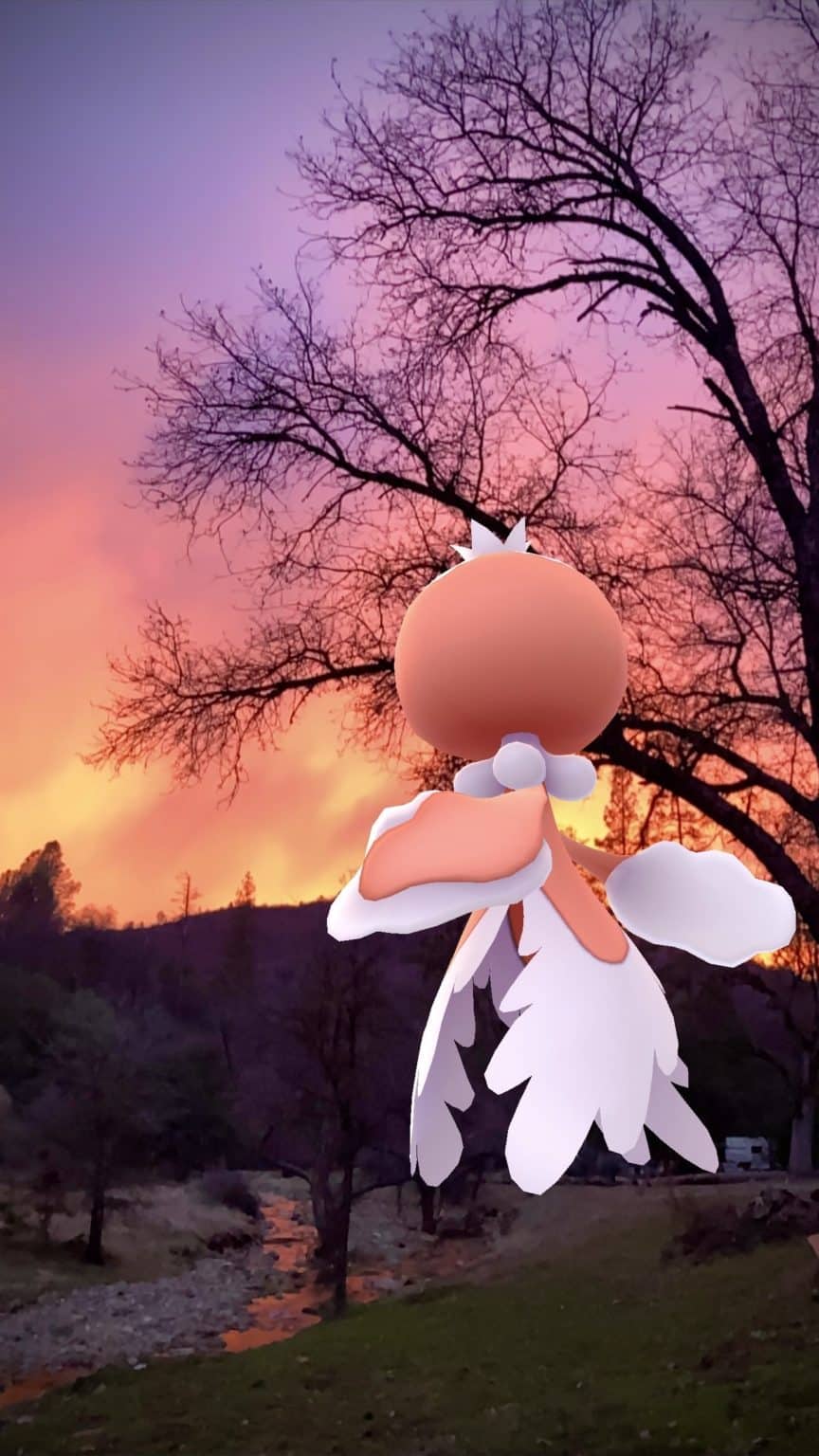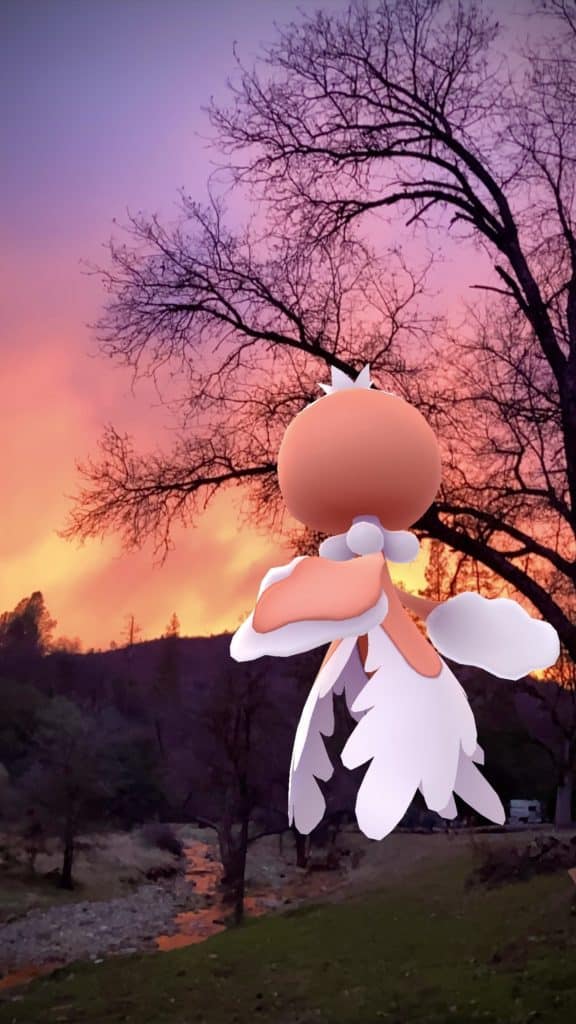 'As quickly as it appears, Frillish turns and vanishes into the blazing orange sky.'
'Seaside Snowfall' by mingosanch, Captain Cook, Hawaii, USA.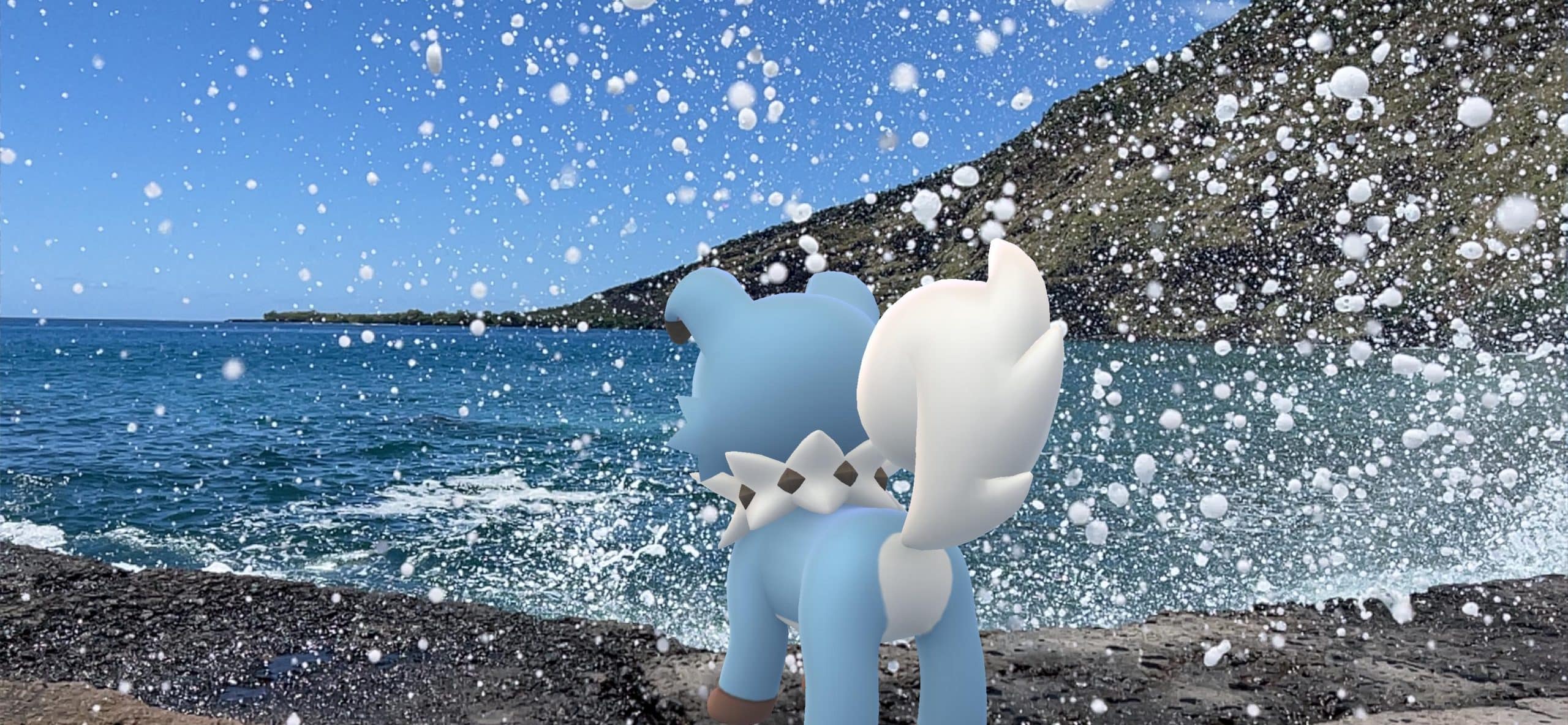 'Staring into the unknown, Contemplating the abyss. By the ocean, all alone, Save for Neptune's torrent kiss. Crashing waves, nowhere to go, Raining foam like summer snow.'
'New encounter' by nana15AR, Hiroshima City, Japan.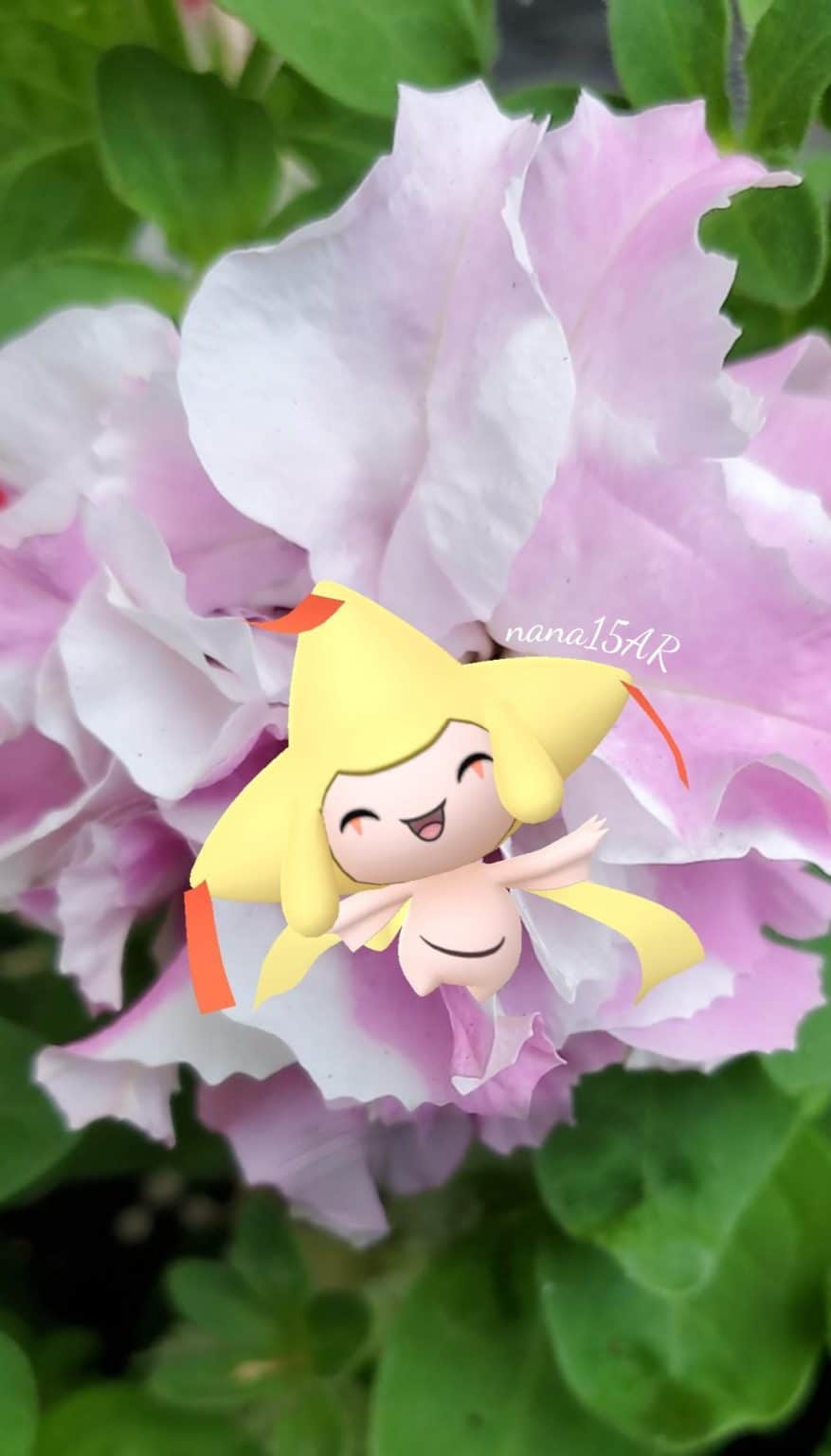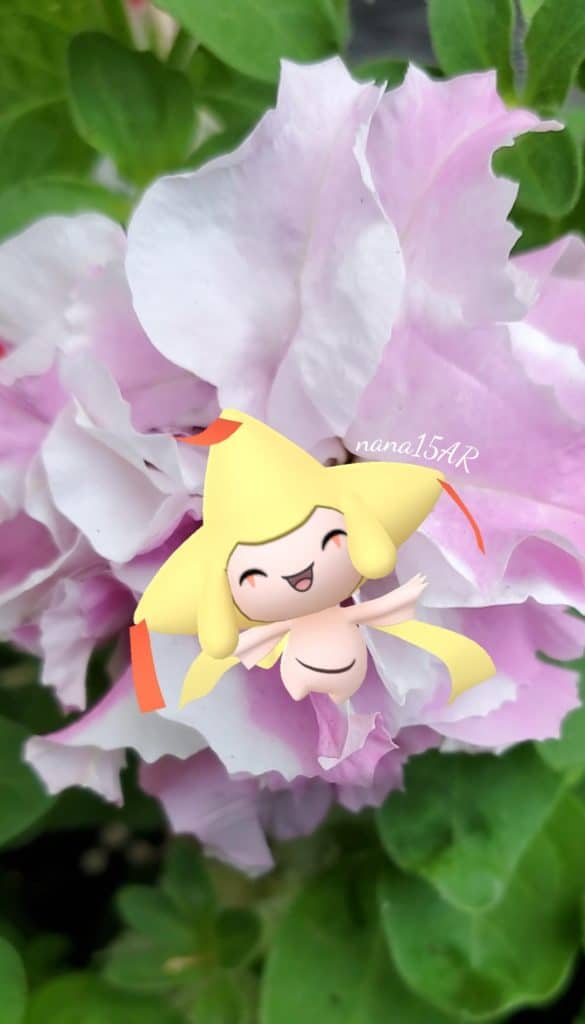 'The shiny Jirach showed me a gentle smile that made me look forward to new encounters.'
'Until I Meet September's Love' by ACE📸, Takao, Japan.
'Mt. Takao is the most popular mountaineering destination in Japan.'
'Toyama photogenic' by u501, 富岩運河環水公園,富山市,富山県,日本.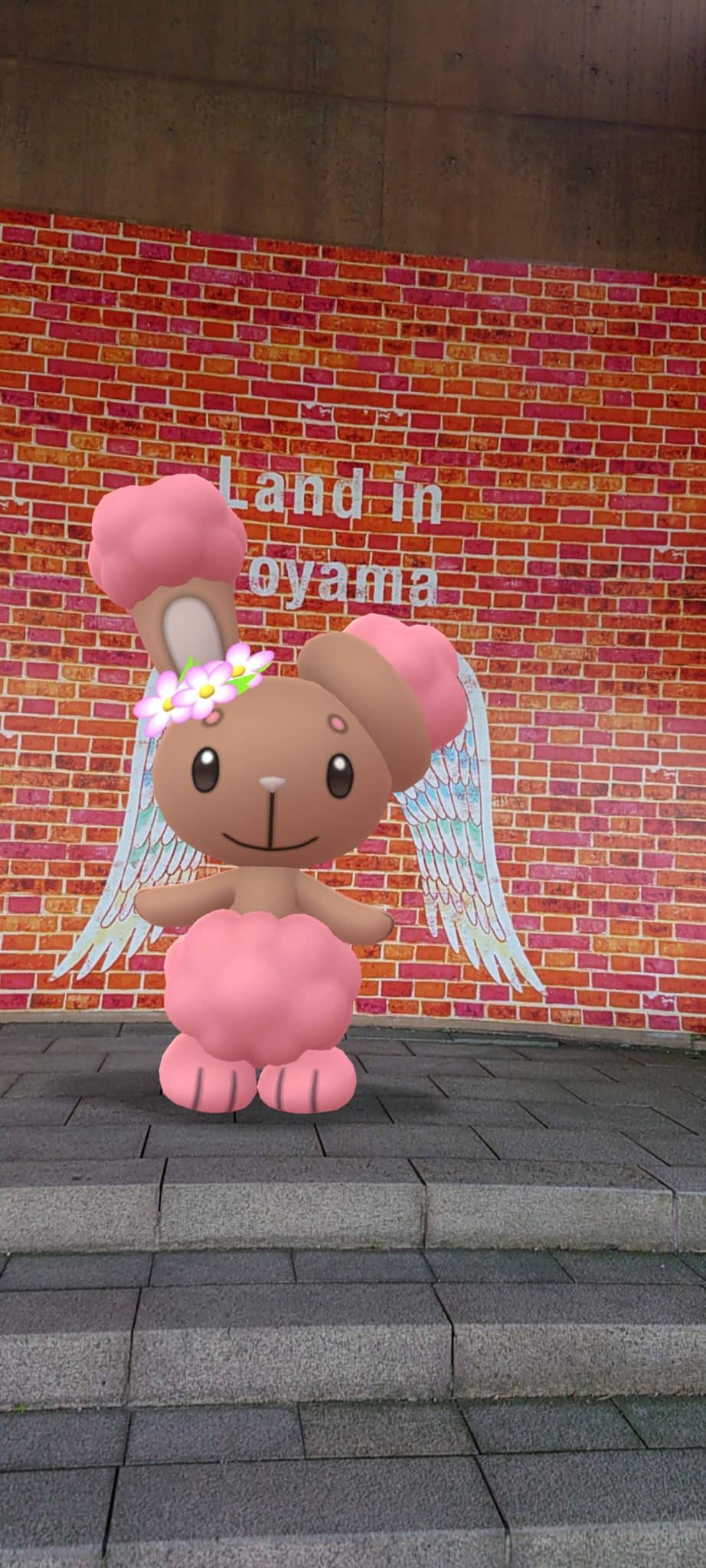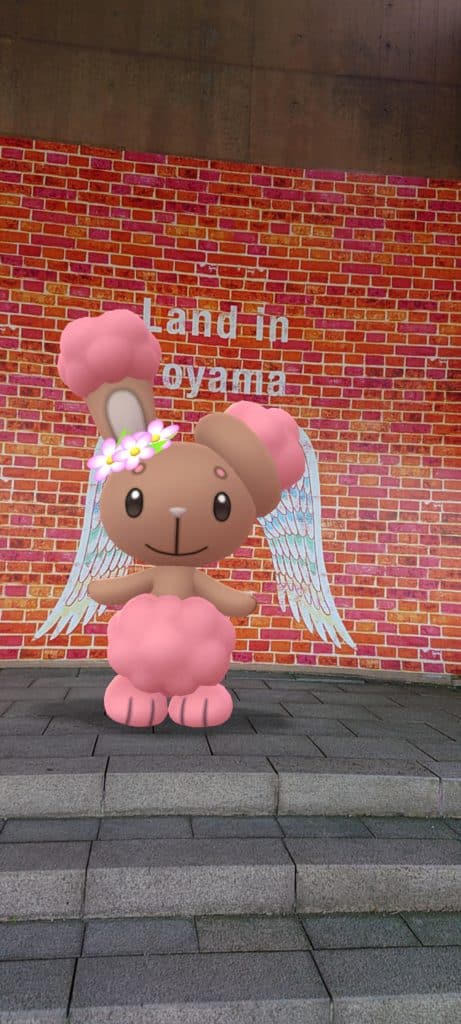 'Buneary came to visit Toyama. Finally, take a commemorative photo! It was fun, was not it!'
'Durdle Door flyby' by Mark, Durdle Door, England.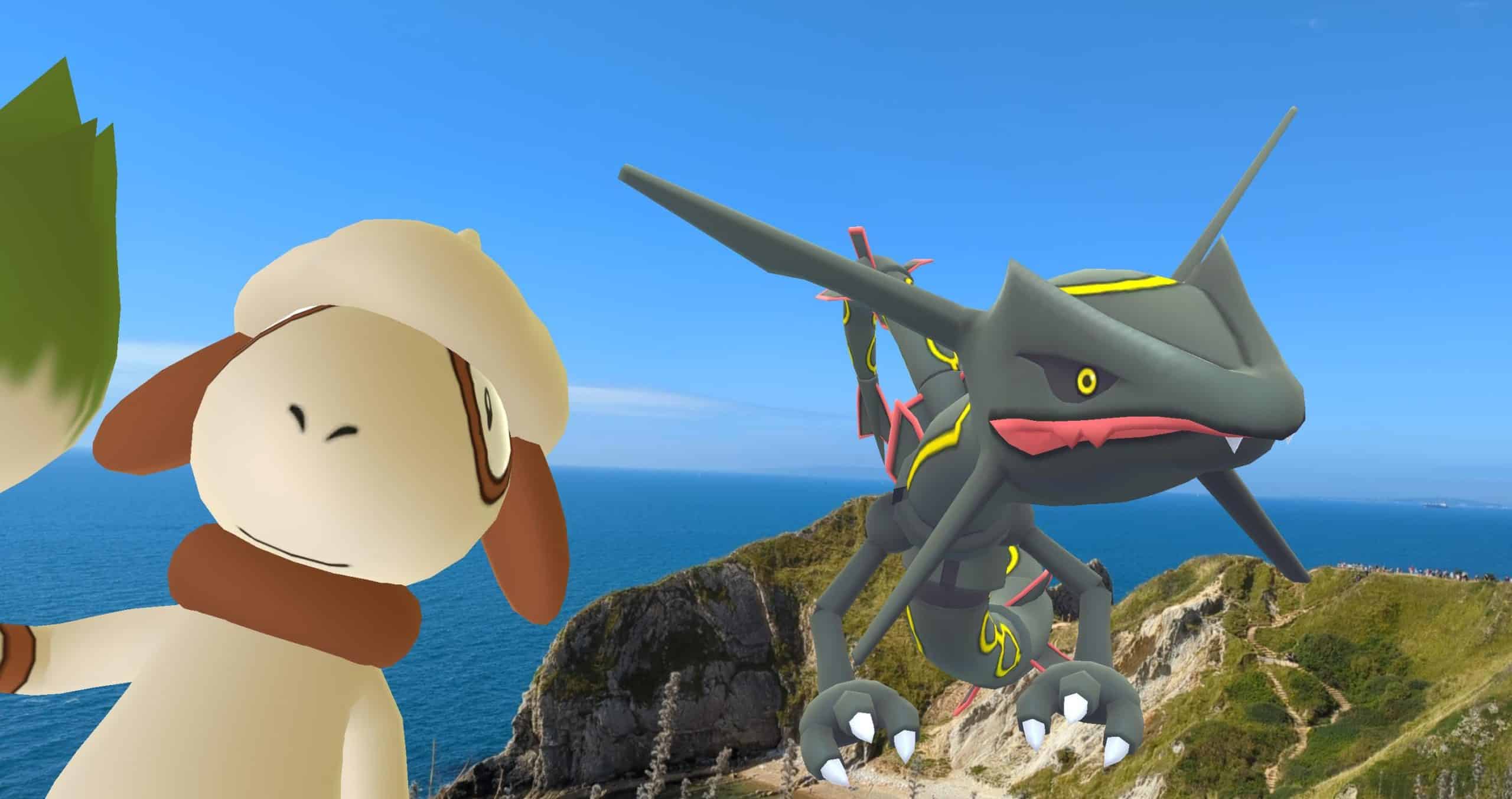 'Taking in the view at Durdle Door while on holiday, a surprise visit by a Rayquaza rocketed past. Who is photobombing here? Smeargle or Rayquaza?'
'Urban Fauna and Flora' by mingosanch, City of London, London, UK.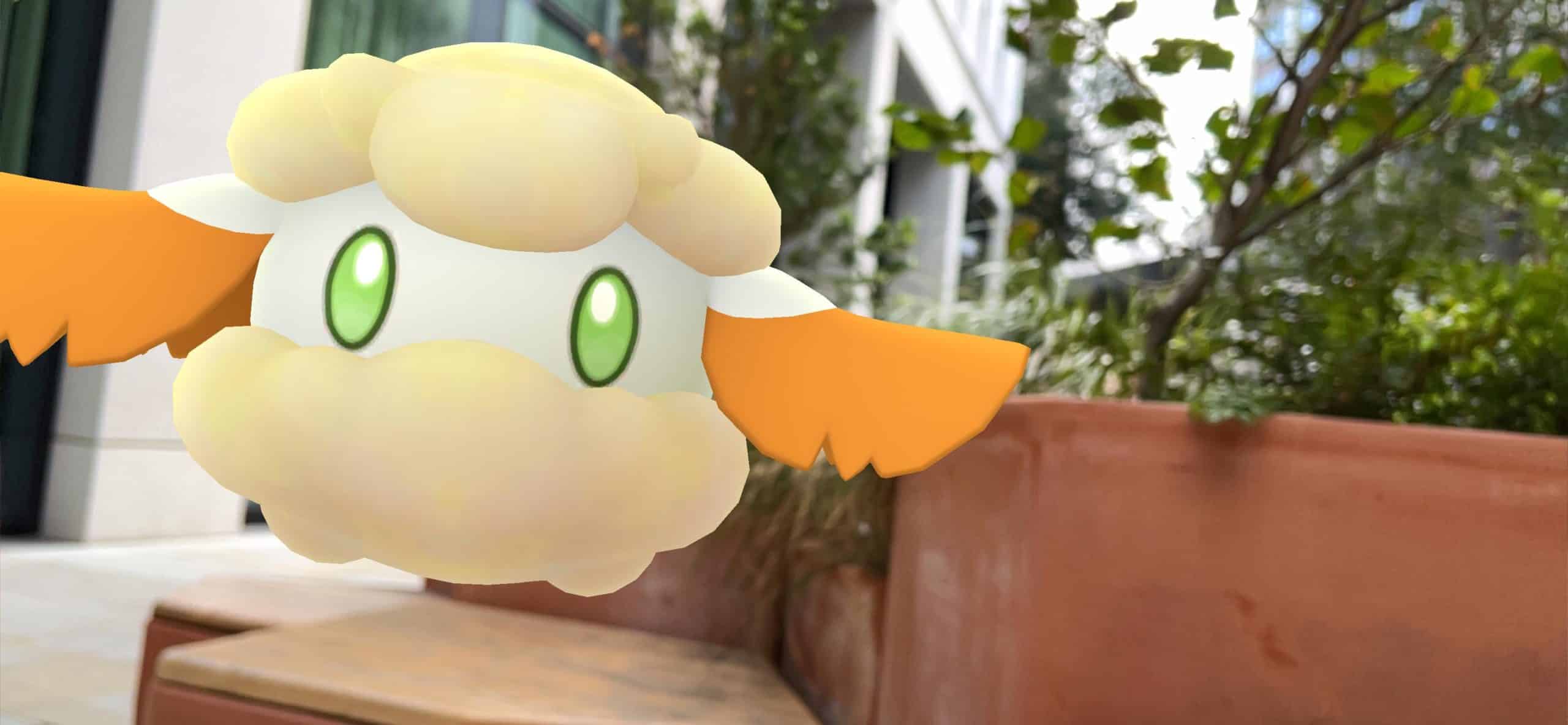 'On my recent trip to London, I came across a beautiful arrangement of plants and wooden seating in a pedestrian alley. The orange and green display with the white backdrop made me think of Shiny Cottonee, so I snapped an AR shot before continuing my exploration of the city!'
'The TriChar Gang' by AaronJonMorgan, Bucharest, Romania.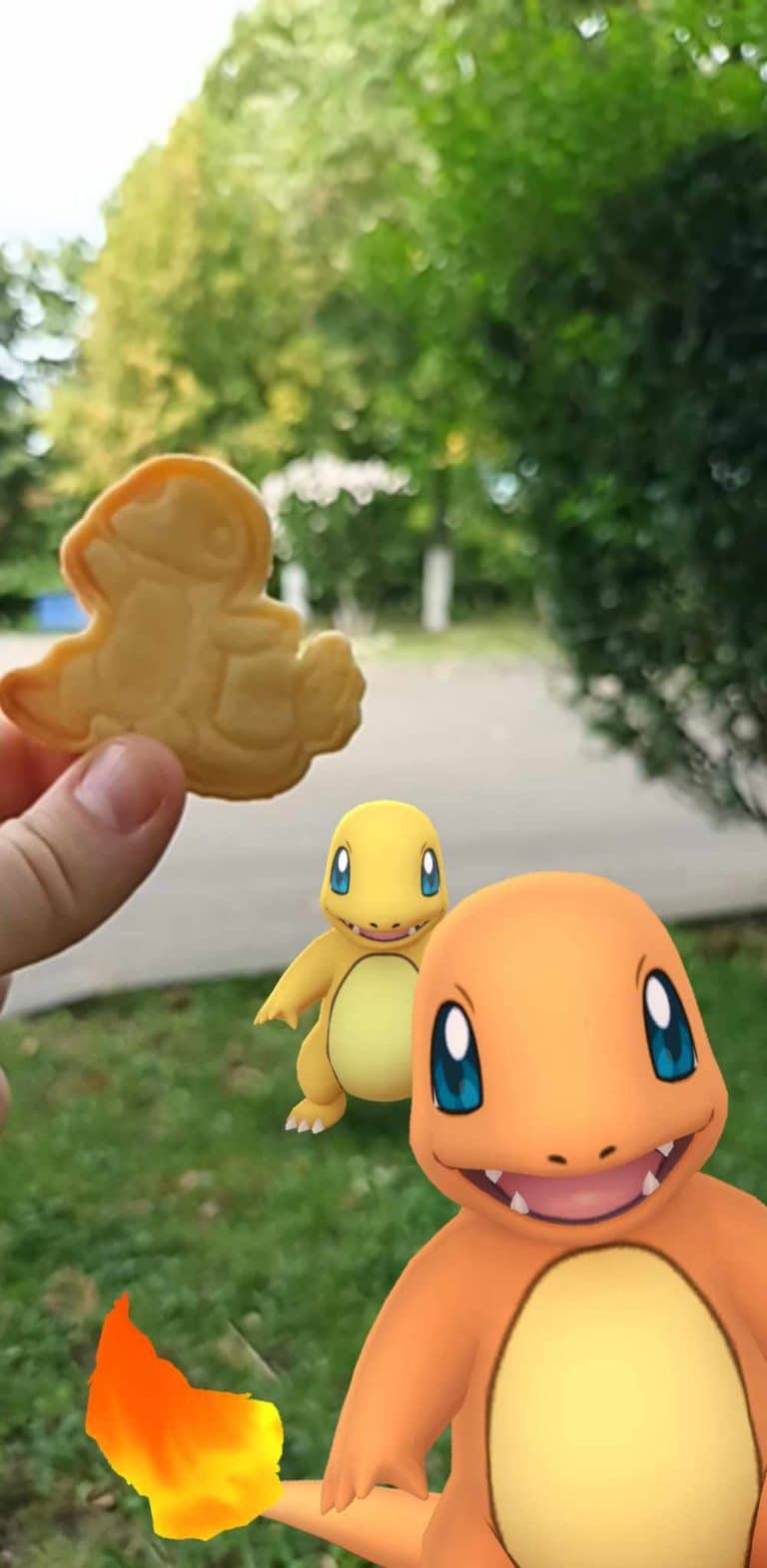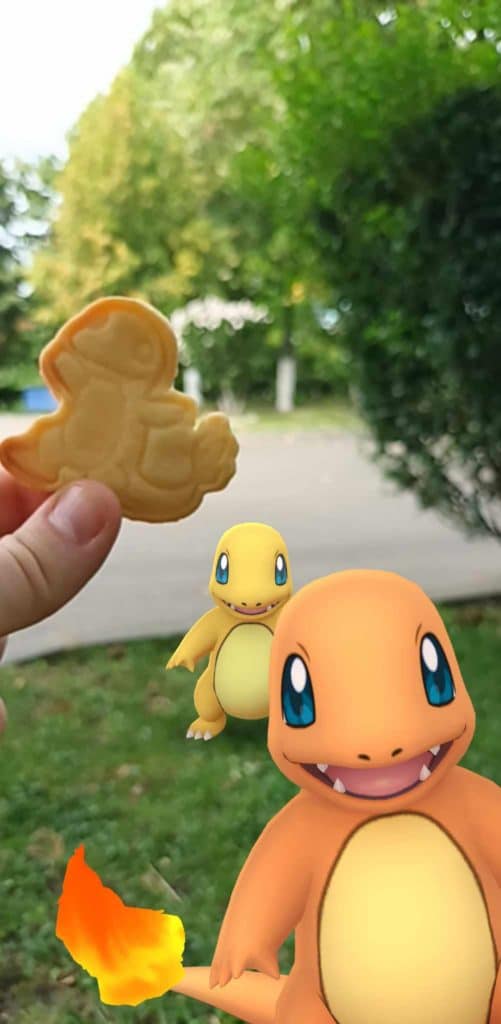 'Charmander got so excited about the charmander cookie, that he brought his friend to see it'
'Blue Planet' by ao, Japan.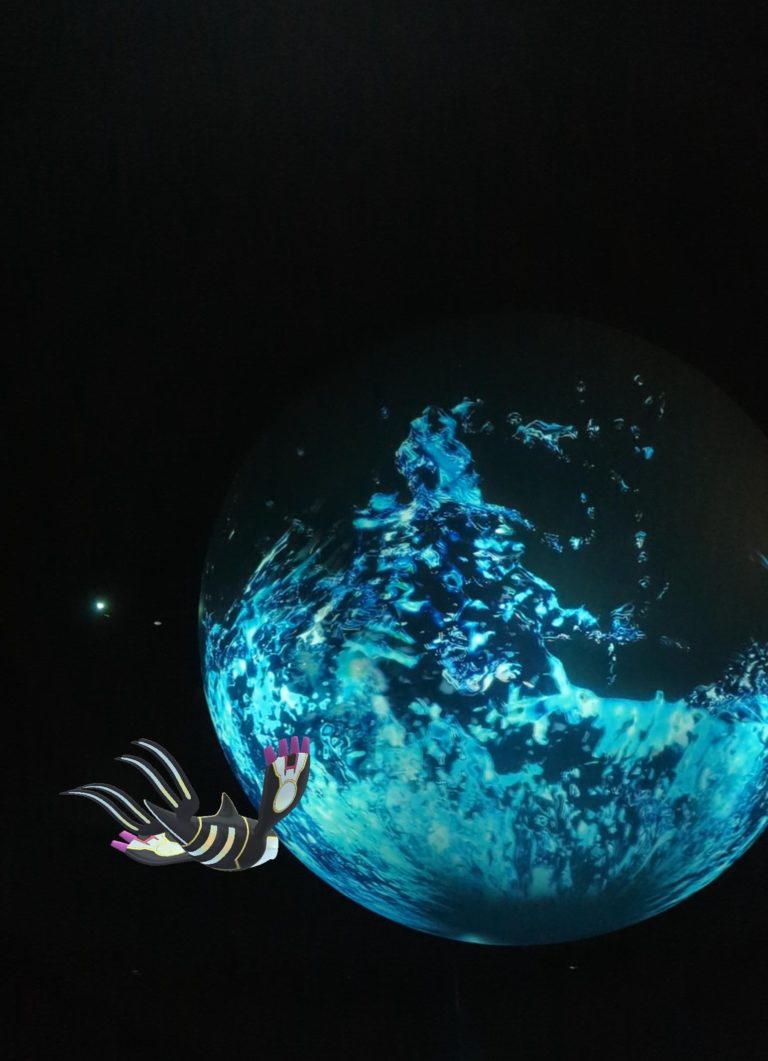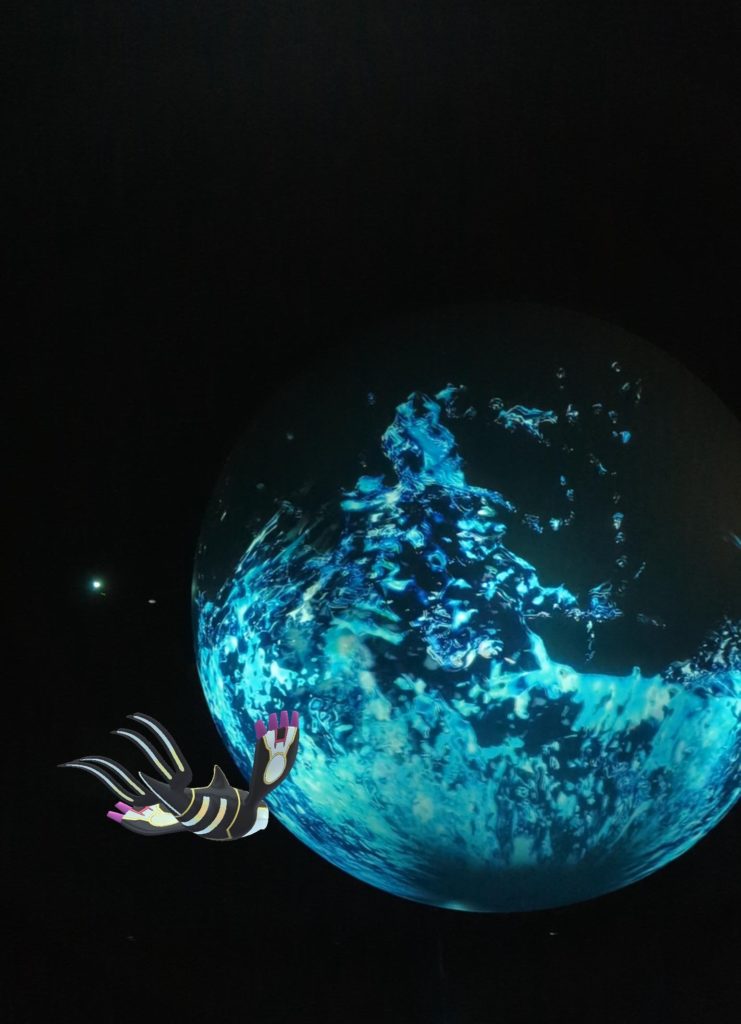 'Kyogre is traveling to a beautiful planet.'
'In the midsummer heat' by nana15AR, Hiroshima City, Japan.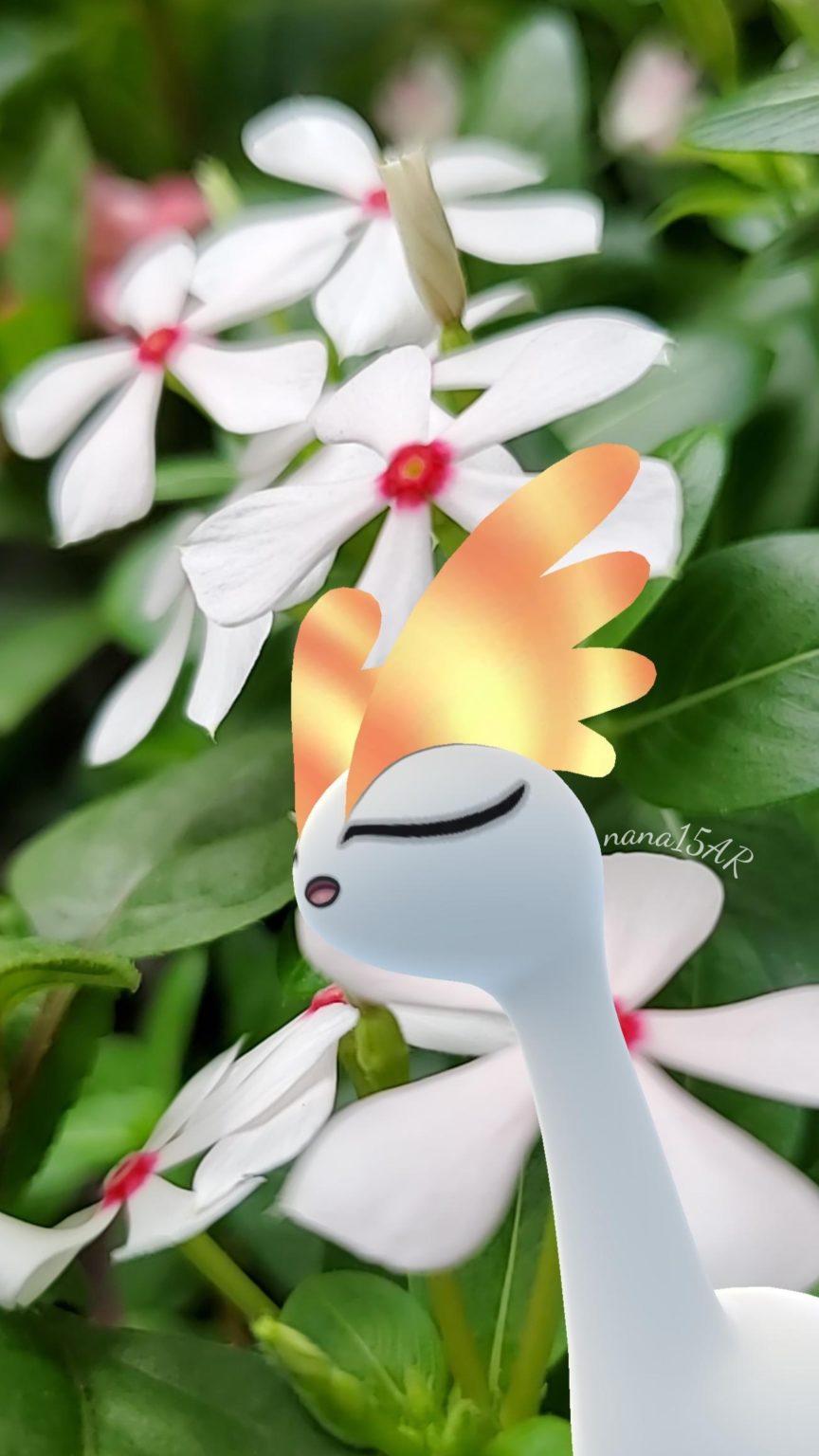 'In the hot midsummer, I felt a slight breeze blowing gently and soothing me.'
'Aerodactyl in the Park' by SubSometimes, Bryant Park – New York City, NY.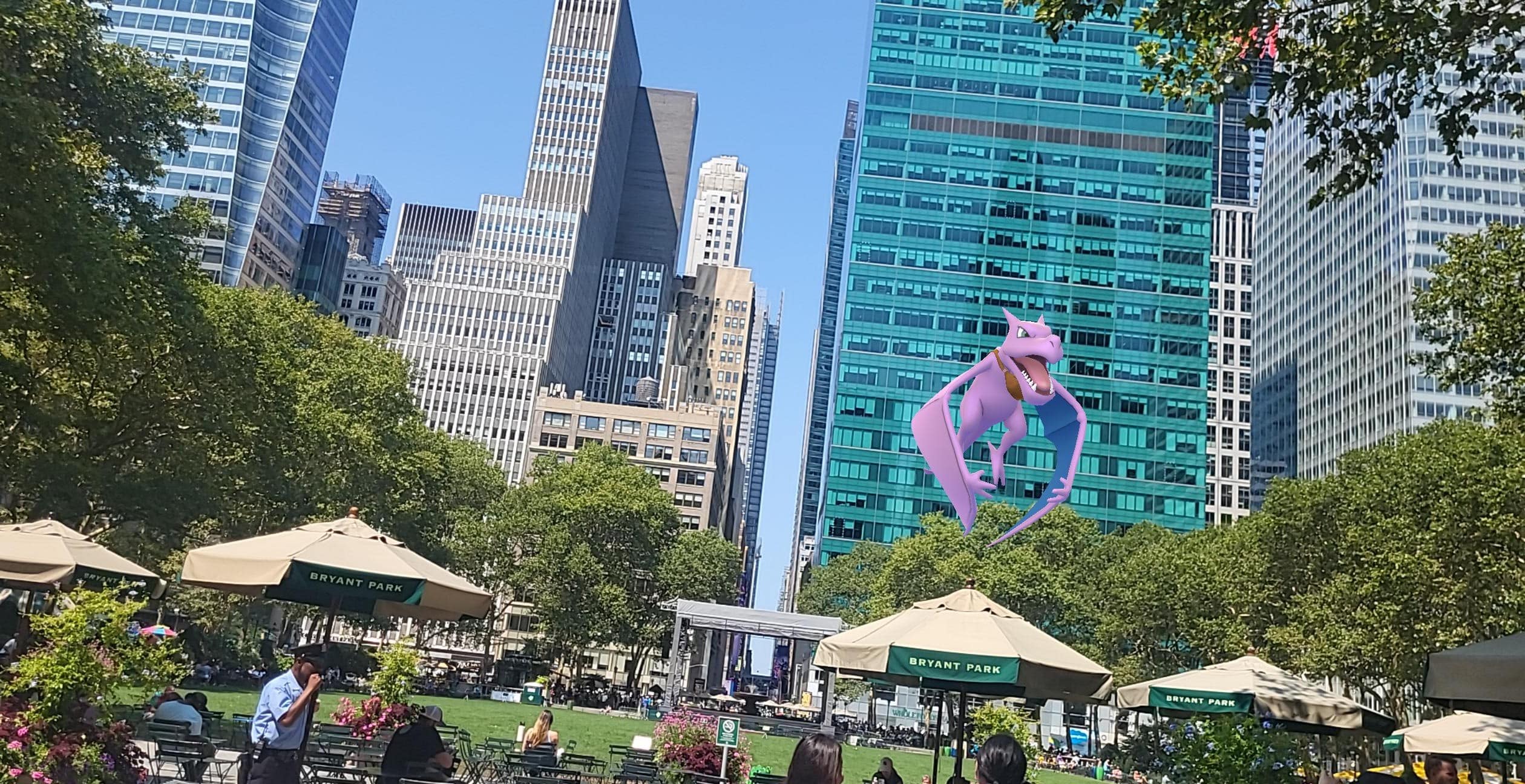 'The morning after Go Fest my husband and I were having coffee in Bryant Park with a hundred other trainers. Imagine our surprise when this shiny Aerodactyl came flying by. '
'The Shape of Fire' by Feresk, Pinamungajan, Cebu, Philippines.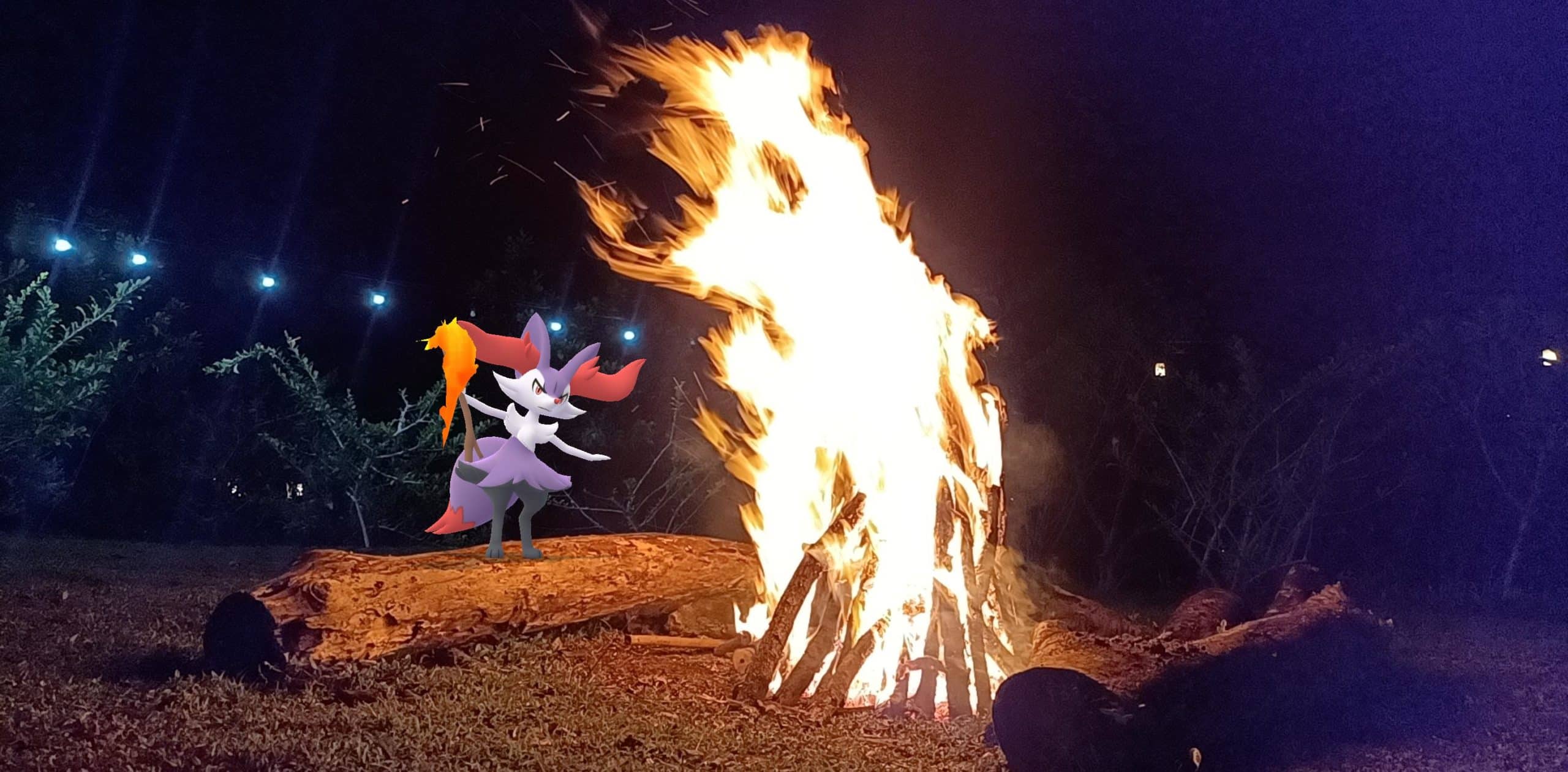 'My Braixen was more than happy to give us quite the light show over a camp fire.'
'Let's go surfing.' by ACE📸, Kurobe Dam, Japan.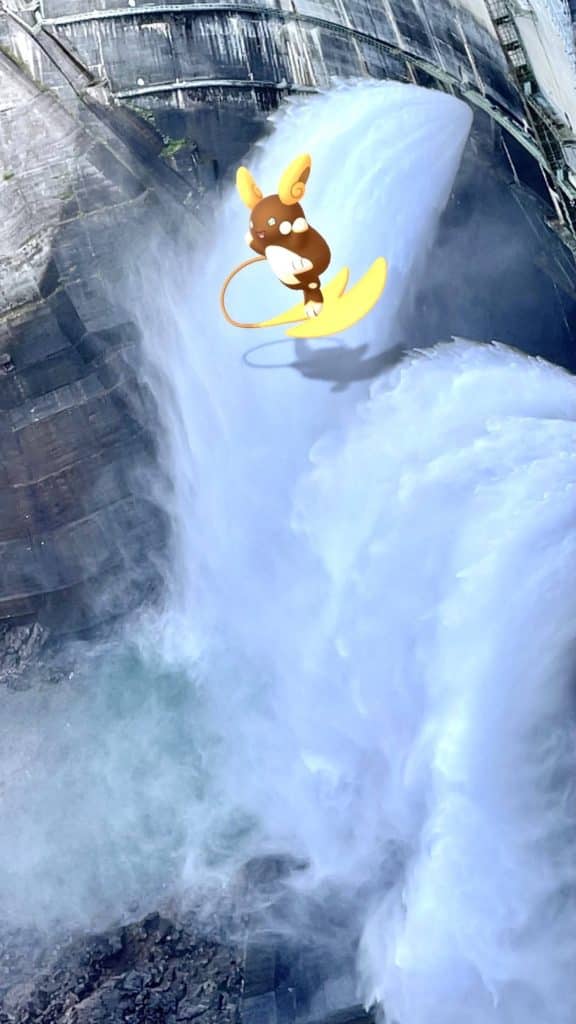 'You wanna surf, fish or do something else?'
'Desert Pals' by Laprasrules12, Mount Hood, Oregon, U.S.A.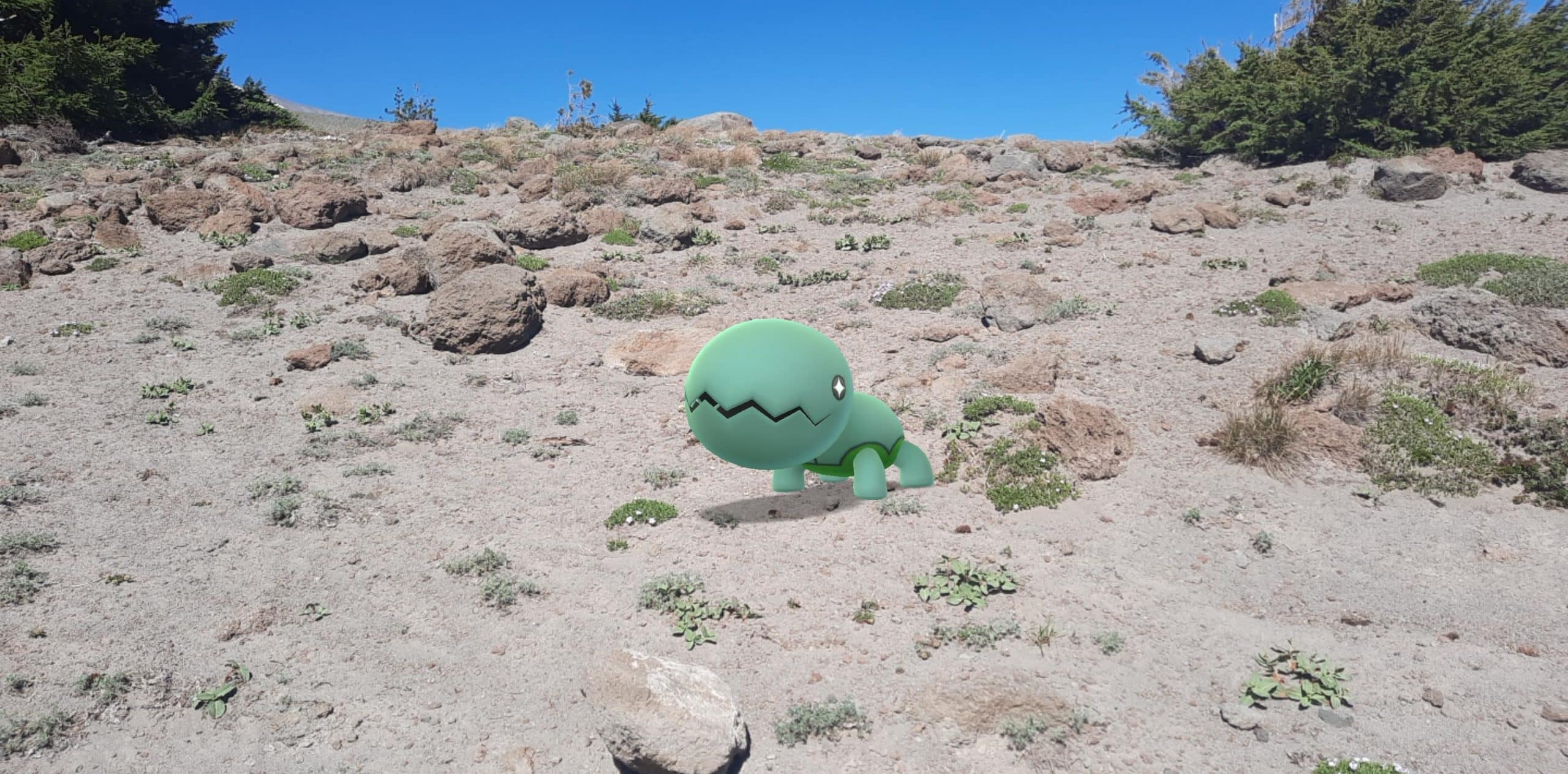 'Even on the top of a mountain, theres a desert full of friends like Trapinch here living their best life.'
'Eevee in the woods' by Mark, Brownsea Island, England.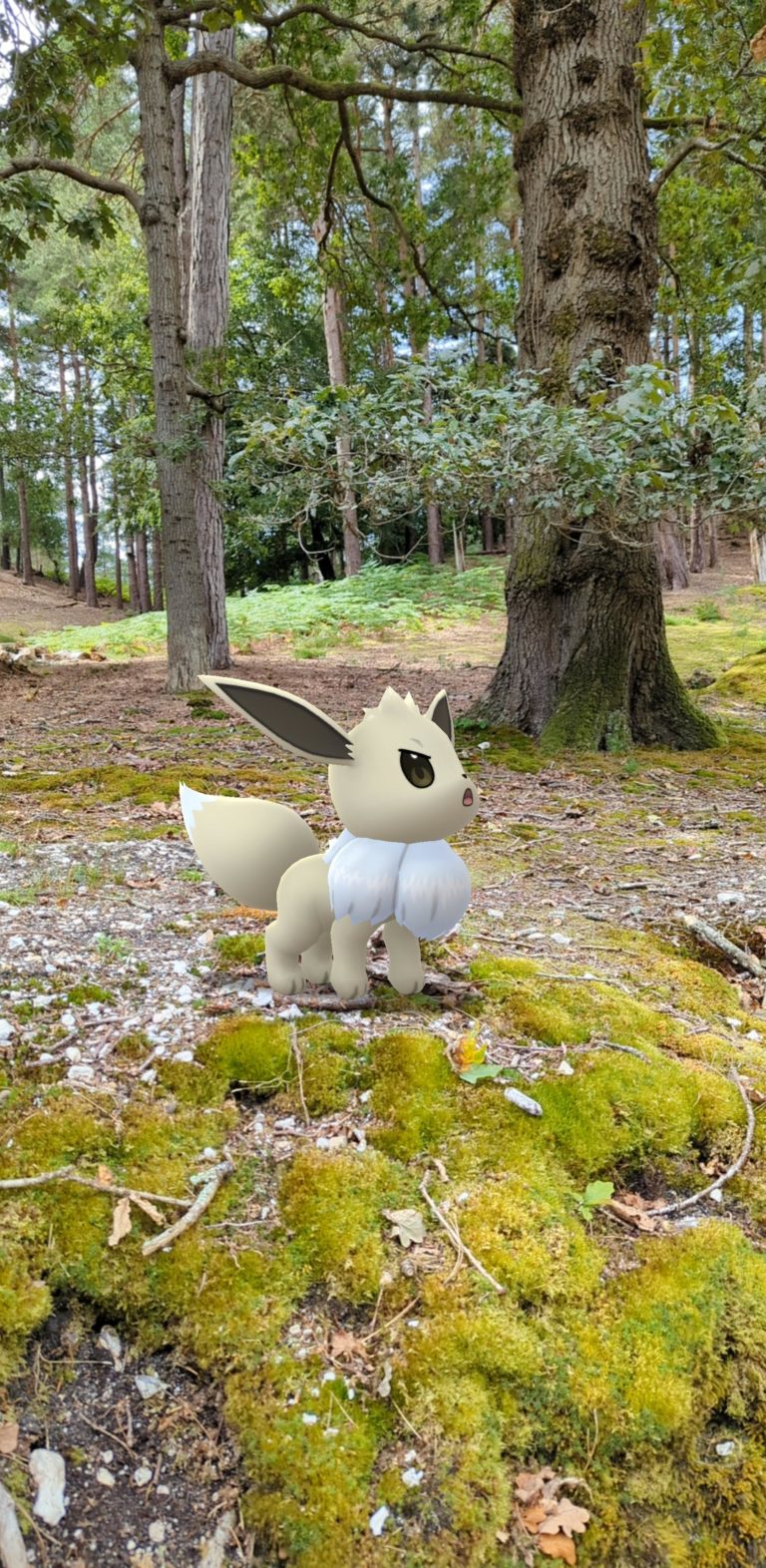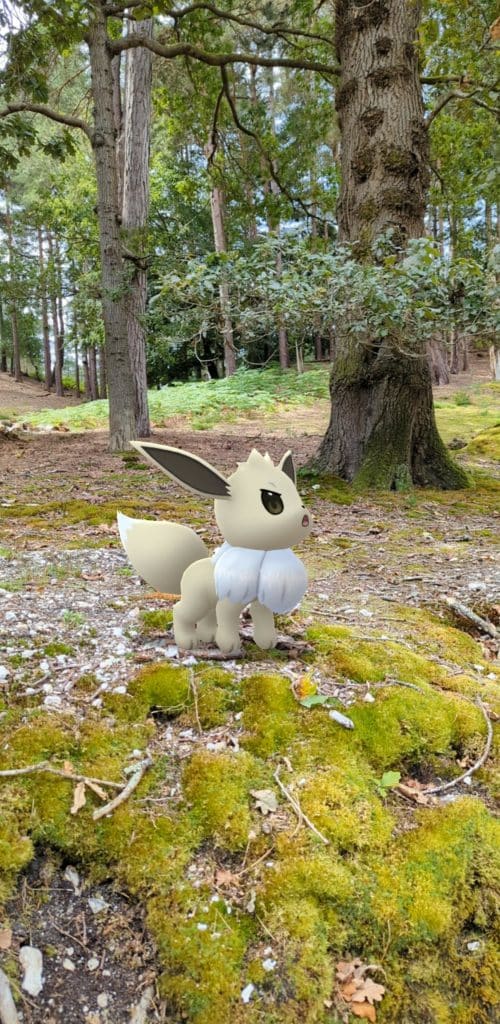 'Searching for red squirrels on Brownsea Island with the family, and this little Eevee was doing its best to help us out or to scare us off. Either way, a few minutes later we found our two red squirrels playing and chasing but sadly I wasn't quite quick enough to get a photo of them… '
'Ho-Oh used Sacred Fire' by phrixu, Kent UK.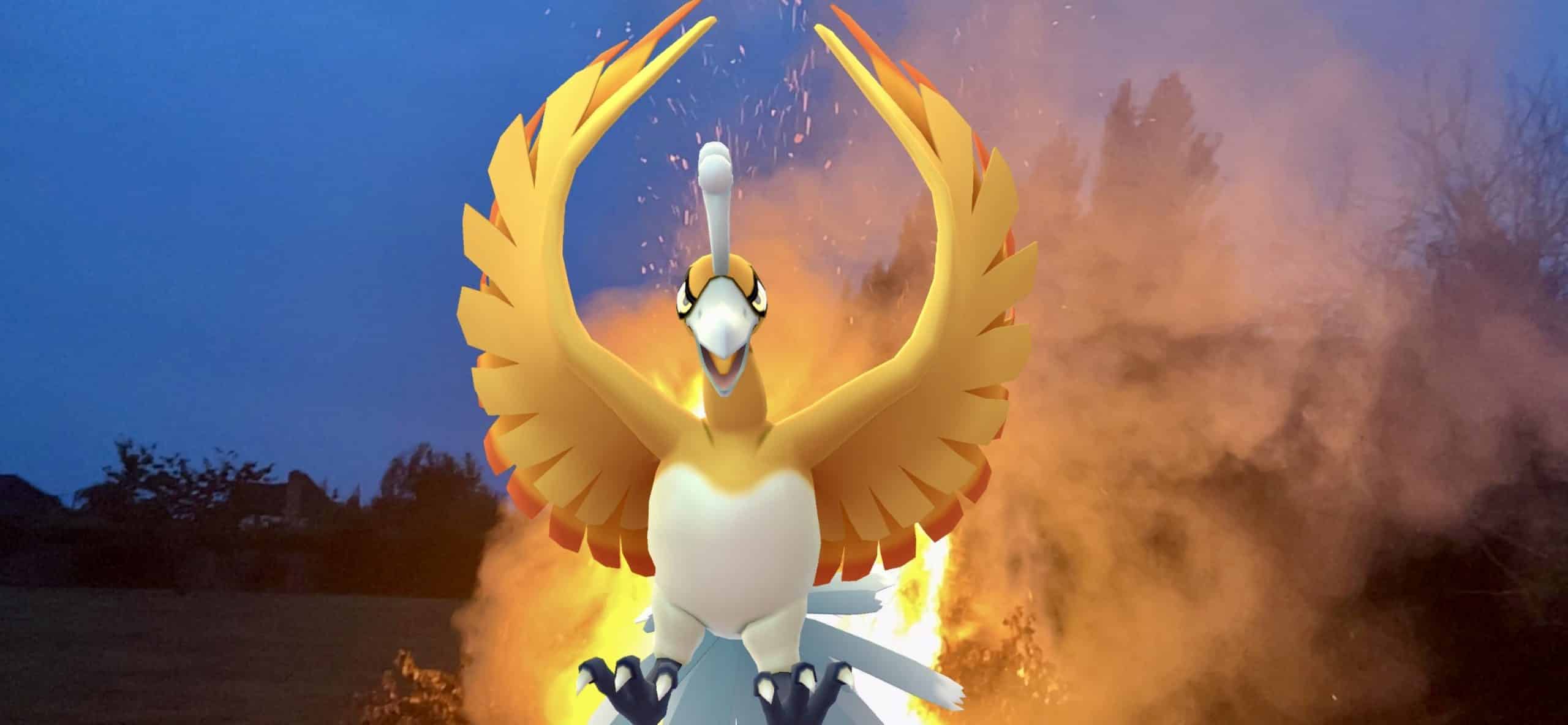 'You're in a battle and have one last shot against your rival, will Ho-Oh pull through and win?'
'meow' by ACE📸, Gotokuji temple, Japan.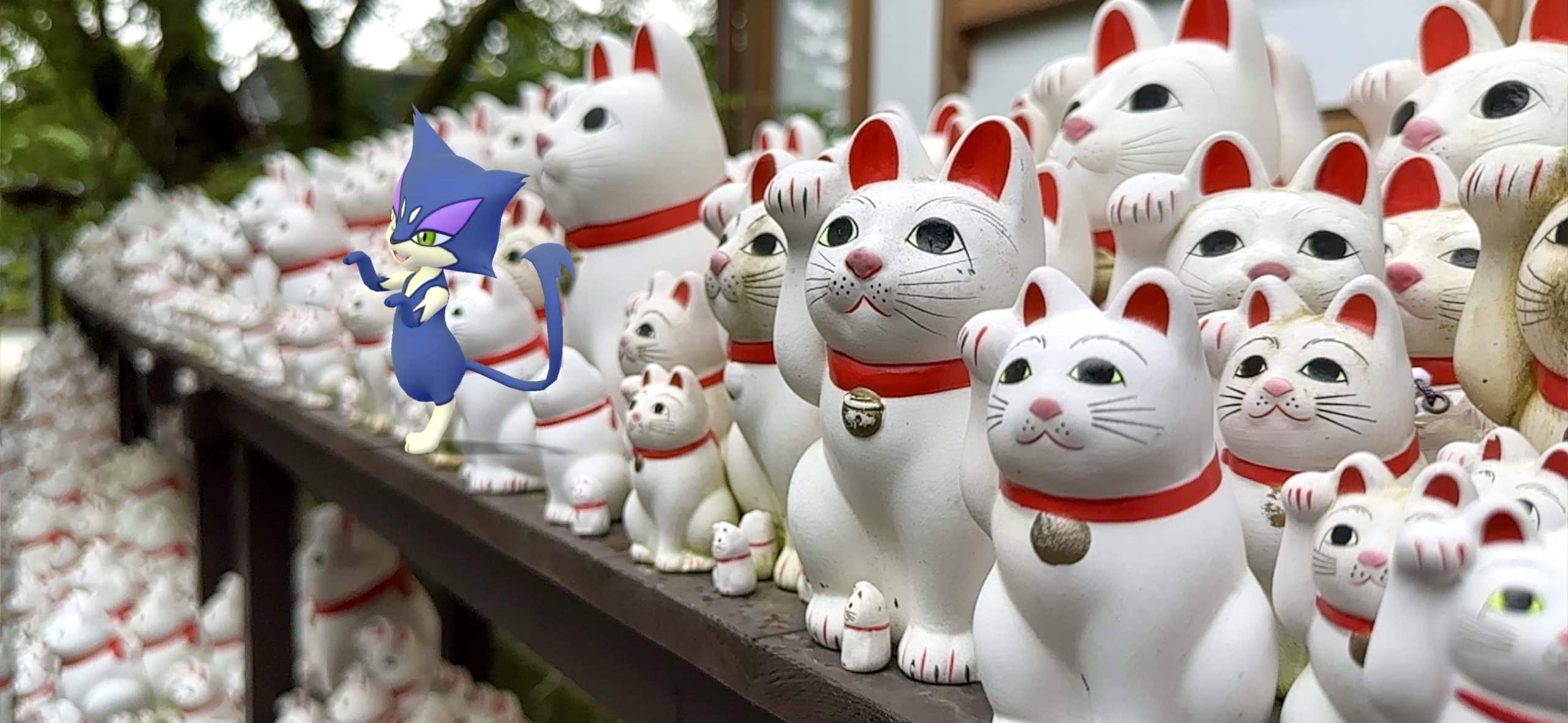 'One day, a warrior took a shelter at Goutoku temple by being guided by a cat. He was under a tree at first. He found out that lightning stroke this tree and he could have died if he had not moved to Goutoku temple. He appreciated the cat and contributed to the prosperity of Goutoku temple which owned this cat. In fact, a lot of fortune beckoning cats are worshiped there.'
'Metagross in the Mountains' by Senescallo, Lake District, UK.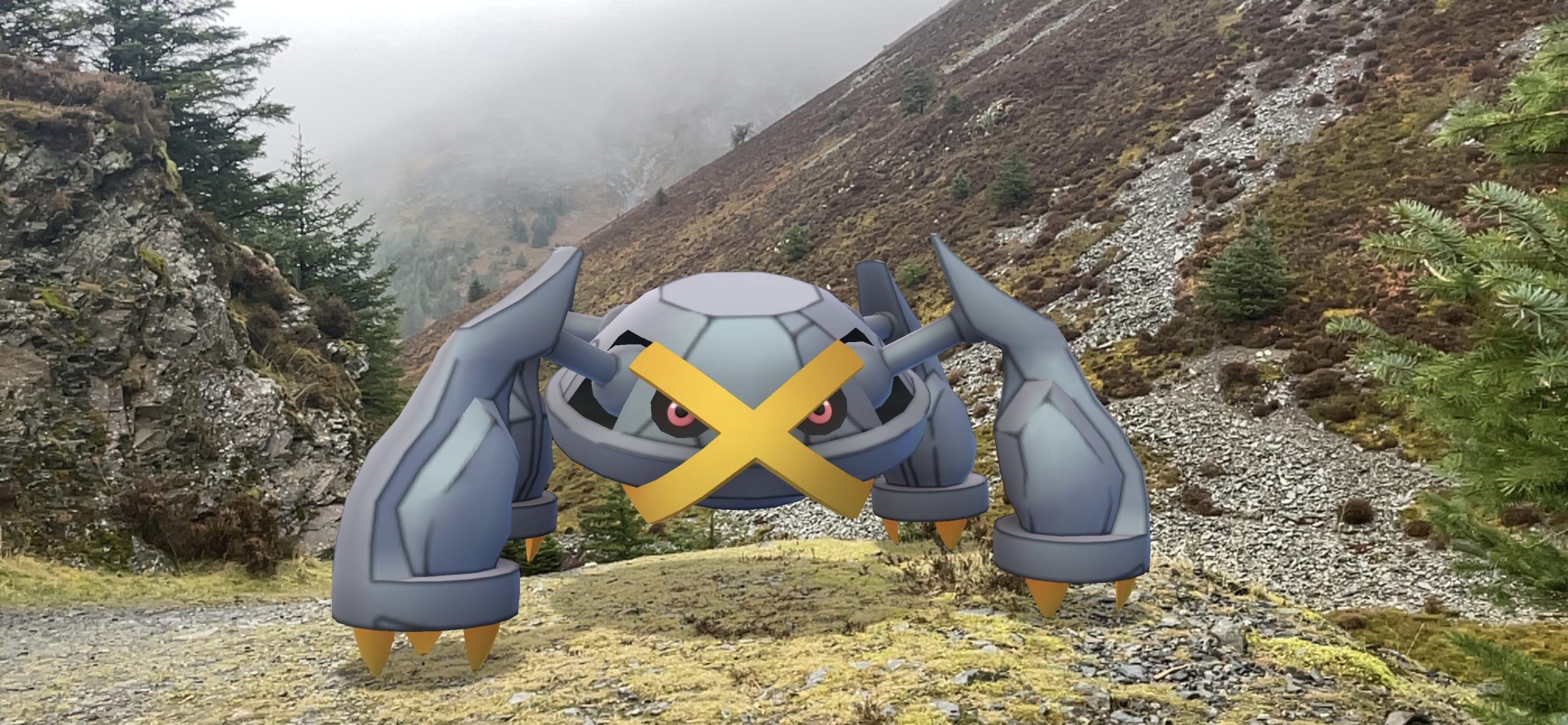 'Nice walk up the mountains near Skiddaw. Quite rocky and seemed to suit a Metagross photo. Kind of reminds me of when James went after one in the anime!'
'Within the buildings' by sevensevenok, New York.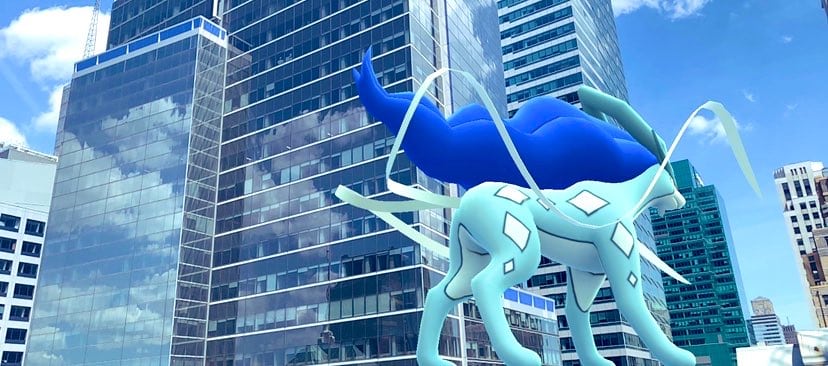 'In NYC observatory the architecture'
'Ho-oh Rainbow' by RoseDiamond10, California, USA.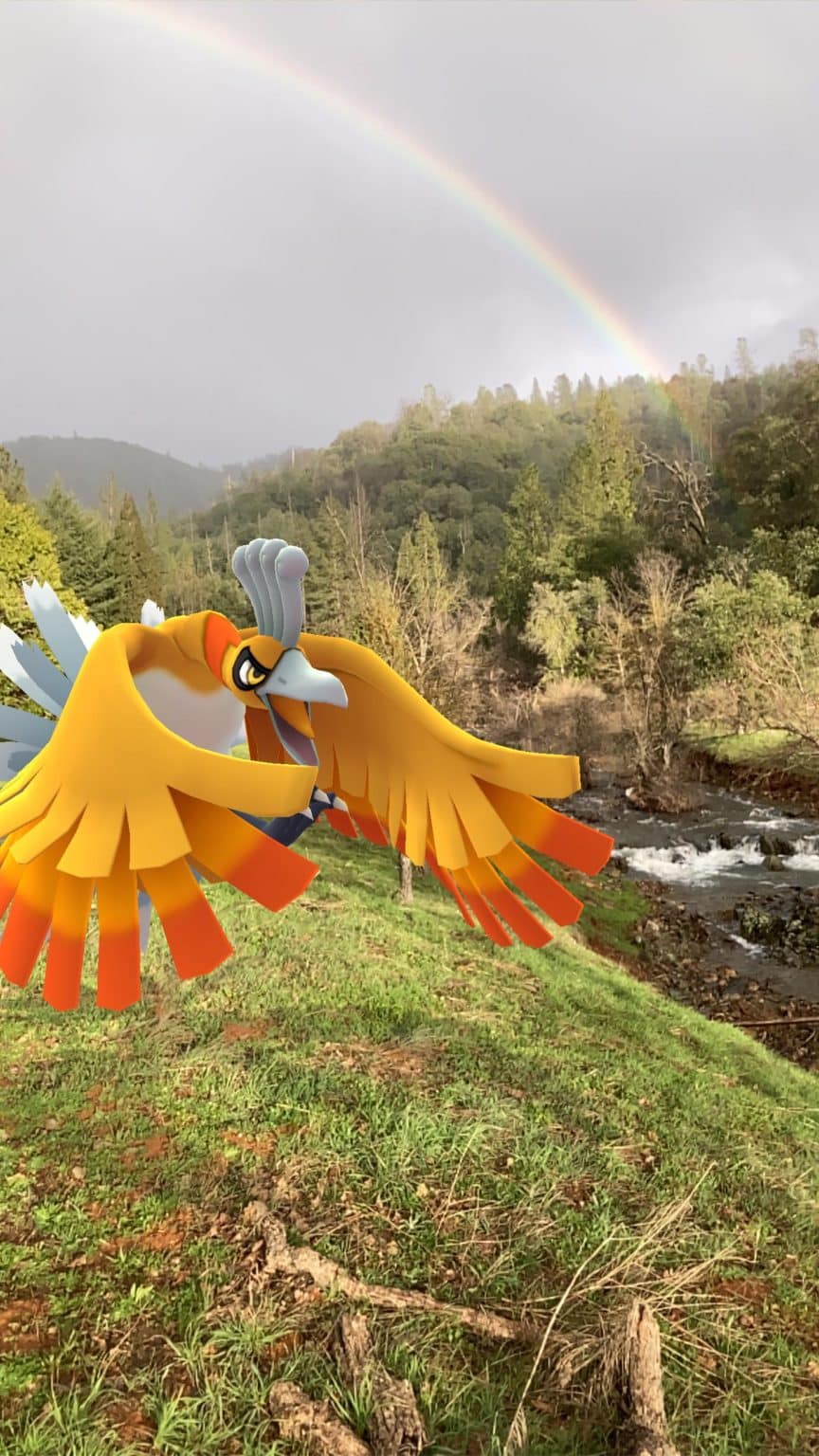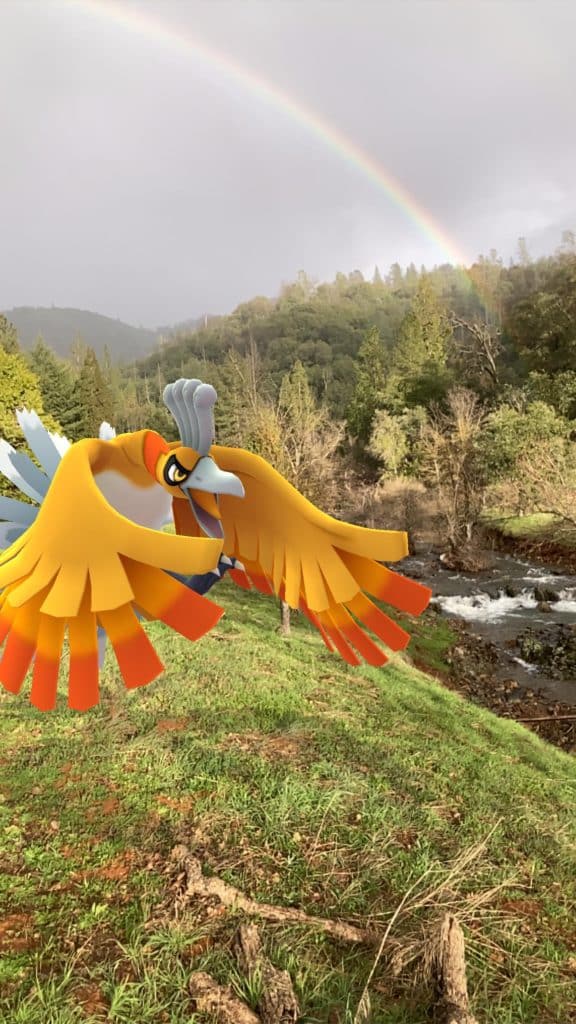 'The golden hue of shiny Ho-oh is especially lovely under a bright rainbow.'
'Vapo-chilling' by Superdrogon1, Andhra Pradesh, India.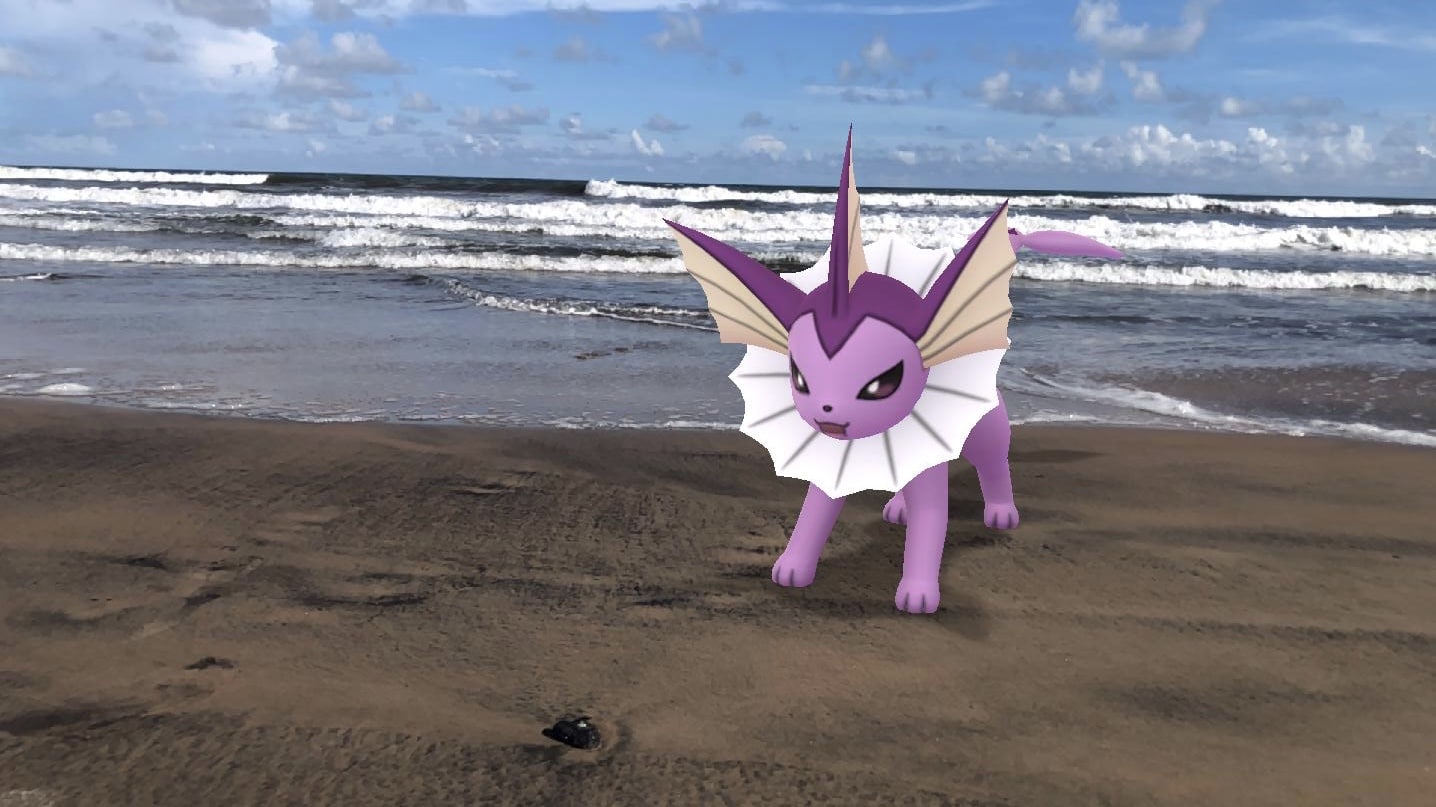 'Vaporeon is chilling over the beach.'
'Fly Free and High!' by ao, Japan.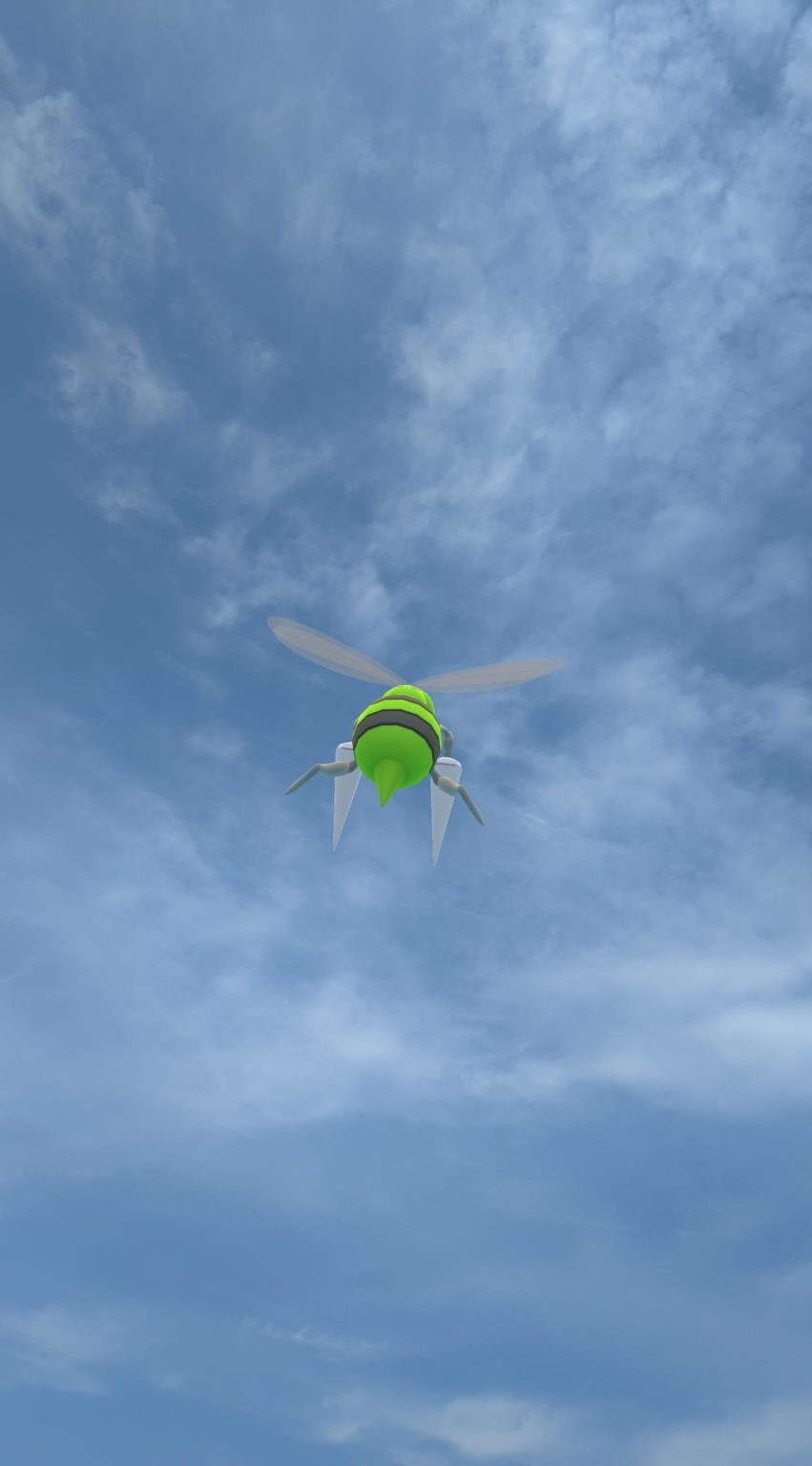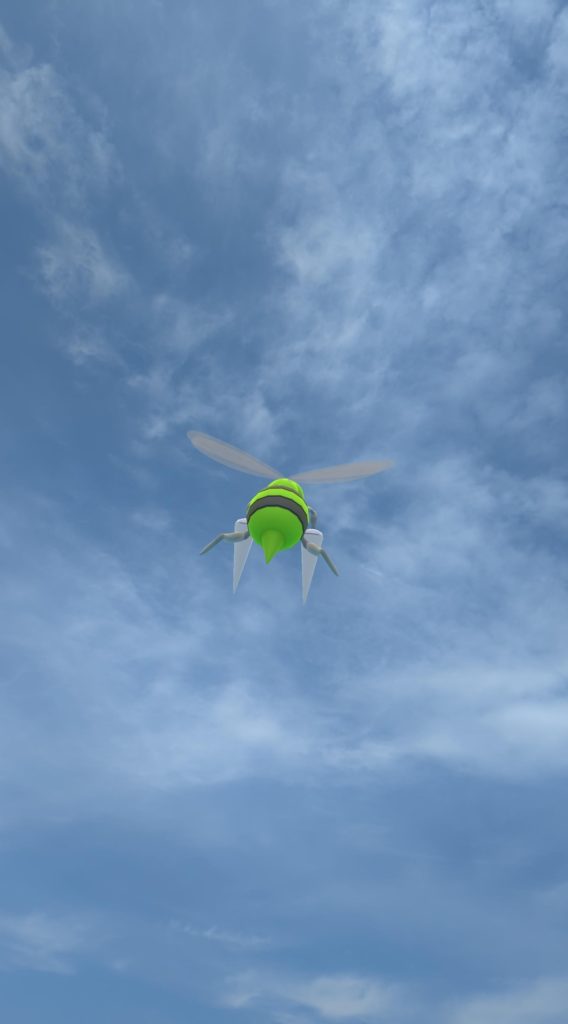 'Kakuna evolved into a Beedrill and took off into the sky.'
By WatershipBound, Corbett's Glen, Rochester, NY, USA.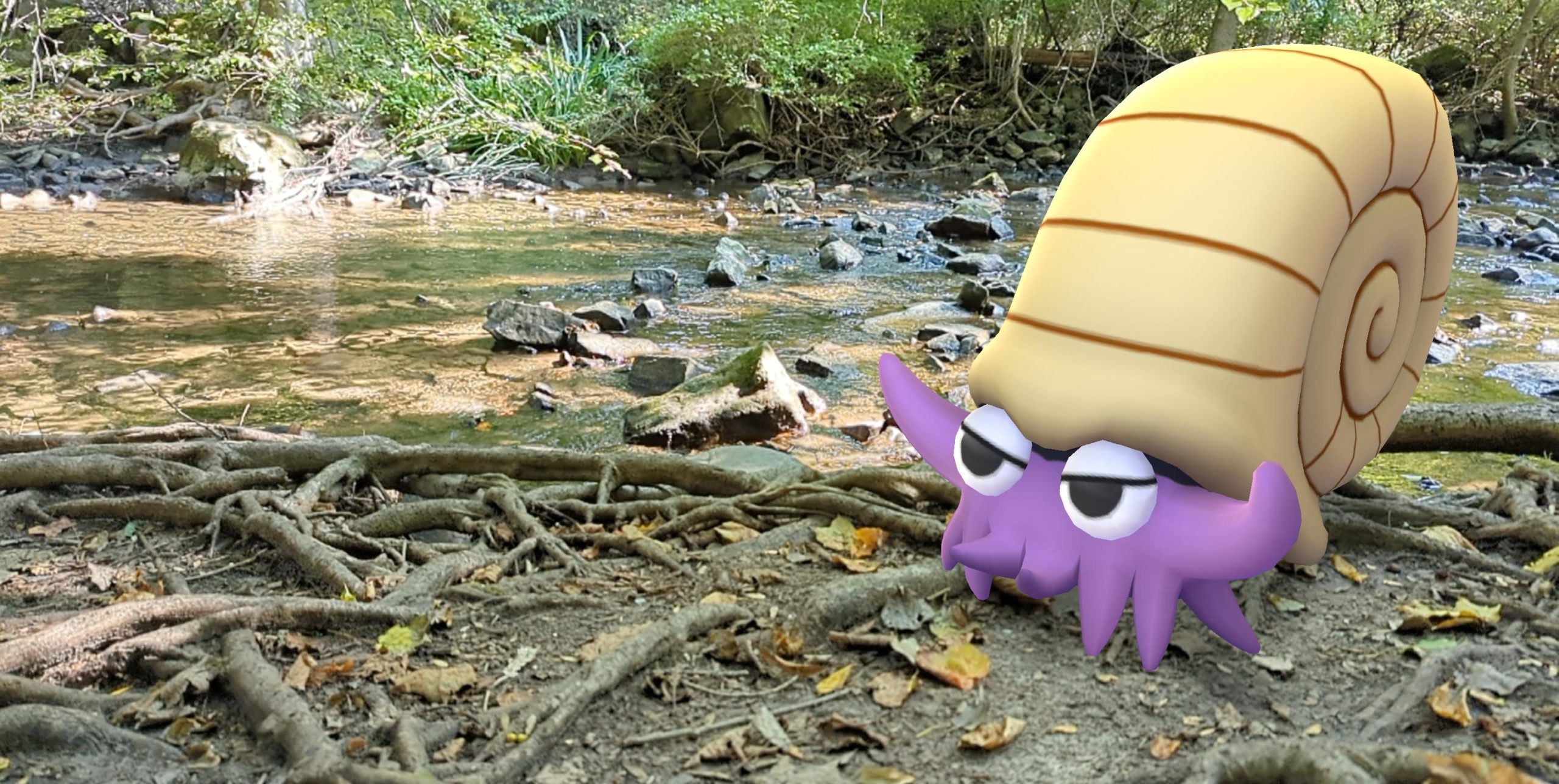 'Call me old, but I like the original 151. That's not to say there aren't cool pokemon in other generations, but the kanto pokemon have a clean, classic look. And omanyte is a good example of that. Plus, the purple in the shiny version is nice. I haven't taken many AR pics of omanyte before, but I love the pose. What a tough guy!'
'Sage Rage' by mingosanch, Muswell Hill, London, UK.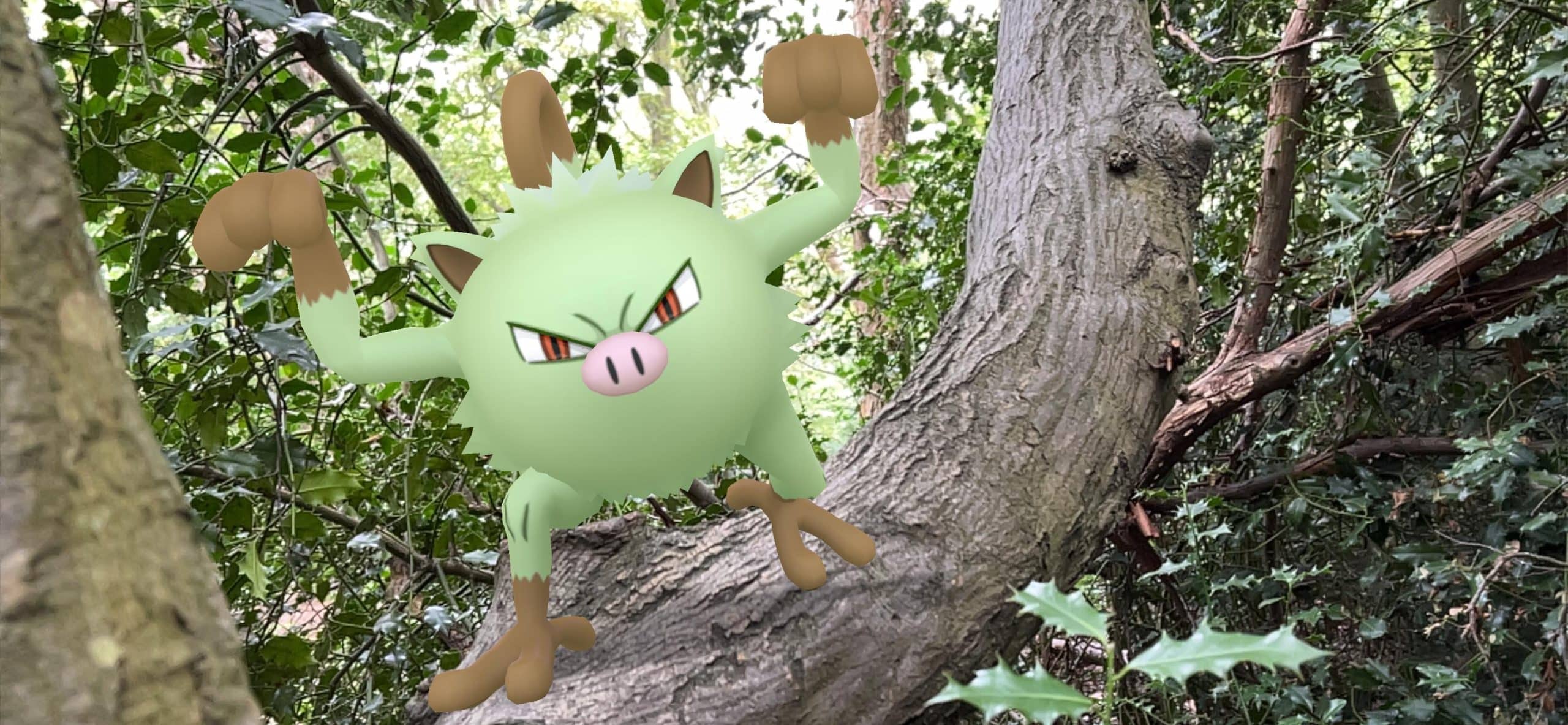 'Shiny Mankey always reminds me of trees with its green and brown color scheme. Taking this photo wasn't easy, as the branch wasn't flat enough or large enough for placing a Pokémon. I had to exit out of the app and re-enter several times in order to trick the game into placing Mankey in the tree.'
'The first shiny Goomy' nana15AR, Hiroshima City, Japan.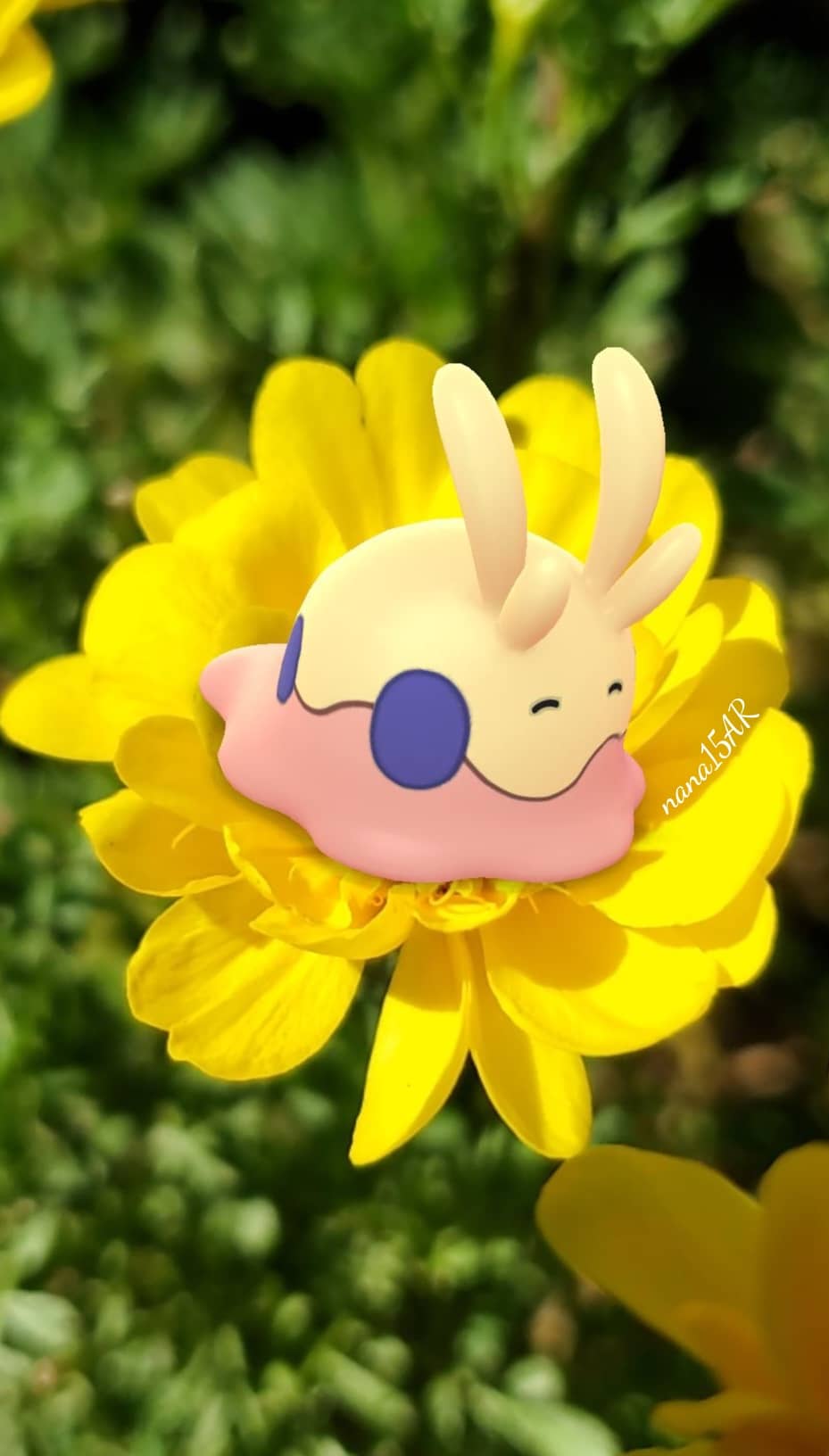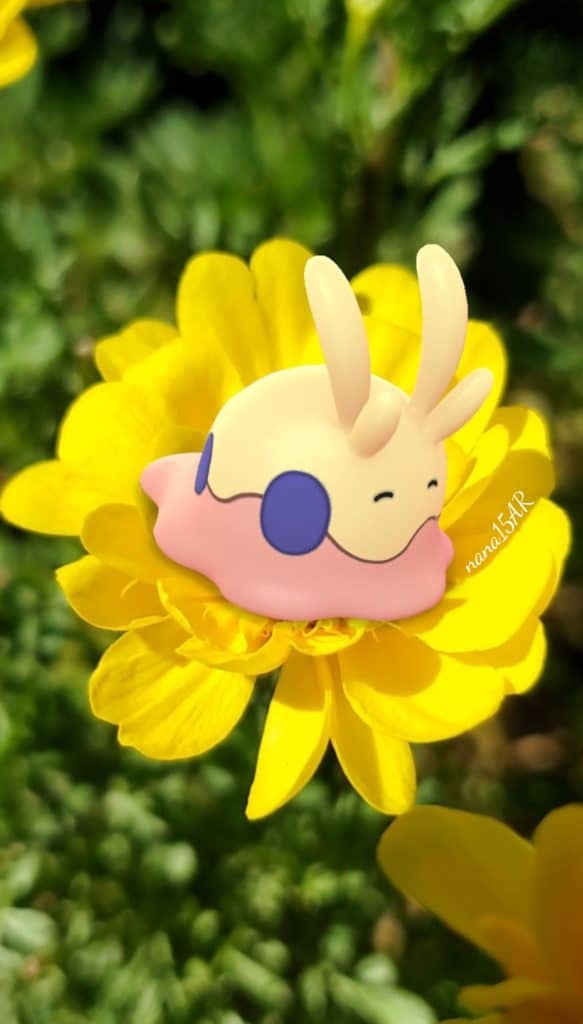 'Shiny Goomy is the first to be implemented this time, and the bright yellow color suits very well and is cute.'
Edited Images
The below AR images have been edited or filtered in some way.
'Dragon roost' by ElKhan32, Essex, UK.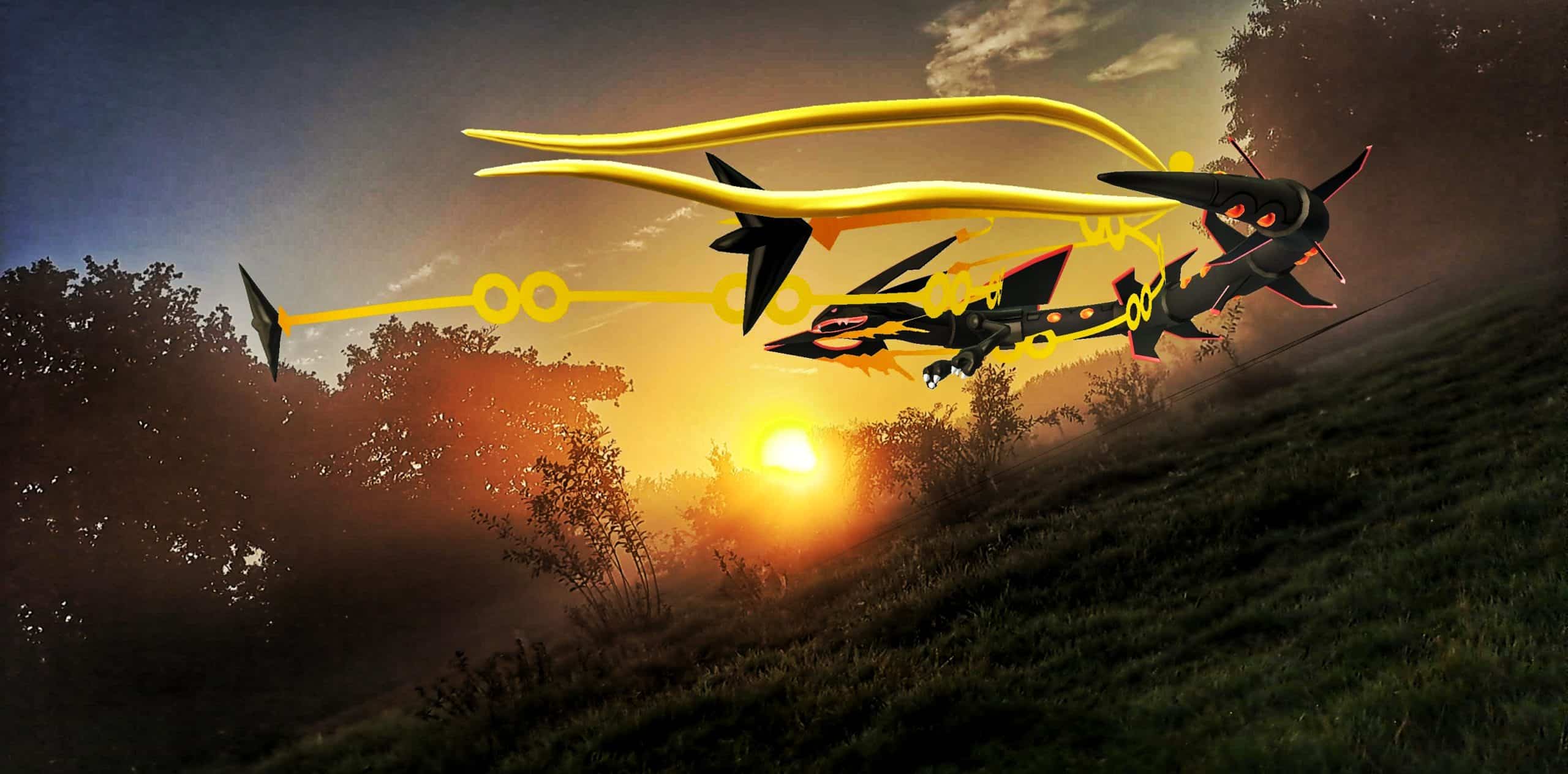 'The great dragon comes to earth'
'Lapras Chaos' by SuperDrogon1, Hyderabad, Telangana, India.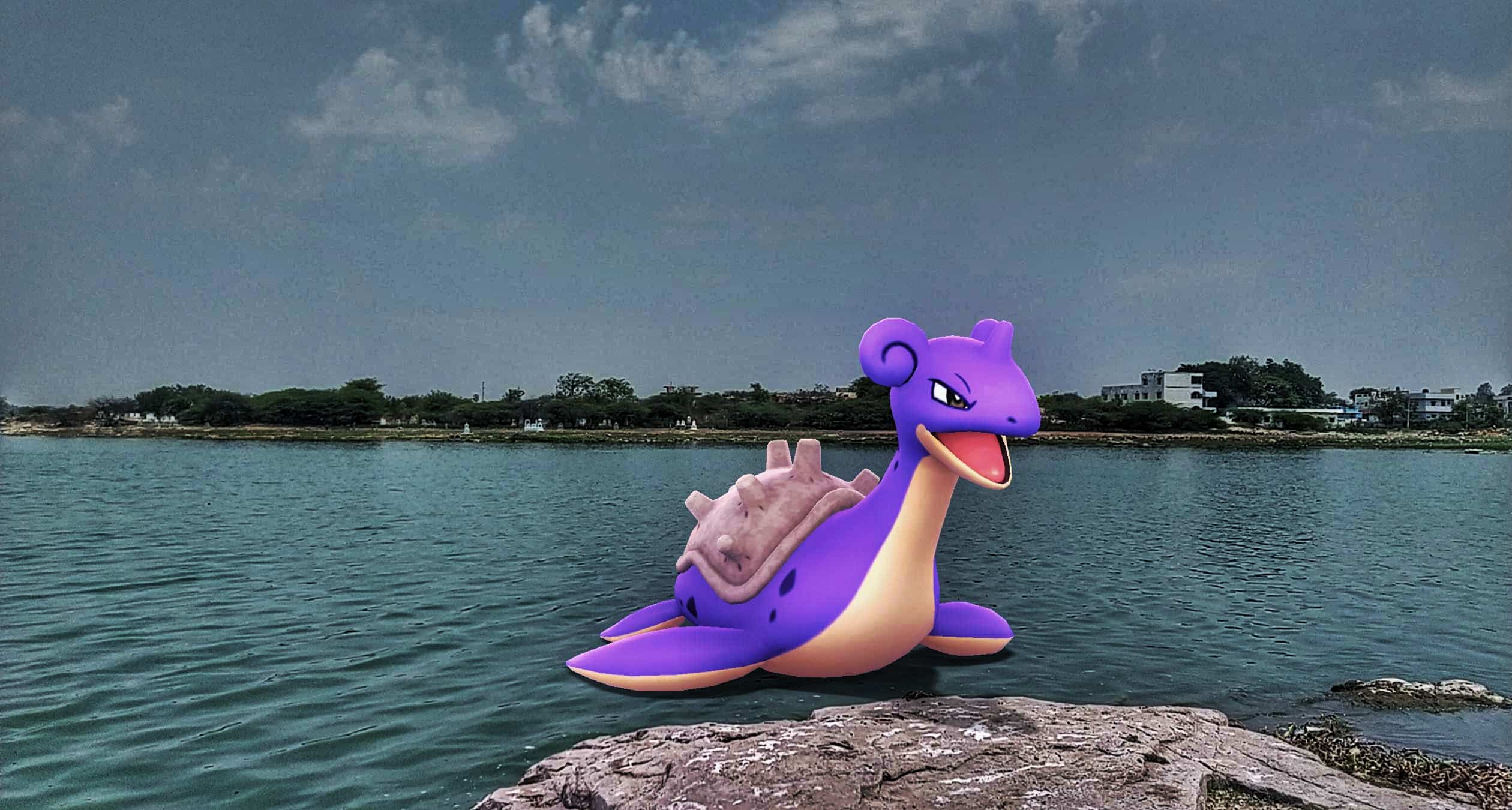 'Lapras marking its territory and fending off other pokemons.'
'Azrael's Coloseum' by Aaron Jon Morgan, Parcul Tineretului, Bucharest, Romania.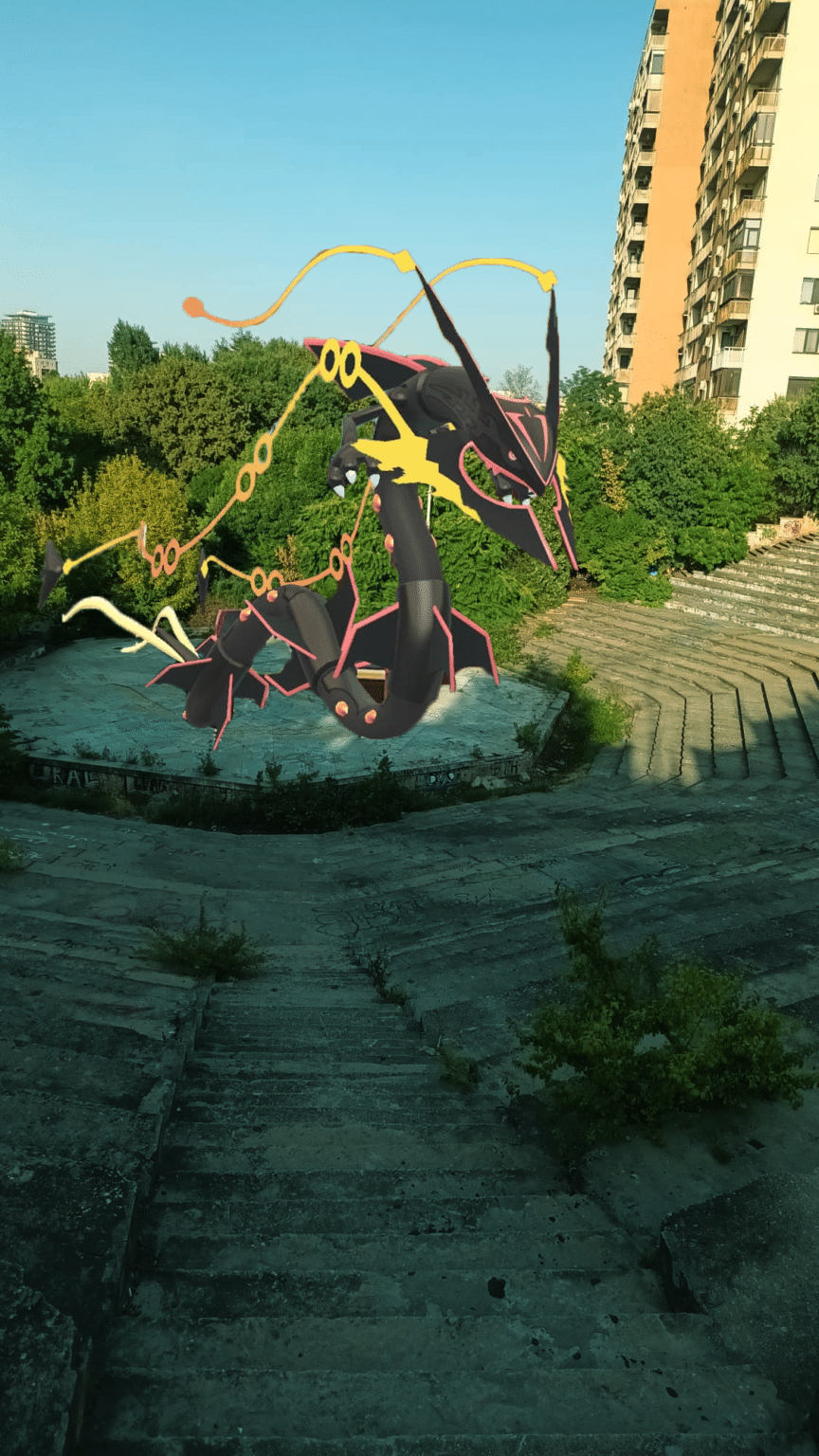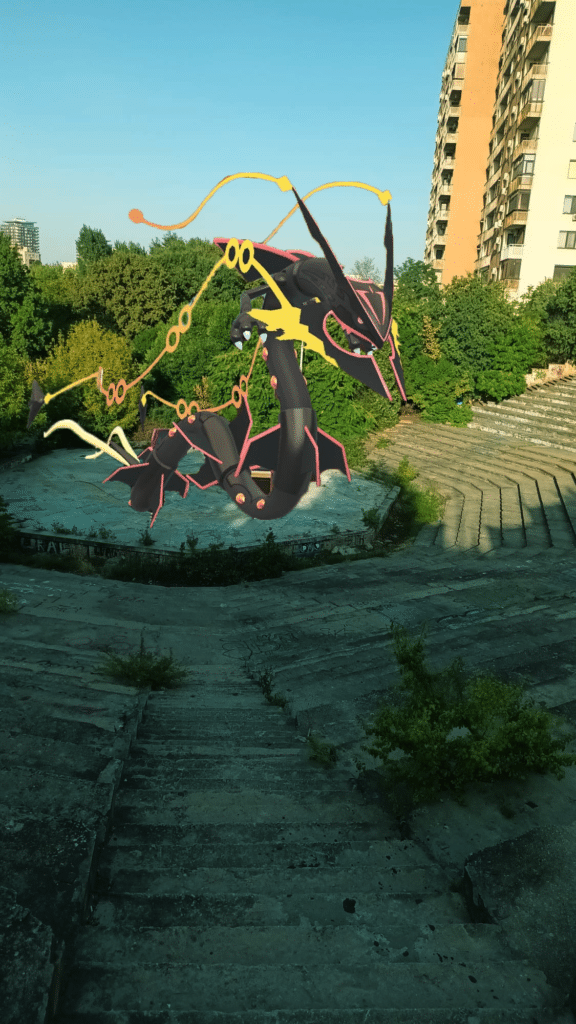 'Azrael is overlooking her coloseum with the might and fury that are her birthright. Who would dare stand against the power of a God?'
'What An Alien Invasion??' by rockARaptor, Hyderabad, Telangana, India.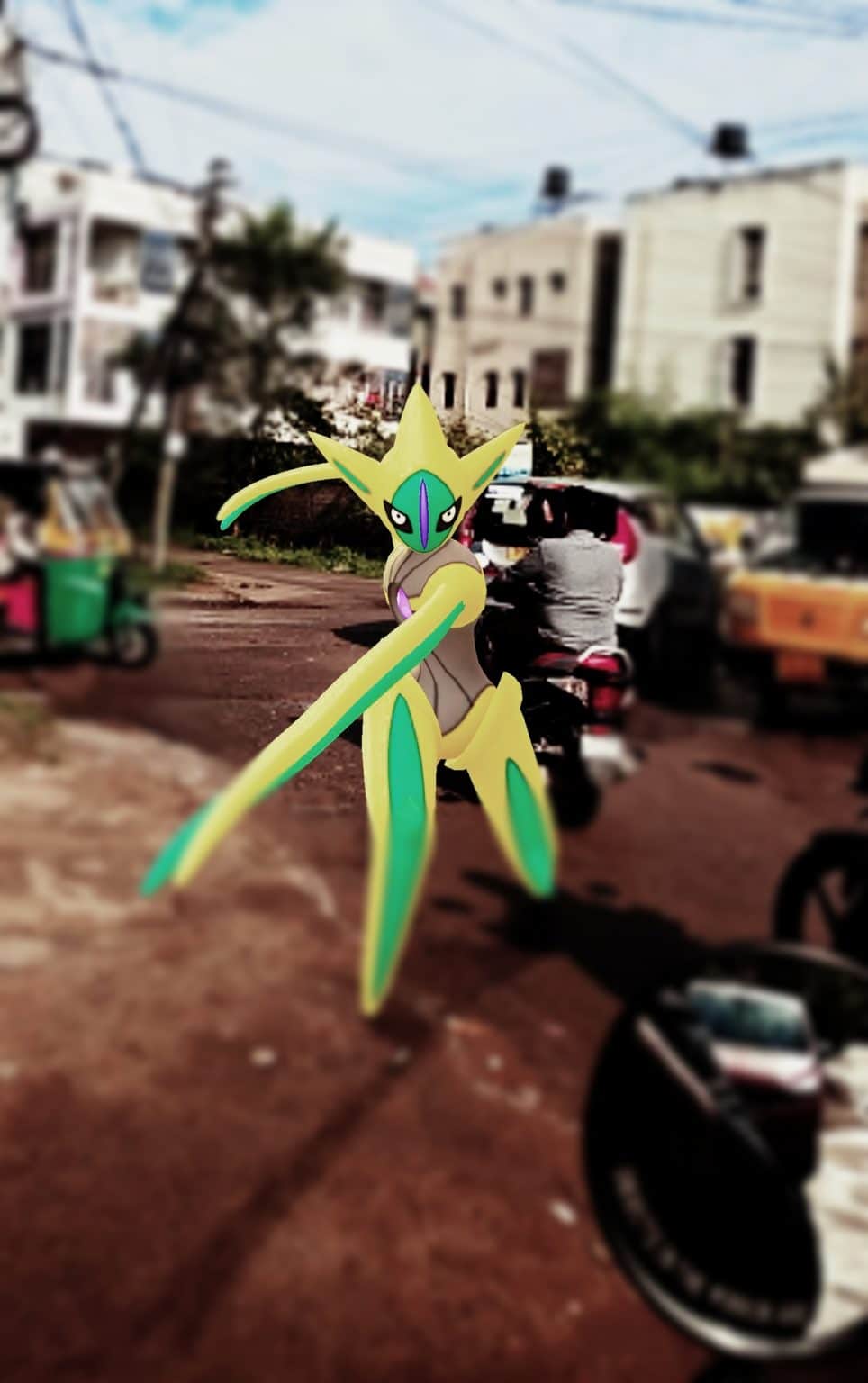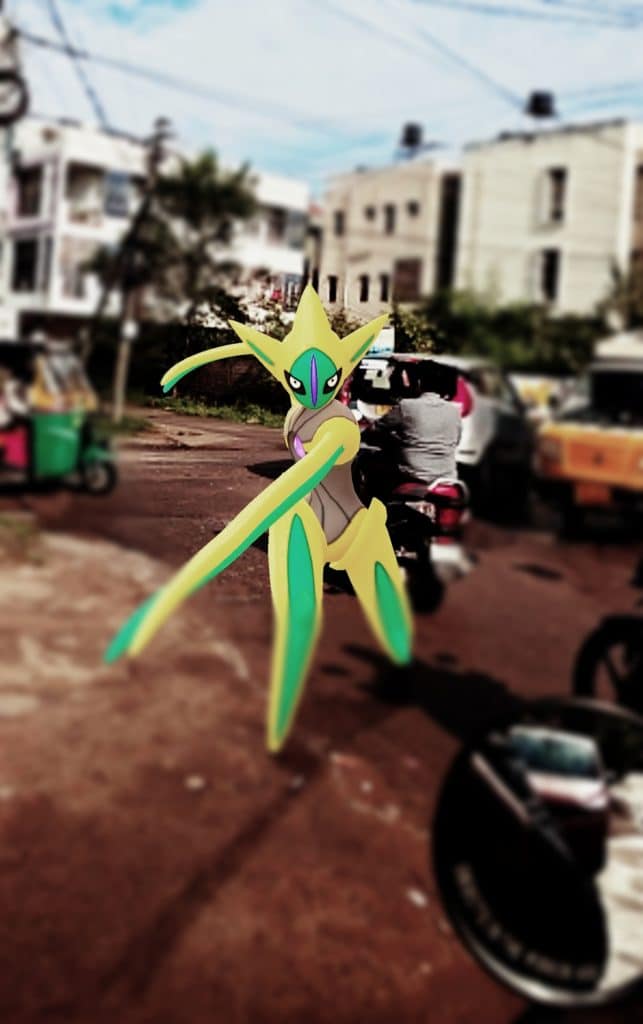 'Was on my way to work and suddenly saw an alien form rushing towards me. As soon as I stopped saw that My Shiny Deoxys was out of its ball and seeking for a berry feed to continue its journey with along with me.'
By ShantanuR3597, Noida, India.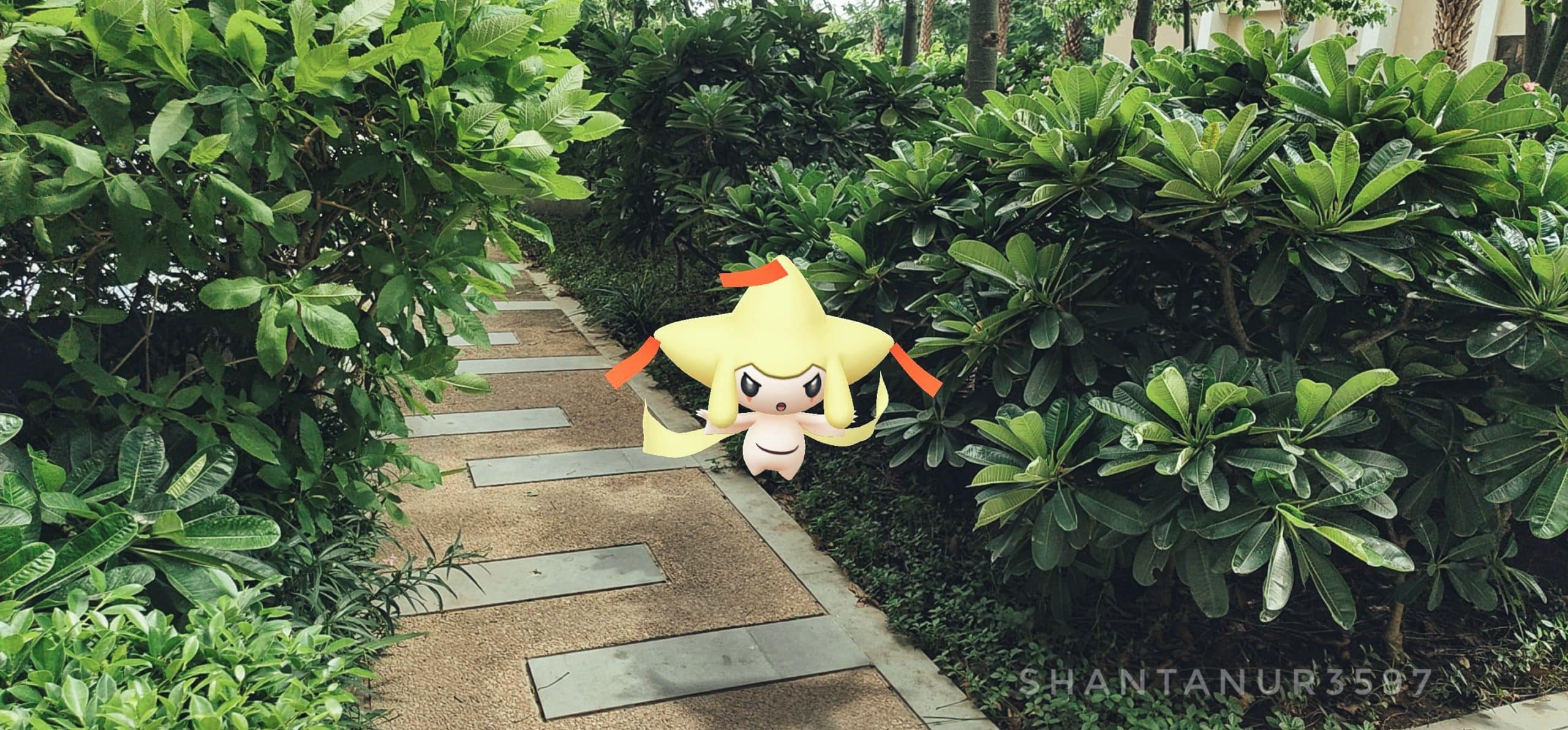 'Jirachi got pretty frustrated as it woke up after a long time. Am I in danger? Will it still grant the wishes?'
'Transient' by ElKhan32, Essex, UK.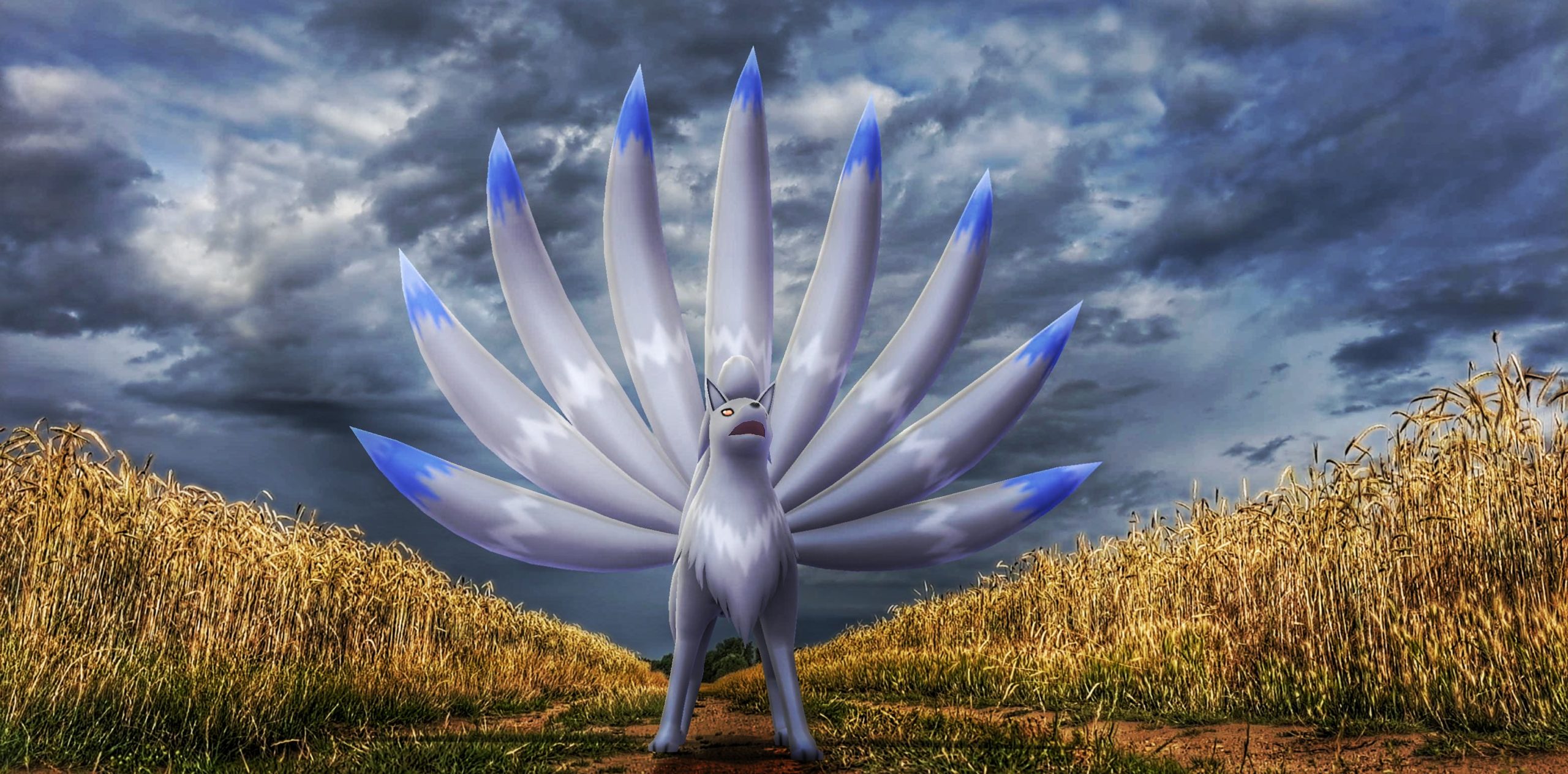 'Beauty and ability are a deadly cocktail'
'Nosedive' by Feresk, Cebu City, Cebu, Philippines.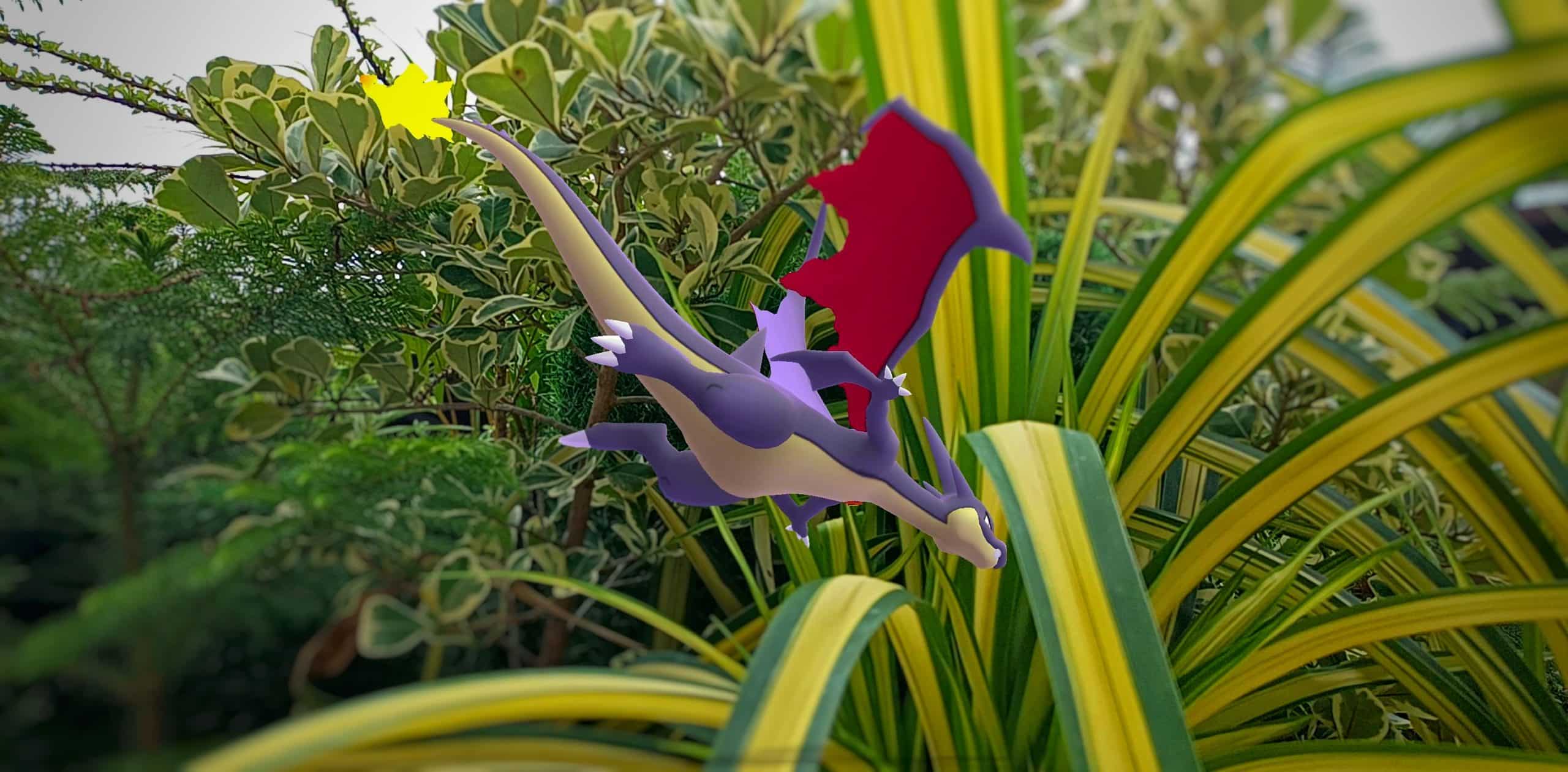 'My Charizard was happy to show off its flight skills.'
'Delta Stream' by Maxotron2010, Florida, USA.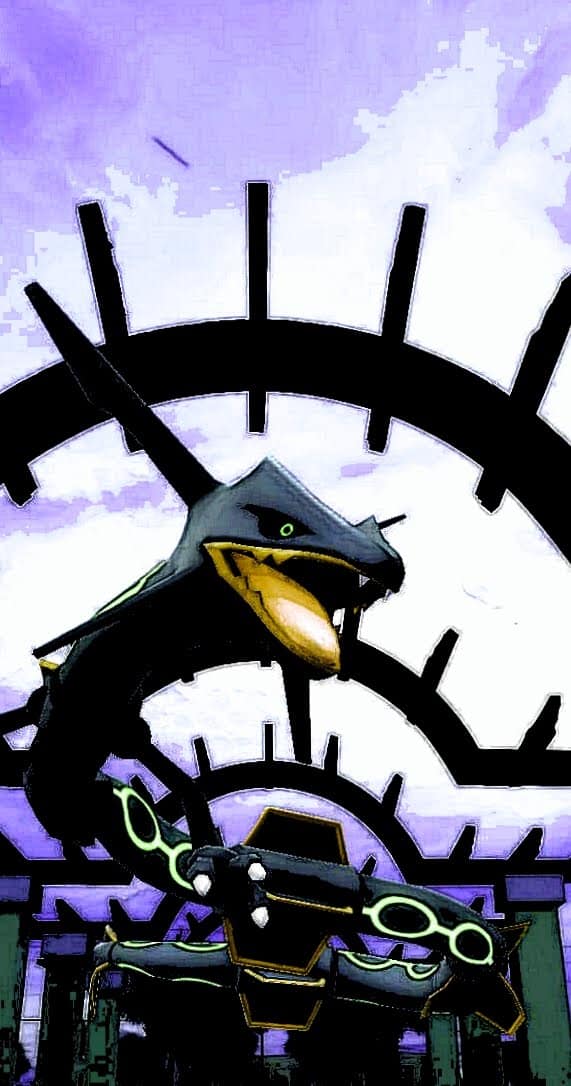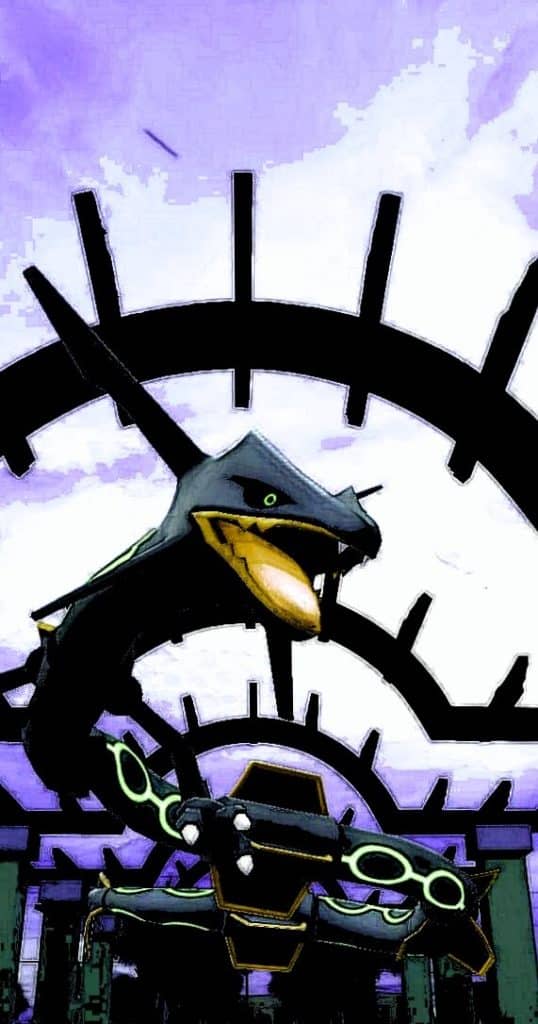 'The aerodynamic serpent coils and glides through the obstacles course, practicing its agility. As it flies overhead, the sun seems a little less hot, as if it's power is eclipsed by the shimmering black scales and fins of rayquaza.'
'Wild Wooper' by Marc H. Bavaria Germany.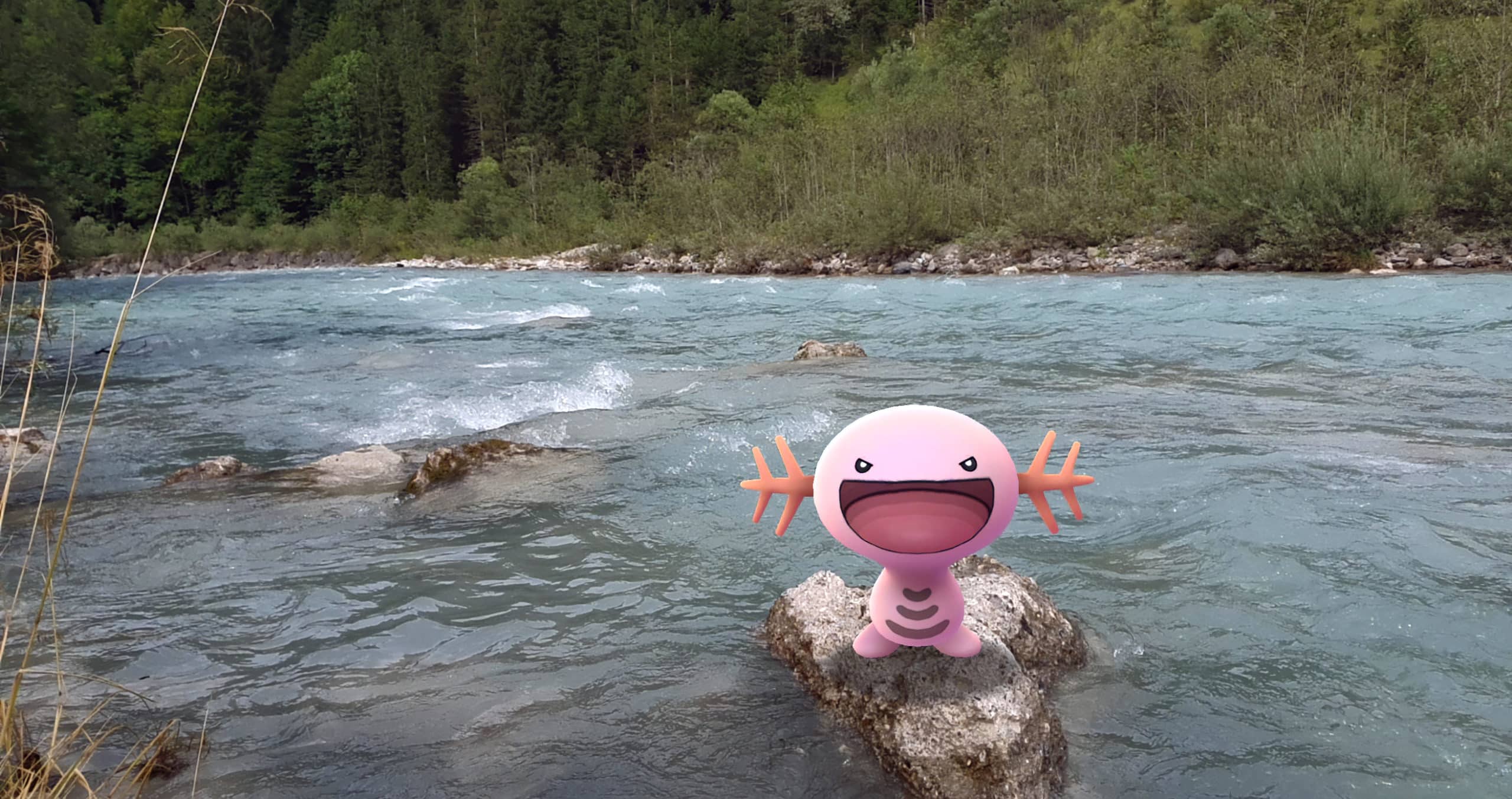 'Just a wild and cheeky Wooper found in the wild. They love the clean water of the area.'
'A Shiny Paldean' by rockARaptor, Hyderabad Telangana India.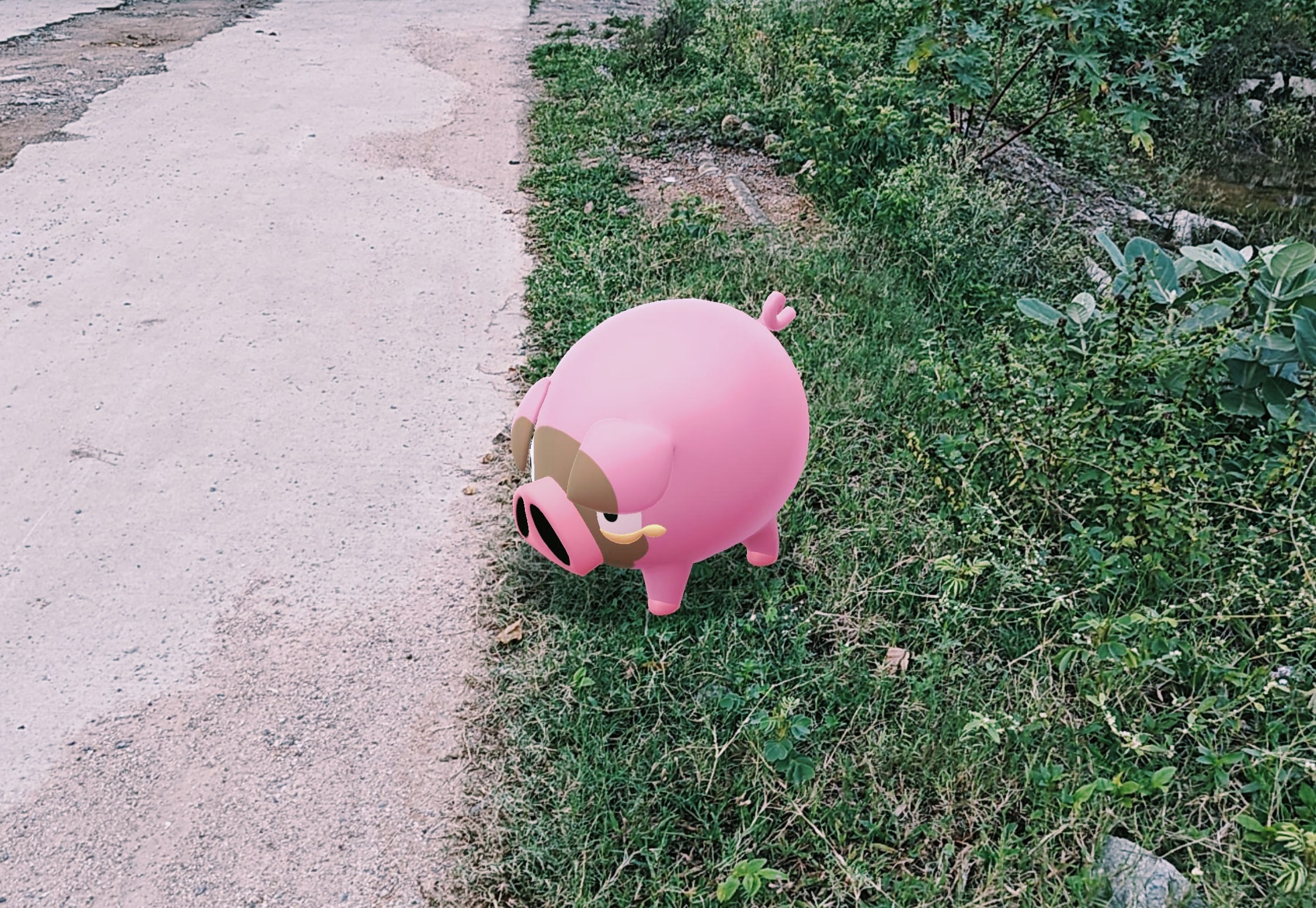 'Was walking my dog on a cool morning when I heard something following us. Thought it was another dog but when I turned around my Shiny Lechonk wanted me to take him also around along with my dog…..'
'Rayquaza' by Superdrogon1, Hyderabad, Telangana, India.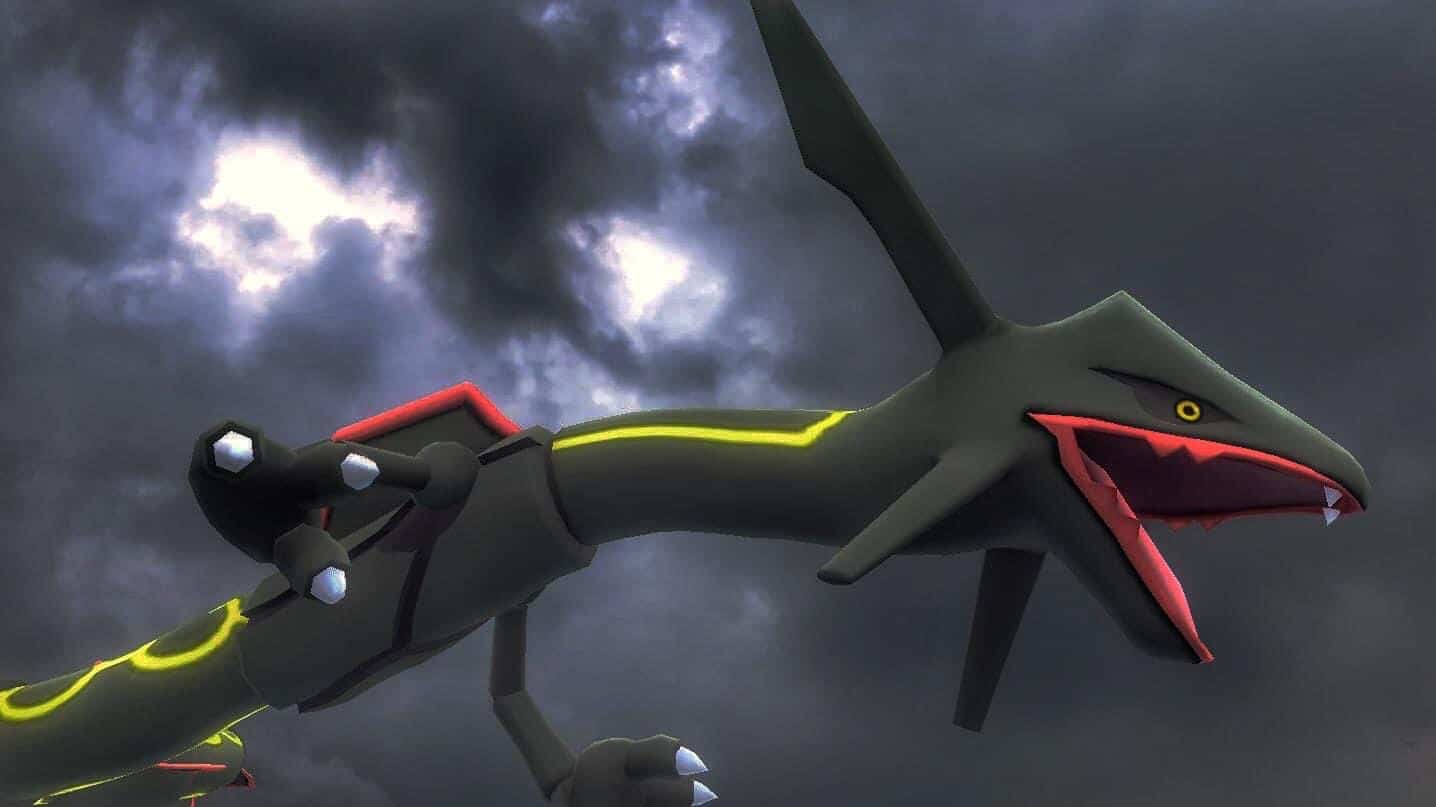 'Rayquaza descenting down from the skies'
'Devil's Den' by Maxotron2010, Williston, Florida, USA.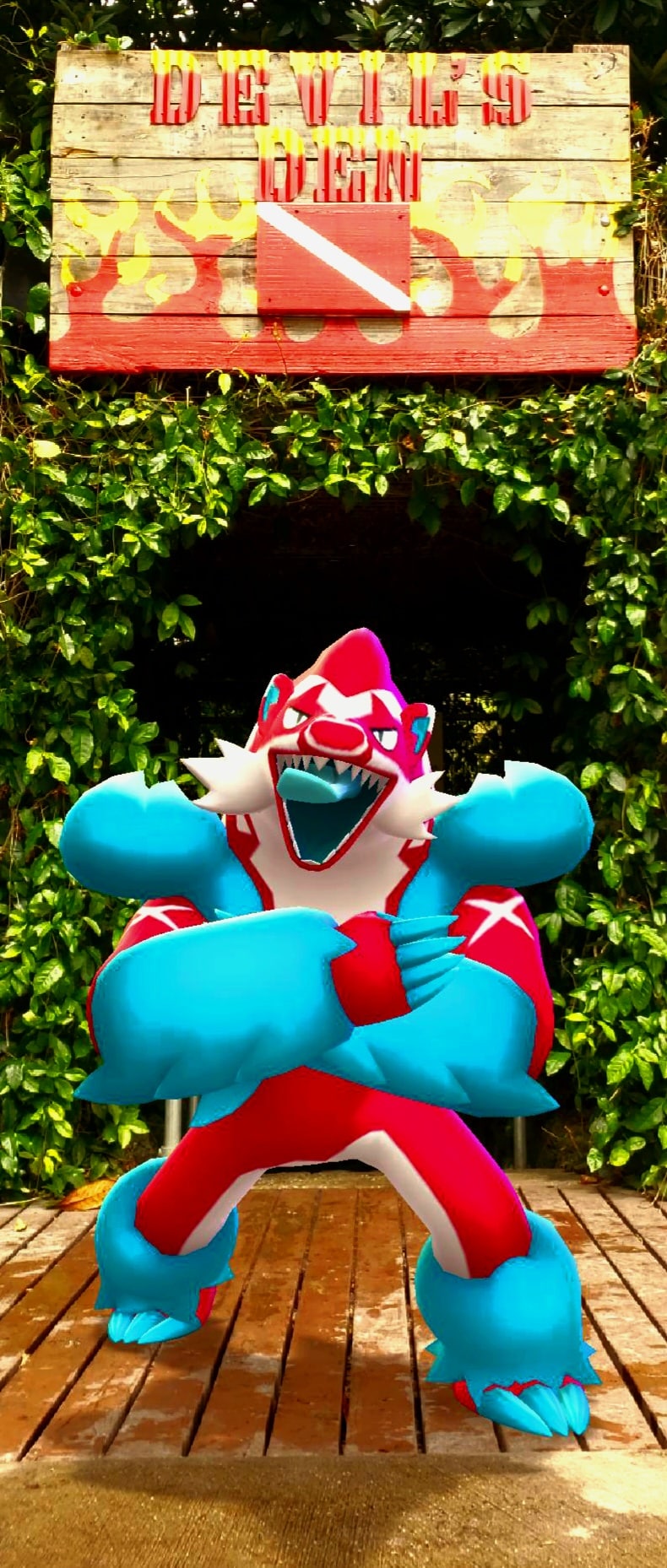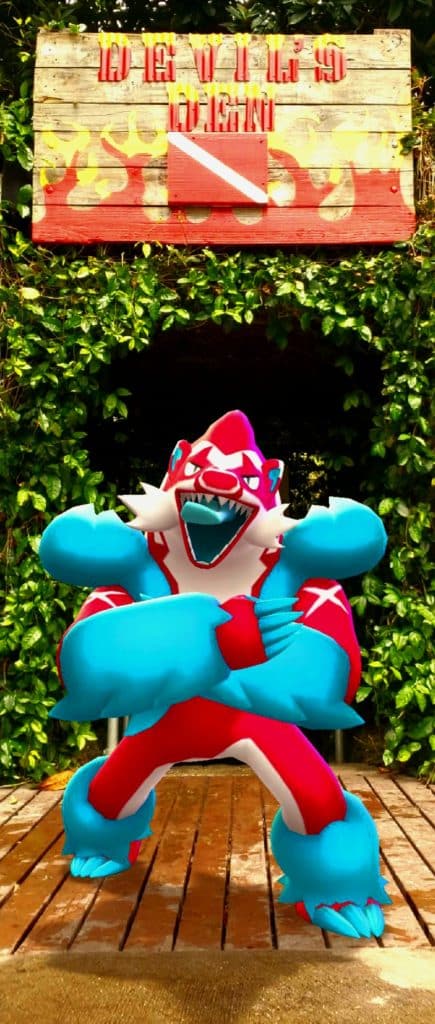 'The darkness of this spring is a perfect environment for this obstagoon. Swimmers are welcome, but the real wonder lies deep beneath the surface of the water, where miles and miles of caves extend, inviting the most experienced and certified divers to catalog and explore them.'
By sevensevenok, New York.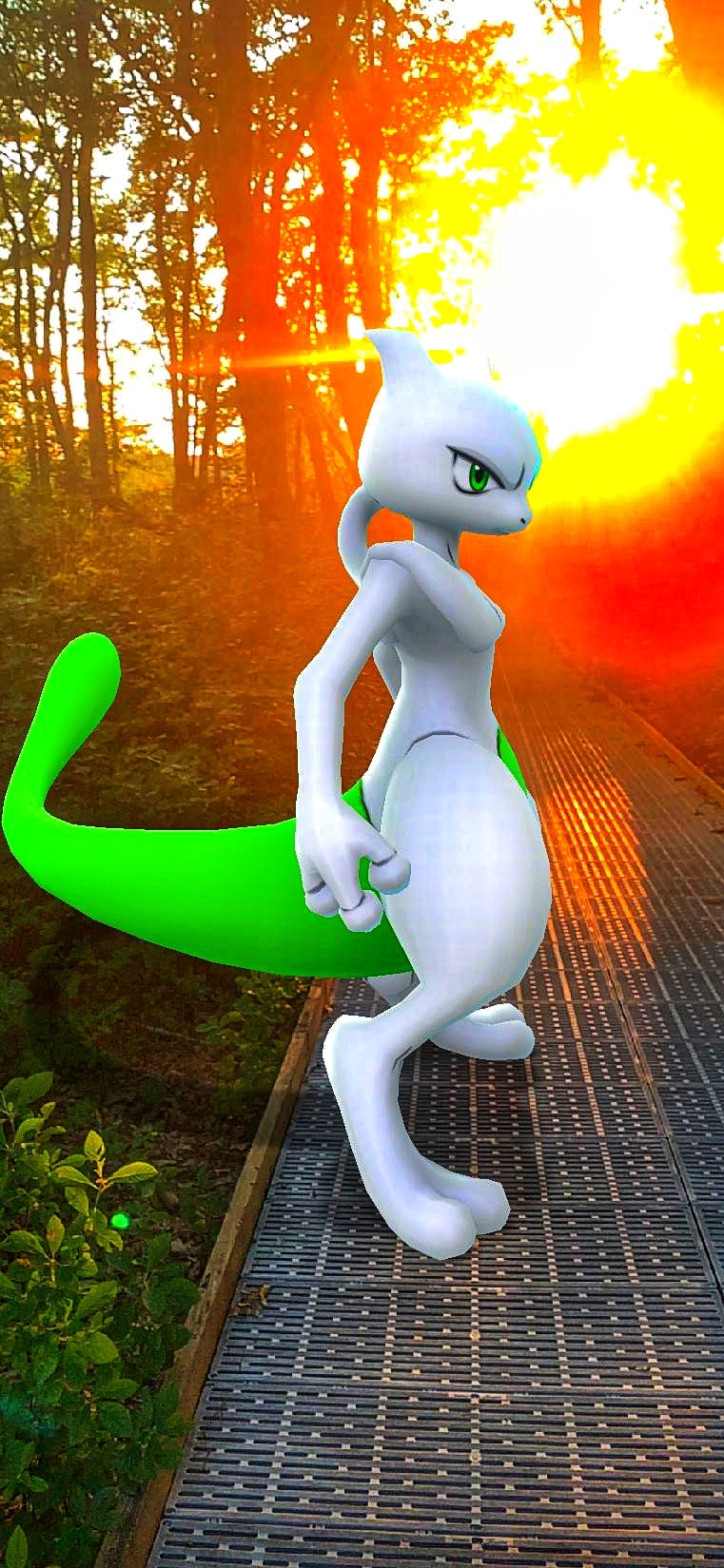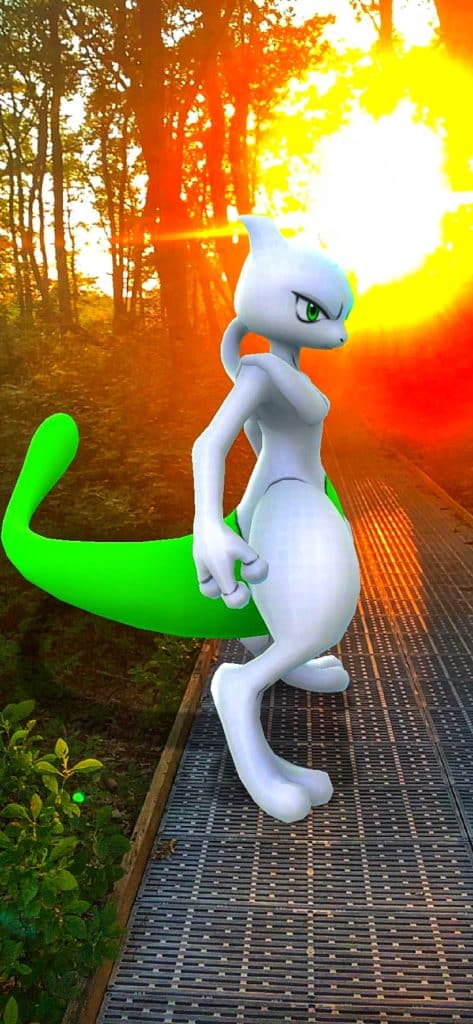 'Sunset'
'Swoop' by RoseDiamond10, California, USA.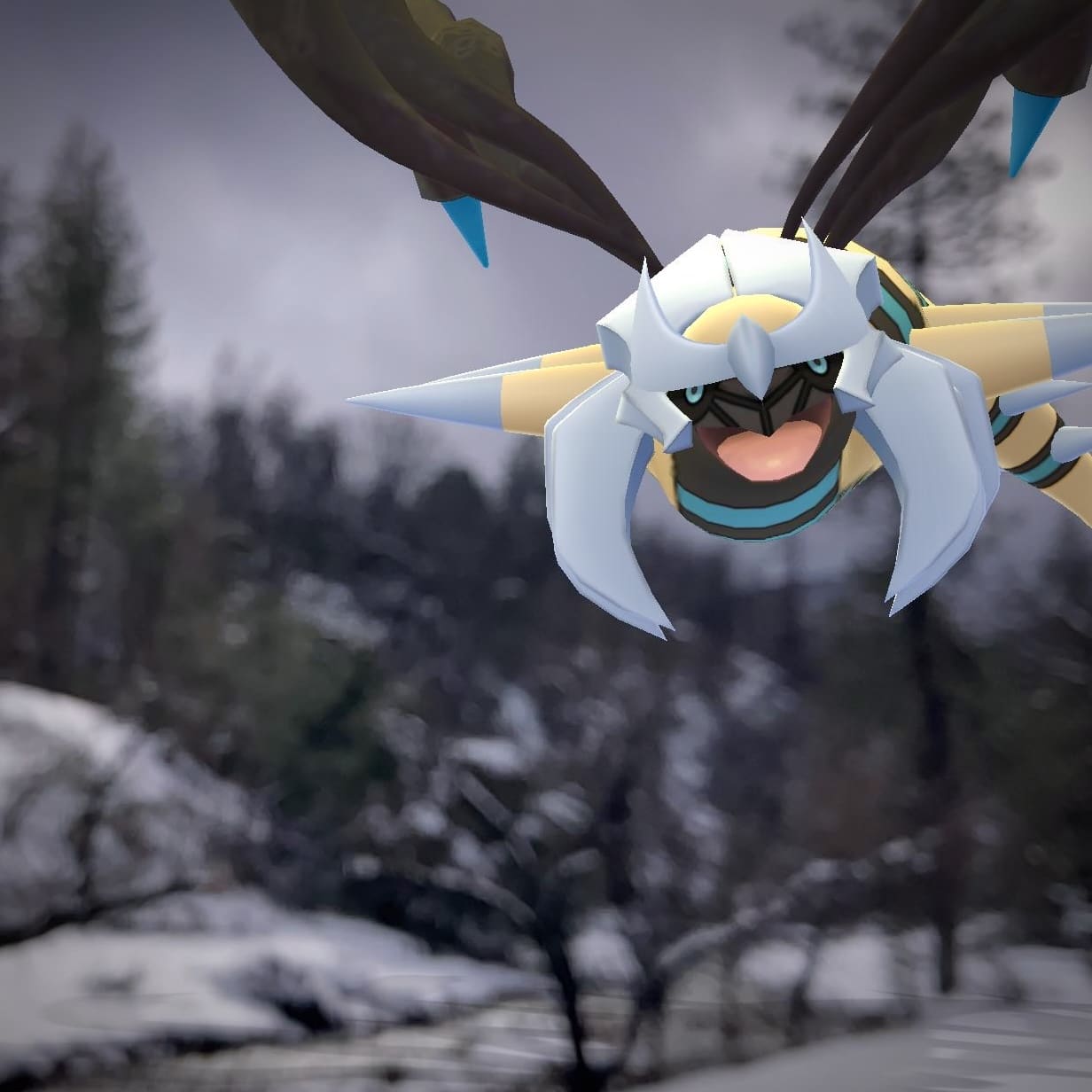 'This beautiful but dangerous Giratina brightened a dark winter day.'
'Journey with the master' by Lonerider0009, Hyderabad Telangana India.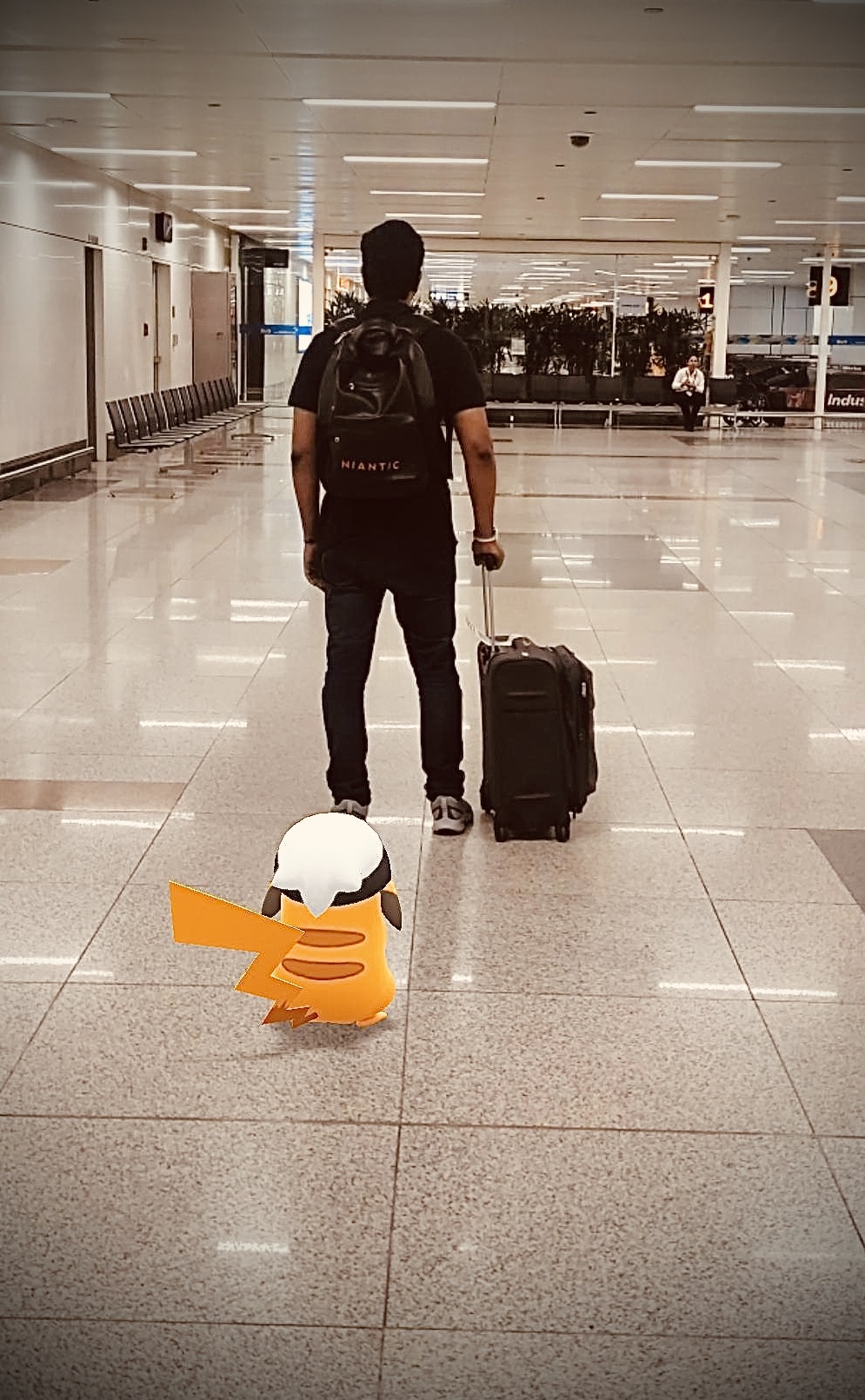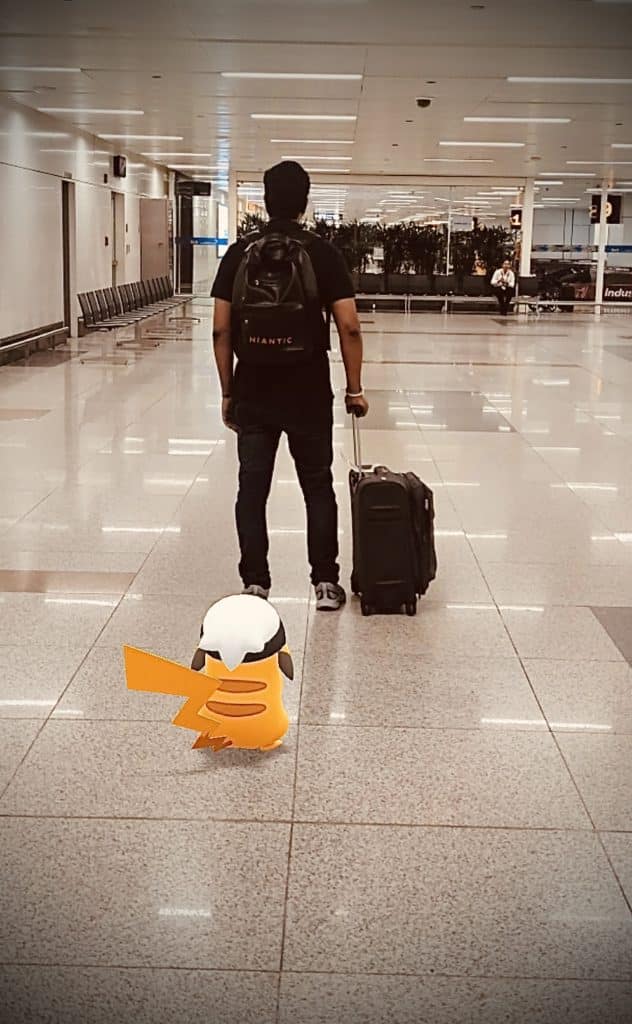 'On the journey to explore the northern side of the country with my shiny hat Pikachu.'
'Zodiac' by ElKhan32, Essex, UK.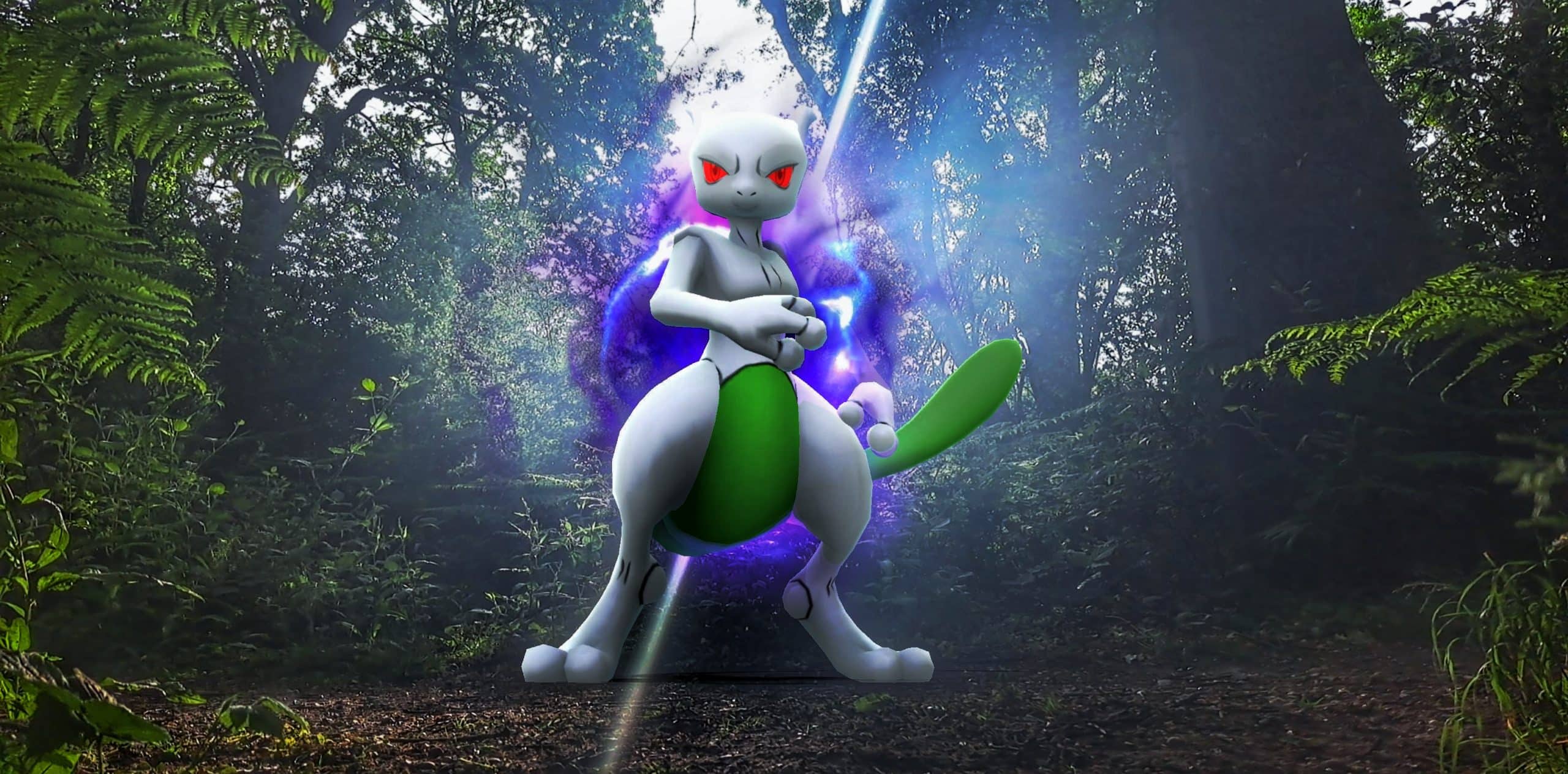 'True power comes from within'
Edits
The below images are composites/full edits, made using a combination AR, existing images, and extensive editing.
'『Rainy day shout!! 雨の日のシャウト』' by kerolimu りむ, Intersection on the way home from work.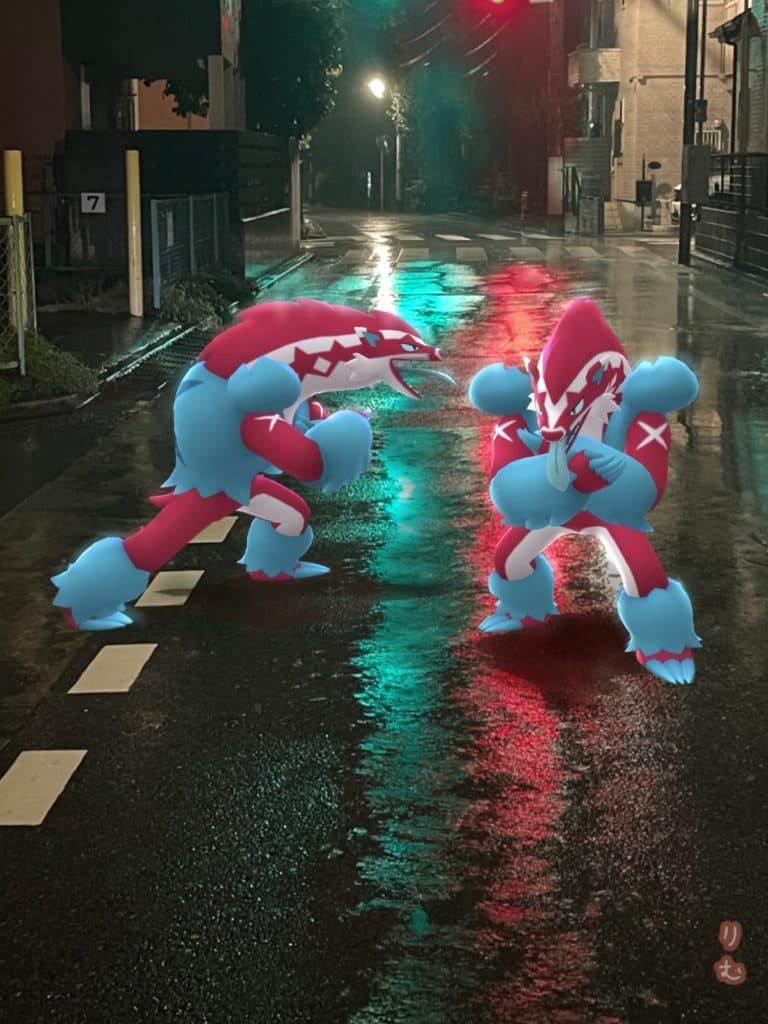 'Red lights and green lights are our spotlights. 赤信号と青信号は俺たちのスポットライト。'
'Clash Of the "Shiny" Titans' by rockARaptor, Hyderabad, Telangana India.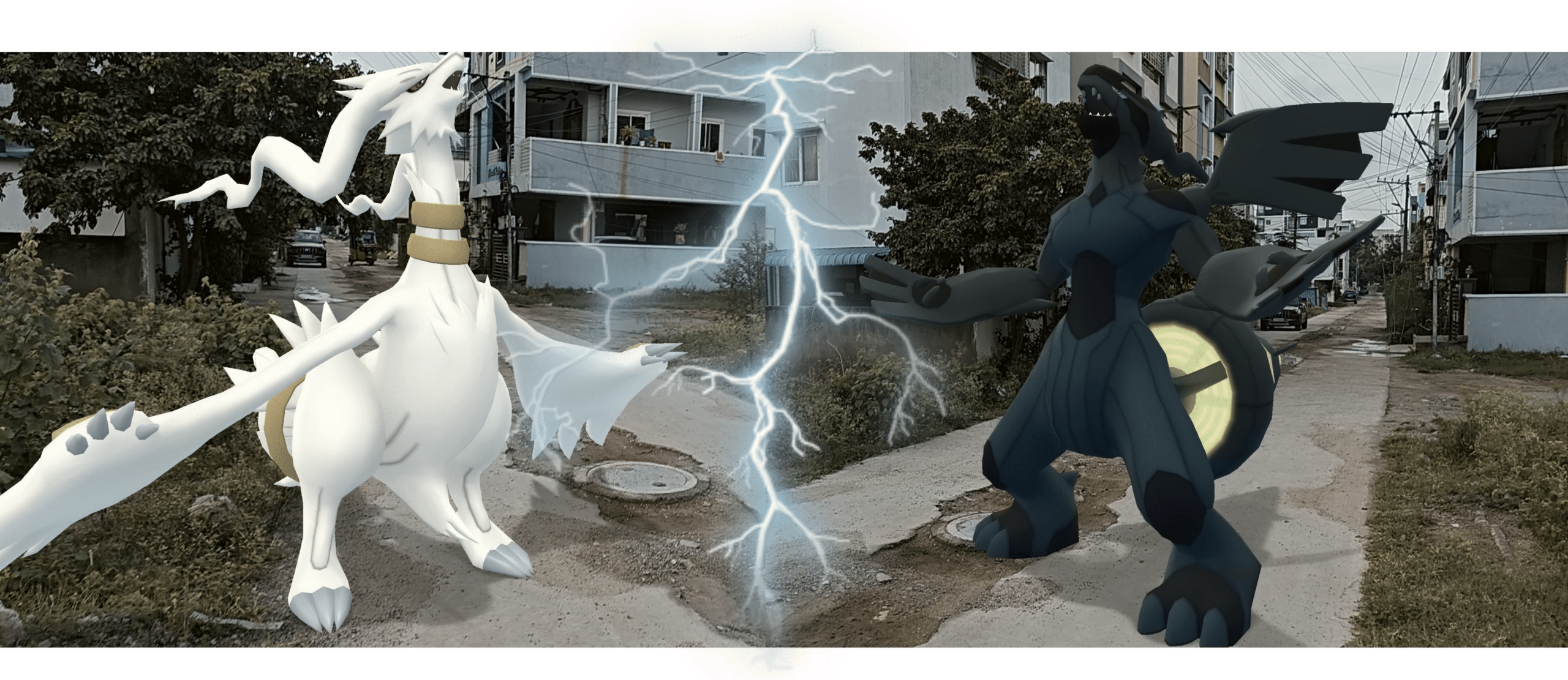 'When the Titan Legendaries of Pokemon Clash face to face it's gonna be a phenom. Inspired from anime and stories wanted to create a picture with both my Shiny Reshiram and Zekrom face to face'
AR Masters
The below images are taken by our AR Masters.
'Goomy' by Pokegramstm, Hastings.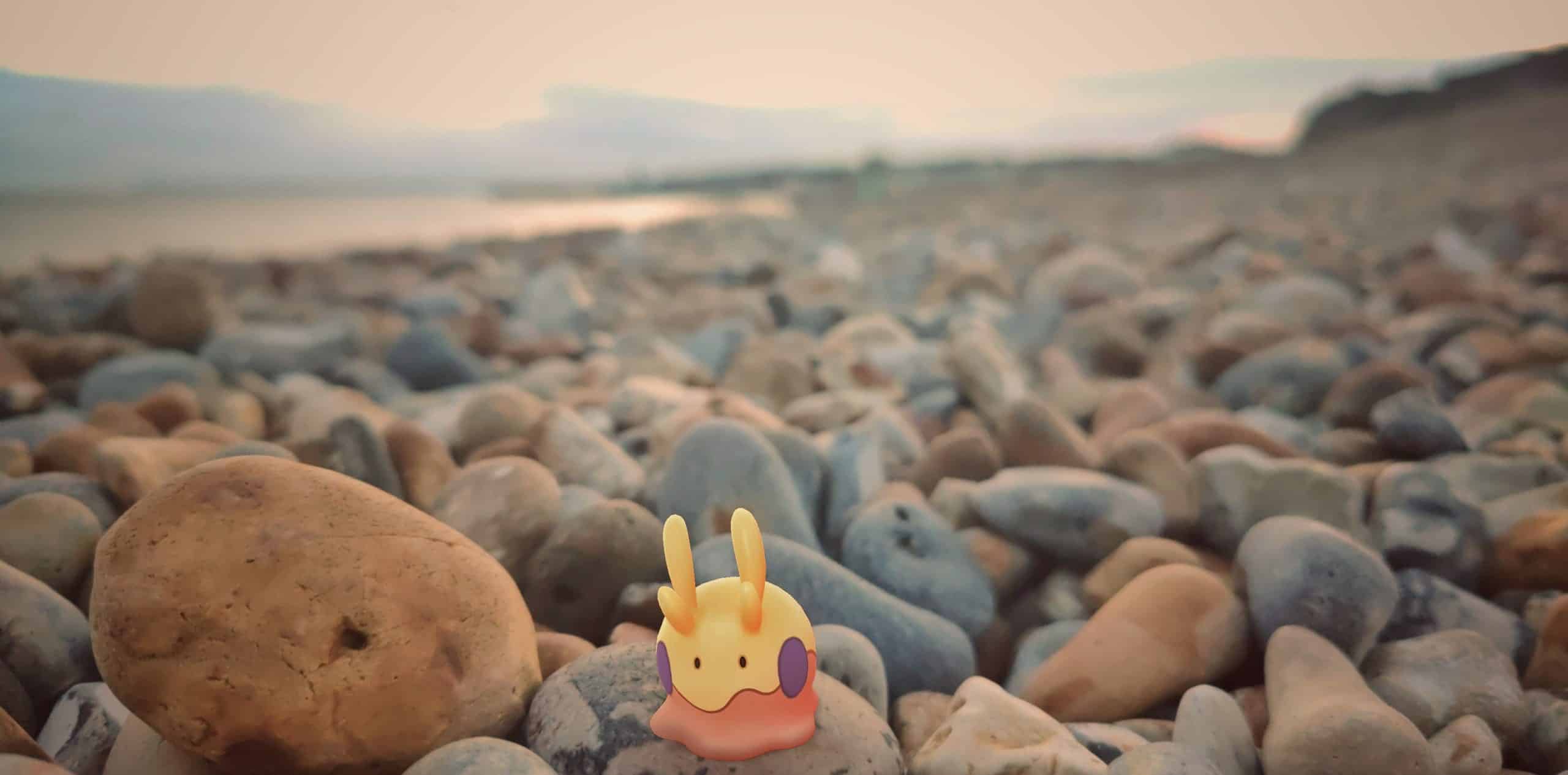 'A little Goomy popped up from under the rocks while I was eating fish and chips on the beach'
'Whirls' by kittypokemonsalot, Lincolnshire, UK.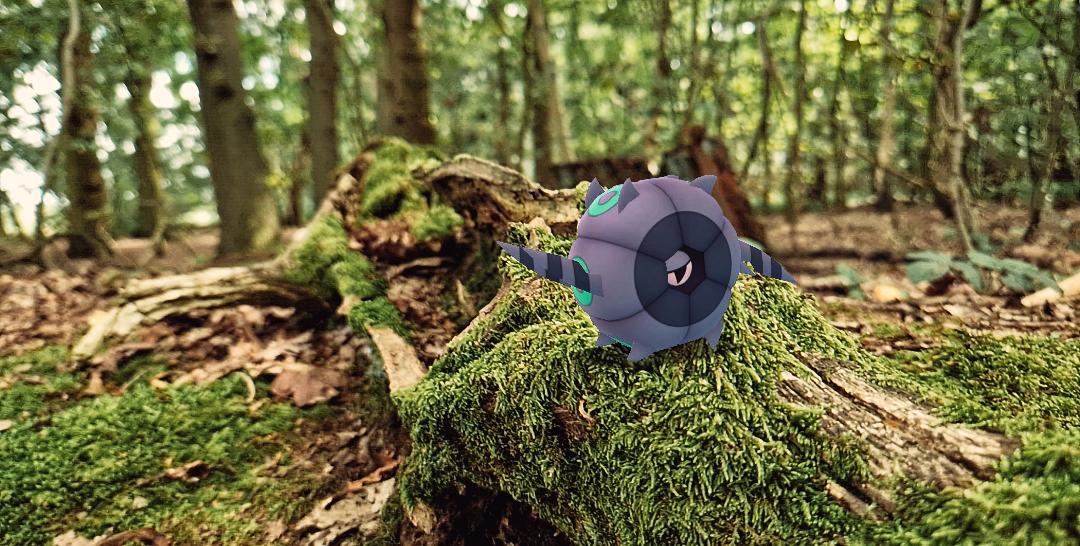 'Whirlipede is one of my favourite Pokémon, why? It's just so weirdly adorable! I love the design so much, and I think it is super appreciated.'
Next Submission Theme
'This is Halloween, this is Halloween….' that's right, October is coming, so it's time for our annual Halloween themed AR showcase! Submit your best spooky season photos by 25th October to be considered here. Full rules at on the submission form.