Trainers! Have you ever dreamed about being surrounded by 50 Pikachu at once? What about being surrounded by 50 Pikachu while attending GO Fest?! Well, this dream COULD become a reality as the the third and final Pokémon GO Fest for 2019 has been announced! Go Fest Yokohama 2019 will be held during another exciting and returning event, Pikachu Outbreak!
Details about attending GO Fest have yet to be released, but below is the information we know so far about attending and experiencing the magic of Pikachu Outbreak!

Dates:
Tuesday, August 6th – Monday, 12th, 2019
(with major programs being held from 7pm-9pm)
Location:

Minato Mirai area of Yokohama

Tickets:
Pikachu Outbreak! Tickets
Most of the events for Pikachu Outbreak will be free of charge. However, some content will require purchase of admission tickets. More details will be announced at a later date.
GO Fest Yokohama Tickets
Tickets for GO Fest will be distributed via a lottery system much like, if not exactly like, that used for Chicago and Dortmund GO Fest.
Performance Venues
JR Sakuragicho Station
Minato Mirai Station on the Minato Mirai Line
Bashamichi Station on the Minato Mirai Line
Nihon-Odori Station on the Minato Mirai Line
Pikachu Outbreak Event Details
Some of the performances to be seen during Pikachu Outbreak! will include:
Pikachus dressed in LED costumes will perform a show at Grand Mall Park located in front of Yokohama Museum of Art
Pikachus dancing in collaboration with the giant fountain
A total of 50 Pikachus, the largest number ever, making a grand performance at Rinko Park.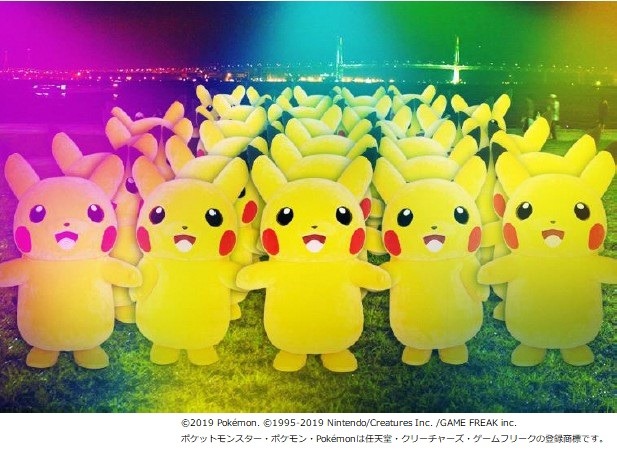 It's no surprise that Pikachu Outbreak is making a return after the incredible success it had in 2018! With 2 million Pokemon GO fans attending; 120 million Pokemon caught; and 15 million Pikachu pocketed, it's no doubt this year's event will be none other than spectacular! But don't worry, as details become available for GO Fest, we will have you covered so be sure to check back regularly for updates!