Team GO Rocket are back, and this time they are armed with new Shadow Pokémon! Giovanni has captured Shadow Regigigas, Shiny Shadow Lugia is in Shadow Raids, and exciting new Shadow additions are coming to the game, including Shadow Rhyhorn, Litwick, Cranidos, Gastly and more!
We updated all of our Team GO Rocket Guides: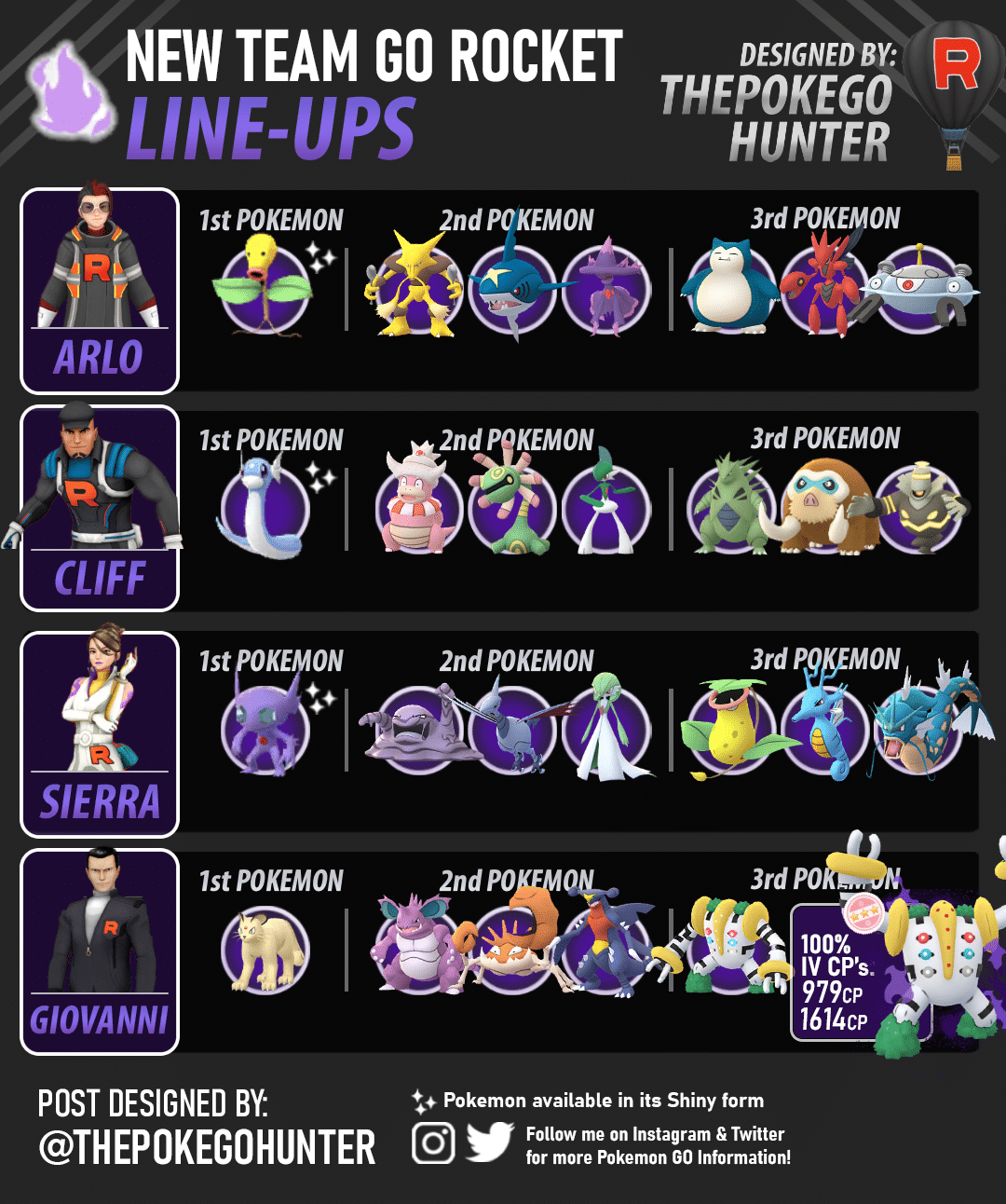 Date & Time
Starts
Ends
Thursday, October 26, 2023
at 10:00 AM local time
Thursday, October 31, 2023
at 08:00 PM local time
Bonuses ⭐
Debut of Shadow Regigigas

Shadow Lugia in Shadow Raids

New Shadow Pokémon will debut: Gastly, Rhyhorn, Barboach, Cranidos, Shieldon, Drilbur and Litwick

Team GO Rocket will appear more frequently at Pokéstops and in balloons

You can use a Charged TM to help Shadow Pokémon forget the Charged Attack Frustration
Infographic
Team GO Rocket October 2023 Takover features Shadow Regigigas, Shadow Lugia, Shadow Gastly, Rhyhorn, Barboach, Cranidos, Shieldon, Drilbur and Litwick.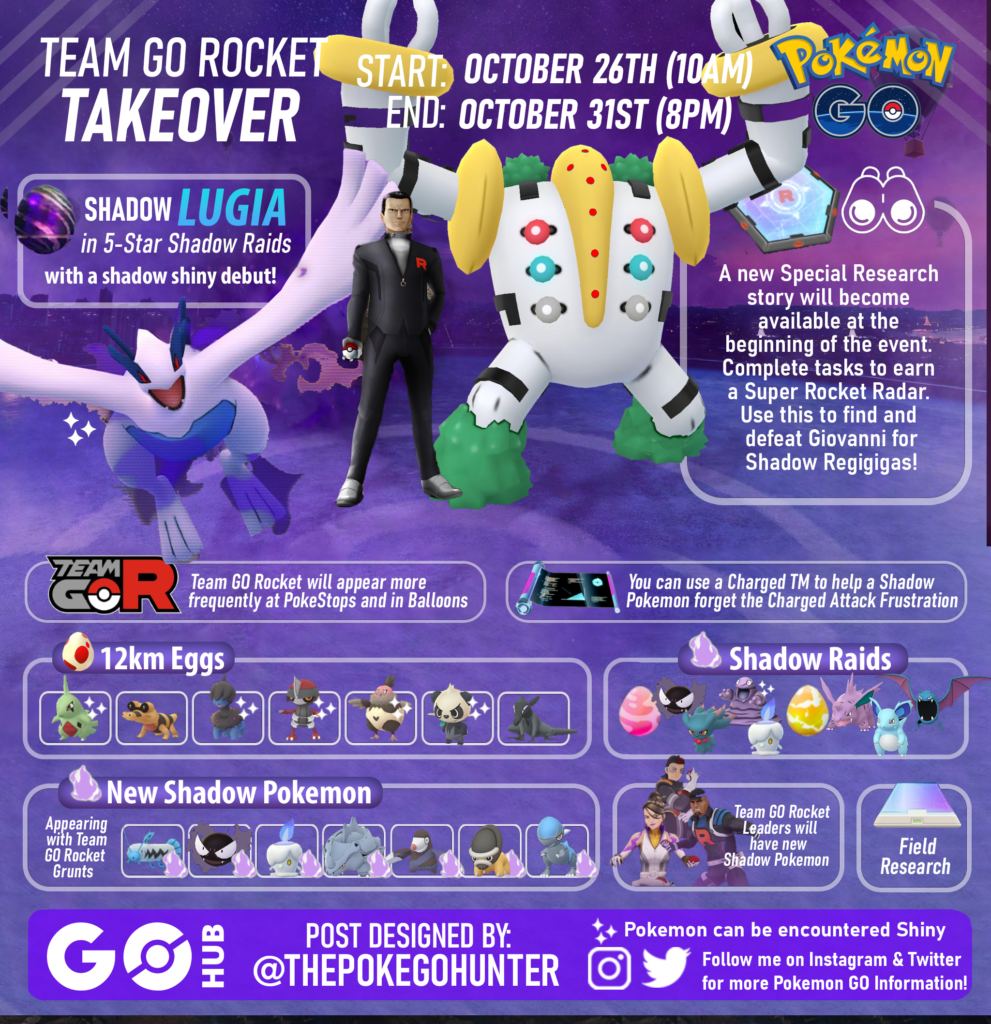 Save Shadow Regigigas! A new Special Research story will be available at the beginning of this event. Progress through it to receive a Super Rocket Radar and chase down Giovanni!
You can claim this Special Research up to the end of Pokémon GO: Adventures Abound on December 1, 2023, at 10:00 a.m. local time.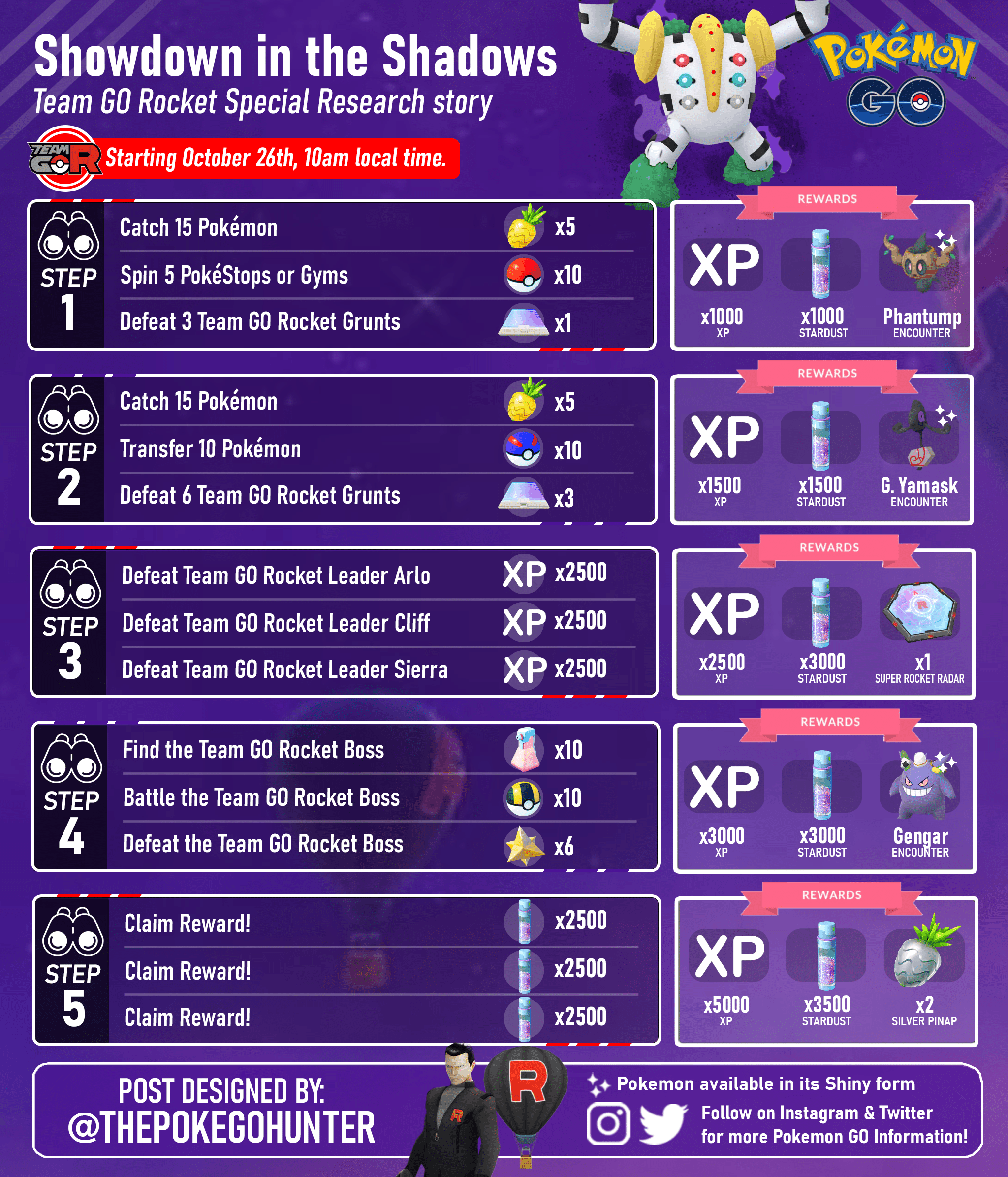 Shadow Lugia will return to Pokémon GO by making its debut in Shadow Raids. For the first time in Pokémon GO, you'll be able to encounter Shiny Shadow Lugia—if you're lucky!
Shadow Lugia will appear in five-star Shadow Raids from Saturday, October 28, 2023, at 10:00 a.m. to Sunday, October 29, 2023, at 8:00 p.m local time.
The Team GO Rocket grunts, Arlo, Cliff and Sierra, will all have different Pokémon in their teams! The following Pokémon will make their debut as Shadow Pokémon during the event:
A lot of these new Shadow Pokémon are incredibly exciting, as Shadow Gengar, Shadow Excadrill and Shadow Rhyperior (both evolved from their Shadow pre evolutions) are among the strongest Pokémon of their type.
Not to mention that Shadow Cranidos and Shadow Shieldon have a really good chance to shake up the Trainer Battles meta!
The following Pokémon will hatch from 12km eggs obtained from the start of the event:
Field Research tasks awarding a Mysterious Component will be available throughout the event. Stay tuned for updates to this section.