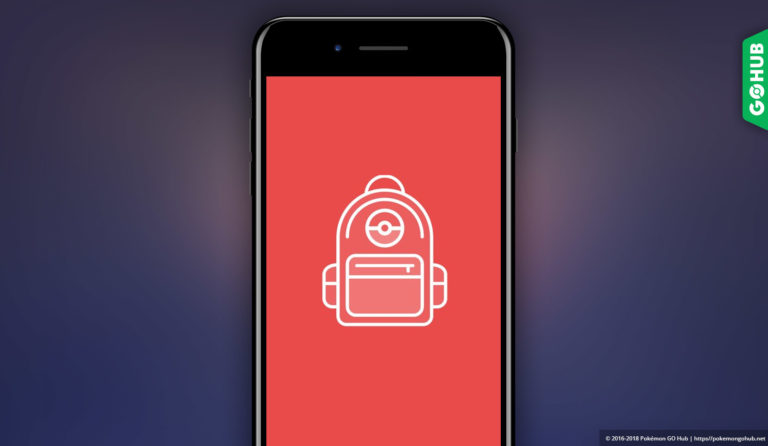 GO Ranger is mobile field guide for Pokémon Go. It's a useful hub of information that covers real-time countdowns on events going on in the game, quick access to raid counters (and guides for the more challenging raid attempts), as well as research encounters (with CP range). Those aren't all of the features included, which we'll cover later in the review portion. First, we have to talk to the man behind the curtain, Ranger Matt!
---
Interview with Ranger Matt
BTB: Hello, Ranger Matt! Glad we could snag a few minutes of your time. Let's get straight to the matter at hand! Where did the idea for Go Ranger first come from? What is it's origin story?
Ranger Matt: Pokémon has always been a passion of mine. I consistently found myself looking up Pokémon GO news and changes to the game on Reddit and Google. When it comes to events, one of the friends I play GO with all the time made me accidentally show up to a Community Day one hour early (and with the wrong shoes) because we misread the timezone. My feet hurt that day, a lot. All of that combined made me want to use my passion of programming to develop an easy-to-use app for GO players that would put all the most important information right at their fingertips whenever they needed it.
BTB: I like to think of myself as a hardcore player, but having the egg list on hand actually proved to be really helpful, and the timer certainly helped with remembering the countdown to events. Personally, I found those features particularly convenient. But I'm not the whole player base. Do you believe there is something in this app for all trainer types?
Ranger Matt: I definitely believe GO Ranger has something for all trainer types. Those who aren't very familiar with Pokemon can look up recommended 'mons for gym battling, those who don't check online sites/Reddit will have access to egg charts and research task encounters, those who are in the middle might use it for raid guides, and those who are more hardcore might use it to track custom collections like a gender-dex (coming soon), and pretty much everyone needs the event countdowns.
BTB: Applicable to everyone, I like it! The Gender-dex will be a nice addition to anyone seeking a challenge.
Ranger Matt: Or Lvl. 1 Dex, Lucky Dex, or 100% Dex!
BTB: Are there any other challenges or features you want to add to GO Ranger? On the same note, where do you want to take this app in the future?
Ranger Matt: So many places! So first off the full Pokédex with recommended moves, then things like the Custom Checklists we just talked about. A lot of people want simple type effectiveness checkers, IV checker, CP checker, etc, some of those might get added. I also really want to add more guide-like content (or link to existing helpful guides). Push notifications for game updates could be cool as well. I'm always open to feedback and suggestions on directions I should take the app as well!
BTB: A database with maybe links to breakpoints would be lovely for those looking for the technical side! And push notifications set to an individuals selected time zone for events would be AMAZING. Now I'm getting excited talking about these ideas!
Ranger Matt: Me too! The possibilities are endless.
BTB: You said that you are open to suggestions. How can people let you know their ideas?
Ranger Matt:  The best places to let me know your feedback and ideas are the following: Twitter at @GORangerApp, as well as our private Patreon Discord at Supporting GO Ranger on Patreon. Not only does this get you access to the private Discord, but it also helps keep the app ad-free! Find the app in Google Play Store or AppStore, and have fun hunting!
---
Review of GO Ranger
One of my favorite aspects (personally) and one that all trainers can benefit from are the active events/upcoming events timers. Upon clicking each event tab, it will bring up a screen of all bonuses that are offered, raid guides for current/future raid bosses, or helpful tips and tricks to make the most of the event.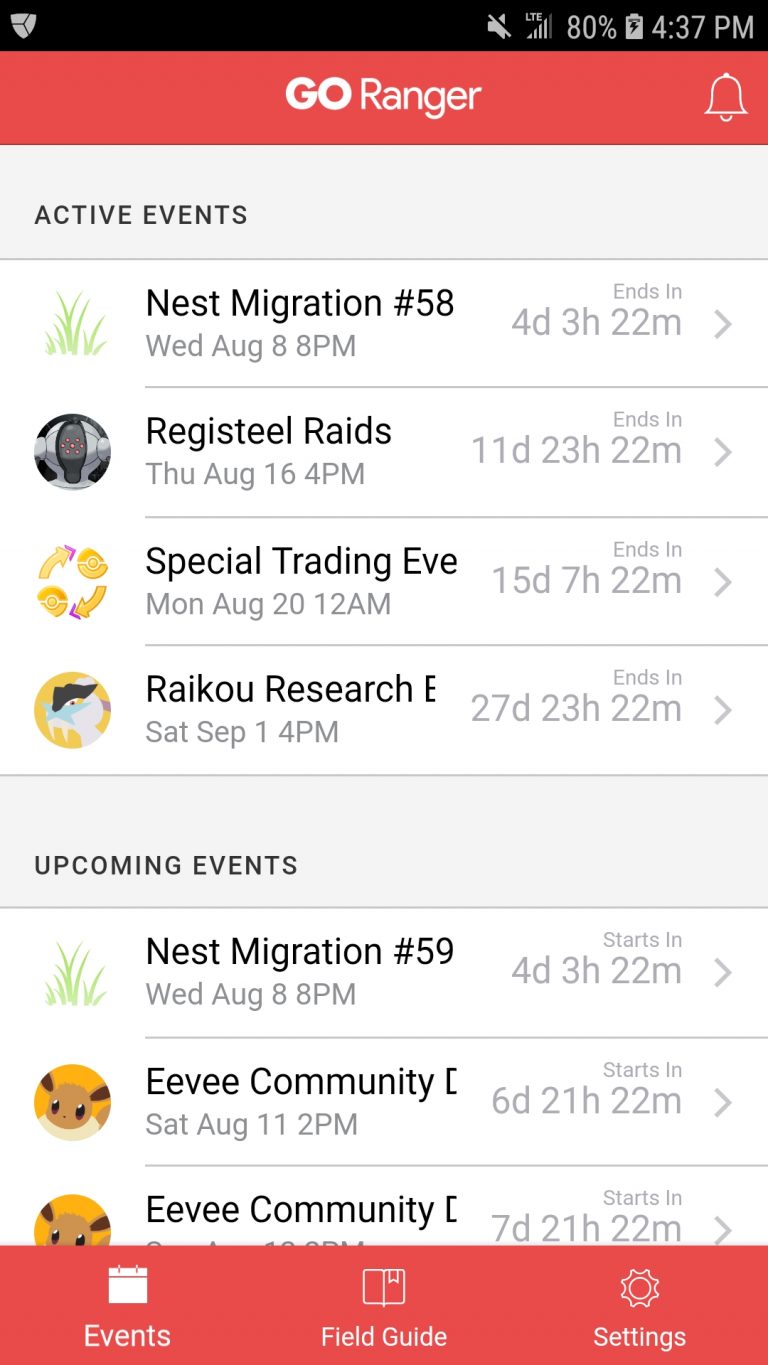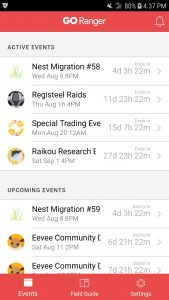 In addition, there are checklists for shinies, a list of all eggs with possible hatches, a list of research encounter rewards with minimum and maximum CP values, and tabs that have links to current raids (future/past raids as well), with recommended counters for those in a time pinch, and raid guides for those that have time and want to prepare the best team possible!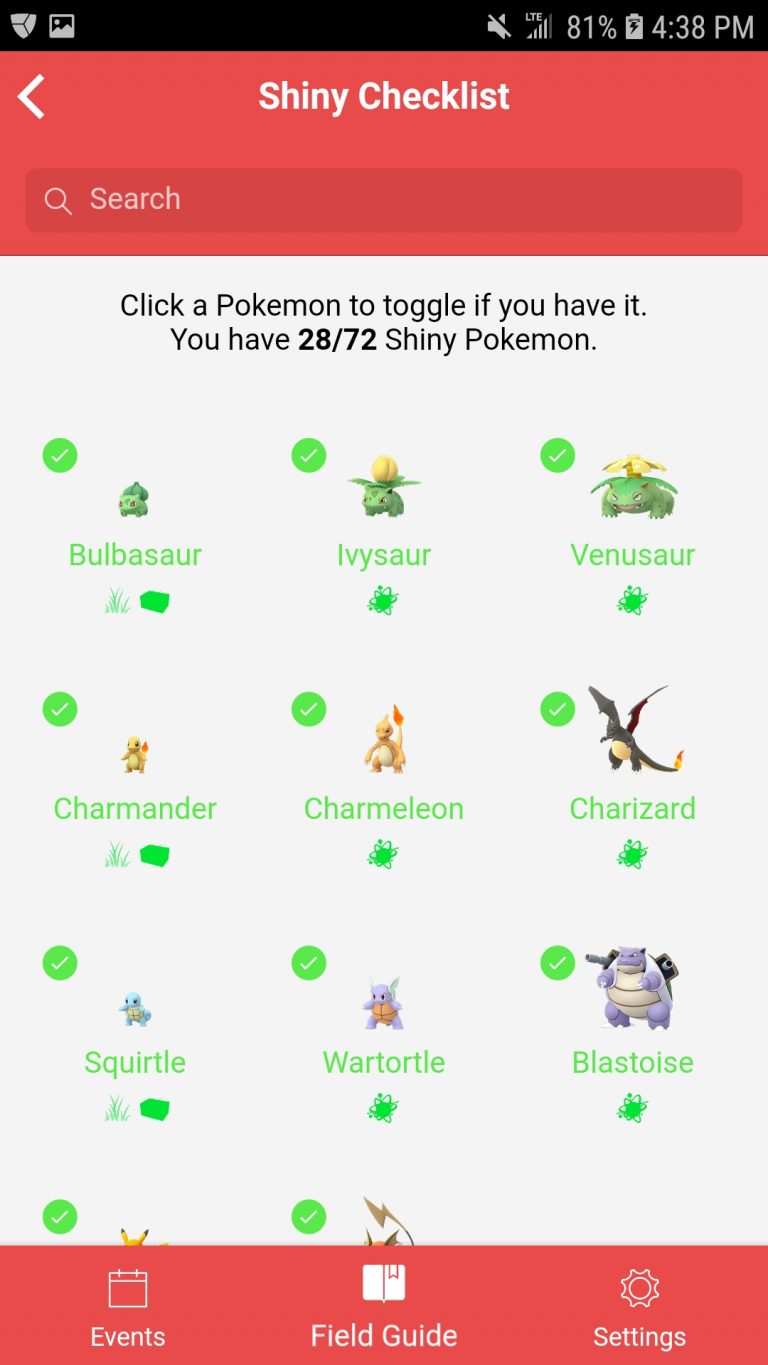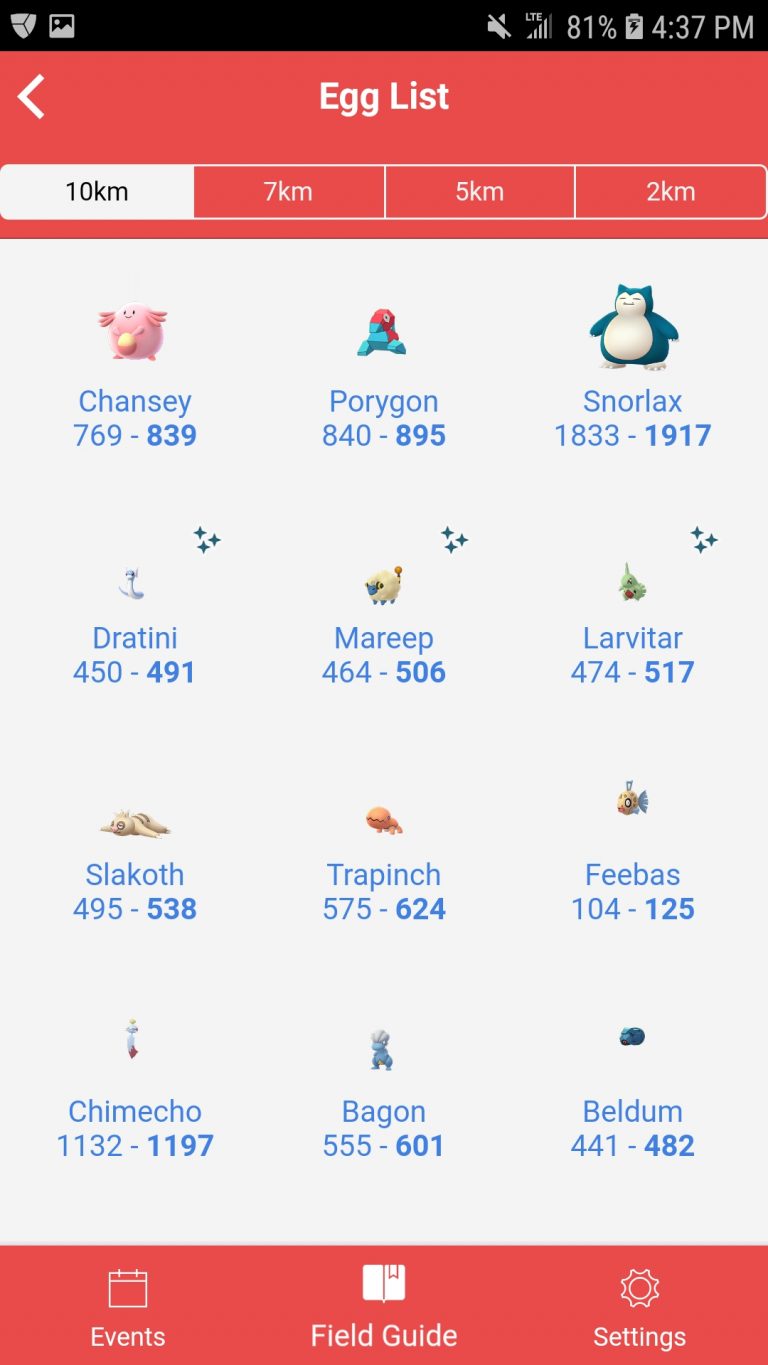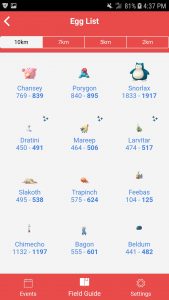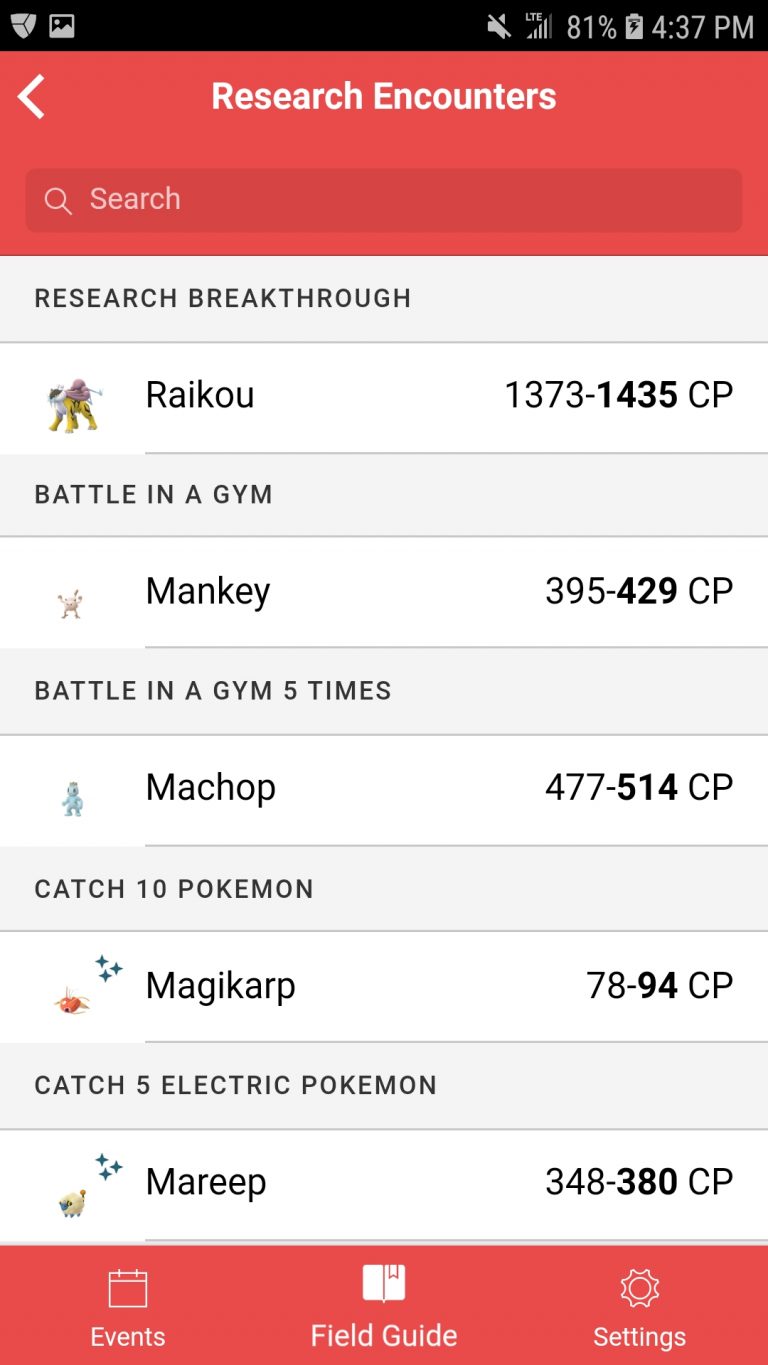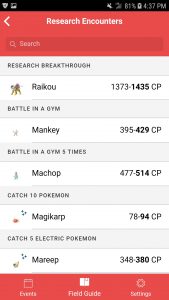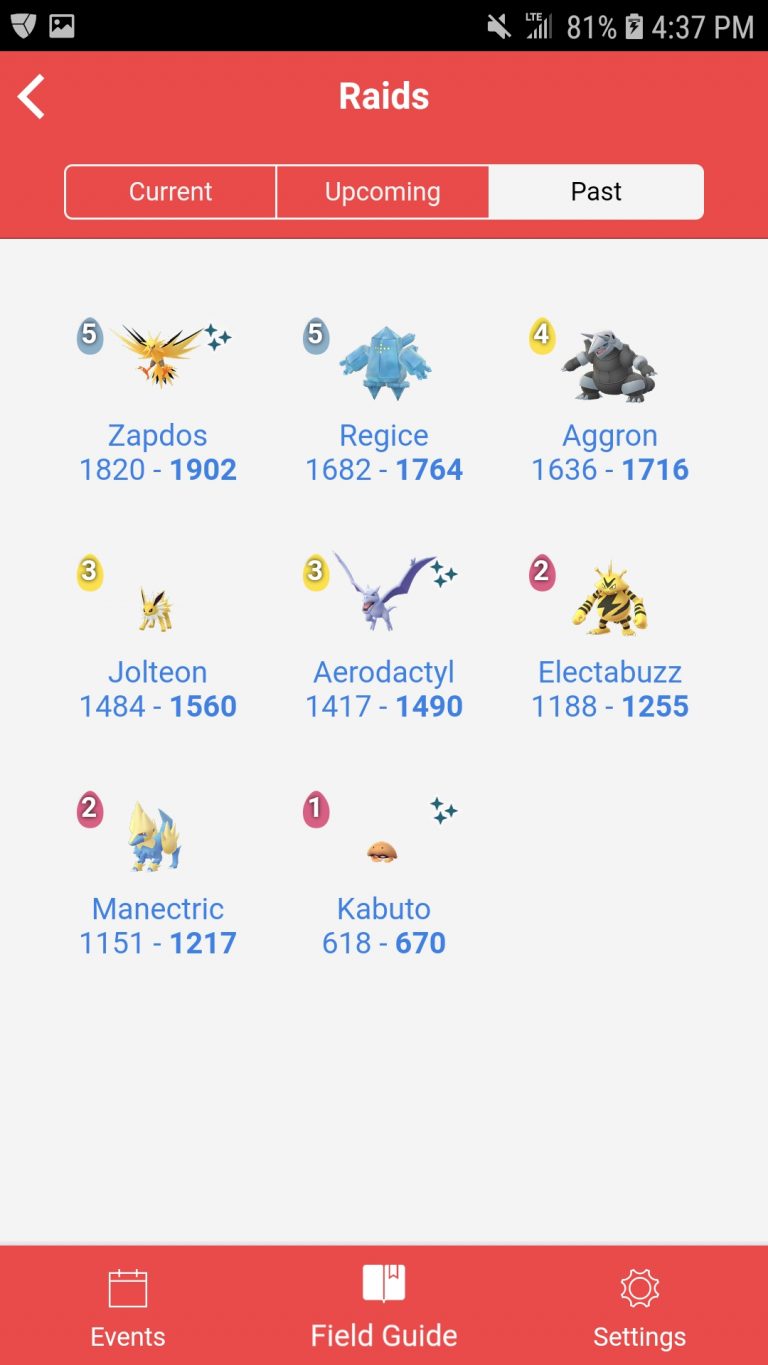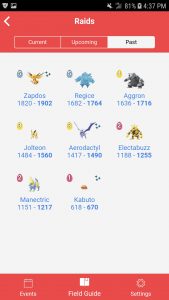 Here are the pros! This app is meant to make the most of your Pokémon journey by providing information when you need it, as well as checklists for those who like to be organized regarding whatever collection challenge they set up. In addition, Ranger Matt, is welcome of any suggestions for this app. Communication is important, and he is very much likely to respond on Twitter.
There are cons as well. For those looking for lists like a Lucky Dex or 100% Dex, those are currently not here, but will likely be added. There have been crashes with phones (that seems to be Samsung S8-related), and the loading time at the beginning when you open the app for the first time takes a little long (though it does get better the subsequent times you open the app).
If I had to give a rating, I would give it…. it a 4.5 out of 5 stars. If Ranger Matt keeps up with the flow of information, as well as the communication with suggestions via Twitter/Google Reviews, the rating will definitely rise. For an app that has been out for a little over a week, I am more or less excited to see where this app heads.
(Edit: Rating was previously a 4.25. It was raised to a 4.5 due to many more lists being added since the initial review.)
To get into contact with Ranger Matt, you can get to his Twitter page through here. If you like the app, you can download it through the Google Play Store or the AppStore. If you want to support the growth of the app, click here for the Patreon!