Trainers, we want to bring attention to something that Niantic and the Pokemon GO social media accounts have been hinting for the past 15 hours. Apparently, there's a hidden event scheduled for July 28th, possibly featuring Team Rocket, New York City and Giovanni, with the whole story line being slowly unveiled on Twitter. We have no information if this is an actual event or is this a marketing stunt. Keep in mind that Pokemon GO's official social media accounts, Twitter and Youtube included, have been completely taken over by Team GO Rocket.
| | |
| --- | --- |
| Event | Team GO Rocket Countdown |
| Starts | July 28, 4:00 AM Greenwich Mean Time (GMT) |
| Features | ??? |
| Bonuses | ??? |
We're quite sure that these strange hints are a direct result of Team GO Rocket's complete takeover of NYC PokeStops yesterday, but there haven't been any unusual sightings in the game yet. We're expecting some strangeness in-game as the event draws near, but we have received no information from Niantic or any other sources.
Three tweets were shared 14 hours ago, each one with the same content:
a single letter R as text content
a black and dark gray picture as tweet attachment
The pictures showed the Team Rocket logo (letter R), a couple of grunts (male and female grunt) and a silhouette of Giovanni, the big bad Team Rocket boss who we wrote about yesterday: Team GO Rocket Trailer Analysis: Giovanni Looming. We inverted the colors on those images and managed to get a better look at Team GO Rocket's secret messages: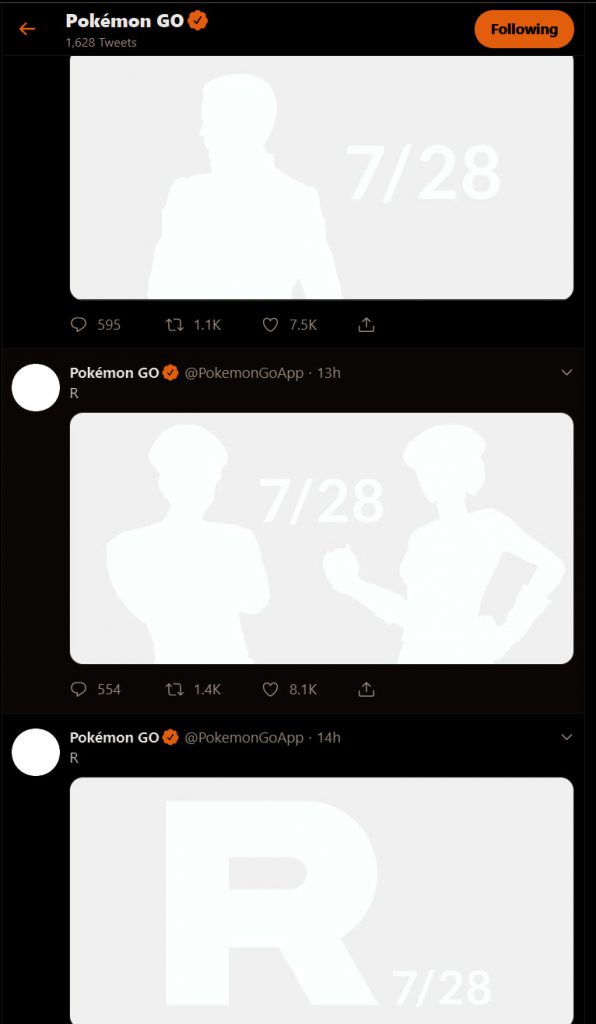 Right after these images were shared, a push notification went out to the Pokemon GO app, containing only the letter "R". It seems like Team Rocket has seized control of all official communication systems: Twitter, Facebook, in-app messaging and various other social channels – Youtube included.
As these events unfolded, a strange stream popped up on the official Pokemon GO Youtube channel, featuring a countdown and periodic appearance from laughing Team Rocket faces. The countdown is set to end at midnight New York Time, aka 9 PM PDT, aka 4:00 AM Sunday, Greenwich Mean Time (GMT). The video stream, also titled "R", is still up and running on Pokemon GO's official YT channel:
What happens once the Team Rocket countdown ends? We have no idea. We really don't.
NYC Invasion story and background information
If you haven't followed along, Team GO Rocket has invaded New York City. Ever since the New York City invasion project started, TR has been winning battle after battle, even going as far as to invade every single PokeStop in NYC, vandalize subway Pokemon GO advertisements and to boast constantly via social media. The NYC situation is so dire that Pokemon GO had to hire an airplane and ask the world for help with battling Team Rocket:
You think we're just going to let #TeamGORocket take over New York City? 🙅
📣 Cheer on your fellow Trainers in New York City! We've got to defeat Team GO Rocket! Let's GO!!
📍: New York City, USA pic.twitter.com/RTCxMK3boe

— Pokémon GO (@PokemonGoApp) July 26, 2019
Before the NYC invasion started, Team GO Rocket made a surprise appearance on Monday, followed by a large scale worldwide invasion on Thursday. A new special research quest line was also released, titled A Troubling Situation and tasking players to save and purify the newly introduced Shadow Pokemon. These Pokemon are being forced into submission by Team GO Rocket and their spirit is broken. Players can capture them after defeating Team Rocket grunts and purify their heart in order to restore them to their normal state. As a sign of gratitude, Purified Pokemon require less Stardust to power up.
At the moment, A Troubling Situation quest line seems to be the first part of a larger scheme. This is pure speculation on our part and it hasn't been confirmed by Niantic. However, it seems that Professor Willow is worried at the end of the quest line and it seems that GO Rocket's activity has increased, despite our efforts to control them and despite saving a huge amount of Shadow Pokemon.
In our recent article (Team GO Rocket Trailer Analysis: Giovanni Looming), I've discussed the possibility of an extended narrative and it seems that the new Youtube countdown is related to that narrative.