Trainers, Niantic support recently tweeted to say that they have now lowered the level requirement needed to submit PokéStops down from 40 to 38.
This is huge news for players all over as it now means that PokéStop submissions are no longer exclusive to those players who have hit the level-cap and can be submitted by more players now.
This may be a drive to get more landmarks/places of interest mapped by Niantic (as can also be seen by their recent introduction of AR-Mapping research tasks) or it may just be an incentive to get more players (particularly rural ones) to play more.
Whatever your opinion, you can see Niantics tweet here: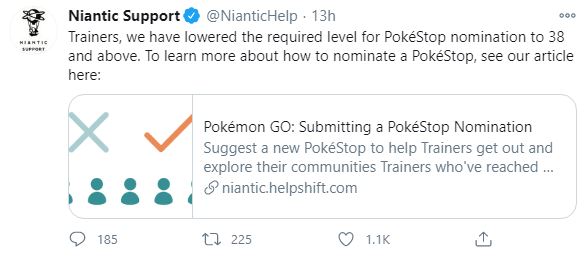 We here at The Hub think that this is a great way to get those lower-level players who haven't quite reached the level cap to get more involved with the game and with their local surroundings. This could mean that in the future we see the level requirement drop once more but only time will tell.
Let us know your thoughts in the comment section below!