Hello Trainers! 0.249.0 is rolling out to a device near you and it brings with it Vivillon badges, A new move: Poltergeist, Glowing Pokémon, and more!
Oh and also maybe a raid-ready button. Maybe.
Please read through all of this with a grain of salt – we often post data mining reports which end up taking months to release, and we don't want our readers to be disappointed. Be smart, read this like speculation and be happy once it goes live.
💡 Disclaimer: You know the drill by now, everything in this article is data mined, and therefore subject to change or not even being released at all. All of this information is publicly provided by the PokéMiners and includes some of my commentaries.
New Assets

So, there's a lot there including a new ticket, the effect for Poltergeist, all of the Vivillon Medals, Shiny new boxes (cause those have been so awesome recently), catch cards for Campfire, a couple of icons for Pokébox searching, and the obvious star of the infographic AR Photo Corner Bracket.
Extended Raid Assets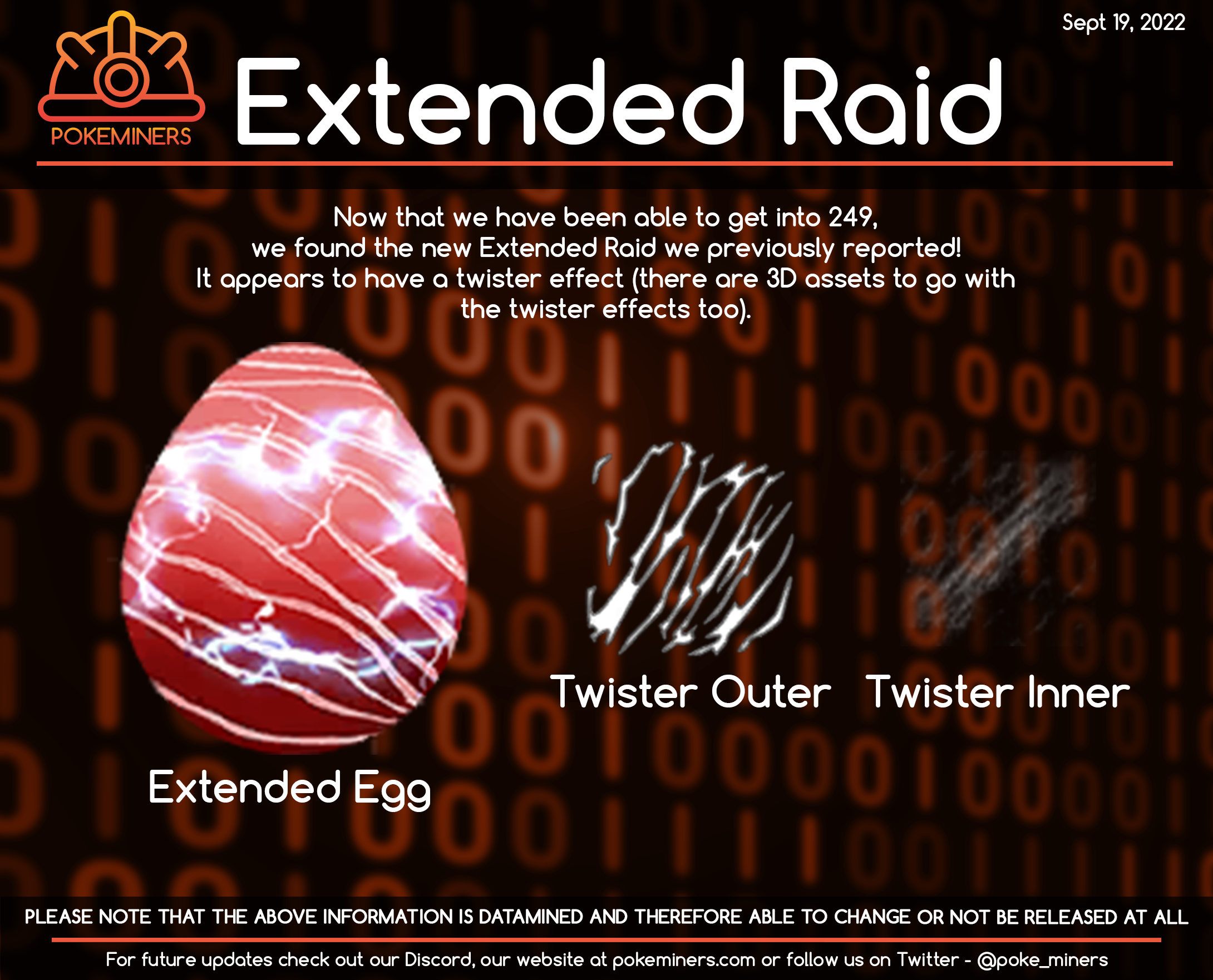 Assets for the Extended raid, it appears the egg will have some sort of twister around it. Pretty neat. Not much is known about the Extended raids, perhaps its something along the lines of if enough people raid the boss it will get extended longer so more people can attempt it.
New Move – Poltergeist
.V0376_MOVE_POLTERGEIST
As announced, the Community Day Pokémon for October is Litwick and the move is Poltergeist. Poltergeist is an interesting move in the main series games as it only damages Pokémon holding items. Obviously, in Pokémon GO we don't have held items, so damage for everyone!
New Costumes
FALL_2022
FALL_2022_NOEVOLVE
More costumes.
Vivillon
Badges
.BADGE_BUTTERFLY_COLLECTOR
vivillonBadgeDetailGuiPrefab 
vivillonSubBadgeDetailGuiPrefab
VivillonSubBadgeAwardGuiController
DismissButtonHit
EncounterButtonHit
encounterButton
.<SetValues>b__1
.<isAnimating>5__2
.get_IsReadyToPrompt
TriggerUpdates
FlushStoredChanges
CreateDebugButterflyData
StartEncounter
VivillonSubBadgeService
.get_CurrentBadgeData
AppendButterflyMedalUpdate
VivillonBadgeDetailPanelCollectionProgressSection
progressWid
.getParent
mapRoot
completedBG
incompleteBG
incompleteColor
VivillonSubBadgeDetailController
OnBackButton
questWid
It looks like the Vivillon badge will have a main badge, and then will display the progress towards each individual badge when you click on it. It also looks like the background will change depending on if you've completed the badge or not.
Special Pokédex Page
VivillonPokedexButtonWid
.get
emptyBadgeImage
vivillonBackgroundImage
vivillonIcon
selectedVivillonColor
unselectedVivillonColor
Vivillon will have a special Pokédex page.
New Evolution Item
ITEM_OTHER_EVOLUTION_STONE_A
There's no indication that this item is for Vivillon, however, it would make sense if it was. Completing a Vivillon postcard would grant you this item, and then you could evolve a Vivillon.
New Badges
XXS and XXL Pokémon
.BADGE_CAPTURE_SMALL_POKEMON
.BADGE_CAPTURE_LARGE_POKEMON
2 badges for capturing small and large Pokémon. This likely goes with the XXS and XXL Pokémon texts that were found earlier.
100 New Badges
.BADGE_EVENT_0063
.
.BADGE_EVENT_0162
100 new unnamed event badges.
Raids
New Raid Visual and Plaque Types
RAID_VISUAL_TYPE_UNSET
RAID_VISUAL_TYPE_NORMAL
RAID_VISUAL_TYPE_EXCLUSIVE
RAID_VISUAL_TYPE_MEGA
RAID_VISUAL_TYPE_LEGENDARY_MEGA
RAID_VISUAL_TYPE_EXTENDED

RAID_PLAQUE_STYLE_UNSET
RAID_PLAQUE_STYLE_TRIANGLE
RAID_PLAQUE_STYLE_DIAMOND
RAID_PLAQUE_STYLE_STAR
Visuals for existing raids, the new Extended raid type, and plaques for Triangle, Diamond, and Star raids?
Extended Raid
extendedRaidFXRoot
extendedRaidSpotlightRoot
Some special effects for the Extended Raid.
Ready Raid
READY_RAID
Are we finally getting a raid-ready button? Wizards Unite had it, and Pokémon GO Trainers have been asking for it essentially since raids became a thing. So fingers crossed!!
New Followers
MapCharacterFollowerBase
SetPokemonProto
UpdateFollowerPokemonProto
.get_IsStale
FollowerPokemon
UpdateMapFollowers
FollowerPokemonService
dummyPokemonId
Are we getting the ability to have more than one Pokémon follow us? Or something other than Pokémon?
Install Method Check
ApplicationInstallMode
DeveloperBuild
Adhoc
Enterprise
Editor
This could be either a method to check how your game client was installed ie: Side loaded or it could just be part of a new library and not be used at all.
Pokémon Glows
.get_GlowEffect
PokemonGlowConfig
GlowColor
ShinyGlowColor
GlowScale
FlickerAmount
FlickerSpeed
FadeDistance
FadeScale
FadeAlpha
PokemonGlowEffect
.get_pokemonOrigin
SetupGlowFx
meshObject
materialProps
ApplyMaterial
isGroundEffect
GlowMaterialPropertyBlock
SetupBloomBillboards
RemoveGlowFx
groundedGlowCardPrefab
groundedGlowCardInstance
cardParent
doGroundFxPointConstraint
glowActive
glowConfig
bloomGlowCardPrefab
bloomCardConfigs
bloomCardInstances
bloomInstanceParents
COLOR_KEY
FLICKER_AMOUNT_KEY
FLICKER_SPEED_KEY
FADE_SCALE_KEY
FADE_DISTANCE_KEY
FADE_ALPHA_KEY
pokemonOrigin
BloomBillboardConfig
BloomScale
No clue what this is for, but .get_GlowEffect was added to the Pokémon model so it has to do with Pokémon for sure.
PvP
Schedule
GetCurrentLeagueTitles
.get_VsSeekerScheduleSettings
seasonTitleText
ongoingLeagues
combatLeagueScheduleGuiController
combatLeagueScheduleEntryPrefab
leagueScheduleWid
.getPrefab
Niantic.Holoholo.Combat.CombatLeagueSchedule
specialColor
CombatLeagueScheduleGuiController
ClickSeeMoreOrLess
currentTitleText
currentBodyText
nextTitleText
nextBodyText
currentContentParent
nextContentParent
nextPreviewParent
nextAllParent
nextBlogDescription
currentBlogDescription
nextAllScrollRect
seeMoreButton
seeLessButton
seeMoreText
seeLessText
currentBlogText
nextBlogText
LeagueScheduleWid
.get
DottedLineDimensionsChanged
bannerImage
currentIcon
otherIcon
dottedLine
dottedLineMaterial
pastColor
presentColor
futureColor
dottedLineColor
ImageSizeListener
RectTransformDimensionsChanged

ClickSchedule

upcomingLeagueLayoutGroup
upcomingDescriptionText
scheduleButton
seeScheduleText
This looks like it's a method for Niantic to schedule GBL league/Cup changes automatically with a schedule, and it looks like you'll be able to look at a schedule in-game.
Mini-game response times
.get_MedianResponseTime
.set_MedianResponseTime
.get_MinResponseTime
.set_MinResponseTime
.get_MaxResponseTime
.set_MaxResponseTime
.get_P90ResponseTime
.set_P90ResponseTime
Some response time checks for the charge attack mini-game.
Pokédex Search
PokedexAllSearchIconsGuiController
UI.GuiWindows.PokedexSearch
pokedexCategory
PokedexMainIconsGuiController
ActivateSearchBar
DismissMainIconsGuis
DeactivateSearchBar
AddForms
ShowMainView
FilterPokedex
isSearchBarOpened
PokedexSearchInputField
add_OnPointerClicked
BaseSelect
SetSearchCategoryTheme
remove_OnPointerClicked
inputFieldFilterIcon
inputFieldSearchIcon
inputFieldClearIcon
inputFieldClearIconDivider
searchKey


PokedexSpecial

.get_PokedexSearchParameter
.set_PokedexSearchParameter

PokedexSearchParameter
pokedexSearchFilterIconWid
.getPrefab
pokedexSearchFilterIconGroupWid
.getPrefab
pokedexMainIconsGuiControllerPrefab
pokedexAllSearchIconsGuiControllerPrefab
Are we going to be able to search the Pokédex directly instead of scrolling down to where you wanna go?
New Gameboard Library
Routes
Niantic.ARDK.Extensions.Gameboard
Waypoints

PathStatus
PathComplete
PathPartial
PathInvalid
PathFinding

closestCoordinateToDestination
CalculatePathOnSurface
startSurface
CalculatePathOnBoardLocal
CalculatePathOnBoardGlobal
traceStart
GeneratePath
Stuff relating to displaying route stuff on the map.
Gameboard Manager
GameboardManager
.get_ArCamera
.set_ArCamera
.get_TileSize
.set_TileSize
.get_FlatFloorTolerance
.set_FlatFloorTolerance
.get_MaxSlope
.set_MaxSlope
.get_StepHeight
.set_StepHeight
.get_ScanInterval
.set_ScanInterval
.get_ScanRange
.set_ScanRange
.get_LayerMask
.set_LayerMask
.get_Visualise
.set_Visualise
A new gameboard manager to manage the map and everything on it.
Catch Card Library
Niantic.Holoholo.CatchCard
CatchCardTemplates
catchCardTypeBgSprites
CreatePokemonTexture
ShareCatchCardWithOs
ShareCatchCardToCampfire
CatchCardGenerationService
CatchCardInstaller
catchCardSelectionGuiControllerPrefab
catchCardSelectionStatePrefab
catchCardReference
catchCardAs
.setData
UpdateArPhoto
CatchCardSelectionGuiController
OnClickOsShare
OnClickShareToCampfire
ExitCatchCard
OnClickSnapshot
catchCardParent
snapshotButton
campfireShareButton
transitionDelayTime
openFadeTransitionTime
closeFadeTransitionTime
snapshotFadeTransitionTime
CatchCardStateShim
CatchCardSelectionState
GetCatchCard
UpdateSnapshot
.get_CatchCardDimensions
CatchCard
catchCardRect
defaultPokemonSnapshot
defaultSnapshotCanvasGroup
arPokemonSnapshot
arSnapshotCanvasGroup
DefaultCatchCard
pokedexIdText
totalCaughtText
defaultSnapshotBackgroundImage
pokemonToUseRelativeScale
SnapWithScreenCapture
Sharing IV's
.get_PhotoType
.set_PhotoType
.get_SharedToSystem
.set_SharedToSystem
.get_CampfireId
.set_CampfireId
.get_TimeSinceCaughtSeconds
.set_TimeSinceCaughtSeconds
.get_Shiny
.set_Shiny
.get_IndividualAttack
.set_IndividualAttack
.get_IndividualDefense
.set_IndividualDefense
.get_IndividualStamina
.set_IndividualStamina
Looks like you'll be able to share IV's on the catch cards as well.
Connectables
USER_FIRST_CONNECT
EnumExtensions
IsConnectingConnectState
IsPairingConnectState
IsFailedOrRejectedConnectState
IsStableNotPairedConnectState
IsStableConnectState
.get_DeviceKind
.set_DeviceKind
.get_ConnectionState
.set_ConnectionState
.get_IsCertified 
.get_IsStableConnectState
This is all likely connected to Pokémon Sleep. Interesting they have a check to see if it's a certified device.
That's all for this time trainers, Stay safe out there!