Trainers,
Prepare your Incubators! We're excited to announce that Azurill, the blue mouse Pokémon, will be featured during the upcoming Azurill Hatch Day event! This event is a great way to get your hands on a rare shiny Pokémon!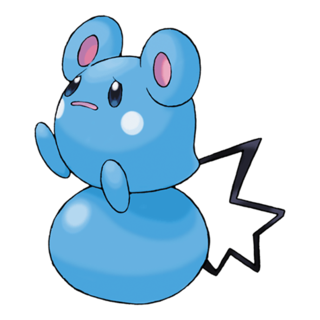 Azurill
Starts
Ends
Saturday, September 30, 2023
at 2:00 PM local time
Saturday, September 30, 2023
at 5:00 PM local time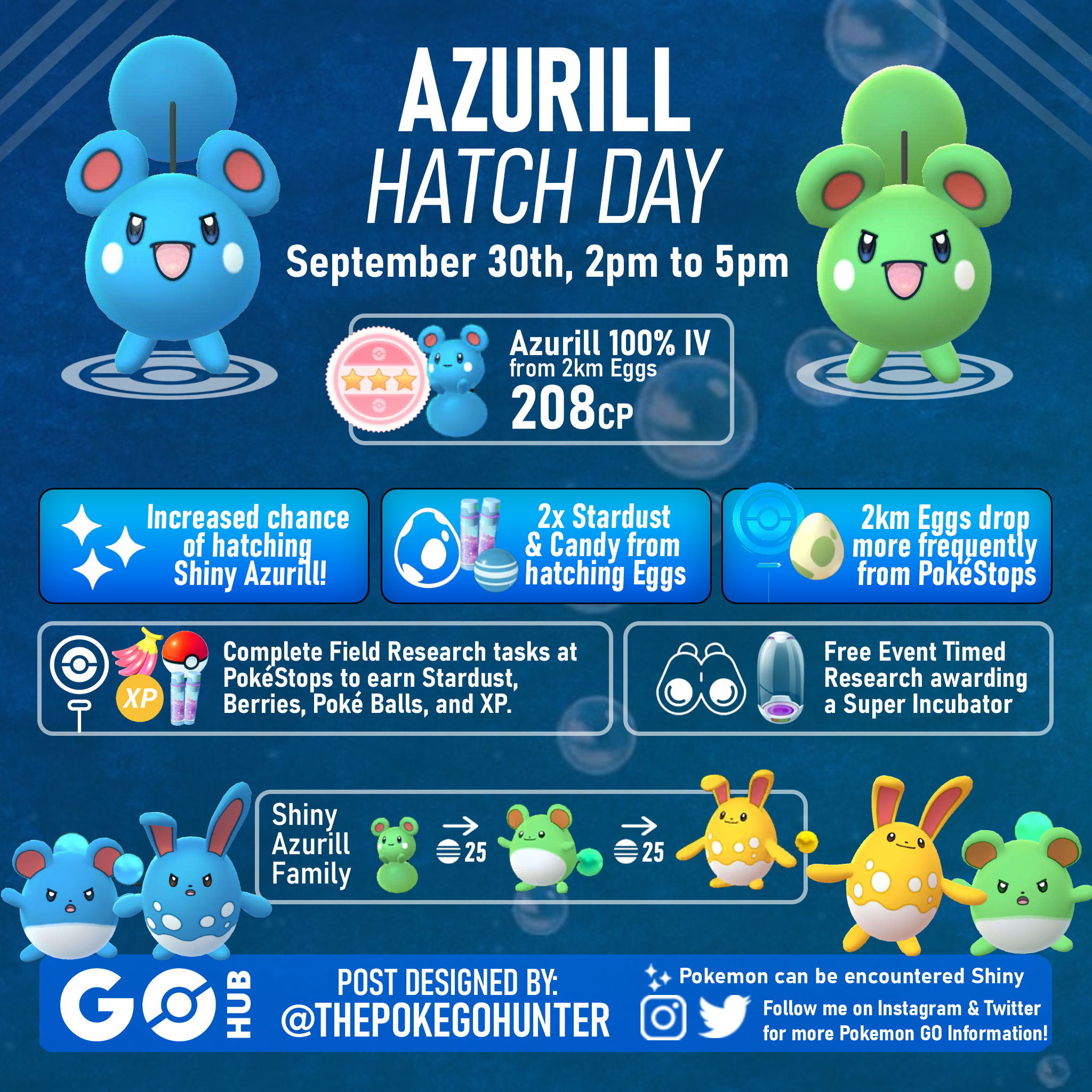 Similar to Pokémon GO Community Days, Research Days, or Raid Days, Hatch Days are focused around specific featured Pokémon.
And with Hatch Days, it all comes down to hatching! You'll have a greatly increased chance of hatching the featured Pokémon from 2 km Eggs and an increased chance of hatching a Shiny featured Pokémon—that's pretty egg-citing!
The second Hatch Day will feature Azurill, the blue mouse Pokémon. Get those Incubators ready and see just how many Azurill you can hatch in three hours during the event!
Increased chance of hatching Shiny Azurill!
2x Candy from hatching Eggs
2x Stardust from hatching Eggs
2km eggs will drop much more frequently from PokéStops
Task
Reward
Hatch an Egg

500

×

Stardust

500

×

XP

Spin 5 PokéStops

2

×

Razz Berry

300

×

Stardust

5

×

Poke Ball

Walk 1km

1000

×

Stardust

3

×

Pinap Berry

3

×

Great Ball
Event-themed Field Research tasks will be available when you spin Photo Discs at PokéStops. Complete the tasks to earn candy, Stardust, Berries, Great Balls, and XP.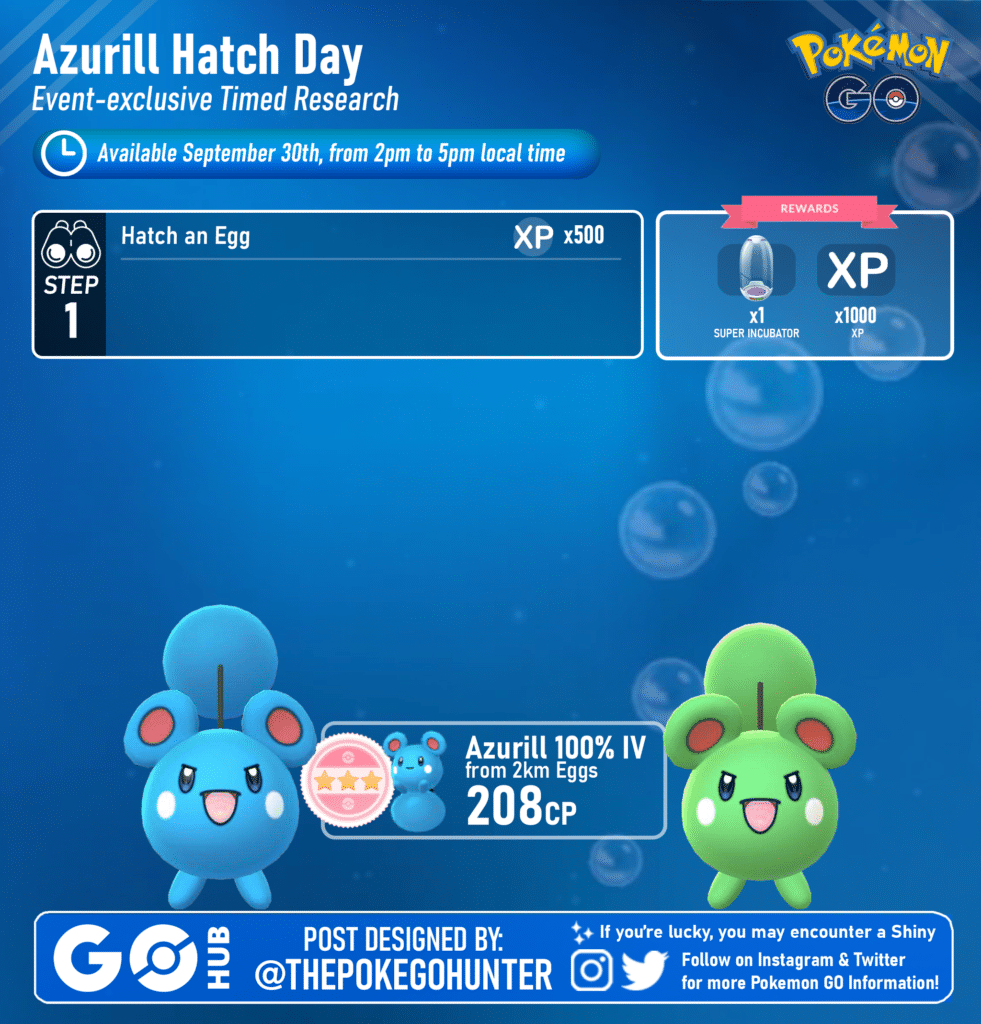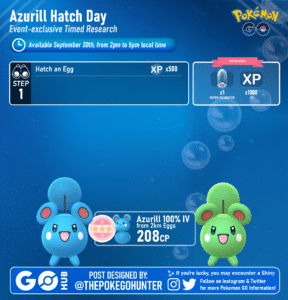 Azurill Timed Research (1/1)
Task
Reward
Hatch an Egg

500

×

XP
Rewards for completing:
1000

×

XP

1

×

Super Incubator
Event-exclusive Timed Research awarding a Super Incubator and XP will be available at no cost!
Please note that Timed Research expires. The tasks associated with Timed Research must be completed and their rewards must be claimed before Saturday, September 30, 2023, at 5:00 p.m. local time.
Trying to hatch as many Azurill as possible? Stock up on extra Incubators and get ready for Hatch Day with the Ultra Hatch Box or the Great Hatch Box, only available on the Pokémon GO Web Store.
If you want the best deals on items, the web store offers special discounts and event boxes. Check back regularly to see what new items and surprises may be in store!
Azurill hatched from 2km eggs will have an increased shiny rate. It takes 25 candies to evolve Azurill into Marill, and 25 candies to evolve Marill into Azumarill.
| | | | |
| --- | --- | --- | --- |
| | Azurill | Marill | Azumarill |
| Regular Sprites | | | |
| Shiny Sprites | | | |
Note: Azurill won't be the only Pokémon hatching from event 2km eggs. There will be other Pokémon in the egg pool, but Azurill will be the easiest to hatch and placed on the highest tier.