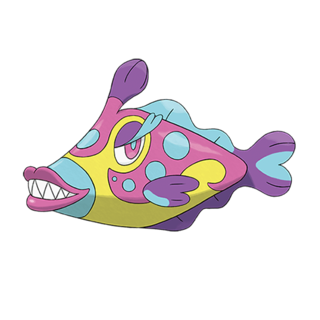 Bruxish
Water
Psychic
Bruxish is a Water and Psychic type Pokémon whose best counters consist of mostly Bug Dark Electric Ghost and Grass type Pokémon. Bruxish is known the Gnash Teeth Pokémon, and it certainly has a…. unique design!
Bruxish has a tier 1 raid boss CP of 6909, and can be caught with the following CP values:
1295 – 1365 CP at Level 20 with no weather boost
1620 – 1707 CP at Level 25 with

Windy

or

Rainy

weather boost
As a tier 1 raid boss, Bruxish should be an easy solo for any trainer. If you are a new or low trainer, make sure to check the movesets on your Pokémon to ensure they are effective.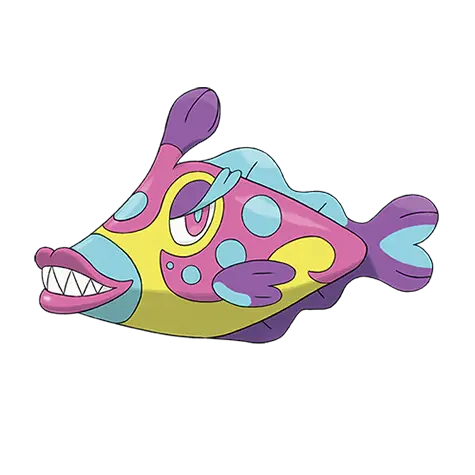 Best Bruxish Counters in Pokémon GO
List of counters for the Bruxish Raid Boss in Pokémon GO, including best Pokémon to defeat it, highest DPS attackers, and moves to use. Learn which Pokémon are the best choice to beat this raid boss.
Since Shadow Pokémon are extremely expensive to power up and require specific events to remove Frustration with a Charge TM, they will NOT be listed as raid counters in this article. That said, if you have the shadow form of a listed raid counter Pokémon powered up and TMed, use it.
#
Pokémon
Fast Move
Charge Move
Time to win
Deaths
1.

Gengar (Mega)

Shadow Claw


Ghost

Shadow Ball


Ghost

7.94s
0.00
2.

Banette (Mega)

Shadow Claw


Ghost

Shadow Ball


Ghost

9.09s
0.00
3.

Absol (Mega)

Snarl


Dark

Payback


Dark

9.19s
0.00
4.

Sceptile (Mega)

Bullet Seed


Grass

Leaf Blade


Grass

9.99s
0.00
5.

Ampharos (Mega)

Volt Switch


Electric

Zap Cannon


Electric

10.45s
0.00
6.

Houndoom (Mega)

Snarl


Dark

Crunch


Dark

10.58s
0.00
7.

Manectric (Mega)

Thunder Fang


Electric

Wild Charge


Electric

10.99s
0.00
8.

Beedrill (Mega)

Infestation


Bug

X-Scissor


Bug

11.03s
0.00
9.

Kartana

Razor Leaf


Grass

Leaf Blade


Grass

11.72s
0.00
10.

Pheromosa

Bug Bite


Bug

Bug Buzz


Bug

11.69s
0.00
11.

Venusaur (Mega)

Vine Whip


Grass

Solar Beam


Grass

11.80s
0.00
12.

Gyarados (Mega)

Bite


Dark

Crunch


Dark

12.11s
0.00
13.

Scizor (Mega)

Fury Cutter


Bug

X-Scissor


Bug

12.60s
0.00
14.

Deoxys (Attack)

Poison Jab


Poison

Dark Pulse


Dark

12.34s
0.00
15.

Alakazam (Mega)

Psycho Cut


Psychic

Shadow Ball


Ghost

12.63s
0.00
16.

Gardevoir (Mega)

Charge Beam


Electric

Shadow Ball


Ghost

12.74s
0.00
17.

Latios (Mega)

Dragon Breath


Dragon

Solar Beam


Grass

13.18s
0.00
18.

Xurkitree

Thunder Shock


Electric

Discharge


Electric

13.16s
0.00
19.

Darkrai

Snarl


Dark

Shadow Ball


Ghost

13.48s
0.00
20.

Gengar

Shadow Claw


Ghost

Shadow Ball


Ghost

13.53s
0.00
21.

Groudon (Primal)

Dragon Tail


Dragon

Solar Beam


Grass

13.56s
0.00
22.

Thundurus (Therian)

Bite


Dark

Thunderbolt


Electric

13.96s
0.00
23.

Zarude

Vine Whip


Grass

Power Whip


Grass

14.30s
0.00
24.

Salamence (Mega)

Dragon Tail


Dragon

Draco Meteor


Dragon

14.38s
0.00
25.

Roserade

Razor Leaf


Grass

Solar Beam


Grass

14.51s
0.00
26.

Chandelure

Hex


Ghost

Shadow Ball


Ghost

14.61s
0.00
27.

Abomasnow (Mega)

Razor Leaf


Grass

Energy Ball


Grass

14.89s
0.00
28.

Giratina (Origin)

Shadow Claw


Ghost

Shadow Ball


Ghost

14.97s
0.00
29.

Haunter

Shadow Claw


Ghost

Shadow Ball


Ghost

15.01s
0.00
30.

Zekrom

Dragon Breath


Dragon

Wild Charge


Electric

15.28s
0.00
31.

Leafeon

Razor Leaf


Grass

Solar Beam


Grass

15.25s
0.00
32.

Deoxys (Normal)

Charge Beam


Electric

Thunderbolt


Electric

15.47s
0.00
33.

Hydreigon

Bite


Dark

Dark Pulse


Dark

15.23s
0.00
34.

Aerodactyl (Mega)

Rock Throw


Rock

Rock Slide


Rock

15.39s
0.00
35.

Banette

Shadow Claw


Ghost

Shadow Ball


Ghost

15.50s
0.00
Bruxish Stats and Max CP
Bruxish

Water

Psychic

Max CP at Level 40 2389 | Max CP at Level 50 2710
ATK 208
DEF 145
HP 169

Weak To:
Resistances:

Bug

Dark

Electric

Grass

Ghost

Fighting

Fire

Ice

Psychic

Steel

Water
Bruxish Movepool
Fast Moves
Charge Moves

Water Gun

Water

Confusion

Psychic

Bite

Dark

Aqua Tail

Water

Psychic Fangs

Psychic

Crunch

Dark