Taipei City Safari Zone 2019 has been announced, taking place in the gorgeous New Taipei Metropolitan Park in the country of Taiwan! From October 3 to October 6, Metropolitan Park will be transformed into a dream-come-true Pokémon extravaganza. No tickets are necessary for this event, and Trainers from near and far are all welcome to join in the fun. Bug, Water and Grass type Pokémon will appear more frequently in the wild as the theme for the event. Unique Field Research will be available for Trainers to complete throughout the day.
Since this is a free event, there does not seem to be additional spawns expanding throughout the city. Therefore, if you can go, make sure you do! In addition, it looks like Oddish will appear more frequently globally! Whether it will be shiny or not, who knows? We find it very curious, however, that Oddish is featured so prominently.
Update: Shiny Oddish is now live worldwide
Be on the lookout for anything odd, Trainers! Starting on October 2 at 7 p.m. PDT, lucky Trainers might encounter Shiny Oddish! ✨ pic.twitter.com/E0Ew45GOUK

— Pokémon GO (@PokemonGoApp) October 3, 2019
Event information
New Taipei City Safari Zone 2019
Event
New Taipei City Safari Zone
Date + Time
October 3 to October 5, 2019 from 10am to 5pm
Location
Metropolitan Park in New Taipei City, Taiwan
Ticketed
No
Featured Pokemon

Bug, Water, and Grass Pokémon will appear more frequently in the wild.
Unique Field Research will be available for Trainers to complete throughout the day.

Additional bonuses

Oddish will spawn more frequently globally
Featured Pokemon
The following Pokemon will be featured at New Taipei Safari Zone:
Oddish
Heracross
Azumarill
Butterfree
Scyther
Unown (R)
About Metropolitan Park and New Taipei
Despite being one of the world's most densely populated metropolises, New Taipei City has always strived to maintain the city's biodiversity and natural scenery by transforming forgotten areas into beautiful new parks.
We prepared a handy screenshot that shows a map of the area where the Safari Zone takes place: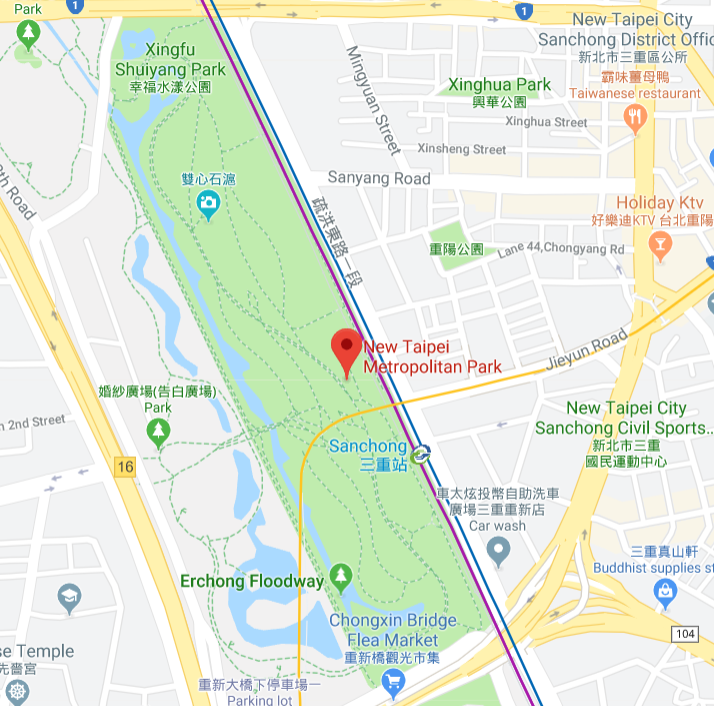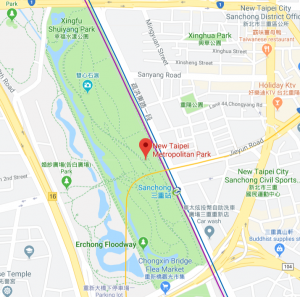 This is a great opportunity for a longer waterside walk through a series of riverside parks stretching for 8+ km, binding the Tamsui River in the Sanchong and Luzhou Districts. So, make sure to lace up those shoes trainers! There's also great variety here — different types of foliage, some waterside paths, various bridges and boardwalks. It can be a bit busy, with roads and transport all around as you can see from the map above.
We found a flyover video that showcases how the park looks like from above. The footage really shows how wide open and vast the park is setting up a perfect spot for people to roam during the Safari Zone event! With all the water around and Niantic's unique decorations, this will make for an interesting walk no matter which direction you take. Be sure to use the tents for sun cover as there doesn't seem to be many places for shade.
Tips for traveling to New Taipei
Summarized from New Taipei Travel Guide and CNN:
New Taipei is a "microcosm" of Taiwan, with dwellers from many parts of the island, and both natural landscapes like rivers and mountains and urbanized areas with modern buildings. Circling the entire Taipei, it is also one of its sub-centers.
Best season to visit: spring and autumn.
1 US dollar will get you around 31.36 Taiwanese dollars.
Tamsui Old Street – Enjoy many snacks here! The street is famous for its delicious foods like fish balls, fish crisps, iron eggs, stuffed brown tofu, and plum juice.
One of the most famous local dishes is the lurou fan (braised pork rice).
Railway is the best form of transportation it seems. You can buy the ticket at Taipei Railway Station, Rueifang Station, or any stations along Pinghsi Line with the price of TWD 64 for getting on and off unlimitedly on that very day.
For more tips and things to do, we suggest you read New Taipei Travel Guide by Travel China Guide. It's a nice, quick read!
Recommended gear 🛍️
We humbly recommend these power banks from Anker and themed hats as great companions for your Montreal Safari Zone adventure. These links lead to Amazon with our referral link, so we'll get a small kickback if you buy them through us. Don't buy them if you already have one tho:
Anker PowerCore Lite 20000mAh is currently significantly discounted and costs less than $40 USD, which is an absolute steal for a 20000mAh power bank. The only problem is that it comes with a Micro USB cable for charging, which means you need to buy a USB C / Lightning cable separately. Great deal, regardless!
Anker Powercore II 10000 is not necessarily cheaper, but it is much more portable than the 20000mAh version. Weighing in at 190 grams, it's half the weight of its larger sibling, but packs half the charge as well. As someone who has this power bank, I can only say good things about it. It has never ran out, it loses barely any charge when not in use and the charging speed is respectable. I've used it in all weather conditions and in various different places, it's a great compact companion.
A cool looking Pokemon cap or a hat is one a must at these events, as it helps you to avoid sunburns and lets you play for a longer time. We don't have any favorites, but there's an insane selection of cool items on Amazon! Also, a sun umbrella could come in handy as well. Be sure to pay close attention to the weather before, during and after the event.