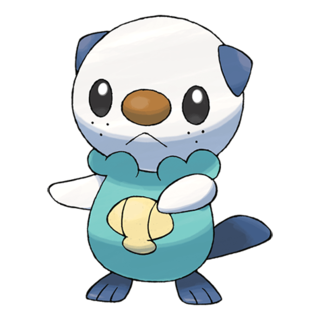 Oshawott
Pokémon GO's September 2021 Community Day features Oshawott, the Sea Otter Pokémon. The event takes place on Sunday, September 19, 2021, from 11:00 a.m. to 5:00 p.m. local time.
Shiny Oshawott will be released, and Samurott evolved during the event will know Hydro Cannon Water. Additionally, Samurott will be able to learn Razor Shell Water, even after the event ends.
You can learn more about Community Day Samurott (plus Razor Shell!) in our article here.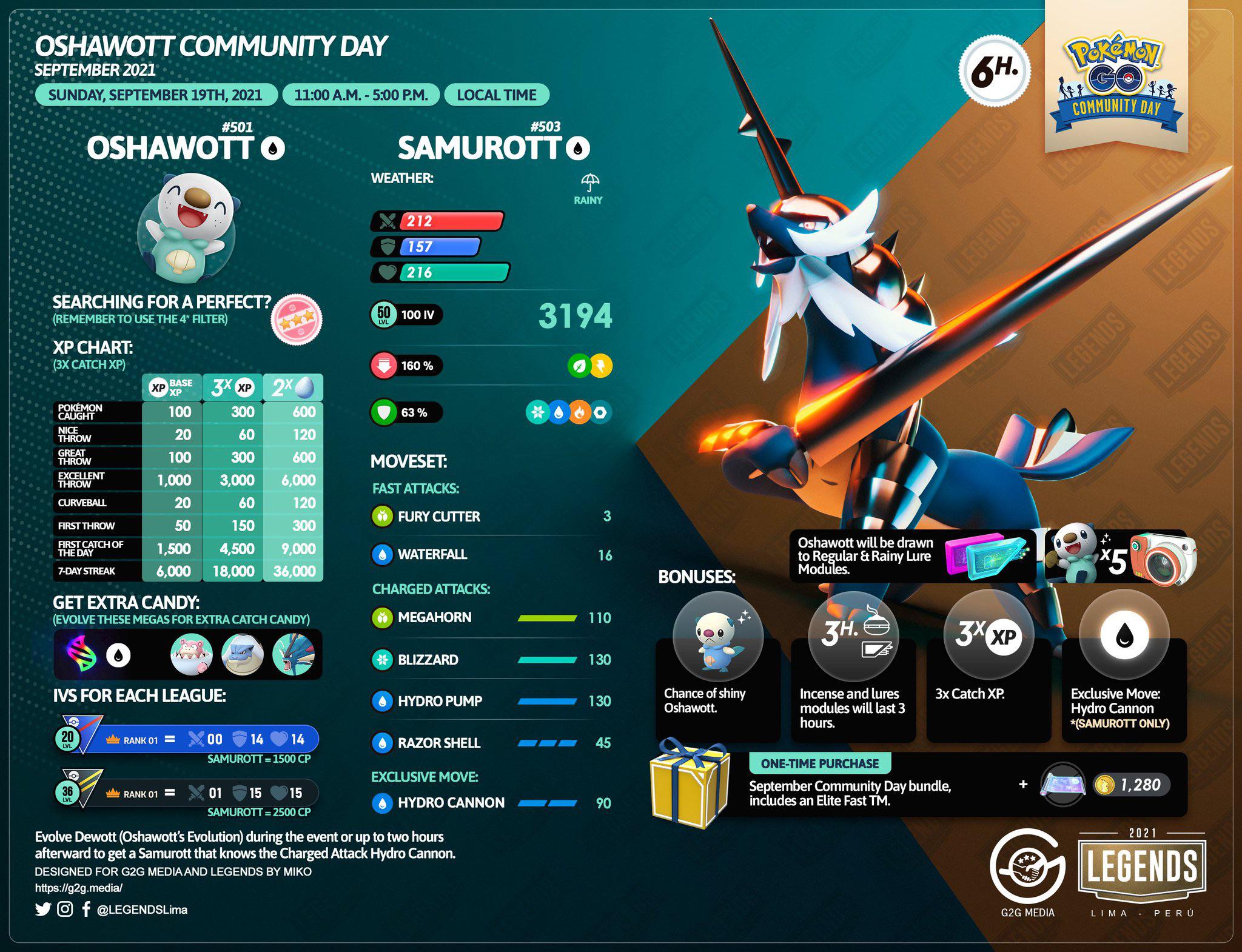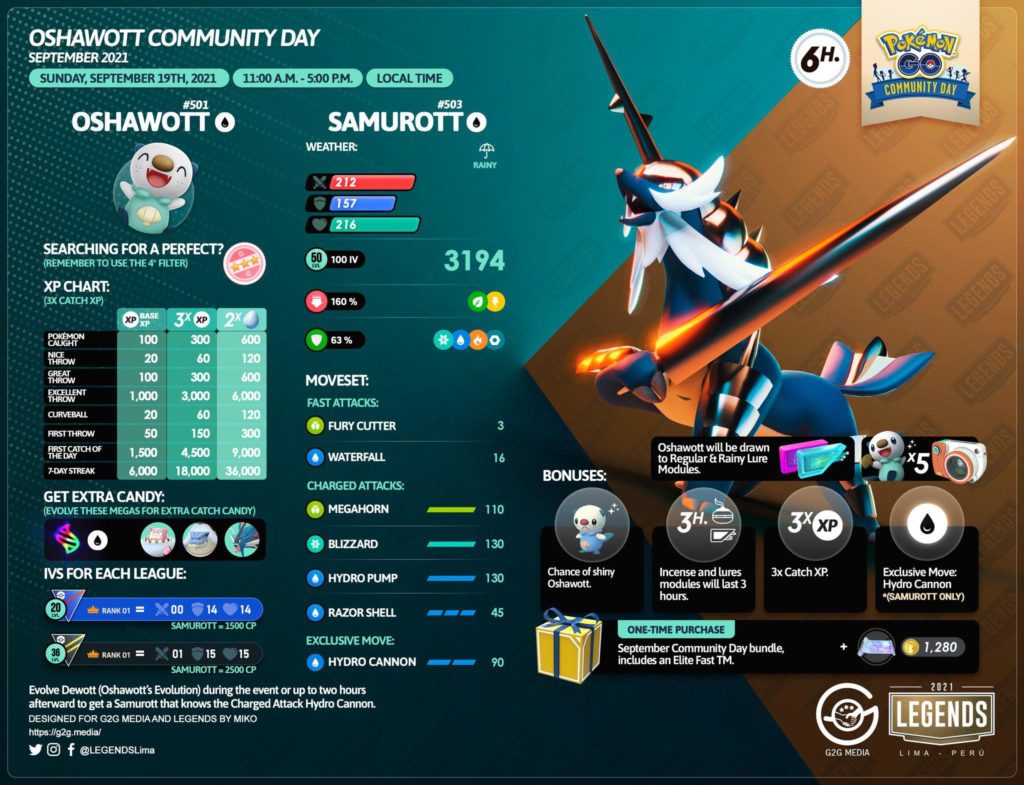 Bonuses
3× Catch XP
Incense activated during the event will last for three hours
Lure Modules activated during the event will last for three hours
Shiny Pokémon
Event features
Oshawott will be appearing everywhere:
Oshawott will be appearing more frequently in the wild!
Oshawott will also be attracted to Rainy Lure Modules.
If you're lucky, you might encounter a Shiny Oshawott!
Samurott gets new moves: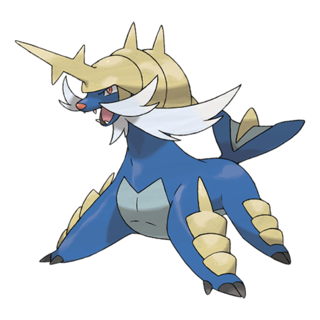 Samurott
Evolve Dewott (Oshawott's Evolution) during the event or up to two hours afterward to get a Samurott that knows the Charged Attack Hydro Cannon.
Samurott will now be able to learn the Charged Attack Razor Shell. This attack will be available for Samurott to learn even after the event has concluded.
Stickers, boxes, snapshots
Take a few snapshots during Community Day for a surprise!
There'll be a special one-time-purchase Community Day Box available for 1,280 PokéCoins, featuring 50 Ultra Balls, five Lucky Eggs, five Rainy Lure Modules, and an Elite Fast TM.
You'll be able to get Oshawott-inspired stickers by spinning PokéStops, opening Gifts, and purchasing them from the in-game shop.
From Scalchops to Seamitars Tasks and Rewards
For US$1.00 (or the equivalent pricing tier in your local currency), you'll be able to access the Oshawott Community Day–exclusive Special Research story, "From Scalchops to Seamitars". This Special Research will include a Rainy Lure Module as one of its rewards.
Tickets are nonrefundable (subject to applicable law and the exceptions set forth in the Terms of Service). Please note that this Special Research will not include an in-game medal.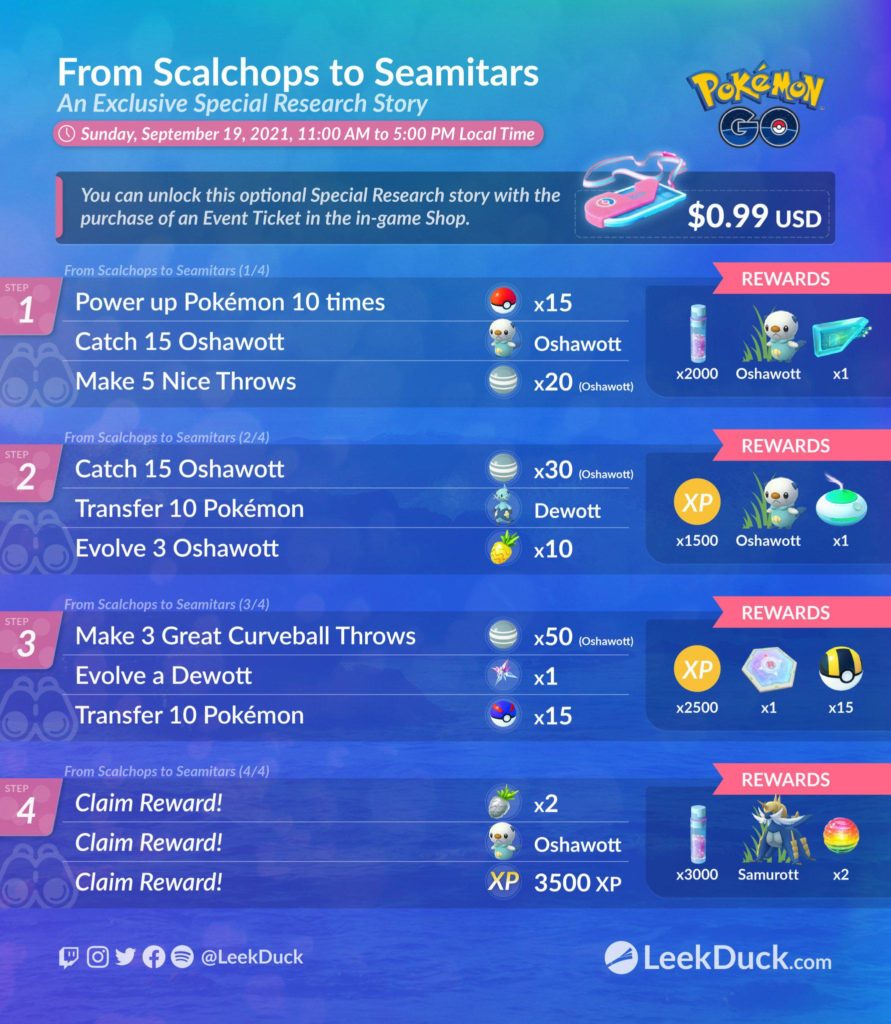 From Scalchops to Seamitars Stage 1 Tasks and Rewards
Power up Pokémon 10 times – x15 PokéBall
Catch 15 Oshawott – Oshawott
Make 5 Nice Throws – x20 Oshawott Candy
Rewards – x2,000 Stardust, Oshawott, and x1 Rainy Lure
From Scalchops to Seamitars Stage 2 Tasks and Rewards
Catch 15 Oshawott – x30 Oshawott Candy
Transfer 10 Pokémon – Dewott
Evolve 3 Oshawott – x10 Pinap Berry
Rewards – 1,500 XP, Oshawott, and x1 Incense
From Scalchops to Seamitars Stage 3 Tasks and Rewards
Make 3 Great Curveball Throws – x50 Oshawott Candy
Evolve 1 Dewott – x1 Star Piece
Transfer 10 Pokémon – x10 Great Ball
Rewards – 2,500 XP, x1 Rocket Radar, and x15 Ultra Ball
From Scalchops to Seamitars Stage 4 Tasks and Rewards
Claim reward – x2 Silver Pinap Berry
Claim reward – Oshawott
Claim reward – 3,500 XP
Rewards – x3,000 Stardust, Samurott, and x2 Rare Candy
Oshawott Perfect IV CP Chart
Oshawott Perfect IV CP Chart
1
14
2
46
3
77
4
109
5
141
6
172
7
204
8
235
9
267
10
298
11
328
12
358
13
388
14
418
15
448
16
478
17
508
18
537
19
567
20
597
21
627
22
657
23
687
24
717
25
747
26
777
27
807
28
836
29
866
30
896
31
911
32
926
33
941
34
956
35
971
36
986
37
1001
38
1016
39
1031
40
1046
41
1059
42
1072
43
1086
44
1099
45
1113
46
1127
47
1140
48
1154
49
1168
50
1182