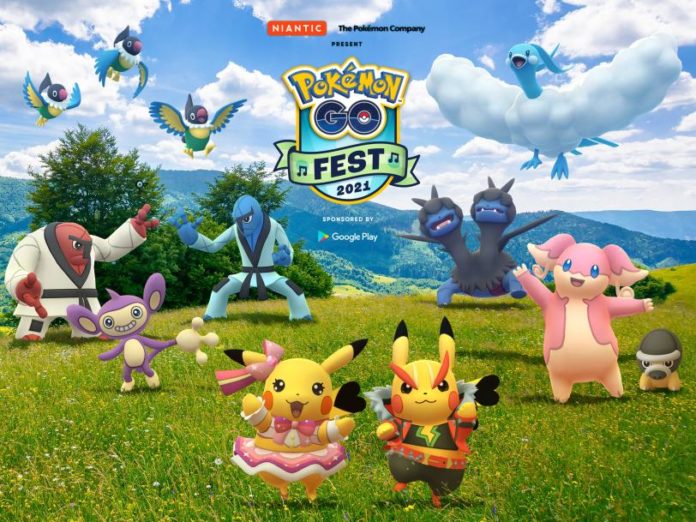 Alongside the world wide at home Pokémon GO Fest experience, Niantic have also announced that that real-world Pokémon GO Fest celebrations will be held in more than 20 cities this year. While we can't all gather on the scale of previous Pokémon GO Fest events, Niantic are excited to host these outdoor and socially distanced experiences for those who live nearby.
The Pokémon GO Fest 2021 in-game experience will still be the same for everyone around the world, so don't worry if you are playing from home. However, Trainers who attend these in-person celebrations can look forward to enjoying photo ops as they explore the city!
Please note that these real-world celebrations are scheduled for Saturday, July 17, 2021, from 10:00 a.m. to 6:00 p.m. local time, and will not happen on Sunday. As you plan your weekend, please adhere to local policies, guidelines, and restrictions regarding travel.
The following cities will feature in-person celebrations:
Europe
Linz, AT
Dresden, DE
Essen, DE
Hamburg, DE
Sevilla, ES
Paris, FR
Warsaw, PL
Bristol, UK
Edinburgh, UK
Liverpool, UK
London, UK
United States
San Francisco, CA
Denver, CO
Atlanta, GA
Chicago, IL
Indianapolis, IN
New York City, NY
Nashville, TN
Austin, TX
Seattle, WA
Washington, D.C.
Asia-Pacific
How to Take Part
If you'd like to join any of the celebrations in the cities listed above, you must register via this link or through the Events section in the app. Registration is free, but spots for each city are limited and will be filled on a first-come, first-served basis. Please attend the in-person experiences only if you have a confirmed registration.
If you are unable to register, please help us keep crowd sizes at reasonable and safe levels by not traveling to participate in the in-person experiences. An in-game Pokémon GO Fest 2021 ticket will not grant admission to these real-world celebration experiences. Live in one of the cities listed above, but not able to register? Don't worry! You'll still be able to participate in Pokémon GO Fest 2021 in your home city.
Conclusion
'We can't wait for you all to experience the musical adventure of Pokémon GO Fest 2021, no matter where you play! We hope this year's event can make playing from your favourite places feel extra special.'
Do you plan to register and take part in your local city? Let us know in the comments down below! For our full guide to Pokémon GO Fest 2021 and more information, check out our article here.