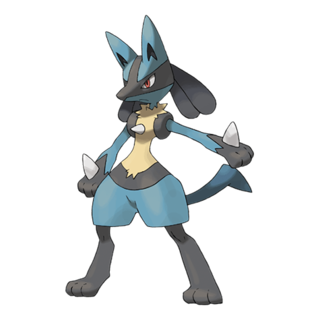 Lucario
Lucario is a Tier 3 raid boss, it has a Raid Boss CP of 3600. This will be solo-able for high-level trainers with well-prepared teams. Make sure you are armed with the correct movesets for your counters.
Lucario can be caught in the following CP range:
1469 CP to 1544 CP at Level 20, no weather boost
1837 CP to 1930 CP at Level 25, weather boosted during

Cloudy

and

Snow

weather
Lucario is a FightingSteel type Pokémon, with weaknesses to Fighting, Fire and Ground –typed moves.
Since Shadow Pokémon are extremely expensive to power up and require specific events to remove Frustration with a Charge TM, they will NOT be listed as raid counters in this article. That being said, if you have the shadow form of a listed raid counter Pokémon powered up and TMed, use it.
Reminder: Mega-Evolved Pokémon give other Pokémon special bonuses when brought to a Raid Battle. While a Mega-Evolved Pokémon is on the battlefield, all Trainers' Pokémon receive an attack boost to all their attacks and gain an additional attack boost if their attack types match the Mega-Evolved Pokémon's type(s).
Lucario

Fighting

Steel

Max CP at Level 40 2703 | Max CP at Level 50 3056
ATK 236
DEF 144
HP 172

Weak To:
Strong Against:

Fighting

Fire

Ground

Bug

Poison

Rock

Dark

Dragon

Grass

Ice

Normal

Steel
Lucario has access to this set of moves as a raid boss:
Fast Moves
Charge Moves
Bullet Punch

Steel

Flash Cannon

Steel

Counter

Fighting

Shadow Ball

Ghost

Close Combat

Fighting

Blaze Kick

Fire

Power-Up Punch

Fighting

Aura Sphere

Fighting
Weather
Pro Attacker
Pro Lucario

Sunny

/

Sunny

Boosts Super Effective

Fire

and

Ground

type attacks
Boosts

Fire

type moves

Partly Cloudy

–
–

Cloudy

Boosts Super Effective

Fighting

type attacks
Boosts

Fighting

type moves

Rainy

–
–

Snow

–
Boosts

Steel

type moves

Fog

–
Boosts

Ghost

type moves

Windy

–
–
It may be a good idea to try to get a weather-boosted Lucario, during Snow or Cloudy weather, in case of a Mega Lucario release in the future. From the above table, any weather that will boost your attacks will also boost Lucario's potential movepool. We suggest going in well-prepared with strong counters, and you should be absolutely fine!