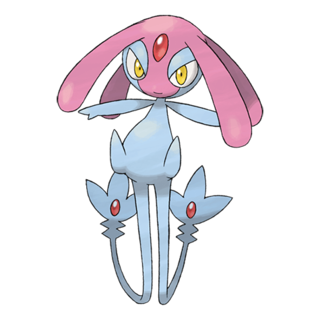 Mesprit
Mesprit is a member of the Lake Trio with Azelf and Uxie, a legendary trio introduced in Generation 4 and having a Raid Boss CP of 41887. Mesprit is a Psychic type, meaning it is weak to Dark, Bug, and Ghost types, while resisting Fighting and Psychic types.
It is boosted by Windy weather, and leads to its capture CPs being in the following ranges:
1669-1747 CP for a regular Level 20 encounter
2086-2184 CP for a

Windy

weather boosted encounter (Level 25)
Mesprit has a stat composition of 212 Attack, 212 Defense, and 190 Stamina leading to a Max CP of 3058. What this means is that in comparison to the Attack oriented Azelf and the defense-oriented Uxie, Mesprit will be a middle of the road boss and not be as easy as Azelf but be easier than Uxie.
Mesprit can be duoed, but this is a hard one to do, requiring you to take advantage of either friend boosts or weather. Otherwise, we would suggest you take on Mesprit in groups of 3-7, for high-level players, or 8-20, for lower level players.
Mesprit Raid Counters
Mesprit Movesets
Mesprit has access to the following moves:
Fast move
Charge move

Extrasensory

Psychic

Confusion

Psychic

Blizzard

Ice

,
Future Sight

Psychic

,
Swift

Normal
Like Uxie and unlike Azelf, none of these moves cause any real concern in the order of counters, save for Blizzard dropping Honchkrow in overall usage.
Weather Effects
Windy
weather will allow for a higher level Mesprit catch at the end of the raid, with the tradeoff being a harder battle with boosted
Psychic
moves. If you want the fight to be easier; however, try to hope for
Fog
and
Rainy
to boost your
Ghost
,
Bug
, and
Dark
counters.
Weather
Pro
Con

Sunny

–
–

Windy

Allows a Level 25 Encounter from Weather Boost.
Boosts Mesprit's Extrasensory, Confusion, and Future Sight

Psychic

moves

Partly Cloudy

–
Boosts Mesprit's Swift

Normal

move

Cloudy

–
–

Snow

–
Boosts Mesprit's Blizzard

Ice

move

Rainy

Boosts

Bug

types
–

Fog

Boosts

Dark

and

Ghost

types
–