The new Pokemon GO Appraisal System is all the rage right now and we wanted to create an in-depth guide on how to use it optimally and how to read the bar chart in order to find exact IV values. The new Appraisal system uses stars and bars to describe IVs, you can quickly swipe between Pokemon to chain appraise them and you can tap Favorite button to mark the ones you want to keep.
Appraisal stars
The new appraisal stars represent the overall IV score of your Pokemon, ranging from 0% to 100%. You can have 0, 1, 2 and 3 stars, with a special red background that appears for Pokemon that are 100% (perfect IVs). The starts represent following IV percent ranges:
0 stars: 0 – 48.9%
1 star: 51.1 – 64.4%
2 stars: 66.7 – 80%
3 stars: 82.2 – 97.8%
3 stars + red background: 100%
Filtering by Stars
The feature has introduced four new filters that can be used to filter your Pokemon list:
0* 0 – 48.9%
1* 51.1 – 64.4%
2* 66.7 – 80%
3* 82.2 – 97.8%
4* 100%
These filters are incredibly handy for filtering out trash IVs and finding your 100% Pokemon easily. Use them for Community Day filtering or just to quickly check your collection and find relevant Pokemon. Naturally, they can be combined with other existing search codes that can be found in our Pokémon Go Search Bar Cheat Sheet. For example, 4*&Fire will return 100% Fire-Type Pokemon.
Getting IV values from bars
When you press Appraise, the game will show three bars:
Attack
Defense
HP (Stamina)
The position of each of these bars can represents an IV value, ranging from 0 to 15. The bars are separated in three chunks, the first is 5, second is 10 and third is 15 IVs. The following image shows how IV values look like depending on the bar's position in these chunks: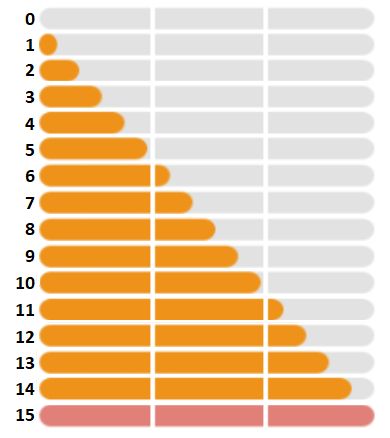 You will get faster at figuring out the exact IVs as you practice appraising.
Appraising multiple Pokemon
The new Appraisal System allows you to swipe between Pokemon inside your Pokemon storage list. When you appraise the first Pokemon, you will notice that there are left and right arrows on the sides of the appraisal screen.
Swiping right will bring up the next Pokemon (left is previous) and it will automatically be appraised. The swiping works on the list that was loaded when you started appraising, which means you can combine it with any type of Search Bar filter you want.