Good day, Pokémon Trainers! Priom here. And this time, I'm here to answer one of the most frequent questions asked by trainers just starting off with Pokémon GO PvP:
"Why is Purified Sableye recommended for PvP?"
I personally believe there are two reasons for this common question. Firstly, you want to know what makes Shadow and Purified Pokémon unique in terms of PvP. Secondly, it's because Sableye is the only case where its purified form has been directly recommended. As such, I will be briefly discussing the differences between regular, shadow, and purified Pokémon (A more detailed discussion can be found here). And then go through what benefits Purified Sableye provides that make it so favored.
With that being said let's start things off with:
Regular Vs. Shadow Vs. Purified Pokémon
Regular Pokémon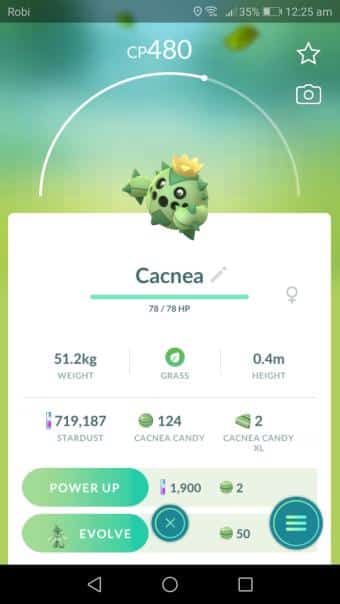 Signature Charged Attack: None
Key Benefit(s): The most basic and easily understood. Works well for most Pokémon.
Key Issue(s): No Shadow Pokémon or Purified Pokémon benefits
Let's get the most vanilla version of Pokémon out of the way. These comprise just about every Pokémon you'll catch in the wild, through research rewards, or through non-shadow raids. These Pokémon will have the standard stats, along with the standard candy and stardust requirements for powering up and acquiring secondary Charged Attacks. The primary Charged Attack of a regular Pokémon will be random. Unless there is a limited-time move available for that Pokémon for a specific event such as a Community Day or GO Fest.
Shadow Pokémon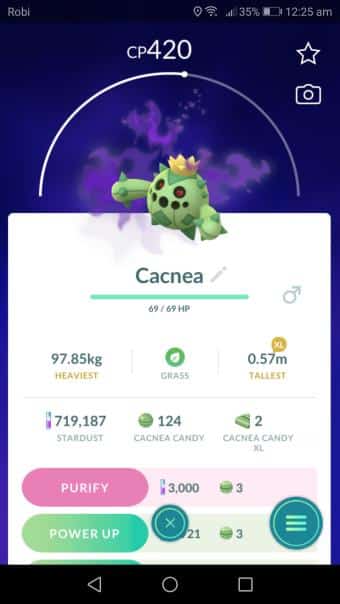 Signature Charged Attack: Frustration
Key Benefit(s): 20% increase to the Pokémon's Attack Stat.
Key Issue(s): 20% decrease to the Pokémon's Defense Stat. More expensive. Frustration.
Shadow Pokémon are characterized by red, angry-looking eyes(if available). And a black-purple hazy aura surrounding them. These are the Pokémon that can be caught as rewards for defeating Team-GO Rocket members and from Shadow Raids. In PvP, you can consider Shadow Pokémon as being similar to a "berserker" class in a more standard role-playing game. They both take more damage, but also dish out more damage in return.
Also, Shadow Pokémon require 1.2x more candy and stardust than their regular variant to power up and gain access to their secondary Charged Attack. Finally, Shadow Pokémon will always come equipped with the Charged Attack Frustration. Which is, by no means a decent move to have. Despite all these demerits, however, Shadow Pokémon are quite worth it. As the attack bonus (often referred to as Shadow Bonus), is quite valuable for some Pokémon to find success in PvP!
Purified Pokémon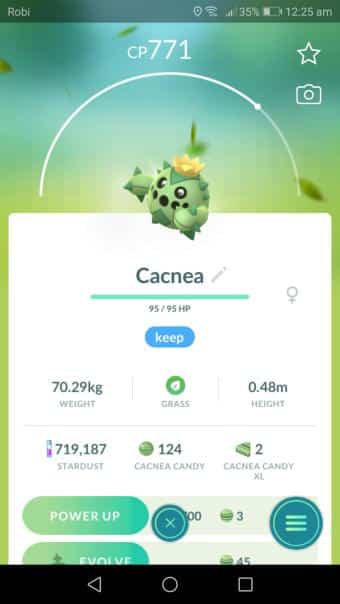 Signature Charged Attack: Return
Key Benefit(s): +2 to all IVs and power up to level 25 upon purification. Less expensive.
Key Issue(s): Removal of Shadow Bonus.
Finally, we reach the type of Pokémon that are the highlight of today's discussion. Purified Pokémon are characterized by the white glowing aura surrounding them. As of right now, the only way to get Purified Pokémon is to purify your Shadow Pokémon in the Pokémon menu. Or through trades. As soon as a Shadow Pokémon is purified, it gets a +2 to all three of its IVs. Along with the Pokémon's level being bumped to 25 (If you are unfamiliar with levels, just know it is an invisible stat tied to Combat Power for now).
Along with this, as soon as you purify a Pokémon, the Charged Attack Frustration is replaced with the far better, Return. That's not all, Purified Pokémon only require 0.9x candies and stardust to power up and gain access to the Pokémon's secondary Charged Attack compared to a regular Pokémon. Despite all this though, Purified Pokémon are not always universally better.
To start off, Shadow Pokémon lose the 20% increase in attack after being purified. Also, while +2 to all IVs may seem good at first, most Pokémon prefer having low Attack IVs in the Great League and often in the Ultra League as well. As such, a Pokémon may actually become less viable in a certain PvP format thanks to the increase in IVs. Finally, while Return is a far better move than Frustration, most Pokémon have better Charged Attacks that they may prefer to run instead. Which brings us to the topic at hand:
Why Use Purified Sableye for PvP?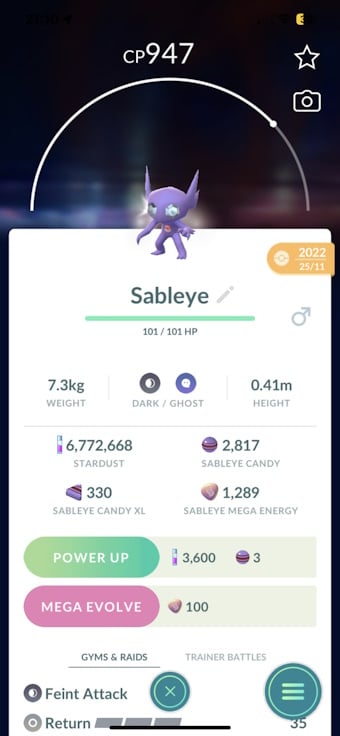 Image Credit: Jellybean
As mentioned before, Purified Pokémon get the unique Charged Attack Return. And while not all Pokémon benefit from this Charged Attack, Sableye definitely does. Consider Sableye's next best Charged Attack Power Gem. This is a move that deals a base damage of 80 in exchange for 60 Energy. Whereas Return deals 130 damage in exchange for 70 Energy. That's 50 more damage for only 10 more energy!
Not that this makes that significant of a difference, however. In fact, the total number of wins and losses against the top meta Pokémon for the Great League for Sableye remains the same for regardless of which Charged Attack you choose to run. Only which Pokémon Sableye wins against changes. Most notably, Power Gem Sableye can defeat Non-Shadow Alolan Ninetales. Whereas Return Sableye wins against both Shadow and Regular versions of Alolan Sandslash. But thankfully, the benefits of Purified Sableye don't just end there.
But That's Not All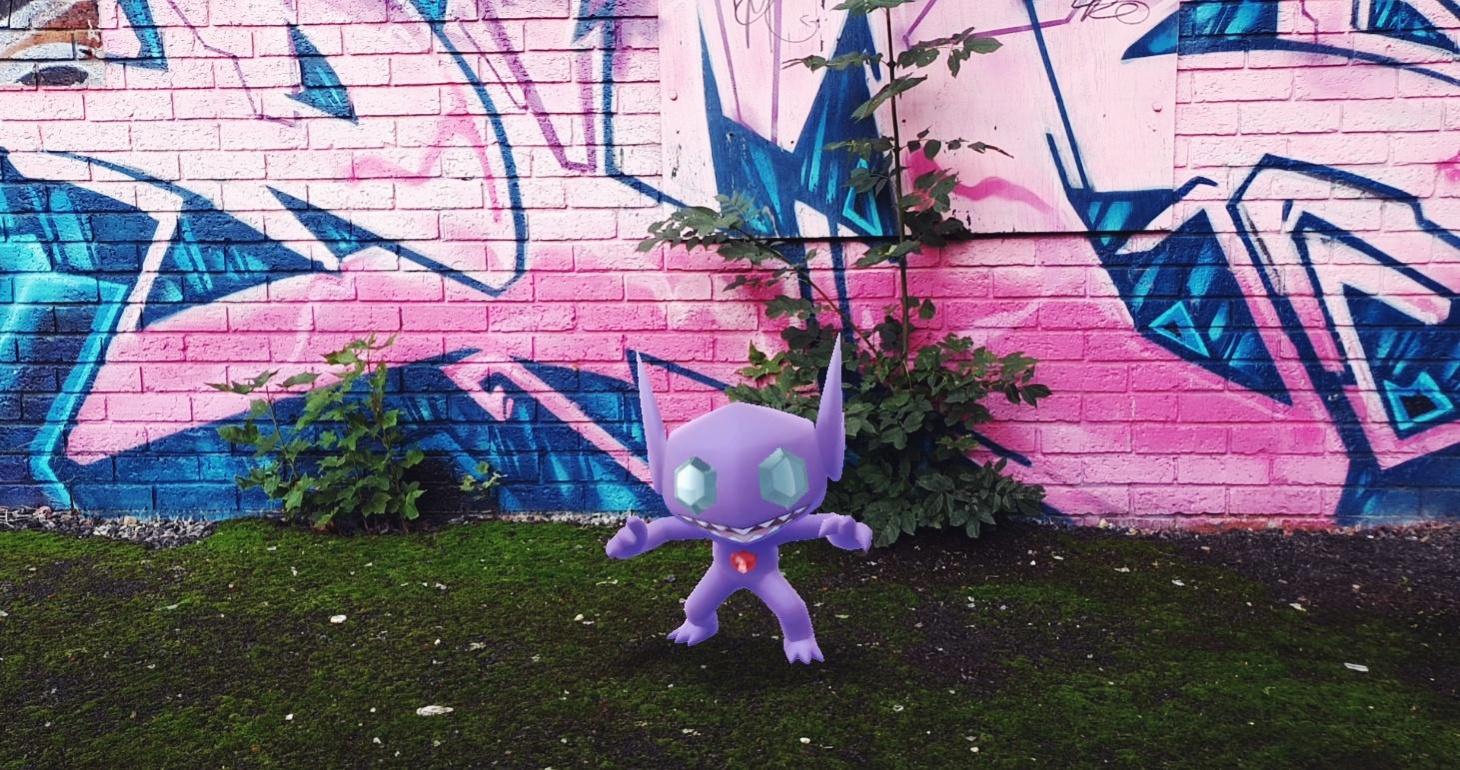 As we have discussed, there are clear benefits for each form of Pokémon. So why is Sableye the only one recommended in its purified form? So to explain that, I need to further discuss a previous statement I made where I said, most Pokémon prefer to have low attack IVs. I'm going to simplify the explanation here a bit.
But let's use Charizard as an example, with perfect 15/15/15 IVs in Attack, Defense, and Stamina, Charizard's CP can reach 3,266. However, let's say you want to use a Charizard for the Great League which has a 1,500 CP cap. That perfect Charizard at around 1,500 CP has a lower stat total than a Charizard with 0/13/15 IV spread at 1,500 CP. This is due to how the game distributes stat points at each CP level based on IVs. As such you actually benefit from a Charizard with lower IVs.
Now that all that is said and done, in the case of the best IVs for Sableye (0/15/15), it actually does max out at around 1499 CP. Meaning you could not increase its CP further even if you wanted to. And it's a long-long climb to power up any Pokémon to its max CP. Not only does the candy and stardust cost increase each power-up. But after a certain threshold (Pokémon Level 40) the Pokémon in question will also need XL Candies to power up further. These are a special type of candy that can only be acquired after Trainer Level 31 and are much more rare than regular candies. As Pokémon don't always drop XL Candies and it's usually in much smaller amounts than regular candies.
This is where the Purified Bonus of decreasing power-up costs by 0.9x the normal amount comes into play. As you will have a far easier time powering up a Sableye that is purified. So all in all, Sableye is just a Pokémon that benefits from just about every unique trait being purified provides.
So Are Other Pokémon Not Worth Purifying?
I definitely would not say that. Much of the same benefits that affect Sableye definitely also effects other Pokémon. Especially in the higher CP leagues such as the Ultra League and the Master League. Where quite a lot of Pokémon(or all Pokémon in the case of Master) benefit from having higher IVs and definitely benefit from the reduced power-up and secondary Charged Attack move costs. However, as Great League is sort of seen as the "main league" thanks to it allowing for the largest number of Pokémon and being the format that official Pokémon tournaments are played on, you tend to hear about Purified Sableye the most.
There is also the topic of the Charged Attack Return. While it is a move that benefits Sableye, most other Pokémon benefit far more greatly from moves that they would learn regularly over Return. Thus it becomes a choosing game of whether to spend more candies and stardust or to use one of your precious few Charged Attack TMs to get rid of Return in favor of a move your Pokémon actually needs.
What About Shadow Sableye Though?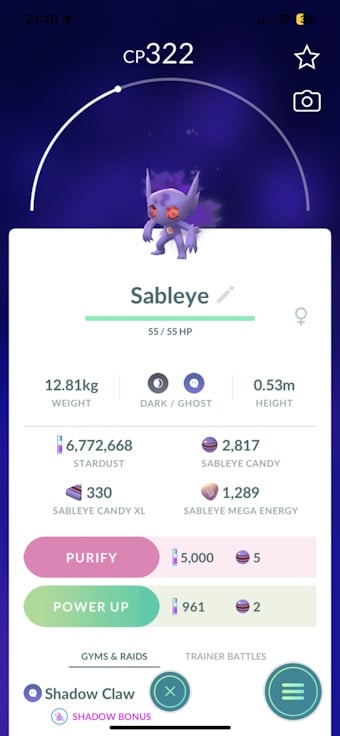 Image Credit: Jellybean
Now you might be thinking, "What about my Shadow Sableye though? Is it any good as is?" Well, the short of it is, it's not a bad Pokémon but it might not be worth it over Purified Sableye.
What being Shadow brings to the table is that Sableye now more cleanly wins against Pokémon it was already strong against. Destroying the likes of Medicham, Cresselia, and Deoxys (Defense Forme) without a scratch. Even winning against its fellow Ghost Shadow Claw user Trevenant more cleanly. However, Shadow Sableye has fewer wins and more losses against the meta overall. Most notably now losing against Galarian Stunfisk neutrally.
Add to that the fact that the cost of maxing out Sableye is quite high. And because Shadow Pokémon require 1.2x more candies and stardust, that cost has now just become higher. So that's quite an increase in total costs for a Pokémon that's slightly worse. And then there's the topic of removing the Charged Attack Frustration by using one of your TMs as well. Which can only be done in limited-time Team GO Rocket Takeover events.
Also, as a more personal opinion, having Sableye in its shadow form just makes less sense in terms of Sableye's common role in a team. With impressive bulk and a singular weakness to Fairy types Sableye is unmatched as a safe swap in case you start off with a bad lead Pokémon. Meaning, Sableye stays on the field longer and whittles down your opponent's resources neutrally. Having more attack and less defense on Sableye just makes less sense to me on that front.
What If I Don't Have a Good Sableye to Purify?
As Shadow Sableye, and by extension Purified Sableye can primarily only be acquired through Team GO Rocket encounters, it isn't always readily available. Though that doesn't mean you're out of luck in building your PvP team just yet. Because sure, Sableye might be the best at its job. But that doesn't mean other Pokémon can't give it a run for its money. The best of these include:
Both of these fellow Dark types are very bulky and possess only three weaknesses each. Umbreon in my opinion, is the easiest to get. As it is an evolution of Eevee, and Eevee is sort of like a secondary mascot for Pokémon, it is very frequently readily available in the wild. We have a guide on how to evolve your Eevee to Umbreon ready here.
Scrafty arguably is an even better choice, thanks to its part Fighting typing and access to one of the best moves in the game counter. Though it isn't as readily available as Eevee. If you're looking for more Ghost type coverage in the absence of Sableye however, the options are a bit more limited. Trevenant and Cofagrigus are decent picks but we could definitely use a new rising star in that field.
Conclusion
And there you have it. Hopefully, I have been able to answer any and all questions relating to Purified Sableye. To sum it up, Purified Sableye allows you to build the best save swap in the most economical way possible. But by no means are other forms of Sableye completely unusable or other Pokémon can't benefit from being purified. With this knowledge in hand, I hope you have some great battles!
Goodbye for now, Pokémon trainers. Priom-out!