Hello Trainers! Pokémon GO 0.245.0 is currently rolling out to a device near you and it brings with it all of Vivillon's forms, Water Shuriken (Froakie CD?), new Pikachu costumes, and more!
Please read through all of this with a grain of salt – we often post data mining reports which end up taking months to release, and we don't want our readers to be disappointed. Be smart, read this like speculation and be happy once it goes live.
💡 Disclaimer: You know the drill by now, everything in this article is data mined, and therefore subject to change or not even being released at all. All of this information is publicly provided by the PokéMiners and includes some of my commentaries.
0.245.0 Assets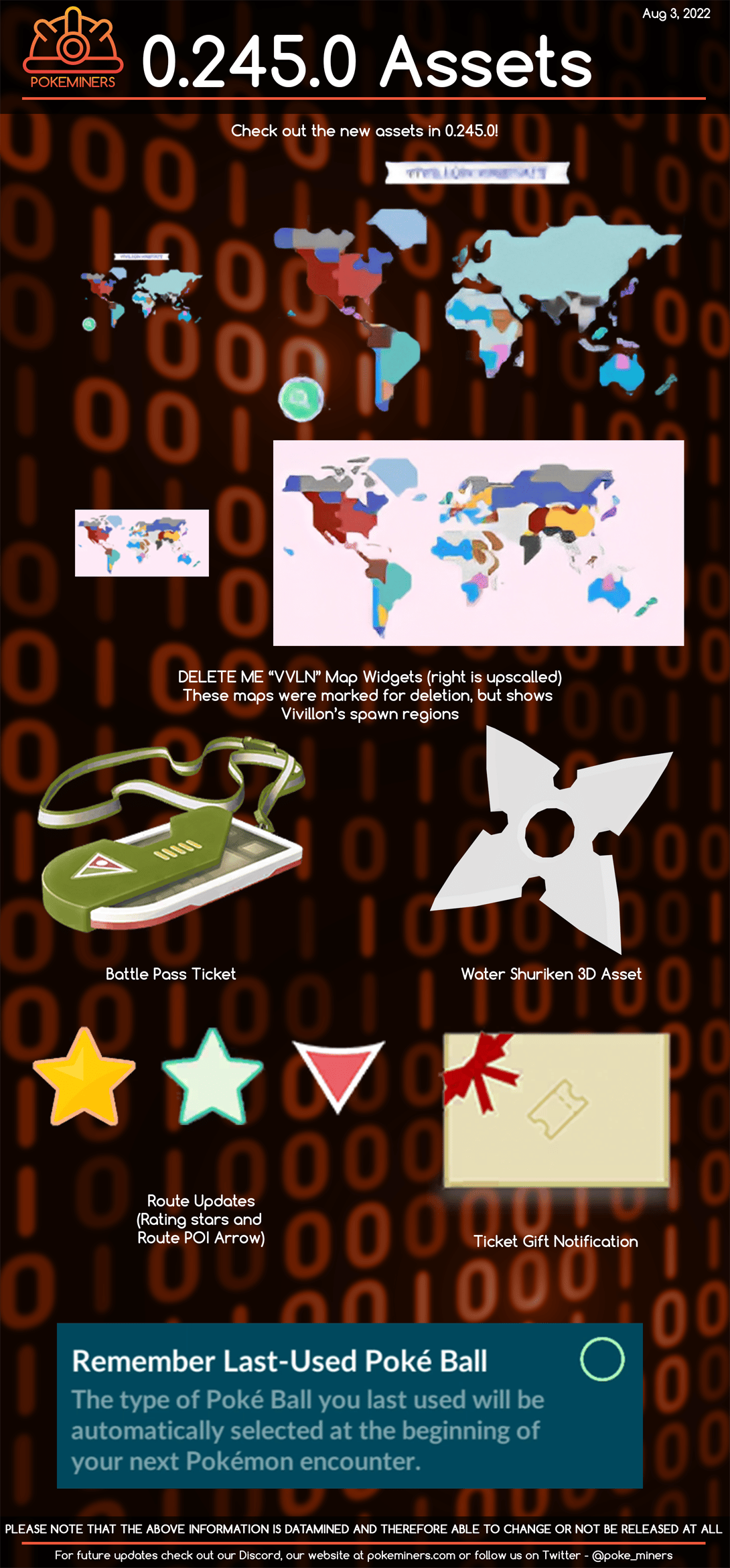 All of the new assets that come with this update, including an option to use the "Remember last-used Poké ball" bug, a Vivillon map that is oddly marked "Delete me", a 3D asset for Water Shuriken, and more
New Moves
.V0372_MOVE_METEOR_BEAM 
.V0373_MOVE_WATER_SHURIKEN_FAST
In the main series games, Meteor beam is a 2-turn damage-dealing move, on the first turn it raises the user's special attack then deals damage on the 2nd turn. This is likely an attack-boosting PvP move.
In the main series games, Water Shuriken is a damage-dealing move and is the signature move of Accelgor. Interestingly, the only other Pokémon that can learn Water Shuriken is Greninja. Froakie Community Day confirmed?! … ok, maybe not.
New Pokémon Forms
MOAR Pikachu's!!
PIKACHU_WCS_2022
PIKACHU_TSHIRT_01
PIKACHU_TSHIRT_02
PIKACHU_FLYING_01
PIKACHU_FLYING_02
What's that? You like Pikachu in costumes? Niantic's got you!
Hisuian form Pokémon
DECIDUEYE_NORMAL
SLIGGOO_NORMAL
GOODRA_NORMAL
AVALUGG_NORMAL
Hisuian versions of some Pokémon were added.
Basculegion
BASCULEGION_NORMAL
BASCULEGION_FEMALE
Both forms of Basculegion were added as well
Forms removed?
KLEAVOR_NORMAL 
URSALUNA_NORMAL
Kleavor and Uraluna were removed?
Vivillon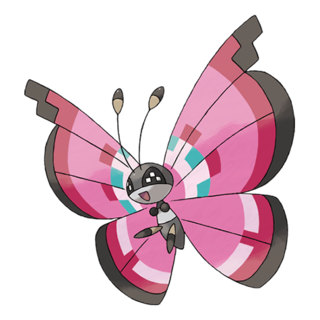 Vivillon
Vivillon was introduced in Kalos (Gen VI) and its wings had different patterns depending on the region your 3DS console was set to.
Encounter Effects
VivillonEncounterFX
vivillonEncounterFxPrefab
PlayFormFX
It looks like Vivillon will have its own encounter effects
Vivillon Regions
VIVILLON_REGION_UNKNOWN
VIVILLON_REGION_ARCHIPELAGO
VIVILLON_REGION_CONTINENTAL
VIVILLON_REGION_ELEGANT
VIVILLON_REGION_FANCY
VIVILLON_REGION_GARDEN
VIVILLON_REGION_HIGH_PLAINS
VIVILLON_REGION_ICY_SNOW
VIVILLON_REGION_JUNGLE
VIVILLON_REGION_MARINE
VIVILLON_REGION_MEADOW
VIVILLON_REGION_MODERN
VIVILLON_REGION_MONSOON
VIVILLON_REGION_OCEAN
VIVILLON_REGION_POKEBALL
VIVILLON_REGION_POLAR
VIVILLON_REGION_RIVER
VIVILLON_REGION_SANDSTORM
VIVILLON_REGION_SAVANNA
VIVILLON_REGION_SUN
VIVILLON_REGION_TUNDRA
All of the regions for Vivillon
Vivillon Map & Postcard
.get_VivillonPostCardEnabled
VivillonFormsMapGuiController
Niantic.Holoholo.Vivillon
gestureController
VivillonFormsMapPin
rotationPivot
VivillonMapWid
.get
ButtonClick
VivillonFXPokemonInfo
vivillonFormsMapGuiPrefab
vivillonMapWid
.getPrefab

vivillonFxPokemonInfoPrefab

GestureRectTransformController
_panZoom
_lastTapTime
OnContentUpdate
It appears that Vivillon will have a map and its own postcard.
Ticket Gifting
RequiresOriginalTicketToGift
GetIapTicketTypeFromGiftTicket
GetGiftPurchaseLimit
HasGiftPurchaseLimit
Some gifting options, including requiring you purchase the ticket yourself before you can gift one.
Gifting UI
OpenGiftEnvelope
SpecialGiftWid
UI.GuiWindows.StorefrontGui

GetPlatformWebToken

OpenWebViewGiftGuiController
blackForegroundObject
OpenWebViewGiftStateShim

WebViewGiftDetailsGuiController
bubbleLifetimeSec
bubbleDelaySec

openWebViewBalloonGuiPrefab
webViewGiftDetailsGuiPrefab
OpenWebViewGift

specialGiftWid
.getPrefab
Gifts will be able to load content from a webpage, for sponsored gifts.
PvP
PvP Flags
SWAP_DELAY_TY_GREIL
FAST_MOVE_FAINT_DEFERRAL
New PvP flags
PvP Charge Move Logging
LogCombatSpecialMoveEntryData
CombatSpecialMovePlayerData
Logging for PvP charge moves.
New Settings
Languages
.get_LanguageSelectorSettings

.set_SELECTED_LANGUAGE
.get_SELECTED_LANGUAGE
languageSelectorGuiPrefab
Settings for selecting your in-game language, so you can change the language of your game regardless of the region you are in.
Remember Last Poké Ball
Pokémon GO is finally getting a "Remember Last-Used Poké Ball" feature! After many years, this feature will be available in the upcoming 0.245 update 🌟🌟🌟 pic.twitter.com/i8CIOBZscg

— Pokémon GO Hub (@PokemonGOHubNet) August 4, 2022
REMEMBER_LAST_POKEBALL
This is live in this version but is off by default so if you want this option you'll need to go into your settings and enable it.
Sending Changes to the Server
ClientToggleSettingsTelemetry

ReportNewLanguageSelected
ReportClientToggleSettings

SelectLanguageButtonPressed

languageSelectorContainer
currentLanguage

LanguageSelectorDialog
LanguageIsSelected
.get_ShowLanguageUpdateMessageAfterReboot
LanguageIsNotAvailable
.set_ShowLanguageUpdateMessageAfterReboot
GetLang
OkButtonPressed
сontent
Toggle Settings
.get_ToggleId
.set_ToggleId
.get_ToggleEvent
.set_ToggleEvent
ToggleIdFieldNumber
toggleId_
ToggleEventFieldNumber
toggleEvent_
ToggleId
ToggleSettingId

REMEMBER_LAST_POKEBALL

ToggleAdventureSync

togglesWithDirtyFlag

RememberLastPokeballToggle
ToggleRememberLastPokeball
CheckDirtyFlag
Settings Installer
SettingsInstaller
Niantic.Holoholo.Storefront.Settings.Installers
Pokédex forms
PokedexInfoGenderWid
.get

StandardPokedexDisplayButtonPanel
PrepareMultiform
ALOLAN
GALARIAN
HISUIAN

standardPokedexDisplayButtonPanelPrefab
pokedexInfoGenderWid
.getPrefab

RegisterPokemonCaughtOrFled
Changes in how the Pokédex handles different forms.
Miscellaneous Stuff
SetPokemonRendererYOff
.set
rendererParentRect
rendererAnchoredPosOriginalY

pokemonWithTemporaryFormIconOff
.set
statisticsBackgroundRect
statisticsBoxPaddingY
statisticsBackgroundOriginalTopPadding
statisticsBackgroundAdjustedTopPadding
megaStatusOff
.setForPokeRenderer

currentSkydomeReference
newAs
.setRequest
Some settings for Pokemon rendering, Mega Evolutions, icons and new sky settings.
That's all for this update, stay safe out there trainers.