For the first time in recent memory, the price of the cheapest PokéCoins has increased in the in-game shop for Pokémon GO.
On the morning of 26th September 2023 trainers began realising that the 100 coin bundle had changed price, increasing varying amounts depending on their local currency. Screenshots shared online by trainers show a variety of different increases that seem to reflect local currency conversions.
In Australia it increased from 99 cents Australian to $1.59
In the UK it was previously 79p, and is now 99p
In Canada is was previously and is now $1.39 Canadian dollars
Trainers in New Zealand reported an increased from 99 cents to $1.69
Unusually, in India currently trainers are reporting their cost didn't increase, and it remains INR 29
Previously the 100 PokéCoin bundle was the best value of any of the PokéCoin bundles, so it was worthwhile buying 5x 100 PokéCoin bundles, instead of buying the 550 PokéCoin equivalent. For example, in the UK 5x 100 PokéCoins was £3.95, whereas the 550 PokéCoin bundle is £4.99! For the 1200 PokéCoin bundle it is £9.99, but you can buy 12x 100 PokéCoin bundles for £9.48. The 2500 PokéCoins is £19.99, but 25x 100 PokéCoin bundles is £19.75. It is only once you got to the 5200 PokéCoin bundle that you actually started to make a saving vs buying multiple 100 PokéCoin bundles.
With the new price increase, the 100 PokéCoin bundle is no longer cheaper than any of the higher cost bundles unfortunately. The higher price bundles haven't increased (that we can see reported so far), just the 100 PokéCoin bundle.
This may be a push to encourage trainers to use the online Pokémon GO Web Store, however, at the time of writing, there is not a 100 PokéCoin bundle available on the Web Store. The Web Store gives extra coins as 'Web Store Bonus Coins' for the same prices as the in-game shop. The 550 PokéCoin bundle becomes 600, the 1200 bundle becomes 1300 and so on.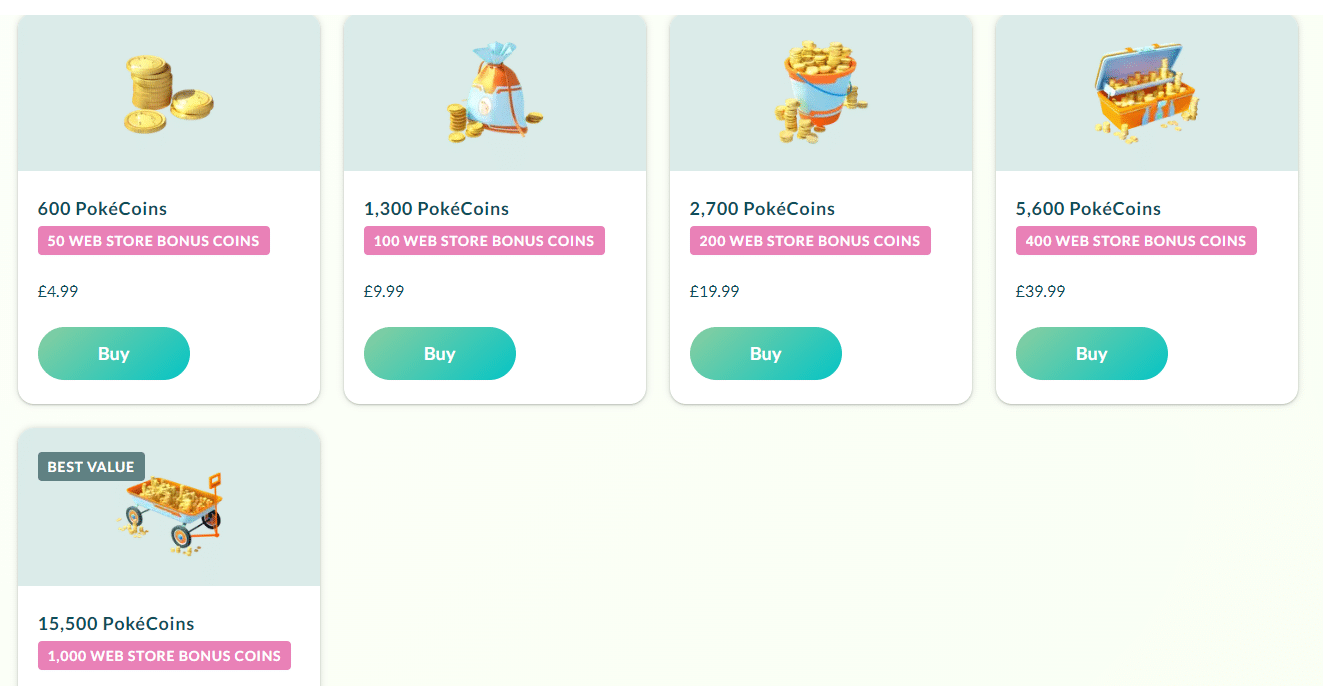 The 99 cent 100 PokéCoin bundle was a very popular bundle, with many trainers not wanting to spend large amounts in GO, so using that to top up their gym coins, or using it to make savings vs the bundles.
The 'best value' bundles are sadly always the highest cost bundles, so the £99.99 bundle, for myself in the UK, with the in-game shop having 14500 PokéCoins, versus the Web Store with 15500 PokéCoins. I can't imagine that there are too many trainers buying this huge bundle (especially with the remote raid pass cap), so those lower cost bundles were much more valuable.
This is already proving to be a move that has frustrated trainers on social media, as the price increase has been done silently with no other communication, so it was noticed as people went to buy their usual 100 PokéCoin bundle. As the cost seems to have increased in varying levels across the world, we are curious to see how much your local bundle has increased, let us know on social media!
Brazil Pricing Changes
Interestingly, while a lot of the world is experiencing higher costs, it has been announced that Brazil will see new, reduced prices! We've discussed issues with pricing in Brazil specifically previously, so this is fantastic news for Brazil!
The new updated prices are as follows:
100 Pokécoins – R$1.90

550 Pokécoins – R$9.90
1200 Pokécoins – R$18.90
2500 Pokécoins – R$37.90
5200 Pokécoins – R$76.90
14500 Pokécoins – R$191.90
Alan Mandujano, Head of LATAM at Niantic gave the following statement:
"This initiative endorses the importance of Brazil for Niantic. We are adopting a local price list aligned with the national reality, making Pokécoins more accessible. We hope that, with this, our players can even more enjoy all types of experiences that Pokémon GO offers"
We are really thrilled to see these pricing inequalities addressed for Brazil who have had issues with the costs being incredibly high for so long. Brazil trainers, what do you think of these changes?