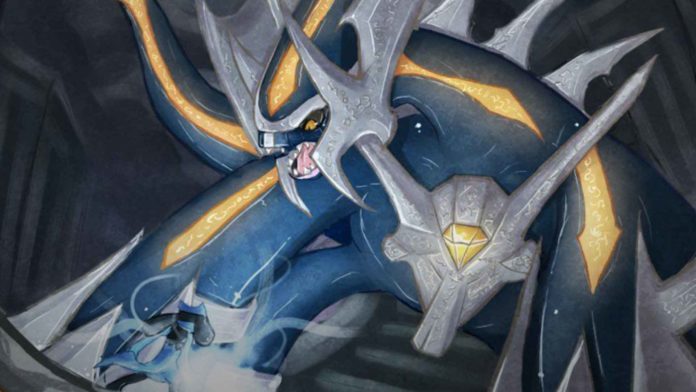 Trainers, ShinyhunterLiam reporting in after being present in the UK for the first of the initial tests of the "Legendary Lunch Hour" raid event.
In this article we will be looking at some of the event details in more depth, noting both the positives and the negatives of the event so far (We are aware that the specifics of this event are subject to change.)
You can find our initial guide for the event here but lets first take a look at the event specifics in more detail:
Legendary Lunch Hour Times and Details
March Legendary Lunch Hour
Event Date/Time

Starts March 13th (Local Time Zone)
12 p.m. – 1 p.m. (Local Time Zone)

Featured Pokémon and/or Bosses
Tier 5 Legendary (Dialga)
Relevant Guides
Extra Details

Eggs will spawn at 11:50 a.m. with a 10-minute timer,
lasting for one hour thereafter
Eggs will only spawn on free gyms (gyms that have no raid or egg in on top at 11:50 a.m.)
Eggs will not spawn at gyms that have an active EX-raid pending (as always.)
*Infographic below made by the talented CoupleOfGaming.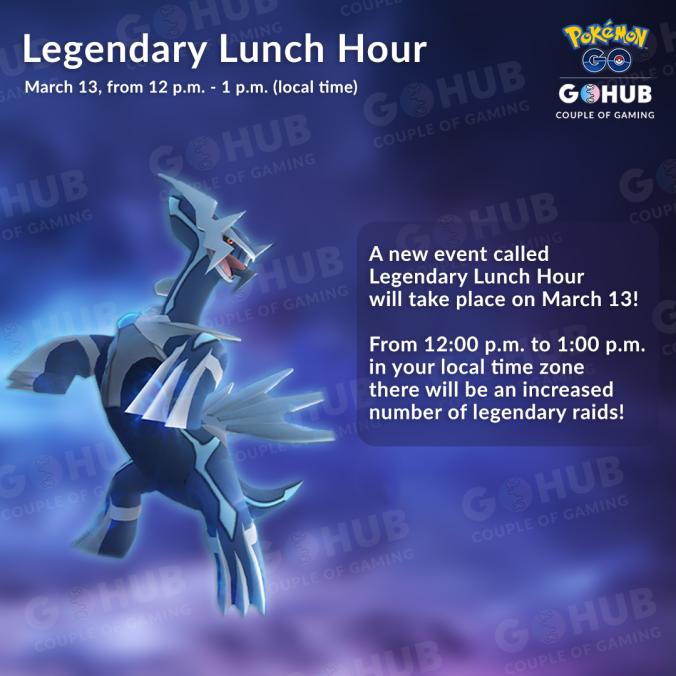 As you can see from the above, this event is targeted at players that work full-time and have hour-long lunch-breaks (just like myself!) "This could work very well" said my community. "Think of all that XP and those shots at a 100% IV," said some of the players. It wasn't until the event kicked off that some holes were noted.
A Day in the Life of a Lunch-Time Pokémon-er
If (like me,) you work full-time and have a lunch hour that you use to play Pokémon Go, then the tweet announcing these tests would have been an absolute godsend to you. However, if (also like me,) you live somewhere that's been affected by the recent Storm (Western Europe, I'm looking at you.) You will know that today, March 13th, Aka. Launch Day was a bit of washout weather-wise.
This meant that the feature was already on a back foot, with many players choosing to stay in or save their raid passes for Rayquaza weekend.
One of the biggest issues that lunch-time players face, is getting enough fellow players together to take on raid bosses at the best of times. Let alone adding bad weather and a potentially better raid boss looming in the near future into the mix.
Let's look at some of the issues in greater detail:
Target Audience
On the face of it, the event is supposed to be targeted towards those who have lunch-breaks and want to raid with others, but it may have inadvertently made those who are not F2P (free-to-play) players its target. Favoring those who have 10's or even 100's of Raid Passes to spare (Barry, you know who you are!)
This comes across like Niantic is asking you to purchase their special boxes and/or premium passes more so than ever before.
What About Rayquaza?
As mentioned above. Most of the players who either have an abundance of raid passes, plenty of Dialga already, or simply wanted to save themselves for the weekend, were choosing to stay away from the Legendary Lunchtime event.
Rayquaza is just around the corner, and the fact it hasn't been in raid battles for over a year now means that this week was probably not a great choice to conduct these tests.
Lack of In-Game Communication/Raid Organizing
This was a big sticking point for most of my community. In an era where most players use either Discord, Whatsapp or Facebook Messenger to organize raid groups and times, it's a little disappointing to see that Niantic still hasn't released a method of organizing raids within the game. Along with the added annoyance of the fact that tabbing out of your game to go to said app will cause all nearby Pokémon to temporarily despawn (unless you have a Go+ or Pokeball+ connected).
I understand that most communities may have already planned out routes from gym-to-gym but for those who are considerably less organized or just more casual players, you will understand that having players that take X amount of minutes to get from their work to the first gym, remembering trying to tag everyone and having to wait for players that turn up late can be enough stress in itself without having to try and fit as many raids in as possible before having to be back to your desk by 1PM.
Dialga Exhaustion
As we have mentioned before, raid boss fatigue can set in and it is a real concern for this type of event. Players seem to be only chasing Dialga for its IV's or to fill a gap in their Pokédex. It's a decent enough Pokémon, but with members of some communities holding out hope that Shiny Rayquaza will drop during the special weekend event (Despite multiple denials by Niantic and the Pokémon Company) means that some players are choosing to use their free raid pass and that's it.
Levels 40's and Experience
Everyone knows a player that hasn't quite hit the level cap yet for one reason or another, but it's safe to say that plenty of players are already Level 40, no longer hoarding Pidgeys to mass evolve and aren't interested in XP gain anymore.
Not Announcing the "Tests" Through the Usual Channels.
I am aware that this is a "work-in-progress" for Niantic but the sheer fact that Legendary Lunch Hour was announced via Twitter meant that a lot of players didn't even know what was going on until it was too late. Queue the abundance of Screenshots asking if there's "some sort of event on?"
Summary of Concerns
To summarize this section, there was (and will continue to be) plenty of negatives. Trying to drum up morale amongst the ranks of people in local communities can be difficult when there isn't a new shiny to chase or a legacy move to collect.
Sure, there are those that will continue to raid regardless, those players who are excited to get the 2x XP toward the 20 million required for level 40 or those that just want another shot at a 100% Dialga but the overall consensus is that there are a few holes in the feature that could use ironing out.
Now let's take a look at what the event did well and what would make it work better in the future:
Rare Candies, Rare Candies for All!
The abundance of level 5 raids meant an abundance of rewards and among them: Rare Candy. This is a much sought-after reward that will be used to power up Rarer Pokémon, Legendaries or hoarded away for future use.
Not Forcing Players to Participate
I observed at least four other, non-legendary, raid bosses spawn within the 1-hour period. Included in these lower tier bosses were Raichu and Shinx. By offering these easier battles, it gave players who didn't want to fight Dialga the opportunity to use their daily pass on something else.
Illustrates the Need for In-Game Chat/Raid Organizer Tool
As mentioned above, this is the sort of event that could've gone a lot smoother with some way to organize raids in the game. Obviously, Nintendo has a reputation for not having in-game chats in their titles as the games are played by all ages and there is the fear of chats being used inappropriately. We would imagine that this feature could be excluded from "Niantic Kids" accounts though, just as Friend requests are.
Even the ability to show the nearby raids in the gym-badge screen and an ability to select whether or not you will be attending would be beneficial although, not entirely fool-proof.
Opens the Door for Future Level Cap Raise
Anyone who has raided multiple tier-5 raids in a short space of time (especially during a 2x XP event and with a lucky egg active) will know that you can rack up some serious XP. Whilst this may only be good for bragging rights (or access to the TL40 club) at this time, it may be another hint that a level increase is in the works and thus giving players who need millions of XP an Avenue to grind this out.
Randomized Tier-5 Raid Boss?
One idea that everyone agreed upon, within my community (weather aside), would be to offer multiple T5 raid bosses. We feel it would be a sure-fire way to increase participation if this style of event is continued in the future.
Parting Thoughts
Whilst here in the UK (and some of Europe,) Storm Gareth has prevented a lot of players from participating in Legendary Lunch Hour, most of the people that chose not to take part were those that are saving their passes for Rayquaza – Meaning that there were fewer people choosing to take advantage of these tests whilst they're here.
The positives are there, however. They may be buried under the rough edges of something that needs a lot of refining but it could be a good thing for communities – Just….maybe not when players have a Green Sky Dragon just 2 days away from being here.
What were your thoughts, Trainers?