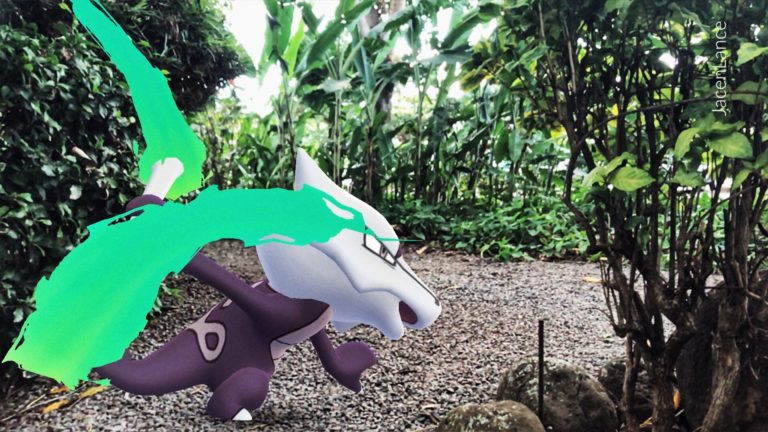 As Pokémon GO advances in the field of AR technology, it only makes sense that Trainers worldwide become more and more interactive in the way they play, and part of this is not only being a Pokémon Trainer, but being an AR Photographer as well.
Throughout this past month, Trainers worldwide have gone out to photograph Pokémon in the wild, and along with photographs, they have brought back a story to tell, in this articles we will take a look at these Photographs, the stories behind them, and the Trainers who took them. These are their photos, these are their stories.
---
The AR Photographers
In this section we will cover those photos submitted by your fellow Trainers which highlight not only the essence of what is AR Photography, but the story and process behind it. A congratulations and thank you to all the Trainers below.
Jungle Fever
"I'm walking through a forest in Cincinnati when I'm approached by this legendary beast. I was surely afraid of how it got there and steadily walked up to it, took a photo and proceeded to catch it. His pose, staring into the distance, was the perfect opportunity to create a masterpiece."
Location: Cincinnati, OH, United States
Photographer: iAmBoxyBrown
Summer Days
"I Was able to capture this picture after a long day of raiding with my group of friends, it was around the time all the raids stopped showing up so me and my friend decided to go hang out close to the town's bridge and this lil guy showed up and we managed to get great AR+ pictures with a great background I would say this is by far one of my favorite pictures I took"
Location: Waco, TX, United States
Photographer: Eddy Salas
Delayed Flight
"What are you afraid of while traveling by plane? Heights? Turbulence? UFO? Unprecedented battle for life and death between Rayquaza and Deoxys? Don't be silly. The real threat is on the ground: a huge rocksnake blocking the way before take off is what you should be really afraid of."
Location: Bari, Italy
Photographer:  PS Prod.
Editor's Notes: The photo itself may not speak volumes, but after reading the story behind it, one can only hope the Photographer's flight wasn't delayed by much.
A Cool Encounter
"It was a a super hot day, so I decided to go to the lake and enjoy the cool water – unlucky me, I found out that I forgot my swimming trunks at home. I decided to go back home. I took a different path than usual to avoid the sun and so I found this sculpture at a place called Alte Salzstraße – there was a Sneasel raid going on. Why not? I thought, so I defeated the Sneasel and took some cool pics!"
Location: Grünau (Leipzig), Germany
Photographer: Coll797
Make a Scene
"This is the perfect example of patience to take the right picture. Originally I found this Haunter at 4PM and attempted to take a picture but I didn't like the lighting or the setting. The hours went by and at 8PM I still had my phone on with Haunter waiting to be caught and photographed, until I got a great idea. I called some of my friends to help me bring my lights and a couple of decoration pieces for the set I built on a street near a park in the middle of the night. After finding the perfect spot and adjusting the set, positioning of the lights and placing the Pokemon correctly with AR+ BOOM finally Haunter was caught and added to my PhotoDex."
Location: Costa Rica
Photographer: 8BitCR
Editor's Notes: I think this is a great example of what it means to be a dedicated photographer, don't like the scenery? Then come up with your own! 
Code Yellow
"I received my breakthrough reward that morning and decided to have a walk around the hotel resort to find a good place to take an AR shot of the mighty Raikou. As I lay by the pool I thought to myself what a dangerous place to have an electric Pokemon, but what a great picture it would make. I just prayed he didn't fall in, or there would have been a lot of fried kids in the pool."
Location: Izmir, Turkey
Photographer: Freemo666
Editor's Notes: Different Pool places have protocols for certain situations, such as the common "code brown" if you see a snickers bar in the pool, although I think a "code yellow" means something different in this situation.
Night of the Living Cacturne
"I collect AR photos of as many species as possible. I've been missing a Cacturne for a while, it finally popped up in an old cemetery on my way home but it was still bright day time which didn't suit the idea I had in my head so I decided that black and white would suit the horror theme a bit more."
Location: London, England, United Kingdom
Photographer: Earl of lemongrab
From the Darkness
"It was raining with dark clouds in Chennai. In spite of that we started our game hoping that Ho-oh would shine on us. Ho-oh heard our voices and appeared from the rainbow after the rain cleared the dark sky. I was so thrilled to capture a good AR pic."
Location: Chennai, India
Photographer: DanteJai
Beach BFF's
"It was community day and my BFF Pikachu and I were exhausted from catching so many Pokémon, so we decided to head up to the beach to relax and watch the sunset. It was the perfect summer evening. We counted boats, found some beach glass and even chased some seagulls around. We can't wait to do it again next summer."
Location: Mentor, Ohio, United States
Photographer: Eva123110
Editor's Notes: What a combination of color, design, placement, and just overall quality. It's photos like these that make me happy that AR photography exist.
Shady Alley
"I was going home from eating a late dinner at a restaurant, and then I saw a Gengar pop up on screen and I was like, «It's dark and there a scary street right over there», so I took the photos and decided to post them to Go Hub, because why not? I edited a little bit and it turned out great! But when I decided to catch him, he ran… so yea.. that wasn't very fun, but that's (not really) OK because I caught Shiny Charmander and TWO Charizards!"
Location: Chamonix-Mont-Blanc, Rhône-Alpes, France
Photographer: Agent Mac Guffin
Fender Bender
"I live in the country where Pokéstops are few and far between. I often need to drive to the Pokéstops and park my car as they are miles from my home. Fortunately this Pokéstop is in a church parking lot that usually has an abundance of Pokémon to make the trip worth while. Safety is always a priority when playing Pokémon GO. I am always careful to check my surroundings, including my rear view mirrors!!! What a surprise I had on this particular day!! I avoided a Heavy Slam by putting safety first!!"
Location: Eagle Bridge, New York, USA
Photographer: JILLBY444
Editor's Notes: I absolutely love the photographer's practical use of the mirror, the first time I saw the photo I was stuck wondering how the photographer could have pulled this off, and a well placed Forretress right in the frame of the mirror gives off the perfect practical illusion. 
Camouflage
"Anorith seemed to be very afraid when I approached and tried to run a few times. It tried to blend in with the nature and confuse me. What better place to be in than nature, camouflaged to escape the city. Finally, I managed to take some AR+ shots before I continued my journey to be the best Pokémon Trainer."
Location: Sydney, Australia
Photographer: Dpesh007
AR-canine
"Lovely day this morning, coming into spring and the cherry blossoms are starting to bloom. Shaggy loves a walk in the park so we went walking. And as we walked I saw how beautiful the early morning light fell on the cherry Blossoms and how happy my doggy was so I had to take a picture. Truly, he is an AR canine"
Location: Christchurch, New Zealand
Photographer: Ruddsy1978
Editor's Notes: A photograph has many different areas where it can be ruined, one of these areas is coloring, but luckily, this trainer got it just right, the pink of the cherry blossom trees, the brown working to make a perfect balance, the green grass, and finally that bright orange Arcanine.
Nauseous
"Another shot from the Liverpool water front. Found the quest on a Pokéstop coming out of the station. Held onto him for a few goes around the fairground before eventually catching him, and what do you know? He was all the Fifteens, perfect after a day at the fair!"
Location: Liverpool, United Kingdom
Photographer: Nijada
Editor's Notes: Spinda's eyes always intrigued me, being a mixture of both playfulness and confusion, although after seeing it get off this ride at the fair, I am pretty it's because Spinda is nauseous.
Summer Sunset Spectacle
"Blessed with living on such a beautiful coast and lucky by having one of the best summers weather wise for a long time. I wanted to get a shot of the famous summer sunsets over Hilbre Island. Luckily Growlithe showed up for the occasion. Couldn't think of a better companion to compliment the awesome spectacle."
Location: Wirral, United Kingdom
Photographer: Nijada
Editor's Notes: Growlithe's model already has a sort of glare attached to it, a little bit of brightness to one side, and with the sun shining on it, it just adds a deeper layer of realness that would be hard to achieve with any other Pokémon.
Soaring
"This was the day the Celebi quests were to be released. I was so excited I got into town several hours before I knew the quests would come out, so I walked all over town grinding away to get to level 39. I've always wanted to AR Mantine but I never find him near a nice body of water. I thought this was a perfect opportunity and he looks quite epic soaring over the ocean."
Location: Sydney, Nova Scotia, Canada
Photographer: AlaetraLorisa
Always There
"I've been taking this Spinda everywhere, from the moment I first encountered it, it has already been to Malaysia and Singapore, but now it is closer to home. I tried to teach Spinda something about the dutch history. He didn't really understand any of it but he felt at home."
Location: Lelystad, Flevoland, Netherlands
Photographer: Erik de Just
Editor's Notes: I like to imagine when seeing this picture, that it would be part of some sort of series, seeing photos of the past, and Spinda being in every one of them, it was always there.
Pure of Heart
"Very few have encountered the Phoenix. It is said to reveal itself for those who are pure of heart. All the legends of the Phoenix are true. It's wings glimmer all the colors of the rainbow, a sight to behold for sure. Also, just by seeing the Phoenix flap it's irridecent wings of the rainbow, it will grant the pure hearted trainer an eternal happiness. I was a fortunate enough trainer to be pure heated and was able to meet face-to-face with this magnificent creature. Sure, it was only for a few seconds, but the memory and the photo will last a lifetime."
Location: McHenry, Illinois, United States
Photographer: Treecko
The Brass Tower of Legend
"Years after the events that occurred when the Brass Tower got hit by lightning, this lone beast remains, waiting for a Trainer's challenge. A Trainer that will prove himself worthy by chasing this legendary being through the whole Johto region. In the mean time, it fiercely defends its home from vandals and thieves. Will it ever find the Trainer that will be able to control its immense power?"
Location: Jounieh, Mount Lebanon, Lebanon
Photographer: Marc Naccour
Editor's Notes: The photo itself may not mean much, but knowing the lore behind the Legendary Beast, this hit close to home.
Vegas Noir
"After staying a few nights at the city of Las Vegas, it was finally the day I had to head back home from my vacation. As we were waiting for our car to arrive from valet parking, a Misdreavus spawned from the lure I placed while waiting. Seeing that my surroundings looked creepy enough with the waiting area being underground with one staircase leading up to the main street, I wanted to use this to my advantage to get a great shot of a Ghost Pokemon. I set up the photo and with the use of light correction and the black and white tool, it really added to the atmosphere of the photo."
Location: Las Vegas, NV, United States
Photographer: KILO X
Editor's Notes: It is a bit hard to find the ideal spot for a Ghost type, but when used like this, gives off a vibe of crime and mystery.
Dance in the Crypt
"This shot was taken at Glastonbury. I'd gone down into the crypt to see if I could get a few pictures. The ceiling above this ceremonial chamber was open and illuminated the altar beautifully. I managed to get some shots of an Alolan Rattata but just as I was leaving I saw what I thought was a wild Raltz. What a surprise when it was actually a wild Kirlia. Her dance made such an atmospheric shot, and this one in particular was my favorite, beautifully contrasted against a her natural background."
Location: Glastonbury, United Kingdom
Photographer: Nijada
---
The AR Masters
Just as Trainers did worldwide, our AR Masters went out to photograph Pokémon in the wild, bringing back something special to share. What are the AR Masters? They are those that we have deemed experts in the field of AR Photography. Their mission? To be the very best, like no one ever was. Be sure to follow the links attached to each AR Master's name so you can stay up to date with their latest and greatest photography stories.
Mythical Bubble
"When I was kid, I spent countless hours playing Pokémon Snap on my Nintendo 64. When entering the last level with my ZERO-ONE all-terrain vehicle, I discovered Mew floating around in its mysterical bubble. In this AR picture, I wanted to recreate that magical moment. By using a see-through crystal photography ball, I was able to put Mew into its personal bubble. A flashback to my 90's childhood was made."
Location: Geraardsbergen, Belgium
AR Master: Ash Ketzchup
An Alolan Attack
"With the release of Alolan Marowak as a new raid boss, I found my muse. Eevee is and always will be my favorite Pokémon, but Alolan Marowak is by far the most photogenic, active, and exciting Pokémon to photograph. I had seen several social media videos of Alola Marowak in action, and had been aching to get some shots of it. Once I finally encountered one, I was beyond impressed with just how lively he was, though I was disappointed that my backdrop was the rear parking of a shopping mall. My second encounter, in the lush greenery of the Maui Tropical Plantation delivered photos that felt a lot more realistic. I have to say, with all the different poses that it's possible to catch out of this guy, choosing the one was nearly impossible! His skull marking is so fierce, but so are the ones on his back. And of course, that fiery bone really helps deliver the feeling of movement in a still photo. I finally decided on a shot of him just as he's about to pounce because everything in this shot came together in just the right way to make an incredibly lively photograph."
Location: Wailuku, HI, United States
AR Master: Ryusui
Living Sculpture
"It was a hot August day in North Carolina, but after meeting someone at the art museum for a Special Trade I couldn't resist visiting my favorite sculpture, Ogromna ~ by Ursula von Rydingsvard. As sweat dripped into eye I noticed a new exhibit and worried I was growing dehydrated as I imagined it gently swaying on a breezeless day. It began to slowly glide elegantly across the lawn occasionally spinning like a top and I knew this living sculpture would compliment Ogromna beautifully. It seemed to like having its picture taken and spun over to the empty Pokéball I had rested on the ground when I laid down to take this shot."
Location: Raleigh, NC, United States
AR Master: DoubleComplex
Full of Happiness
"That day was like every week, a Mewtwo EX raid. We went to the raid in our park and there were like 50 people attending the raid. We split up like usual in different groups for the maximum amount of Pokéballs to catch the legendary Pokémon. I got 9/9 so far! Then someone said there was a Blissey a little further. We ran to the place and saw her behind the trees."
Location: Ghent, Belgium
AR Master: ShinyMajinrobin✨
Never Forgotten
"Ghost Pokémon in essence are a reminder of mortality in all things. I cannot think of a more appropriate place to have encountered a Misdreavus than Constitution Park in Camarillo, California. And of all places, beside a memorial plaque. I captured the moment as a reminder that not all things last forever, but that doesn't mean they are forgotten."
Location: Camarillo, CA, United States
AR Master: Wolfie
Desert Quil
"One day while I was walking down the street a Cyndaquil suddenly walked out from a bush. At first I was shocked but since a desert themed area seemed like a perfect spot for one to be, I decided to quickly snap a photo of him before it ran back off into the wild."
Location: Los Angeles, CA, United States
AR Master: CXLRFly
---
Who's That Pokémon?
What is a showcase without some competition? Here we will take a look at last month's winner, the Trainer who managed to not only guess who that Pokémon was, but also getthe best photo of it as well. And of course, the announcement of this month's "Who's That Pokémon" Pokémon, now is your time to shine Trainers and prove your skills.
Polly Want a Cracker?
"Lahaina, Maui is one of the most popular tourist towns, next to Waikiki on Oahu. And nowhere is that more apparent than Front Street. Down this length of road is an endless lineup of various tourist traps and art galleries designed to draw in as much traveler money as possible. And everyone has a gimmick. Like this guy, who has several colorful and exotic birds which he will place on customers to take some memorable photos of their vacation. Front and center was this little Natu, who was really the attention getter of the group."
Location: Lahaina, HI, United States
AR Master: Ryusui
Editor's Notes: This photo made me really happy to see, living in México, finding places such as these can be quite common, and most of the time are despised by locals, however in this case scenario, I actually had a reason to smile.
This Month's 'Who's That Pokémon'
Think you know who this month's "Who's That Pokémon" Pokémon is? Take a photo of it in the wild and submit it using this form. Remember, this is a competition! So we will only be selecting the very best photo!
---
Final Notes
There is only one thing I want to say when it comes to the Showcase this month; thank you. Thank you to the AR Photographers and Masters, to the readers and viewers, and to everyone that has helped not only push these articles, but made Trainers worldwide eager at taking AR photos, I have been in love with AR Photography since it started to appear on the Hub's Discord, and I am glad I have been able to see the Showcase grow in entries every single month. Thank you dearly, Trainers. It makes me extremely happy to be involved. For these reasons, we plan on adding another section to the Showcase for 'Honorable Mentions', there are so many entries every month, that we think it is only fair to highlight them as well.
Links
Take some great photos, have some great fun, and stay safe, Trainers!