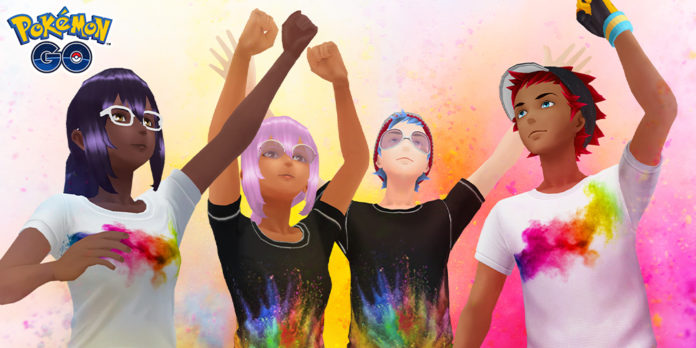 Trainers in India will be getting their own exclusive event to celebrate the Festival of Colors which signifies the triumph of good over evil.
It originated and is predominantly celebrated in India, but has also spread to other regions of Asia and parts of the Western world through the Indian subcontinent.
---
Date & Time
The Festival of Colors will commence on Sunday, March 28, 2021, from 10:00 to 20:00 IST (GMT +5:30) for Trainers in India
From the official announcement:
"Trainers, we're excited to announce a brand-new event taking place in India later this month celebrating the Festival of Colors, which ushers in spring!

In addition to this exciting in-game event for Trainers in India, two all-new T-shirt avatar items inspired by the Festival of Colors will be available to all Trainers worldwide! These avatar items will be available for free in the in-game shop starting on Sunday, March 28, 2021, at 10:00 a.m. local time."
Niantic is showcasing this cultural event with certain Pokémon spawning more frequently alongside an array of exciting rewards to which trainers in India will have access too. Events like this are a great way of shedding light on special holidays such as this which are celebrated with a vibrant display of color and festivity.
---
Features & Rewards
Pokémon representing the different colors of the Festival of Colors will be attracted more frequently to Incense, such as Bulbasaur, Pikachu, Jigglypuff, Alolan Grimer, Seel, Marill, Sunkern, Murkrow, Slugma, Aron, Trapinch, and Drifloon.
Complete the exclusive Festival of Colors Timed Research tasks to earn the following rewards:
Poké Balls
Great Balls
Ultra Balls
Razz Berries
Pinap Berries
Nanab Berries
Golden Razz Berries
Silver Pinap Berries
Dragon Scale
Sun Stone
Sinnoh Stone
Hyper Potions
Super Incubators
Premium Raid Pass
Mega Energy for the following Pokémon:
Venusaur
Charizard
Blastoise
Beedrill
Pidgeot
Gengar
Ampharos
You'll also have an encounter with Alolan Muk, the colorful Sludge Pokémon!
There will be 2 event boxes in the in-game shop which features one that has 30 Poké Balls, a Lucky Egg, and 10 Pinap Berries for 100 PokéCoins and a free box containing three Incense!
---
India Wayfarer Challenge
From March 16, 2021, at 00:00 until March 26, 2021, at 00:00 IST (GMT +5:30), eligible Trainers in India or those who review Indian Wayspots (via their home or bonus location) can participate in the Wayfarer Challenge by reviewing Wayspot nominations in the country.
Trainers can unlock different tiers of rewards depending on the number of Wayspots approved during the challenge. These rewards will be active for all Trainers in India during the Festival of Colors event on Sunday, March 28, 2021, from 10:00 to 20:00 IST (GMT +5:30).
Tier 1 Rewards:
3,000+ new Wayspots approved.
Smeargle will appear more often in snapshots!
Participating Trainers will also gain access to a free bundle in the shop with 20 Poké Balls.
Tier 2 Rewards:
5,000+ New Wayspots approved.
Rewards from Tier 1.
Murkrow will be appearing more often in the wild, and if you're lucky, you might find a Shiny one!
You'll earn twice the XP for catching Pokémon.
Tier 3 Rewards:
8,000+ New Wayspots approved.
Rewards from Tiers 1 and 2.
You'll earn three times the XP for catching Pokémon.
This means that if you at home participate in Niantic's Wayfarer program and review Indian Wayspots from the mentioned dates, you will be eligible for these reward tiers.
"We hope that Trainers in India enjoy this colorful event and that Trainers worldwide will also join the celebration with the Festival of Colors avatar items. Get ready to bring a splash of color to Pokémon GO in celebration of the beginning of a new Season, Trainers. Let's GO!

Please be aware of your surroundings and follow guidelines from local health authorities when playing Pokémon GO. Upcoming events are subject to change."
Be sure to follow Niantic and the Pokémon GO Hub on social media to stay up to date with the latest news and information as soon as they are announced.
---
Parting Words
If you are playing in India, make sure not to miss out on this new and exciting event. Always remember to have fun and stay safe! Enjoy the colours as they brighten up life and create memorable experiences.