Trainers, be prepared to get hyped, a brand new item is coming to Pokémon GO, the Master Ball! The Master Ball is the ultimate form the Pokéball, it guarantees that you will catch whatever Pokémon you throw it at!
Master Ball is coming to Pokémon GO as part of a Special Research during the Pokémon GO Season 10: Rising Heroes. It will be usable on Pokémon encountered in the wild, via a Daily Adventure Incense, via a Lure Module, or after a Raid Battle. Available on May 22, 2023, in a new stage of the Seasonal Special Research.
Introducing the Master Ball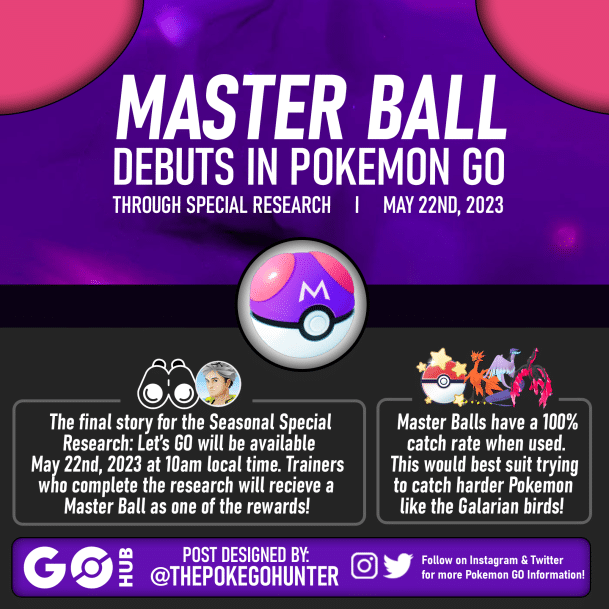 In the main series games, the Master Ball was created by the Silph Co, and was given to you for achieving specific things in game. For example, after gaining all 8 Gym Badges, or after defeating Giovanni. In Pokémon Scarlet and Violet it is described as 'The very best Poké Ball with the ultimate level of performance. With it, you will catch any wild Pokémon without fail.'
Traditionally for main series games they have been used to catch Legendary Pokémon, and is typically only given to you once in a game, so you have to use it wisely. In Pokémon GO, you will be able to use the Master Ball to catch any Pokémon without fail, whether it be in the wild, on daily adventure incense, via a lure module, or after a raid battle.
It will soon be available for all trainers in Pokémon GO via the Let's GO special season research, how will you use it?
Special Season Research: Let's GO
Free Special Research will be available for Trainers throughout Season 10: Rising Heroes! Go see what surprises Professor Willow has in store for you! The Free Special Research will be available to claim until the end of Season 10: Rising Heroes on June 1st, 2023 at 10:00 a.m. local time.
The next part of this Special Season Research begins on May 22nd at 10:00am local time, and Trainers who complete this will be given a Master Ball as one of the rewards!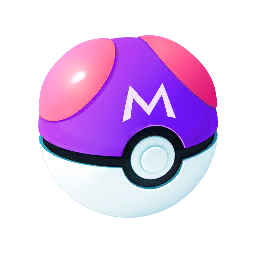 Receiving an item as rare and powerful as the Master Ball is a special occasion. Think wisely about how you use it, and what you will use it on!
Keep a lookout for more opportunities in the future in Pokémon GO to acquire more Master Balls.