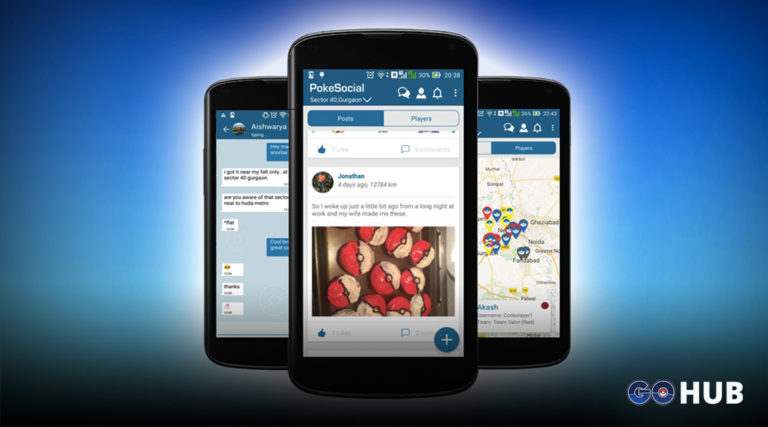 PokeSocial is a social network and chat app that lets you connect with Pokemon Go trainers around the world and be a part of their Pokemon Go journey. We have a short writeup about it.
Background
Few days back, two Pokemon trainers who shared the same passion for Pokemon Go that we have, felt that something was amiss in the game. That missing feature was the ability to interact with other trainers and share their Pokemon Go journey with them. This was when they realized that they as developers can work upon something that could fill this gap and help trainers socialize more easily. This event lead to the birth of the Social Network and Chat app for Pokemon Go which they aptly named as PokeSocial.
What's in the app?
PokeSocial is the first of its kind social network and chat app for Pokemon Go players around the globe. It was released just last week on Android and is now over 1000 users strong. The app offers following features:
Post updates of your Pokemon Go Journey. Like, Comment, View timelines and various other forms of interaction.
View other Pokemon Go players on a map and see which teams dominate the regions across the world.
Chat with other Pokemon Go players and view their profiles.
Multiple Privacy options such as location sharing enable/disable and block/mute chats to provide you the best possible experience
Other features such as Group chat, Team based chat and Public chat rooms releasing this Friday
Completely Ad-free. Since this app is completely build out of passion, we do not have any plans to monetize it till the time we can bear up the server costs
The app is only available for Android as of now. Coming very soon on iOS.
What the developers have to say
According to L (we sense Death Note fan here :P), one of the developers of the game "Pokemon is not just a game. It's a phenomenon that happened over 20 years ago and still echoes in the minds of people born in that era. Pokemon Go was bound to be a hit given the passion that people have in them for Pokemon. And we sense a similar passion in all the trainers that have joined the PokeSocial community. With just a few days since release, we see almost 200-300 daily active users (and let me remind you that we have just 1000 users on the app as of now) with over 200 posts, 400 comments and even more likes and other interactions on the app within such short span. "
The other developer Codeslayer says, "We constantly take feedback from the community and are working very hard to keep adding useful features. It is this feedback that motivates us to build and improve upon the app. With news about Pokemon Go planning to release Trading and Trainer battles, we expect a lot of trainers joining the community since PokeSocial will be a single stop solution where trainers can get in touch with other trainers regarding battles and trading".
Ending note
With Niantic continuously pushing updates for Pokemon Go and adding more features which help you socialize even further, it would be really interesting to see how PokeSocial fares in the long run. Till then, do let us know your feedbacks in the comments regarding the app and which other features would you like to see in the app. Gotta Connect em All!! Get the app here.