Delibird is a Tier 3 Raid Boss with 8791 Raid CP. Best Delibird counters are strong Rock attackers like Rampardos, Terrakion and Tyranitar. Delibird is a super easy solo raid that can be completed in less than a minute if you have Level 30+ counters.
Delibird can be caught with the following CP values:
578 – 625 CP (Level 20, not boosted)
723 – 781 CP (Level 25, boosted encounter)
Delibird can be shiny! Its a seasonal raid boss that appears only during December Holiday events: Pokémon GO Holidays 2019 Guide.
Delibird counters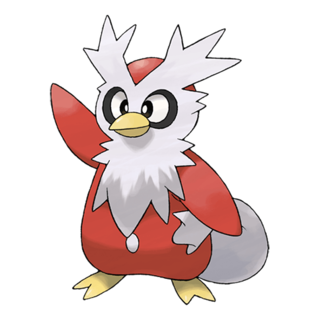 Delibird
| # | Pokemon | Fast Move | Charge Move | Time to win | Deaths |
| --- | --- | --- | --- | --- | --- |
| 1. | Rampardos | Smack Down | Rock Slide | 45.3s | 0 |
| 2. | Tyranitar | Smack Down | Stone Edge | 53.8s | 0 |
| 3. | Terrakion | Smack Down | Rock Slide | 50.9s | 0 |
| 4. | Omastar | Rock Throw | Rock Slide | 60.9s | 0 |
| 5. | Aerodactyl | Rock Throw | Rock Slide | 57.2s | 0 |
| 6. | Rhyperior | Smack Down | Stone Edge | 57.4s | 0 |
| 7. | Aggron | Smack Down | Stone Edge | 66.6s | 0 |
| 8. | Golem (Alola) | Rock Throw | Stone Edge | 61.2s | 0 |
| 9. | Golem | Rock Throw | Stone Edge | 61.6s | 0 |
| 10. | Metagross | Bullet Punch | Meteor Mash | 70.6s | 0 |
| 11. | Regirock | Rock Throw | Stone Edge | 69.8s | 0 |
| 12. | Heatran | Fire Spin | Stone Edge | 74.6s | 0 |
| 13. | Excadrill | Metal Claw | Rock Slide | 68.8s | 1 |
| 14. | Solrock | Rock Throw | Rock Slide | 70.8s | 1 |
| 15. | Lunatone | Rock Throw | Rock Slide | 71.0s | 1 |
| 16. | Jirachi | Charge Beam | Doom Desire | 83.9s | 0 |
| 17. | Entei | Fire Spin | Fire Blast | 80.6s | 0 |
| 18. | Chandelure | Fire Spin | Overheat | 73.6s | 1 |
| 19. | Dialga | Metal Claw | Iron Head | 79.0s | 0 |
| 20. | Sudowoodo | Rock Throw | Rock Slide | 76.1s | 1 |
| 21. | Flareon | Fire Spin | Overheat | 76.7s | 1 |
| 22. | Moltres | Fire Spin | Overheat | 76.9s | 1 |
| 23. | Electivire | Thunder Shock | Wild Charge | 78.5s | 1 |
| 24. | Magnezone | Spark | Wild Charge | 82.9s | 0 |
| 25. | Zapdos | Charge Beam | Ancient Power | 76.1s | 0 |
| 26. | Raikou | Thunder Shock | Wild Charge | 80.2s | 1 |
| 27. | Machamp | Bullet Punch | Rock Slide | 77.1s | 2 |
| 28. | Charizard | Fire Spin | Blast Burn | 81.6s | 1 |
| 29. | Emboar | Ember | Rock Slide | 77.8s | 2 |
| 30. | Probopass | Rock Throw | Rock Slide | 90.3s | 0 |