Trainers, the Hoenn Celebration is upon us! Below is our guide on how to get the most out of this new event. Enjoy!
The details of the event are below:
Pokémon GO Hoenn Celebration Event
Name
Hoenn Celebration
Description
Pokémon GO Generation 3 Event
Start date
January 15th 1:00 P.M. PDT
End date
January 29th 1:00 P.M. PDT
Effects

Increased Hoenn spawns in the wild
Hoenn Pokémon Field Research
New Hoenn Raid Bosses
Kyogre & Groudon Return as 5* Raid Bosses (Shiny Availability yet unconfirmed but suspected for Kyogre and anticipated for Groudon)
Hoenn Pokémon more likely to hatch from 7KM eggs
Evolving Shroomish into Breloom will allow it to learn Grass Knot (Exclusive Move)
Shiny Taillow & Zigzagoon will be available (Shiny Hype!)
New Team Aqua & Magma inspired avatar clothing available for purchase
Hoenn Celebration Event Graphic
The below graphic covers all of the event specifics in one place.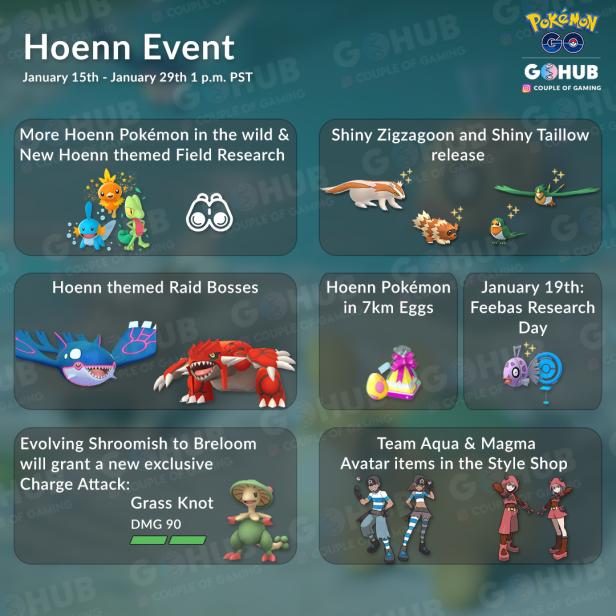 An Event Within An Event?!
Yes, "Feebas Day" will be smack-bang in the middle of this event, which makes sense as it's a Gen 3 Pokémon. The Hoenn Event should make it easier to encounter Feebas in the wild as well thus allowing you to gather even more candies, and evolve more of your favorite ones sooner (once you've walked it the require amount of KM of course.). Though we will not be able to confirm it until after the event begins, we also believe that since shiny Feebas will be available in quests during the 3 hour window on "Feebas Day", the extra Hoenn spawns should also include even more chances at catching a shiny Feebas in the wild after the special quest window ends on January 19th!
Event Priorities
There's certainly lots of different bonuses going on during this event and a lot of different things you could hope to achieve. Some of these are as follows:
Complete Gold Hoenn Dex Medal – Register 90 Pokémon from the Hoenn region into your dex. Earning candy for rarer Pokémon species such as Slaking or Bagon will help towards your medal.
Raid! Kyogre and Groudon are some of the best

Water

and

Ground

Pokémon available, so remember to raid regularly to catch some for your squads. Not to mention the chance at a potential shiny version (so far unconfirmed but we will update if this changes.)
Remember to evolve as many Shroomish as you're able to, in order to gain the exclusive move Grass Knot on Breloom. This will become a legacy move once the event ends.
Shiny Hunting! (not a priority by any means but if, like me, you're an avid Shiny Hunter, you will want to keep your eyes peeled!) Zigzagoon and Taillow are amongst the first shiny "Trash" Pokémon to be released (we're only kidding, we love you really!). This is in the same league as if Niantic were to drop shiny Pidgey or Rattata and will give a new lease of life to these two Pokémon families after the event ends.
Getting the most from this event
Its clear that Niantic wants everyone to enjoy this event. The bountiful features and effects are some of the most varied that we here at GoHub have ever seen! This features Pokémon from Eggs that previously weren't hatchable, new raid bosses, New Shiny Pokémon, New Research etc. so there really is something for everyone.
We imagine that by now, most daily Pokémon GO Players have already achieved a gold Hoenn medal but with such a varied player-base, we're sure that this event will give ample opportunity for those who do not.
New Shiny Pokémon?!
Shiny hunters rejoice! The shiny forms of Zigzagoon, Linoone, Taillow and Swellow will be released into the wild for you to find. The below table shows their normal and shiny forms so theirs no mistaking when you encounter one.
Shiny Forms

Pokémon

Normal Form

Shiny Form

Zigzagoon
Linoone
Taillow
Swellow
Parting Thoughts
Trainers, we encourage making the most of this event whilst it's here! This is one of the most varied events we've seen so far and believe that it would be a great time to pick up the game again if you have taken a break!
Get out there. Explore. Catch yourself some Hoenn Pokémon and maybe a new shiny!
Safe Journeys.