Master League is the highest PvP league in which you can currently participate in Pokémon GO. It has no CP limitations, so strong Legendaries, Pseudo-Legendaries and Mythicals such as Dialga, both Giratina forms, Melmetal, Darkrai, Dragonite, Garchomp, Metagross and Tyranitar are common picks.
The purpose of this article is to provide full details about the strongest Master League Pokémon, their best movesets, what they are strong against, and how to counter them.
First things first, here's a handy semi-simple infographic that you can save and reference later: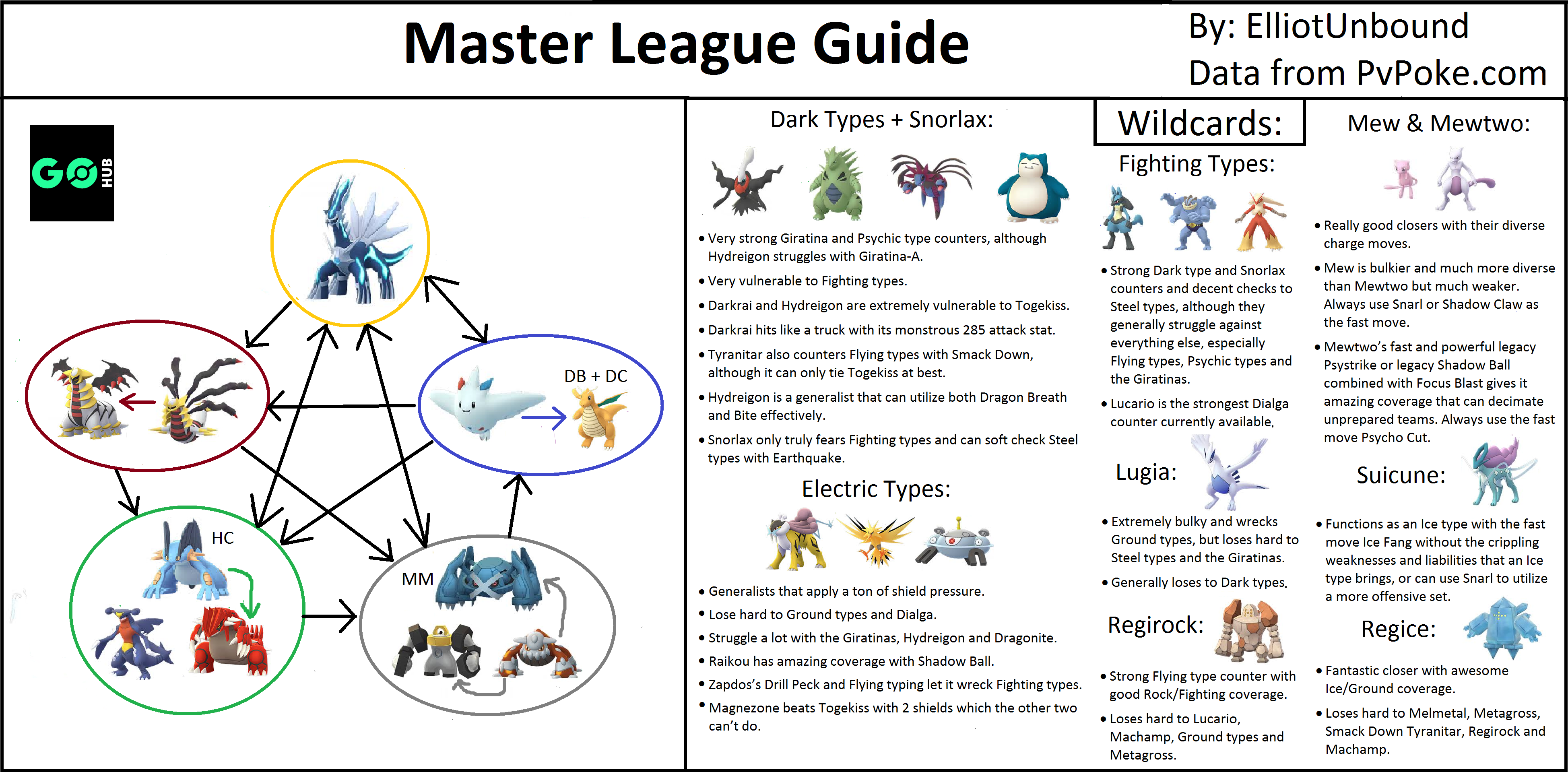 The Elite 4 of Master League
*
Legacy Move
These four Pokémon are the strongest contenders in Master League. They also have really good team synergy as they cover each others' weaknesses and vulnerabilities, so it shouldn't come to anyone's surprise if you see all four of them on any competitive Master League team. Dialga is the most mandatory as it is the current king of Master League. With two shields it can beat almost everything, even some of the Ground types and Fighting types that are meant to beat it. What makes it so strong is its access to Dragon Breath which is one of the strongest fast moves in PvP, its amazing typing that grants it many resistances, and it's the only Dragon type not weak to Dragon itself, which enables Dialga to counter opposing Dragon types very efficiently while having very good coverage moves that hit most Pokémon in Master League for at least neutral damage. Giratina-O is the other king as it forms an almost unstoppable core with Dialga by checking the Ground types, Fighting types and opposing Steel types that trouble it and is viable even in lower shield scenarios. Togekiss is one of the only Pokémon in Master League that can consistently beat Dialga with two shields and is one of the best leads in the format since it also easily beats both Giratina forms and Swampert with two shields. It also counters Garchomp and Groudon very well due to its typing and access to the powerful Fairy type fast move Charm. Togekiss can beat almost anything that isn't Heatran, Metagross or Melmetal with 2 shields. On top of that, it has Ancient Power as a charge move which has a 10% chance to raise its Attack and Defense by 2 stages. Because there are currently so many Dragon types in Master League and more will come in the future, Togekiss will always be relevant. Swampert is the best Steel type counter in the format. Although it struggles to consistently beat Dialga in the two shield scenario, what separates it from the other Ground types is its resistance to Steel and access to the insanely fast and powerful Hydro Cannon which gives it viability early game and hits all of the Steel types neutrally or super effectively except Dialga. Earthquake nukes Dialga and the other Steel types and has good coverage with Hydro Cannon. The combo only misses out on Dragonite. Since Swampert resists Steel, Poison, Rock and Electric, it makes a strong core with Togekiss. Togekiss has amazing matchups against Dragon types which are Swampert's biggest counters.
Giratina-Altered Form, Pros and Cons
Giratina-A is much bulkier than Giratina-O, but lacks a lot of power, which is what separates them the most. The movesets are also different, with Tina-O solely using Ghost type moves while Tina-A has access to more diverse charge moves and Dragon Breath as an alternate viable fast move. Tina-A also has Shadow Sneak as a charge move for Ghost type damage which lets it beat Steel types easier especially Melmetal, but it's a weak move and Tina-A can still usually beat them with Dragon Claw and Ancient Power so it's not worth using for the most part. Tina-O does the Ghost type attacker job much better anyway. Overall, Tina-A is a safer and less risky pick than Tina-O as it isn't easily hard countered like Tina-O is. One big advantage of Tina-O is it usually beats any moveset variant of Tina-A. It also has more solid and definitive wins, but gets hard countered by the Dark types and especially Snorlax as it double resists Ghost and is very bulky. Tina-A loses to Darkrai, Dragonite, Tyranitar and Snorlax if it uses Shadow Claw. Hydreigon still loses because of Dragon Claw spam. If Tina-A uses Dragon Breath, then it can break through Dragonite, Darkrai, Snorlax (2 shields), opposing Tina-A with Shadow Claw, and can at best tie with Tyranitar. Dragon Breath also solidifies the matchups against Hydreigon, Suicune, Electric types and Ground types even more, but you then lose the positive matchups against Metagross and Melmetal even if you also have Shadow Sneak.
One of Tina-A's main perks is that it can take on those 2 huge threats with a Shadow Claw set. Shadow Claw also gives you extra insurance against Psychic types and gives you the best chance against Togekiss so overall it's the better fast move. Tina-O should never use any other moves besides the ones listed. Dragon Tail is strong but it's a slow fast move and has worse coverage overall. Dragon Pulse is weak and has a high energy cost, so even with it Tina-O still struggles to beat Dragon types, Snorlax and Dark types. Both Giratina forms have access to charge moves that grant a 10% chance to raise their attack and defense by 2 stages upon usage of the move, and if they ever get that boost the match is basically over unless they face a Snorlax or Tyranitar. They both lose to Dialga regardless of the moveset they have.
Garchomp and Groudon
Like Swampert, the main role of these Pokémon is to counter Steel types, Tyranitar and the rare Electric types. They both unfortunately lose to Dialga in the two shield scenario but they pick up consistent wins on it when shields are down. Swampert is the only Ground type that can beat Dialga with two shields but it has to bait both shields successfully with Hydro Cannon in order to do so. Garchomp basically ties Dialga in the one shield scenario while Groudon is a convincing win. Against the other Steel types, Garchomp picks up convincing wins in all even shield scenarios, although its lack of a Steel resistance can prove problematic versus Metagross. Groudon can only beat Metagross in the one shield and two shield scenarios if it has an energy advantage or charge move priority, but it wins regardless with shields down. Groudon also beats Melmetal and Heatran in every even shield scenario.
Both Garchomp and Groudon should only be used late game or when shields are down on the opponent's side, as that's when they can really show their true potential. Earthquake from the both of them combined with their coverage moves can OHKO or 2HKO almost everything in Master League. One thing to note is Groudon and Garchomp lose hard to Swampert in the two shield scenario. All 3 have a really rough time dealing with Dragon types and Flying types if shields are up.
Steel Types
*
Legacy Move
These Pokémon counter Flying types and the various Dragon Breath users, although Heatran loses to DB Giratina-A and struggles with Hydro Pump Lugia. The most valuable trait of these Steel types is they hard counter Togekiss even if it has two shields. They also serve as soft checks to Dialga since they resist Dragon Breath but will usually have to rely on shield baiting and avoiding Thunder to actually beat it. Metagross has Earthquake coverage which hits Dialga for super effective damage so overall it's the best check to it of the three. Heatran loses the hardest to Ground types, but it counters Metagross and Melmetal with Fire Spin and double resists Charm from Togekiss, making it the strongest Togekiss counter in the game. It also is pretty consistent at beating Dialga. Using Fire Blast over Stone Edge gives you an even higher chance of beating it. However, this leaves Heatran unable to beat Dragonite and Lugia consistently.
Metagross functions as a generalist, using its hyper aggressive moveset and amazing coverage to wreak havoc on its opponents. It also only takes neutral damage from Fighting type attacks thanks to its sub-Psychic typing. Overall, it's the safest Steel type pick as it has the fewest hard losses. Notably, it has the best matchup of the three versus Ground types. Melmetal is the fastest but has the worst coverage and is the least consistent at beating Dialga. Rock Slide and Flash Cannon leave it very vulnerable to Swampert, Magnezone and Metagross, but the trade off is it has the best matchup versus Lugia, Darkrai, Zapdos and Tyranitar.
Dragonite
*
Legacy Move
As a pure Dragon type attacker with the best possible Dragon type PvP moveset, Dragonite definitely makes some huge waves in Master League. Although its role may seem completely outclassed by Dialga at first, Dragonite has a few advantages over the Master League king. For starters, Dragonite wrecks Ground types and Fighting types rather than being weak to them. Due to its typing and moveset, Dragonite is actually the strongest Swampert and Groudon counter in the game. It also doesn't have to worry about potential Ground type coverage from the likes of Snorlax. Dragonite turns out to have a positive matchup against it. Having only Dragon attacks, however, leaves it extremely vulnerable to Togekiss and Steel types including Dialga, although Dialga will be at a huge disadvantage if it gets hit by Outrage. Dragonite's typing also leaves it vulnerable to potential Ice type coverage from Mew, Mewtwo and Suicune. Its biggest drawback overall is that its two best moves are legacies that were only available until early 2017. Dragonite is only viable for PvP in general with its double legacy moveset, so if you don't have one and still want a DB + DC Pokémon on your team seek other alternatives such as Giratina-A which learns that moveset.
Dark Types + Snorlax
*
Legacy Move
Hard counters to Giratina-O and most Psychic types. Darkrai, Snorlax and Tyranitar handle Shadow Claw Giratina-A very well. Hydreigon loses to both fast move variants of Tina-A. Bite Tyranitar beats DB Tina-A, beats Metagross with shields and 100% secures the win against any Mew or Mewtwo set with two shields, although in general Smack Down is better because it allows Tyranitar to tie with Togekiss and counter Dragonite, Darkrai (2 shields), Hydreigon (2 shields), and beat Zapdos easier. Smack Down still secures the win against Tina-O, Shadow Claw Tina-A, Shadow Claw + Focus Blast Mew, Focus Blast + non-Psystrike Mewtwo, Heatran and Lugia. If you're worried about Snarl + Focus Blast Mew or Psystrike + Focus Blast Mewtwo, Hydreigon is a better Bite user in general to use and counter them with due its more useful resistances. Bite Hydreigon also has an easier time against Metagross and Melmetal due to it not being weak to Steel.
Darkrai is glassy, but its massive attack stat and good coverage enable it to beat Snorlax, Mew, Mewtwo, Bite Hydreigon, Bite Tyranitar, Extrasensory Lugia, Heatran (2 shields), and Metagross. Bite Hydreigon beats all the Steel types besides Dialga with two shields and with it can even beat Dragon Tail Lugia with two shields, something Darkrai can't even do. Dragon Breath has the same power as Bite, makes it much harder for Dragonite and Garchomp to counter it, has higher energy gain and hits Fighting types and opposing Dark types for strong neutral damage, making it the overall better fast move. However, it leaves Hydreigon more vulnerable to Steel types, Mew and Mewtwo. Dragon Breath still leaves it unable to beat Dialga.
Snorlax is the safest option of the bunch, having only one weakness that isn't common and it's very bulky. It sort of functions as a generalist using the strong fast move Lick to wear things down combined with its excellent coverage charge moves Body Slam and Earthquake. The main drawback of Snorlax is it has the lowest power of the four, which proves to be detrimental versus foes such as Mew, Lugia and Darkrai. Snorlax also has good matchups against Tyranitar, Raikou and all the Steel types if it's using Earthquake as the second charge move, although it will have to bait both shields with Body Slam successfully and land an Earthquake in order to beat all of them in the two shield scenario. Darkrai, Bite Tyranitar and Hydreigon lose extremely hard to Togekiss. Snorlax generally has a losing matchup versus Togekiss. All four lose pretty hard to Fighting types especially Machamp and Lucario.
Electric Types
*
Legacy Move
Specialized Flying type and Suicune counters that apply a ton of shield pressure, but Zapdos has to watch out for Suicune's Ice moves. They also perform really well against Metagross. Dragonite gives them trouble due to its strong Dragon Breath and sub-Dragon typing making Electric type moves neutral. Raikou is the strongest of the three, sporting fantastic Electric/Ghost coverage that is only resisted by Hydreigon.
Zapdos's sub-Flying typing and Drill Peck give it the best matchup against Ground types and Fighting types of the three. Although it still generally loses to Ground types, it's not as hard of a loss as Raikou and Magnezone. Zap Cannon is another strong weapon in Zapdos's arsenal. It does insane damage to anything that doesn't resist it and even to some things that do. For example, it does 50% HP minimum to Dialga and 55% HP minimum to Swampert. Zapdos is also the strongest Metagross and Lugia counter in the game. Because its main moves are resisted by Electric, Raikou and Magnezone make decent Zapdos counters.
Magnezone is the slowest and loses the hardest to Ground types, but it's the only Electric type capable of beating Togekiss with two shields, which in itself is enough to make Magnezone viable as there are very few Pokémon capable of doing that. It also hard counters Melmetal and handles Lugia better than Raikou. All three Electric types lose fairly hard to Ground types, Dialga, Dragonite, Hydreigon and the Giratinas.
Fighting Types
*
Legacy Move
Very strong Dark type, Regice, Regirock and Snorlax counters, although Blaziken is more designed to counter Steel types. Lucario is the glassiest of the three so it requires both shields to beat almost anything. Unlike the other Fighters, it loses to Heatran, but it's the best and most consistent Dialga counter in the game, beating it easily even in the two shield scenario thanks to its Dragon resistance and Power-Up Punch boosting its attack stat. Another perk of Lucario is after it beats Dialga or pretty much anything, it has the opportunity to take something else out with a boosted Shadow Ball or force the opponent to use a shield if the next switch in cannot afford to take such an attack. Lucario also beats Metagross, Magnezone and Melmetal convincingly but since it's weak to Fighting itself it loses to the other Fighters.
Machamp is the bulkiest and safest option of the three as it has Rock type coverage to hit Flying types, but it still hard loses to them the majority of the time, especially with shields up. The legacy move Cross Chop is generally the better Fighting charge move for it, but Dynamic Punch is still viable and in some situations is better. Machamp grabs strong victories against Snorlax, the Dark types, Magnezone, Heatran and Melmetal. Its Metagross matchup is very shaky. Blaziken struggles to beat Snorlax and Dragon Breath Hydreigon, but it picks up solid victories versus Darkrai, Magnezone, Tyranitar, Heatran, Melmetal and Metagross. All three Fighters lose hard to Psychic types, Flying types and the Giratinas.
Lugia
Say hello to the bulkiest Pokémon in Master League. Lugia's sky high defense stat and great HP stat prevent it from being OHKO'd by any attack from full health, even Zapdos's super effective Zap Cannon! Its typing and moveset lets it dispatch Ground types and Fighting types easily. Dragon Tail is by far the better fast move as it has superior coverage and most importantly allows Lugia to beat Dragonite, Darkrai (2 shields) and Dragon Breath Hydreigon. Extrasensory allows Lugia to beat Togekiss with 2 shields, although it worsens almost every other matchup, especially Dark types. Sky Attack is the mandatory charge move as it has fairly good neutral coverage and is Lugia's fastest move. The choice between Future Sight and Hydro Pump as the second charge move is a very tough one.
Hydro Pump is a nasty surprise for Regirock, Magnezone, Tyranitar, Heatran, Melmetal and Metagross, but Heatran is the only one that really can't afford to get hit by it. The others still beat Lugia fairly easily. Future Sight is Lugia's best option to hit Zapdos and Raikou and lands a strong neutral hit on Dragonite, the Giratinas, Regirock and Snorlax. However, it leaves you completely helpless against Steel types and Tyranitar. Regardless of the second charge move you decide to go with, Lugia loses pretty hard to Giratina-O, Shadow Claw Giratina-A, Melmetal, Zapdos, Metagross, Bite Hydreigon, Regirock, Dialga and Tyranitar.
Regirock
Similar to Steel types, Regirock makes a good counter to Flying types while also boasting very good coverage with its charge moves. Rock/Fighting hits every relevant threat for at least neutral damage and hits many common threats for super effective damage. Focus Blast notably allows Regirock to beat Dialga, Hydreigon, Tyranitar and Heatran each with two shields, even without baiting with Stone Edge! It can also beat Darkrai and Magnezone although shield baiting is required. What holds Regirock back from being as good as the Steel types though, is its lack of useful resistances and its crippling weaknesses to Ground, Steel and Fighting, but it somewhat makes up for it with its colossal bulk. Although Regirock has the fastest Stone Edge in the game, it loses to Dragonite. However, it beats Regice and every other relevant Flyer pretty consistently, even Hydro Pump Lugia.
Mew & Mewtwo
*
Legacy Move
As you can see, these Pokémon are very diverse. Their wide range of coverage moves allow them to hit almost everything in Master League for super effective damage. Because they mostly rely on their charge moves to inflict damage, they function best as closers or when shields are down.
Mew is bulkier than Mewtwo but has much less power. Snarl is Mew's highest energy gaining fast move but it is quite weak. Shadow Claw is slightly slower than Snarl, but is stronger and lands more chip damage on opposing Psychic types, Togekiss, Fighting types and the Giratinas. Since Mew has a very large amount of fast moves, just stick with whichever costs the fewest Fast TMs. Focus Blast is mandatory on Mew as it gives it the best shot at breaking through Dark types, Regice, Regirock, Snorlax and Steel types, landing a devastating hit on all of them. Although it has a very high energy cost, Mew is bulky enough to reach at least one during the match. The second charge move is entirely up to whatever you think will support your team the best. Ice Beam has the best coverage with Focus Blast, hitting Flying types and most importantly the Giratinas, which resist Fighting, for super effective damage. Ice Beam notably enables Mew to get past Lugia and hits Garchomp and Dragonite for a near OHKO since they are double weak to Ice. Dark Pulse is an option to hit opposing Psychic types super effectively while still maintaining super effective coverage on the Giratinas, but leaves you very vulnerable to Togekiss. Rock Slide is another good option to hit Regice and Flying types and is faster than Ice Beam. The combination of Shadow Claw + Rock Slide still allows Mew to beat Lugia and is its best option against Togekiss. Dragon Claw is Mew's fastest charge move and makes it very annoying to deal with in general especially for Dragon types, but it fails to do significant damage to the Giratinas and Dialga and leaves you helpless against Togekiss. It should be noted though, that Dragon Claw paired with Focus Blast gives Mew the strongest shield bait potential. If you feel the rest of your team covers all of the aforementioned threats, Psyshock gives Mew a reliable, semi-quick STAB move to solidify its matchups against Fighting types but leaves Mew without a solid option to hit Lugia, Mewtwo and opposing Mew.
Mewtwo is much more straightforward than Mew, using its whopping 300 attack stat and strong charge moves to OHKO or 2HKO almost everything. It is significantly less bulky, however. Strong neutral attacks like Swampert's Hydro Cannon, Melmetal's Flash Cannon and Metagross's Meteor Mash can overwhelm it very easily. Psystrike is Mewtwo's fastest charge move and paired with Focus Blast has fantastic coverage that only misses out on Mew, Lugia and opposing Mewtwo. Shadow Ball takes two fast moves longer to reach than Psystrike, but has much better coverage overall and has completely unresisted coverage with Focus Blast. Shadow Ball hits opposing Psychic types for super effective damage and most importantly hits the Giratinas super effectively, netting an easy 2HKO on both of them. It also hits Dialga, Melmetal and Heatran for strong neutral damage so Mewtwo doesn't have to rely on Focus Blast too much to hit them. Focus Blast is insanely powerful on Mewtwo, OHKOing anything weak to it, even Snorlax! If you don't have any legacy Mewtwo, Ice Beam is the best charge move to use with Focus Blast for maximum coverage. If you have a Shadow Ball Mewtwo and you decide Focus Blast isn't your cup of tea, then Ice Beam paired with it makes a pretty strong combination as well. The two moves hit every relevant threat in Master League for at least neutral damage. Both Mew and Mewtwo lose pretty hard to the Giratinas, Dark types, Snorlax and Dialga, but they all need to watch out for potential super effective coverage moves.
Suicune
Suicune is one of those Pokémon that wishes it was a different type, but at the same time is glad that it isn't. In this case, it functions better as a bulky Ice type rather than a Water type. Unlike Ice types though, Suicune doesn't have crippling weaknesses to Steel, Fighting, Rock and Fire. With the Ice Fang moveset, Suicune makes a good counter to Togekiss, Dragonite, Garchomp, Groudon and Hydreigon. It can also go toe-to-toe with the Giratinas and Lugia, but those matchups are pretty even. Bubble Beam is very weak in power, but it has a nifty 100% chance to lower the opponent's Attack stat by 1 stage which helps Suicune support its team even further. Although Suicune resists Steel, Pokémon such as Metagross, Heatran and Melmetal make very good counters to the Ice Fang set and so does Regice.
Dialga takes neutral damage from Ice attacks but still counters Suicune strongly due to its powerful Dragon Breath and Thunder. Snarl lets Suicune spam Ice Beam and opens the gateway for Hydro Pump, letting it function similarly to how Azumarill is used in Great League. This set allows Suicune to turn the tides against Steel types, but leaves it very vulnerable to shields on your opponent's side. Dragonite, Hydreigon and Togekiss turn from convincing wins for Suicune to crippling losses in the two shield scenario. Snarl only worsens your matchups versus pretty much everything besides Steel types.
Regice
With shields down, Regice is a force to be reckoned with. Blizzard and Earthquake are powerful and combined they hit almost all of the core Master League meta for super effective damage. Ice is a terrible defensive typing, but Regice has the bulk to fire off multiple charge moves and survive some super effective hits.
Honorable Mentions
*
Legacy Move