The second September Mega themed event is now live. The event lasts from Friday, September 11, 2020, at 8:00 a.m. to Thursday, September 17, 2020, at 10:00 p.m. local time. Trainers need to complete 275 million Gym, Rocket, or Trainer Battles to unlock Mega Houndoom and shiny Ledyba is being released during the event.
In addition, a timed-research quest line is available. Completing this quest line rewards Mega energy, Stardust and two useful evolution items.
---
Event bonuses
It's all about Mega Beedrill! You can receive Beedrill Mega Energy by completing event-exclusive Field Research tasks. When you use Mega Beedrill in Gym battles, Team GO Rocket battles, and Trainer Battles (excluding GO Battle League battles) during the event period, it'll receive a temporary CP boost!
You can receive Mega Energy for Venusaur, Charizard, and Blastoise by completing event-exclusive Field Research tasks.
The following Bug-type Pokémon will appear more frequently in the wild: Caterpie, Weedle, Paras, Venonat, Scyther, Pinsir, Ledyba, Spinarak, Wurmple, Kricketot, and Burmy.
We're getting word that Team GO Rocket will be using different Shadow Pokemon during this event as well! Be sure to Mega Evolve Beedrill before you take on Team GO Rocket!
Be on the lookout for raid and battle-focused Timed Research during this event!
If you're lucky, you might encounter a Shiny Ledyba!
---
Timed Research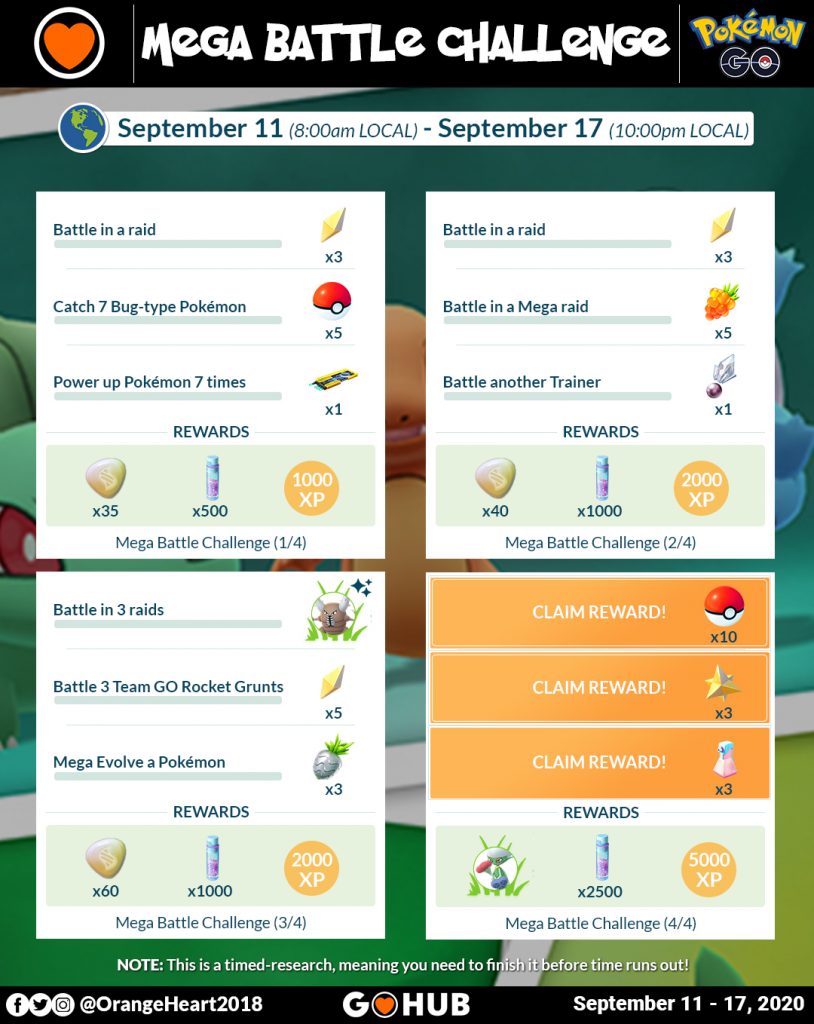 Stage 1
Battle in a Raid (3 Revives)
Catch 7 Bug Type (5 Pokeballs)
Power Up a Pokemon 7 Times (Upgrade)
Completion rewards: 35 Mega Beedrill Energy, 500 stardust, 1000 XP
Stage 2
Battle in a Raid (3 Revives)
Battle in a Mega Raid (3 Golden Razz Berries)
Battle another trainer (1 Sinnoh Stone)
Completion rewards: 40 Mega Beedrill Energy, 1000 stardust, 2000 XP
Stage 3
Battle in 3 Raids (Pinsir(s))
Battle 3 team GO Rocket Grunts (5 Revives)
Mega Evolve a Pokemon (1 Silver Pinap Berry)
Completion rewards: 60 Mega Beedrill Energy, 1000 stardust, 2000 XP
Stage 4
10 PokeBalls
3 Max Revives
3 Hyper Potions
Completion rewards: Roserade, 2500 stardust, 5000 XP
---
Event Raid Bosses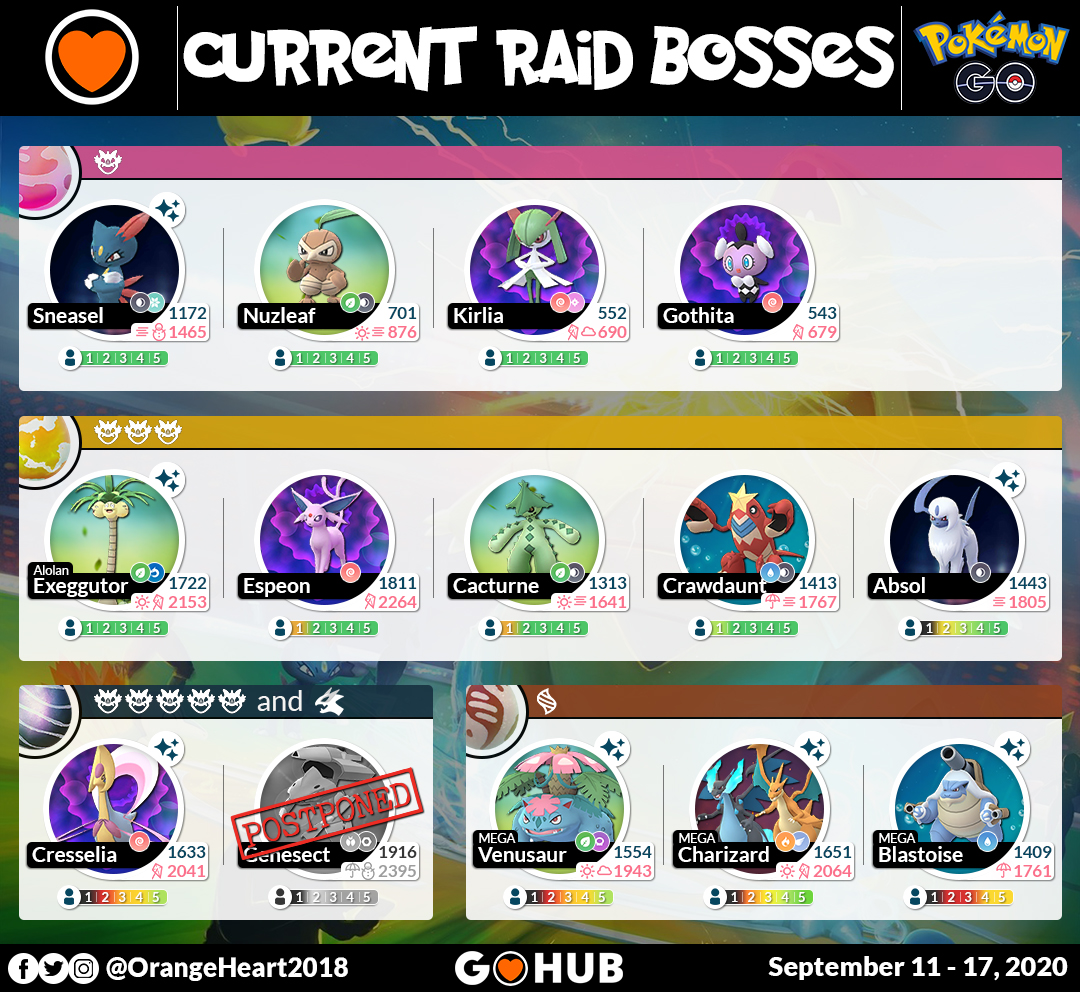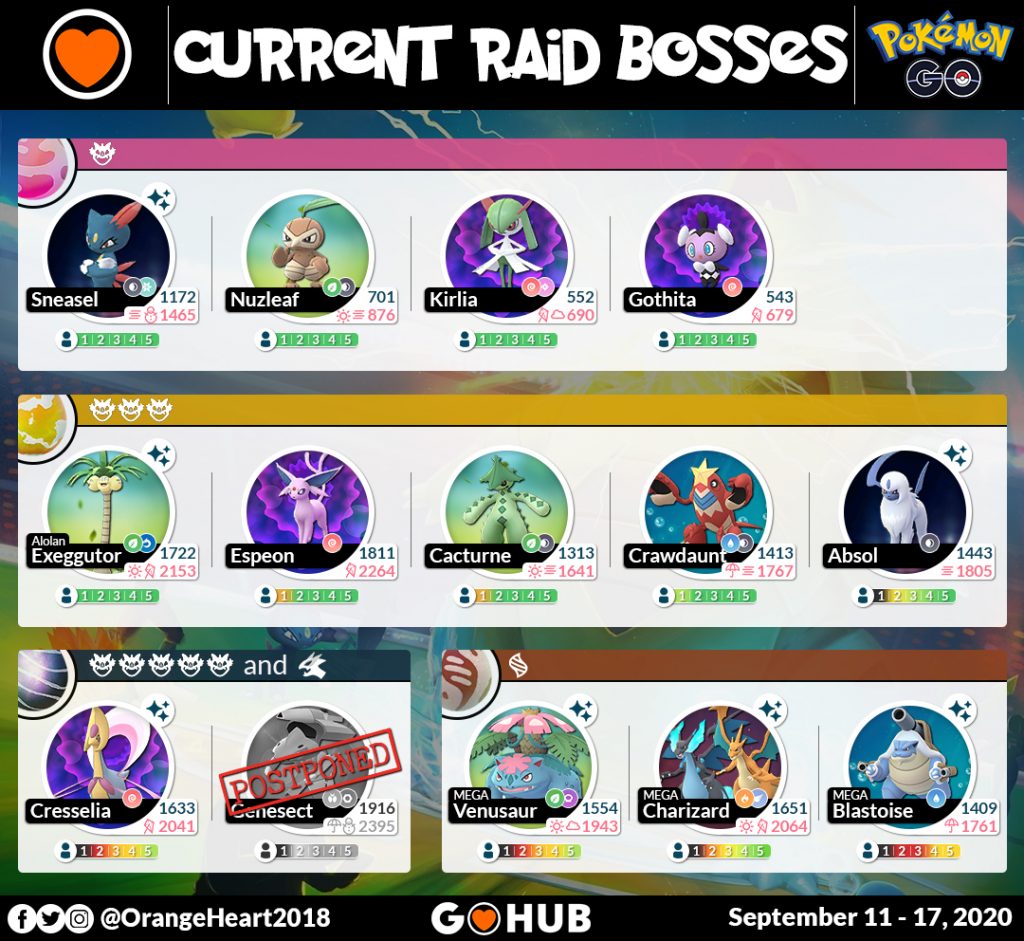 ---
New field research
| Task | Reward |
| --- | --- |
| (Daily) Catch 5 Bug-type Pokemon | 5 Mega Beedrill Energy |
| Defeat a Team Rocket Grunt | 10 Mega Beedrill energy |
| Catch 5 different Bug-Type Pokemon | Ledyba(s) |
| Mega Evolve a Beedrill | 20 Mega Beedrill Energy |
| Battle another trainer | 5 Mega Energy (Charizard, Blastoise or Venusaur) |