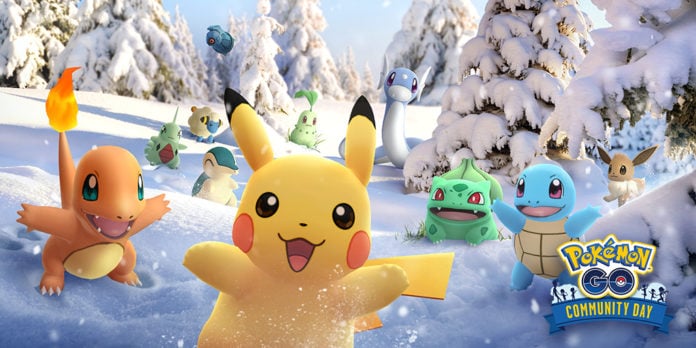 Trainers, after a unusually long wait, most likely delayed due to the recent release of Let's Go Eevee and Pikachu, we finally have an announcement for the next Community Day Pokémon! From the update to the Community Day page on pokemongolive.com it will feature . . . all of the Pokémon from previous Community Days!
A rehash of sorts for all the previous Pokémon that had Community Days, from Pikachu to Cyndaquil, boosted in spawns for the entire duration of the event, which lasts from November 30th, 2018 to December 2nd, 2018.
Below, we summarized everything into one handy table that covers everything that's coming Pokemon GO December Community Day:
Date

Starts: November 30th, 2018 at 1 p.m.
Ends: December 2nd, 2018 at 11 p.m. (Friday-Sunday)
Community Day Bonuses on December 1st, 2018 (Saturday)

Times (Community Day Bonuses)

APAC: 12:00 p.m. to 3:00 p.m. JST (GMT +9) December 2nd
Europe, the Middle East, Africa, and India: 10:00 a.m. to 1:00 p.m. UTC (GMT +0) December 1st
The Americas and Greenland: 11:00 a.m. to 2:00 p.m. PST (GMT -8) December 1st

Pokémon
Bulbasaur, Charmander, Squirtle, Pikachu, Eevee, Dratini, Chikorita, Cyndaquil, Mareep, Larvitar, and Beldum
Exclusive Move
All prior moves: Frenzy Plant, Blast Burn, Hydro Cannon, Surf, Last Resort, Draco Meteor, Dragon Pulse, Smack Down, and Meteor Mash
Bonus 1
2x Catch XP
Bonus 2
2x Catch Stardust
Bonus 3
1/2 Egg Hatch Distance
Bonus 4
3-Hour Lures
Admittedly, there are some things we do not know, like the shiny rates, and whether they will be Community Day rates for the entire weekend, just during that 3-hours on the 1st, or no boost to rates at all, and since those have never actively been disclosed before, only time will tell. We will be on the lookout to see how common or rare these shinies might be!
Our industry contacts are vague on this matter and we are not ready to confirm anything, but we think (note, please!) that the increased shiny rate will be applied only during the CD hours. Whether or not a different shiny rate will be present throughout the whole event duration, we don't know.
In any case, if you missed a Community Day, Niantic is giving a early gift for the holidays and allowing you the chance to snag that exclusive move you missed, or allow you the chance at another shiny!