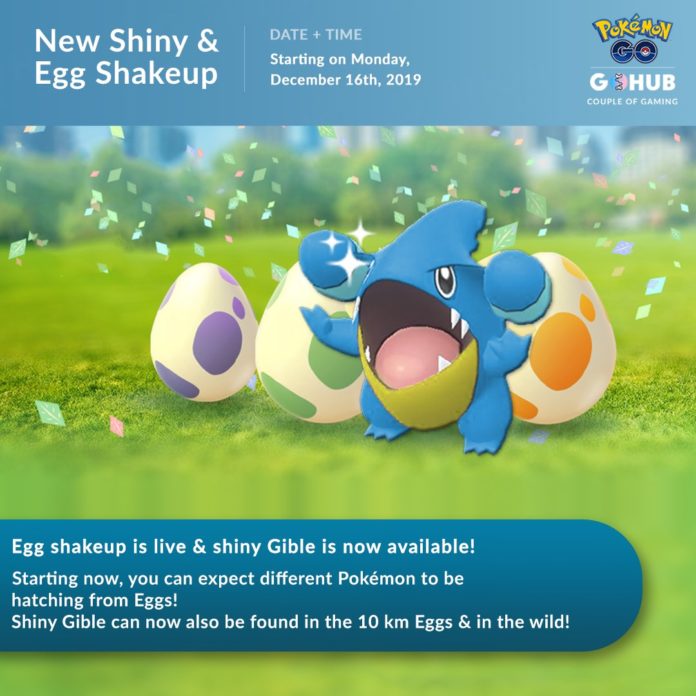 Trainers, shiny Gible has been silently released in Pokémon GO! Yesterday evening, players started reporting shiny Gible sightings, just as Niantic pushed a notification stating that new Pokémon are hatching out of eggs. Gible can be found in 10KM eggs and in the wild, but chances are slim for a wild encounter.
According to our Pokemon GO December Events Guide, "All scrambled up!" was scheduled to begin yesterday, and it was absolutely on point. The only thing Niantic forgot to include in their original announcement is shiny Gible.
Here's how shiny Gible and its evolutions look like:
There's a lot of confusion about this shiny release, and we'll try to clarify as much as we can:
Shiny Gible was not released by a mistake
Niantic has acknowledged its existence via Twitter:
That is one nice looking Gible! ✨ https://t.co/9EmKlEfPo9

— Pokémon GO (@PokemonGoApp) December 17, 2019
Gible is available in 10KM eggs and wild encounter. Spawn rates are not boosted.
We don't know how this affects the potential of Gible being featured on Community Day. Maybe it does, maybe it doesn't.
We don't know why this wasn't officially announced in the first place. Maybe it's part of Niantic's marketing strategy for this event, or maybe it was decided after the December event schedule was posted. Either way, here we are now.
You can find more information on Gible, Gabite and Garchomp on our Pokémon GO database: