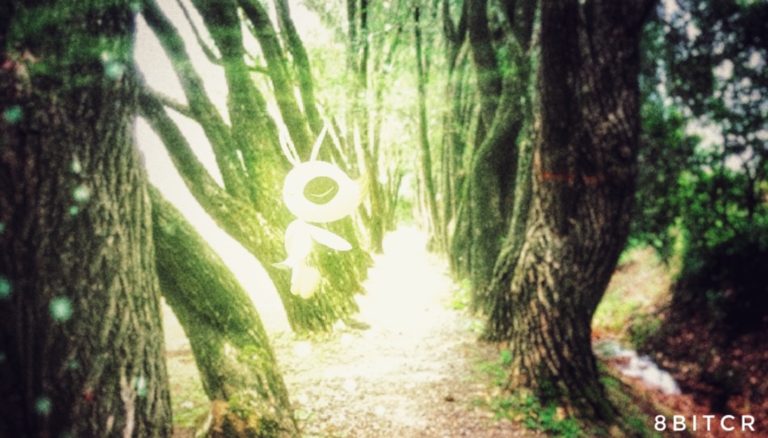 As Pokémon GO advances in the field of AR technology, it only makes sense that Trainers worldwide become more and more interactive in the way they play, and part of this is not only being a Pokémon Trainer, but being an AR Photographer as well.
Throughout this past month, Trainers worldwide have gone out to photograph Pokémon in the wild, and along with these photographs, they have brought back a story to tell, in this article we will take a look at these Photographs, the stories behind them, and the Trainers who took them. These are their photos, these are their stories.
---
The AR Photographers
In this section we will cover those photos submitted by your fellow Trainers which highlight not only the essence of what is AR Photography, but the story and process behind it.
Shadow Ball
"This was my homage to Shadow Ball Mewtwo leaving EX Raids. This was the last EX raid I had and decided to photograph him floating on water via his Psychic energy. This was a tricky shot to get cause he kept floating away as AR technology doesn't really stick to moving water that well. Luckily it worked out and I'm very pleased with this edit."
Location: California, United States
Photographer: PopPunkPokemonYT
Editor's Notes: Most EX Raid Trainers have a Shadow Ball Mewtwo, however few can encapsulate this with a photo, an effect can make or break a great photo but that depends on how far a Photographer is willing to work
The Right Moment
"It was the middle of the night in San Francisco when my research encounter turned out to be a shiny Aerodactyl. I couldn't get a good picture without any light so I saved it for later. When I finally found the right place my phone was nearly dead. There was a mother and daughter nearby taking pictures of the ships so I asked if either of them had a charger and one of them did. I explained the situation and we laughed while I took a few pics. My phone died on the way back to my car but the picture turned out to be my favorite ever."
Location: California, United States
Photographer: Kimberly Noelle
The Entei, the Witch and the Wardrobe
"Heading to one of my favorite spots to hunt for shiny Shellder I realized I had my reward to claim and got an Entei. It just so happened that I was near one of my favorite buildings in the area, the Royal Victoria Patriotic Building. It's an amazing Victorian building in Gothic style and I couldn't miss out on what I think is my best AR picture so far as Entei is very photogenic. I believe Entei matches the background perfectly. I never miss on adding some dramatic edits as well. :)"
Location: London, United Kingdom
Photographer: KantoBuck
Mount Go-Fest
"This was my very first time attending Go-Fest ever! And this was the first photo I took of the day of my first ever Torkoal! I had been wanting to take AR photos for a while but Go-Fest's habitats inspired me to start a whole Instagram dedicated to posting them. I've been using a simple phone editor to edit these as well. I'll never forget this day and I'll never forget my first Torkoal!"
Location: Illinois, United States
Photographer: PopPunkPokemonYT
Celebi Sunset
"This was a Celebi encounter taken at Topeekeegee Yugnee park. The sun was setting behind the trees, promoting highly-textured silhouettes of the branches and leaves, while allowing enough light to flare and penetrate, balancing the overall shot with some warm, contrasting tones."
Location: Florida, United States
Photographer: Clockwurk
Summer Days
"Every evening a group of about 8 of us get together at our local park and walk back and forth just grinding Pokémon and shiny checking. It's a time I look forward to a lot as it's a bonding period with people I don't get to see out of our daily Pokémon playing. This photo is a mark of our great summer ending and moving into fall. I know these nightly walks will end when winter comes and this whole park is ice, so I appreciate it while I can and I think little Spinda here appreciates it too!"
Location: Nova Scotia, Canada
Photographer: AleatraLorisa
Gaze Upon the Waters
"On our way to a popular spot for catching Pokémon, we came across a lovely place on a rocky beach. My buddy Entei and I have been walking for quite a while and it was the perfect time and place to take a rest. The waves were crashing with might against the rocks producing sounds similar to thunder rumbling. We stayed there, amazed by the sheer force of the sea for about an hour before resuming our journey. But before that, we agreed to immortalize this moment we spent together."
Location: Batroun, Lebanon
Photographer: Will-O-wisp
Editor's Notes: The single detail stopping AR photos from looking realer, is their shadows, but for this photographer, that wasn't the case, by going in and adding the shadow themselves, the realism has gone from 0 to 100
Copa Mundial
"Hitmonlee, a rebel to society, is just practicing his kicks at the local soccer field. He's trying to qualify to make team USA, and participate in the next World Cup in 2022. He has plenty of time to work hard, evolve, and upgrade his skills. Hopefully a recruiter spots him soon, and gives him the last open spot on the team."
Location: NJ, United States
Photographer: ScottieBlaze
MU2
"I'm a laboratory technician. My job involves evaluating cell morphology under a microscope. Usually I have some description of what I'm looking at. Muscle, bone, nerve tissue, etc. I'm suppose to look for changes and abnormalities and note what they are. One day last month we had some very official people come in and tell us we were going to be involved with some government research. We would be doing some blind studies on some unknown tissue and evaluating it for any changes from what we suspected was normal. We would be loaning them one whole floor of the laboratory. In return we would receive a much needed upgrade to equipment, facilities, and even pay. The catch was no one could know. Months passed with us evaluating mostly nerve tissue, with no change. Then one day I had a fresh sample waiting, along with a government scientist. Never had they sent someone to "guard" a sample. I read the label before evaluating the sample. 'MU2' Most samples had one letter and a number so I found this odd but continued my work. I informed the scientist I had never seen such a thick sample of spinal cord tissue and the nerve connection in it must be unlike anything we've ever seen in another species. He nodded quietly and left. I finished the day and left. I felt the ground tremble underneath as I left the compound of the lab and the gate immediately slammed shut behind me. This only happens in a power failure or lock down. I pulled out my phone to call my supervisor who had just gone into the lab. I heard several screams then silence. I felt a sudden chill. That chill you feel when something isn't right. I saw this creature descend in front of me from the other side of the perimeter fence. I felt fear and anger that weren't my own. It was like I could see myself through its eyes. I felt a sudden pain when I took this picture. I woke up a day later in the hospital with no memory of getting there."
Location: Tennessee, United States
Photographer: Chesnut519
Editor's Notes: The photo itself may not be much, but the AR Showcase is not only meant for photos but for their stories as well, taking a good photo is something that can take even years of work to accomplish, but coming up with a great story? That takes something special
Nurse Chansey
"This is a human hospital in Harajuku, Tokyo. Chansey is a nurse working here. Patients who cannot be cured by any doctor gather here. The reason is for Chansey's eggs. Chansey's eggs are full of nutrition, they're things you can eat quickly and are filled with energy! Many patients have come to seek Chansey's treatment today, and Chansey welcomes me with a smile everytime."
Location: Tokyo, Japan
Photographer: risokichi
Editor's Notes: We have all wanted to see Nurse Chansey, everyone, and I am glad to see that someone finally came up with the right edit for it, it is such a minor detail, but done so well.
Overhead Encounter
"Here is the address of the King. A Volcano unexplored by humanity. The volcano is steep and the king lives in a place hidden by further erosion. It was time to hunt today! Entei saw its prey and pounced down from the volcano! I had to photograph that moment!"
Location: Yokohama, Japan
Photographer: risokichi
Editor's Notes: Some photos are common, from in front, from the side, even from behind, but from below? Now that's special, in most cases this tends to be an AR error, but here, the photographer turned it into a positive and snapped a photo unlike any other.
Exuberant Eevee
"It was a wonderful, sunny and hot day… I was out hunting Eevee in the local park downtown along with a crowd of other Trainers. Because of all the people, more of them were drawn out to the grass. Most were pretty nervous but this shiny little guy wanted to play! After rough housing a little bit he calmed down enough and allowed himself to be caught."
Location: California, United States
Photographer: NijiMarii
Editor's Notes: Certain animations are never seen in AR Photography, and well, finding a running Eevee is about as rare of an animation as it gets, the photo may not bring much, but finding a unique animation in every Pokémon is a detail that one cannot ignore
Let Nature Take Its Course
"The key to a great AR picture is knowing well the movements and nature of the Pokemon you're photographing. When I encountered Celebi in this forest I started studying his animations trying to decipher his patterns. After a little while I took the first picture, and I noticed that when he is in his light swirl I could still manage to see him inside of it. A few minutes went by and I finally got it to sync, his natural movement, the background to make him as visible as possible inside of the swirl, and the angle from which I took the picture. I finally managed to capture him for my PhotoDex, entry 148."
Location: San José, Costa Rica
Photographer: 8BitCR
The Prisma Process
"To celebrate the upcoming Moltres day I wanted to revisit one of my old, unprocessed Moltres AR photos and play around with it to create something a little bit more stylized. While the original was shot near sunset, it lacked some warmth so I edited it in Snapseed to bring out a bit more contrast and colour. I then took it into Prisma in order to give it a more interesting look. I settled on this one because the colours further added to the warmth and the art style applied added a feeling of flames and heat waves coming from the fire bird."
Location: London, United Kingdom
Photographer: Earl0flem0ngrab
Editor's Notes: Sometimes it just takes a filter to win you over, with the line effect becoming more and more dense where the photo darkens, it helps to create an immense illusion of depth that is impossible not to love
Castle Guardian
"Castle park is the main hub for Pokémon Go Players in Bristol, our meeting point for community based events. Many players will tell you how they feel a protective presence around the castle. Entei appeared to us one day standing proud to tell us we would always have a protector around."
Location: England, United Kingdom
Photographer: Pokegosnaps123
---
The AR Masters
Our AR Masters went out to photograph Pokémon in the wild, bringing back something special to share. Who are the AR Masters? They are those that we have deemed experts in the field of AR Photography.
Jurassidactyl
"Recently we went to Universal Studios in Orlando, Florida. As a big fan of Jurassic Park, I was eager to visit the corresponding theme park. After taking an 85-foot plunge from the Jurassic Park River Adventure boat ride, we continued our journey through the scenic tropical jungles accompanied with prehistoric dinosaurs. Over there, we stumbled upon a massive T-Rex which was finding its way through the jungle. While looking at the nearby sightings, I was lucky enough to have a wild Aerodactyl spawn and put him in front of the T-Rex. As the Pokédex tells us that Aerodactyl roamed the skies in the dinosaur era, a battle of the ancients was recreated!"
Location: Orlando, FL, United States
AR Master: Ash Ketzchup
Lift-Off
"Having finished a long day at work, I got word of two legendary raids at EX eligible gyms and headed directly for the park. Despite initial interest being low, I fought rush hour traffic across town and enough people arrived to team up against this powerful new boss. Afterwards I chose to briefly stroll through the park only to be swarmed by mosquitos! In a panicked moment of brushing them off of me, I felt a sudden gust of wind and looked up to see Mewtwo launching an attack! I grabbed my phone with barely enough time to catch him on camera before flying away. I wonder; was it fighting off a cheerful Meganium or was it attacking the mosquitos as well?"
Location: North Carolina, United States
AR Master: Craxed
Pure Majesty
"I had my photo ideas and locations already planned for the Legendary Beasts since June. For Entei, there was no question that his photos would be taken at the top of our dormant volcano, Haleakalā. His reddish-brown coloring would be perfectly suited amongst the Mars-like landscape of the summit. And being 10,000 feet above sea level lets Entei's flowing tail hold dominion over the clouds below him. I couldn't ask for a more perfect setting for this majestic beast."
Location: Hawaii, United States
AR Master: Ryusui
You Spin me Right Around
"Another beautiful day to catch Pokémon. We were walking around for a few hours and looking for a sitting spot and put on some lures. We played some music and a wild Hitmontop came out of the bushes while he nodded his head. He showed us his best dance moves and I couldn't resist taking some pictures of him!"
Location: Ghent, Belgium
AR Master: ShinyMajinrobin✨
---
AR Master Photo Research
In order to highlight the diversity in AR Photography, Professor Willow has tasked the AR Masters with a special mission, next month we will take a look at what they brought back and see exactly how they managed to get their perfect AR photo.
Professor Willow's Photo Research
---
Honorable Mentions
With the amount of Trainers submitting AR Photos, and with so few in comparison being selected for our Monthly AR Photo Showcases, we thought it important to feature those Photos there were almost there that didn't quite make it for one reason or another.
---
Final Notes
Based on popular demand, or better said; the lack of, we have removed our "Who's That Pokémon" Photo section and have instead replaced it with our newest segment featuring Professor Willow and the AR Masters! I would have loved to have seen the "Who's That Pokémon" Photo section take off, but at the end of the day, if that implies limiting the creative interest of Photographers, then I am more than willing to let it go. The AR Masters are a creative bunch, and I can't wait to see their ingenuity starting next month.
Links
Take some great photos, have some great fun, and above all else stay safe, Trainers! We can't wait to see what Spooky photos you send in next month!