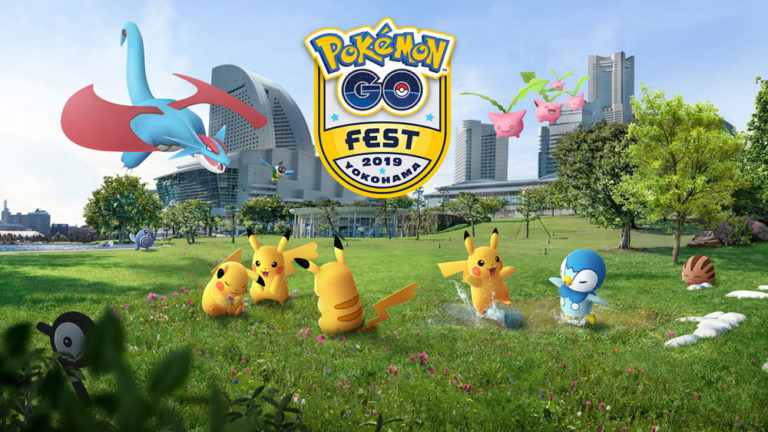 Details about the upcoming Pokémon GO Fest in Yokohama (Japan) 2019 have finally been announced. The event takes place at Yamashita Park, Rinko Park, and Akarenga Park from August 6 to August 12 2019, from 10 A.M. to 5 P.M. local time. Our previous article on this topic details the Pikachu Outbreak event that takes place during the same time in Yokohama: Pikachu Outbreak and GO Fest Yokohama 2019 Announced!
Pokémon GO Fest Yokohama 2019 event details
Event
Pokémon GO Fest Yokohama 2019
Logo
Date + Time

August 6 – 12, 2019
10 A.M. – 5 P.M. local time

Location

Yokohama (Japan), Kanagawa Prefecture
Yamashita Park
Rinko Park
Akarenga Park

Description
Explore Pokémon habitats within Yokohama's parks with thousands of Trainers from around the world. Attend Pokémon GO Fest 2019 on Tuesday, August 6, through Monday, August 12. All days will offer the same enhanced experience, but you can only choose one.
Similar to Pokémon GO Fest Chicago and Pokémon GO Fest Dortmund, the Yokohama version will feature a new set of special research, unique challenges for onsite visitors that will influence the global game and special photo ops. There won't be any special raid battles, as clarified in the official Japanese blog post.
Participation is free, but it will be a pre-application lottery system. Niantic is accepting application for participation from Wednesday, June 19 (Wed) from 8:00 am to Friday, June 28 (Fri) 8:00 am! On June 29th (Saturday), Niantic will notify winners if they were drawn through the lottery system.
There are several Pokemon featured on the official cover, including Chatot, the southern hemisphere regional Pokémon:
Pikachu Outbreak in Yokohama 2017 impressions
This is definitely not the first time that a large scale Pokemon event is taking place in Yokohama, as the Pikachu Outbreak in 2017 was immense. Back in 2017, Niantic shared the following data:
2 million Pokemon GO fans attended the Pikachu Outbreak and related events over the 7 event days
120 million Pokemon were caught
15 million Pikachu were caught
Mystic7 also published a great video overview from the event:
If you're planning to attend the event, be sure to read our A Tourist's Guide to Pokémon Go in Tokyo article which highlights some of the best places to play Pokémon GO in Tokyo, which is quite near Yokohama and should definitely be visited while you're there.