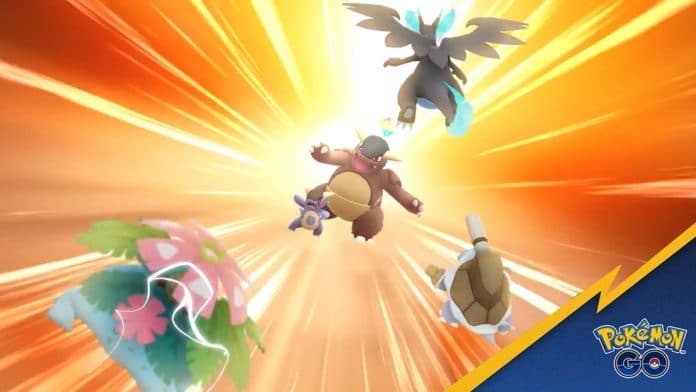 A Mega Moment Special Research is a new Special Research story with branching tasks is available to Trainers level 5 and up! This short quest line features the original Kanto starters and allows Trainers to collect Mega Energy to evolve one of them.
In this guide we outline all Tasks and Rewards for this Special research. Do note that this is a branching quest line, meaning you can only select one Starter which will be featured throughout the quest line.
A Mega Moment was released a part of the Mega Evolution update rolling out globally.
A Mega Moment Tasks and Rewards
A Mega Moment (1/4)
Story

Hello there, %PLAYERNAME%! I have something exciting planned for you today—you could even say it's a mega surprise! Haha! I still have a few loose ends to wrap up, though. While I finish my preparations, how about you take a quick survey of the area and see what Pokémon are out and about today? I'll be ready by the time you're back.
Tasks
| Task | Reward |
| --- | --- |
| Catch 3 Pokémon | |
| Catch 3 Pokémon | |
| Catch 3 Pokémon | |
Rewards:
500 XP,
200 Stardust,
10 PokéBall
A Mega Moment (2/4)
Story

Ah, good—you're back. I've just finished getting everything ready. Have you tried to Mega Evolve a Pokémon lately? Something about Mega Evolution caught my attention recently, so I was hoping you could help me investigate. Let's take a closer look at Mega Evolution, from beginning to end.
First, let's choose which of these Pokémon you'd like to be the star of our research, %PLAYERNAME%! Once we're done, our understanding of Mega Evolution will be second to none.
Branching choice
Choose Venusaur, Charizard or Blastoise, and try out Mega Evolution for yourself.
By choosing Venusaur, you'll be able to earn Venusaur Mega Energy and encounter Venusaur later!
By choosing Charizard, you'll be able to earn Charizard Mega Energy and encounter Charizard later!
By choosing Blastoise, you'll be able to earn Blastoise Mega Energy and encounter Blastoise later!
The quest text changes depending on your selection in the next steps. We are sticking with Venusaur, but do note that each selection has a vary slightly different story.
Tasks
Task
Reward
Catch 5 Pokémon
10

x

Poke Ball

Use 5 Berries to help catch Pokémon
10

x

Great Ball

Power up Pokémon 5 times
10

x

Razz Berry
Rewards:
200 Mega Energy for your selected Pokémon
1x Premium Raid Pass,
Encounter with a fully evolved selected starter Pokémon
A Mega Moment (3/4)
Story

Welcome back, %PLAYERNAME%! Now that we're fully warmed up, let's tuck into our research on Mega Evolution.
Some theorize that a strong bond between a Trainer and a Pokémon is the key to Mega Evolution. We've also seen that Mega Energy can play a role. However, I noticed recently that if you Mega Evolve your Pokémon once using Mega Energy, you won't need to use Mega Energy to Mega Evolve that Pokémon again.
Let's Mega Evolve Venusaur and see if that's true for ourselves, %PLAYERNAME%!
Tasks
Task
Reward
Earn 5 hearts with your buddy
50

x

Mega Candy

Power up Pokémon 5 times
50

x

Mega Candy

Mega evolve a Charizard / Venusaur / Blastoise
1

x

Charge TM
Rewards:
1000 XP,
600 Stardust,
100 Mega Energy for your selected Pokémon
A Mega Moment (4/4)
Story

What a magnificent Mega Venusaur, %PLAYERNAME%!
Let's keep growing: why don't you take on a Raid Battle with your mighty Mega Venusaur? There may even be a Team GO Rocket Grunt lurking about, looking for a battle.
Mega-Evolved Pokémon are powerful allies. Their strength in battle is unmatched! I'm sure there's more to learn about Mega Evolution, so why stop now? Let's GO!
Tasks
Task
Reward
Win a raid
6

x

Revive

Defeat a Team GO Rocket Grunt
2

x

Silver Pinap Berry

Take a snapshot of your buddy
6

x

Hyper Potion
Rewards:
2000 XP,
1500 Stardust,
100 Mega Energy for your selected Pokémon