A complete list of November 2021 Field Research tasks, rewards and encounters. Includes  Pokémon encounters and Mega Energy rewards.
Do note that event-exclusive Field Research will override monthly research tasks during event duration. You can find an overview of November events here.
November Research Breakthrough
📅  Starts Monday, November 1, 2021, at 1:00 p.m. PDT (GMT −7)
📅  Ends Wednesday, December 1, 2021, at 1:00 p.m. PST (GMT −8)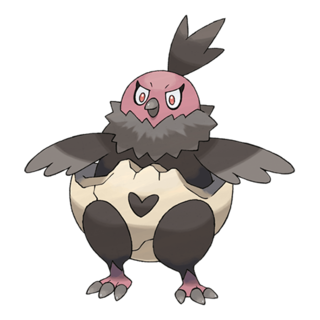 Vullaby
Players will be able to get Vullaby from Field Research Breakthrough rewards during November 2021.
Field Research
November field research tasks will be available during the following period:
📅  Starts Monday, November 1, 2021, at 1:00 p.m. PDT (GMT −7)
📅  Ends Wednesday, December 1, 2021, at 1:00 p.m. PST (GMT −8)
Catch
| Task | Reward |
| --- | --- |
| Catch 10 Fire-type Pokémon | 10 Charizard Mega Energy |
| Catch 10 Grass-type Pokémon | 10 Venusaur Mega Energy |
| Catch 10 Normal-type Pokémon | 10 Pidgeot Mega Energy |
| Catch 10 Water-type Pokémon | 10 Blastoise Mega Energy |
| Catch 3 Shadow Pokémon | Lickitung |
| Catch 5 Pokémon with Weather Boost | |
| Catch 7 Pokémon | Chinchou |
| Catch 7 Pokémon | Magikarp |
| Catch a Dragon-type Pokémon | |
| Use 5 Razz Berries to help catch Pokémon | Misdreavus |
Throw
Task
Reward
Make 3 Excellent Throws

Beldum

Make 3 Excellent Throws in a row

Gible

Make 3 Great Throws
Make 3 Great Throws in a row

Onix

Make 5 Great Curveball Throws in a row

Spinda

#2

Make 5 Nice Throws

Dunsparce
Gifts and friends
| Task | Reward |
| --- | --- |
| Sent 5 Gifts to friends | Joltik |
| Earn 2 Candies walking with your buddy | Bunnelby |
| Earn 3 Candies walking with your buddy | Stunfisk |
| Give your buddy 3 treats | Slowpoke |
Hatch
Power up and evolve
Task
Reward
Evolve a Pokémon

Eevee

Power up Pokemon 5 times
Power up Pokémon 3 times
Power up Pokémon 5 times

10 Venusaur Mega Energy
10 Charizard Mega Energy
10 Blastoise Mega Energy
10 Beedrill Mega Energy
10 Pidgeot Mega Energy

Power up Pokémon 7 times
PokéStop
| Task | Reward |
| --- | --- |
| Spin 3 Pokéstops or Gyms | Baltoy |
| Spin 3 Pokéstops or Gyms | Sudowoodo |
| Spin 5 Pokéstops or Gyms | Ralts |
Raids and Trainer Battles
| Task | Reward |
| --- | --- |
| Use 10 supereffective Charged Attacks | 20 Manectric Mega Energy |
| Win 5 raids | Aerodactyl |
| Win a Level 3 or higher raid | |
| Win a raid in under 60 seconds | Ninetales |
| Win a Trainer Battle in the GO Battle League | Shieldon |
Other
| Task | Reward |
| --- | --- |
| Take 2 snapshots of a wild Electric-type Pokémon | Magnemite |
| Take a snapshot of a wild Pokémon | |
| Trade a Pokémon | Machoke |
| Walk 2km | Woobat |