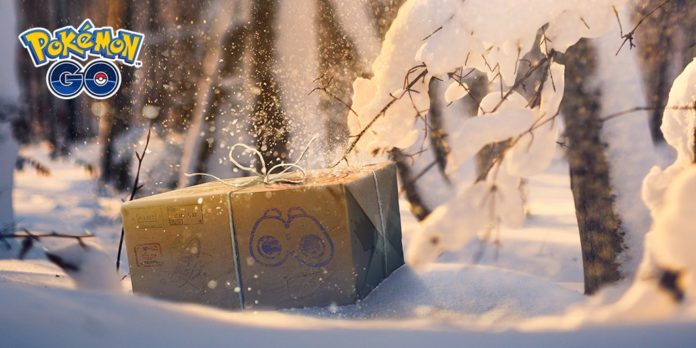 Trainers, from November 1, 2019, at 1 p.m. PDT (GMT −7) to January 1, 2020, at 1 p.m. PST (GMT −8) the following Pokémon will be in Research Breakthroughs:
All of the Pokemon in Research Breakthroughs can be shiny. The following table shows Research breakthrough CP ranges for each possible encounter:
| Pokemon | Min CP | Max CP |
| --- | --- | --- |
| Articuno | 1249 | 1308 |
| Zapdos | 1448 | 1511 |
| Moltres | 1422 | 1485 |
| Kyogre | 1695 | 1764 |
| Groudon | 1695 | 1764 |
Research encounters feature Pokemon with a minimum of 10/10/10 IV values.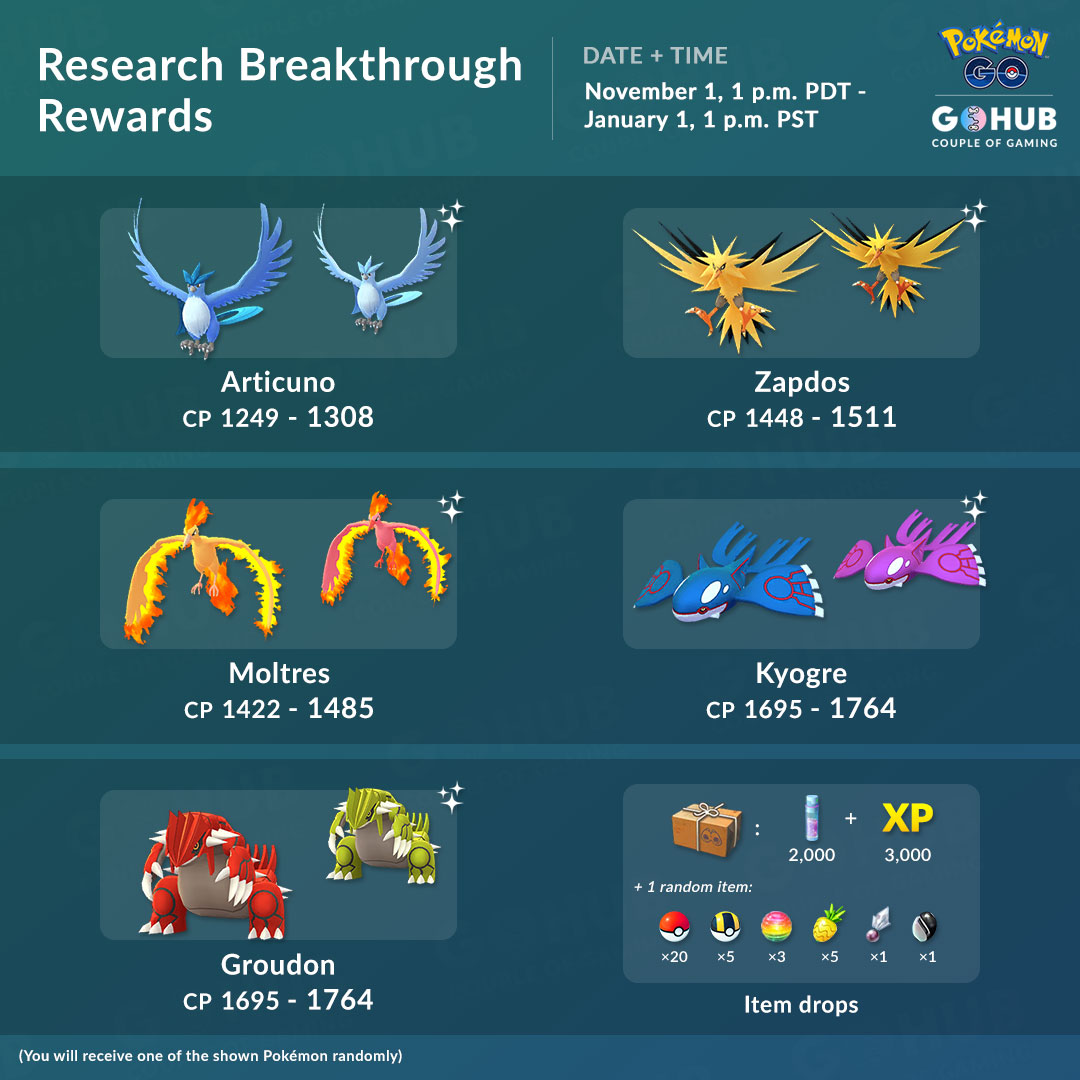 Raiding bonanza
November and December research breakthroughs bring a great selection of meta viable Pokemon:
Zapdos is an excellent Electric type, and with Thunder Shock it is only second to Electivire and Raikou. However, Thunder Shock was an exclusive Raid Day move back in 2018, so we don't expect to see it in Research Breakthroughs.
Moltres has lost some flare with the introduction of Chandelure, but it is still one of the strongest available Fire and Flying types. Unfortunately, similar to Zapdos, it's best Flying-type move is the now unobtainable Sky Attack.
Kyogre is a tanky, mega powerful, Water type, second only to Hydro Cannon Swampert in terms of DPS. However, Kyogre still packs enough punch to be useful.
Groudon is a Ground-type beast, with somewhat terrible moves, but enough oomph to still be interesting. See a pattern here?
Articuno is the odd one out here and I hope you won't get one.
Best for PvP… Articuno?
Unfortunately, none of the Gen 1 Legendary Pokemon is useful in Trainer Battles but… Surprisingly, Articuno could be the one Pokemon you want for PvP from November and December Research breakthroughs.
Admittedly, Articuno is not great in the Great League, but it is miles ahead of Zapdos and Moltres. Articuno is a low tier Ice type in PvP, but if you don't have a Lapras, Alolan Sandslash, Alolan Ninetales, Glalie or any other Ice type, you can use it.
Unlikely tho.