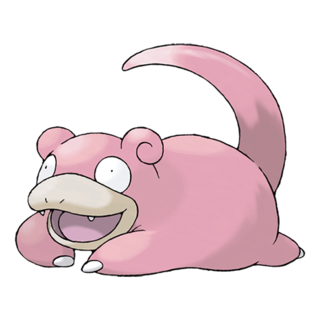 Slowpoke
Slowpoke is a tier 4 raid that can be soloed and is exclusive to the 5-hour window immediately following Slowpoke Community Day.
Slowpoke has a raid boss CP of 12504, and can be caught with the following CP values:
650 – 700 CP at Level 20, no weather boost
812 – 876 CP at Level 25 with

Windy

or

Rainy

weather boost
Slowpoke evolves into Slowbro with 50 candies or Slowking with 50 candies and a King's rock.
These raids can only be participated in via in person raid passes, using either your free daily raid pass, or premium remote raid passes. You cannot partake in them using remote raid passes.
Completing these special raids will cause Slowpoke to appear around the gym in higher numbers, with the same shiny rate as during Community Day hours!
Slowpoke Counters
Since Shadow Pokémon are extremely expensive to power up and require specific events to remove Frustration with a Charge TM, they will NOT be listed as raid counters in this article. That being said, if you have the shadow form of a listed raid counter Pokémon powered up and TMed, use it.
The best raid counters according to our GO Hub battle simulator for Slowpoke are:
#
Pokémon
Fast Move
Charge Move
TTW
Faints
1.

Sceptile (Mega)

Fury Cutter


Bug

Frenzy Plant


Grass

122.49s
2.00
2.

Gengar (Mega)

Shadow Claw


Ghost

Shadow Ball


Ghost

112.68s
3.50
3.

Banette (Mega)

Shadow Claw


Ghost

Shadow Ball


Ghost

128.35s
3.33
4.

Houndoom (Mega)

Snarl


Dark

Foul Play


Dark

143.38s
2.00
5.

Manectric (Mega)

Thunder Fang


Electric

Wild Charge


Electric

138.39s
3.17
6.

Absol (Mega)

Snarl


Dark

Dark Pulse


Dark

140.75s
2.67
7.

Gyarados (Mega)

Bite


Dark

Crunch


Dark

160.64s
0.83
8.

Ampharos (Mega)

Volt Switch


Electric

Zap Cannon


Electric

156.02s
2.17
9.

Venusaur (Mega)

Vine Whip


Grass

Frenzy Plant


Grass

153.43s
3.00
10.

Scizor (Mega)

Fury Cutter


Bug

X-Scissor


Bug

172.94s
2.17
11.

Kartana

Razor Leaf


Grass

Leaf Blade


Grass

168.07s
3.00
12.

Alakazam (Mega)

Psycho Cut


Psychic

Shadow Ball


Ghost

173.00s
2.67
13.

Latios (Mega)

Dragon Breath


Dragon

Solar Beam


Grass

184.72s
1.83
14.

Gardevoir (Mega)

Charm


Fairy

Shadow Ball


Ghost

180.67s
2.50
15.

Beedrill (Mega)

Bug Bite


Bug

X-Scissor


Bug

155.58s
6.17
16.

Zekrom

Charge Beam


Electric

Fusion Bolt


Electric

187.55s
3.00
17.

Xurkitree

Spark


Electric

Power Whip


Grass

176.53s
4.33
18.

Darkrai

Snarl


Dark

Shadow Ball


Ghost

197.03s
2.00
19.

Hydreigon

Bite


Dark

Brutal Swing


Dark

203.47s
1.67
20.

Zarude

Vine Whip


Grass

Power Whip


Grass

206.79s
1.17
21.

Salamence (Mega)

Bite


Dark

Outrage


Dragon

201.30s
2.17
22.

Abomasnow (Mega)

Razor Leaf


Grass

Energy Ball


Grass

194.39s
3.00
23.

Groudon (Primal)

Mud Shot


Ground

Solar Beam


Grass

200.95s
2.50
24.

Giratina (Origin)

Shadow Claw


Ghost

Shadow Force


Ghost

204.99s
2.50
25.

Hoopa (Unbound)

Astonish


Ghost

Shadow Ball


Ghost

214.03s
1.40
26.

Gholdengo

Hex


Ghost

Shadow Ball


Ghost

205.47s
2.67
27.

Thundurus (Therian)

Volt Switch


Electric

Thunderbolt


Electric

193.87s
4.33
28.

Gengar

Shadow Claw


Ghost

Shadow Ball


Ghost

191.25s
6.00
29.

Electivire

Thunder Shock


Electric

Wild Charge


Electric

204.15s
5.00
30.

Chandelure

Hex


Ghost

Shadow Ball


Ghost

194.84s
5.25
31.

Hoopa (Confined)

Astonish


Ghost

Shadow Ball


Ghost

210.02s
3.40
32.

Weavile

Snarl


Dark

Foul Play


Dark

217.80s
2.50
33.

Yveltal

Snarl


Dark

Dark Pulse


Dark

223.47s
1.33
34.

Zoroark

Snarl


Dark

Foul Play


Dark

213.13s
3.25
35.

Pheromosa

Bug Bite


Bug

Bug Buzz


Bug

175.93s
7.00
Slowpoke Stats and Max CP
Slowpoke

Water

Psychic

Max CP at Level 40 1226 | Max CP at Level 50 1386
ATK 109
DEF 98
HP 207

Weak To:
Strong Against:

Bug

Dark

Electric

Ghost

Grass

Fighting

Fire

Ice

Psychic

Steel

Water
Slowpoke Movepool
Fast Moves
Charge Moves

Water gun

Water

Confusion

Psychic

Psychic

Psychic

Psyshock

Psychic

Water Pulse
*denotes Legacy Move