This is a quick refresher guide for tomorrow's Zapdos Day, a more in depth look at the Zapdos Raid boss can be found here (CLICK IT). Zapdos is the second Kanto Regional legendary reward to appear during the 2018 summer events tour.
Important Information
Zapdos is the only Raid Boss that will hatch during the event period, and if Articuno was any indication, they will all hatch at the very start of the event lasting the duration. As usual, there is no guarantee that you will encounter a Shiny Zapdos during the event. Shiny rates vary from trainer to trainer, but usual shiny rates for Raid bosses is roughly 1/19 based on this research article done by The Silph Road.
We recommend planning out the size of your raiding party and mapping out your route in advance to maximize your Zapdos encounters during the 3 hour event window.
You can only hold one free raid pass at a time but can pick up up to 5 during the 3 hour window. Here are the event times in various regions: (PAY ATTENTION TO GMT OFFSET FOR YOUR COUNTRY)
The Asia-Pacific region: 12:00 p.m. to 3:00 p.m. JST (GMT +9)
Europe, the Middle East, Africa, and India: 9:00 a.m.to 12:00 p.m. UTC (GMT +0)
The Americas and Greenland: 11:00 a.m. to 2:00 p.m. PT (GMT -8)
The Plan of Attack
Back at it again with the Smack-Tar. Tyranitar once again proves its value as king of the Rock types. A handful of trainers with full squads of level 25+ Smack Down / Stone Edge Ttars should have no issue making quick work of Zapdos. As an added bonus, you likely already have this team saved as a battle party from Articuno Day.
Zapdos is weak to both

Rock

and

Ice

. If you're short on Smack Down Tyranitars, throwing in some double rock Golems are always a great option.
Double

Ice

attackers like Jynx, Piloswine and Articuno are also viable options.
Prepare your battle party in advance. If you're really worried about it, prepare 2!
Smack Down Tyranitar vs Zapdos Break Points are kinda high, but here are they regardless:
Attack IV
Breakpoint level
(neutral weather)
Breakpoint level
(partly cloudy)
Damage
18
22
15
35.5
39.5
14
36
40
13
36.5
–
12
37
–
11
37.5
–
10
38
–
With GREAT FRIENDS bonus
Damage
19
22
15
39
35.5
14
39.5
36
13
40
36.5
12
–
37
11
–
37.5
10
–
38
Zappy Stats (CPs and IVs)
Zapdos is the second best electric type Pokemon currently available in the game and will continue to hold that place until the release of Generation V Legendary Pokemon. That being said, this will be the third time Zapdos has been made available; second time as a raid boss. These are the numbers you want to see:
1820 –  1902 CP (raid catch no weather boost, level 20)
2275 – 2378 CP (raid catch with

Rainy

or

Windy

weather boost, level 25)
Useful Info Graphics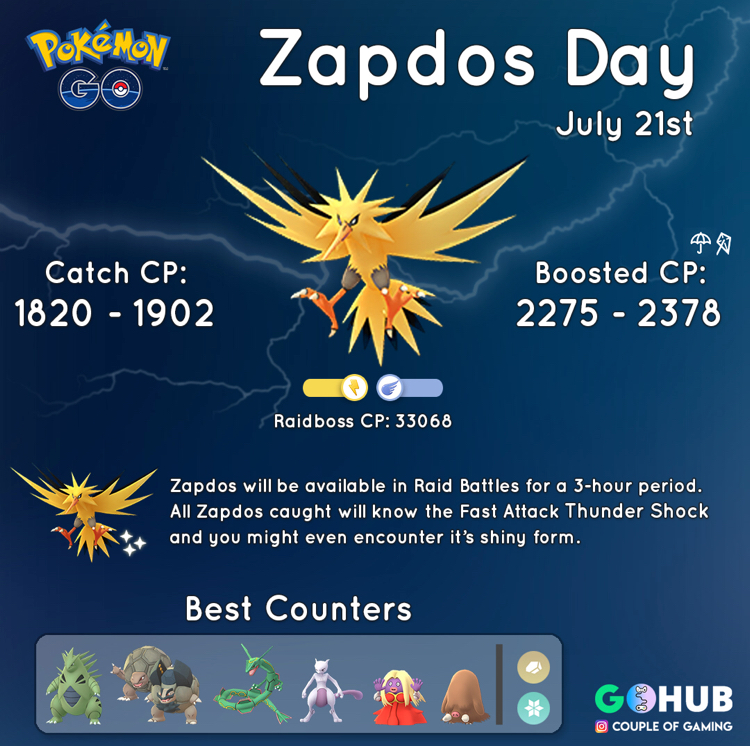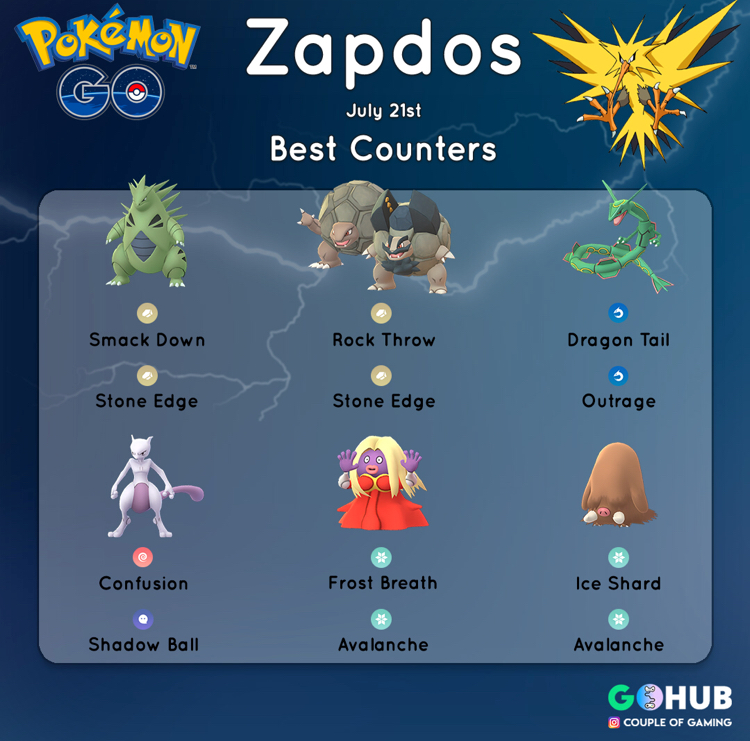 The TL;DR
Zapdos will be everywhere. Plan your route and raiding group in advance.
All gyms that are not reserved for EX Raids in the following week will have a Zapdos at it.
You can only hold 1 free pass at a time.
You will be battling a Tier 4 equivalent of the Raid Boss.
Always eat your lucky eggs! XP will be plentiful!
Shiny Rates are not increased (roughly 1/19 on average.)
WAFU Raiding will help you maximize your XP gain during the event.
Have fun!