Lucky Friends
Being Best Friends in Pokémon GO is now even better than before, as Niantic has announced that Lucky Friends are coming! When you are Lucky Friends with someone, the next time you trade with each other, both Pokémon will become Lucky Pokémon! 
A complete overview of how Lucky Friends work in Pokémon GO:
You can become a Lucky Friend only with your Best Friends
The Lucky Friend bonus can be activated once per day (per best friend)
You can have multiple Lucky Friends at the same time
Lucky Friends guarantees that your next trade with that Friend will be lucky
Actions that can trigger Lucky Friends:

trade Pokémon,
open a Gift from each other,
team up in raids and Gym battles,
or challenge each other to a Trainer Battle

The Lucky Friends bonus lasts until you complete a trade with that Friend
If you become Lucky, both of you will receive a notification, and the bonus will be visible on the Friends List
You can become Lucky Friends only with your Best Friends, which means it's high time that you get as many people to Best Friend status as possible.
Lucky Friends is the only mechanism that guarantees you will get a Pokémon with 12/12/12 IVs that takes only 50% Stardust to power up. We think that the majority of players will use their guaranteed Lucky trade to "luckify" a shiny Legendary and easily power it up to Level 35. Not a bad idea at all!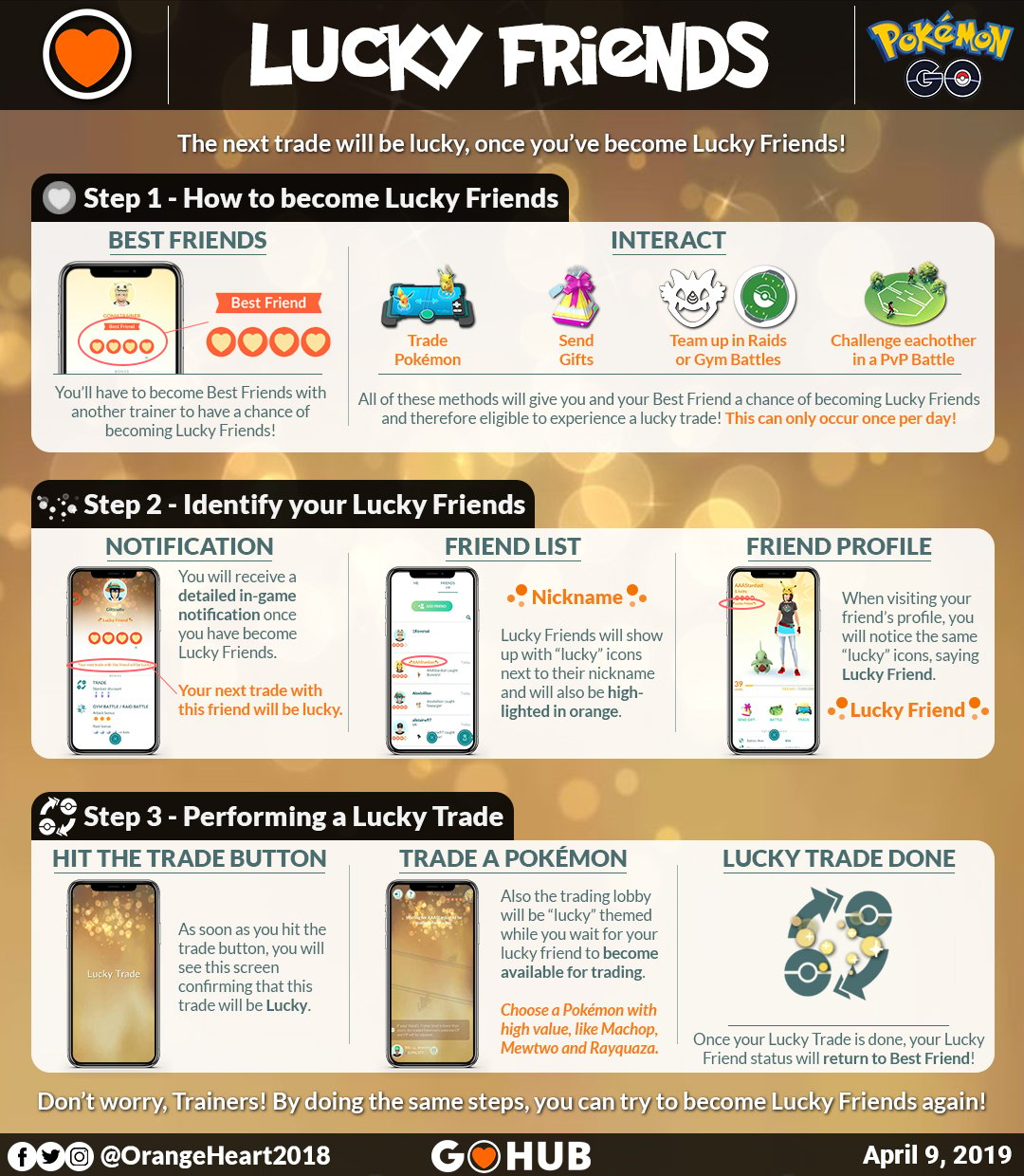 Avatar Poses
In Addition to Lucky Friends, a handful of new Avatar Poses are coming to Pokémon GO! Niantic is new introducing avatar poses that will allow you to customize how your Trainer is posed on your Trainer profile, in the Friend List, in raid lobbies, in Gyms, and battle previews.
The poses showcase your character flexing in various positions, holding a Pokéball and sometimes event taunting the viewer. We'll let our readers discover them on their own 😉