Trainers, the first Safari Zone in South America is taking place this weekend! Safari Zone Porto Alegre is a three-day long event taking place in Porto Alegre, Brasil, from January 25th to January 27th, 2019. Featured Pokemon include Generation IV starters, Relicanth, Bagon, and Psyduck.
As the event inches closer and closer, we wanted to share a quick summary of everything that went down recently in Porto Alegre. But before that, let's refresh our memory about the event itself (more details here):
Pokémon GO Safari Zone at Porto Alegre
Start date
Jan 25, 2019
End date
Jan 27, 2019
Venue

Guaíba River Bank
Marinha do Brazil Park
10:00 a.m. – 6:00 p.m.

Registration required?
Yes, register here
(Registration is now closed.)
Featured regional Pokemon

Relicanth

Featured Pokemon

Psyduck

Bagon

Turtwig

Chimchar

Piplup

Additional bonuses

Special PokéStops
Special 2km eggs
Photo Ops
Team Lounges
Merchandise available on location

Official website
Link
As well as all of that, Shiny Psyduck has been encountered both inside and outside the Safari Zone, but not outside of Brazil, as far as we've seen. Psyduck is due to spawn at increased rates worldwide "over the weekend" which, if past Safari Zone events are anything to go by, it will mean that Shiny Psyduck will also be available globally and possibly at increased rates.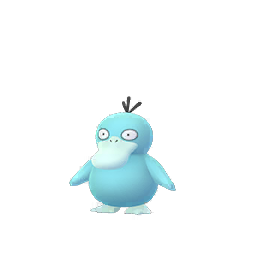 Another exciting, yet predictable, addition to the line-up of rare spawns at the event is Unown. Our Alphabet resembling friend is known to frequent official events like Safari Zones and true to form, the letters "P O R T A L E and G" have been spotted to spell out the name of this Zone's location.
There is also now an exclusive and colorful new medal available for attendees of the Porto Alegre Safari Zone:
Here's our infographic summarizing all of the above information: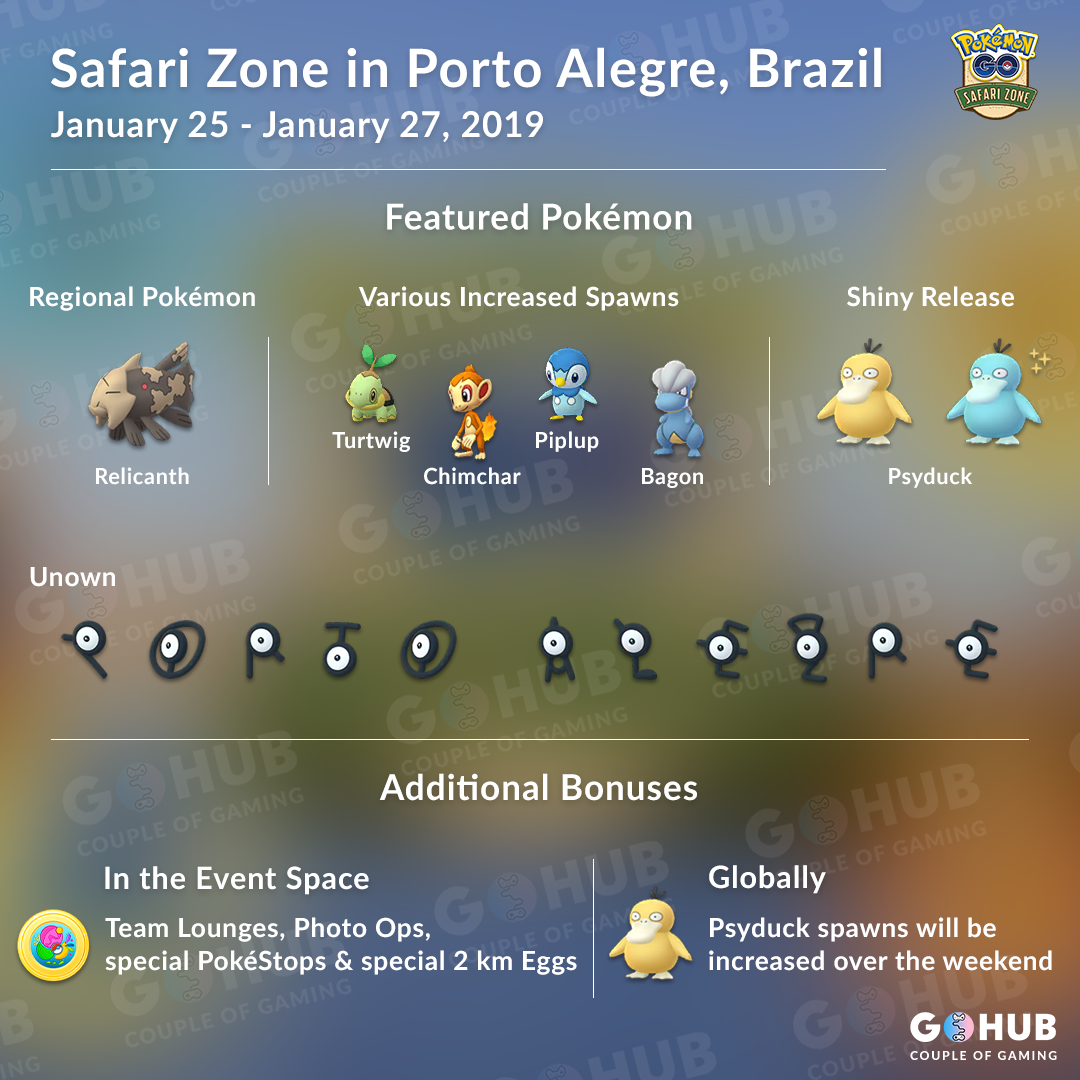 Swinub Community Day
Moving on to other news, we had the unexpected announcement of Swinub as February's featured Community Day Pokémon.
As always we'll have the 3-hour lures, an exclusive move for the fully evolved form (move yet to be announced), and a shiny form of Swinub spawning at increased rates.
In addition, this Community Day will feature triple catch stardust, 5 guaranteed Sinnoh Stones from PvP Battles, and the release of Swinubs fully evolved form, Mamoswine.
Mamoswine is an exciting prospect for some Trainers as a powerful Ice type move could make Dragon type Raid bosses easier than ever to take down, and with several on the horizon, Mamoswine could be an extremely useful Attacker in the future. It's advised that you make the most of this Powerful Pokémon on the 16th/17th February, as it could be a game-changer…
Here are all of those details again, in a handy infographic form:
OPR Incentives
The last item for this news round-up is that Niantic has introduced a new OPR (Operation Portal Recon) feature which rewards Ingress players for participating in the process of reviewing Pokéstop and Ingress Portal submissions.
We wrote a detailed rundown of the process and the incentives in our OPR Incentives article a few days ago. If you're one of the Ingress players eligible to review Portal submissions but weren't aware of this new feature, now may be a good time to read up on it and grab yourself some of those rewards!