Pokemon Let's Go is just around the corner (November 16 release date, preorder is available) and it's shaping up to be a worthy entry to the Pokemon franchise, despite the initial weak reaction from the hardcore Pokemon player base. Unfortunately, it could also be Junichi Masuda's last title as a series director.
Junichi Masuda shared the news in a massive interview with the official Pokemon.com website, whilst discussing technicalities and inspiration behind the Let's Go series. Masuda shared the following:
He was the one who worked on the base game concept document for Pokemon GO
even in the initial drafts of Pokemon GO, he had the idea of introducing new Pokemon through the mobile game
Given his involvement in Pokemon GO's development, he feels like he was the best person to direct the Let's Go series
Masuda emphasized the importance of having the younger generation at GAME FREAK in charge of the development of future Pokemon games
He believes this will be the last time he works as a director on a main series Pokemon RPG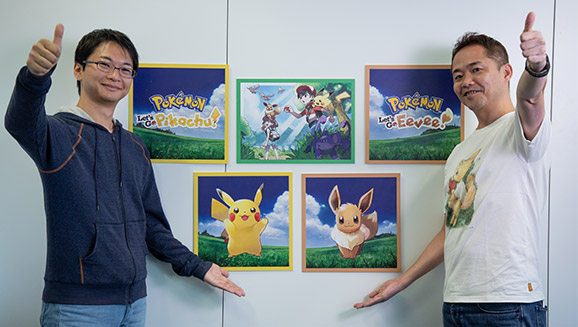 Masuda shared a lot about the direction of these games and technical challenges behind integrating Pokemon GO with the Switch. Although it all looks and feels super simple for the end users, the actual implementation is complex and technically challenging according to Masuda:
"[…] we use Bluetooth to allow Trainers to transfer Pokémon from Pokémon GO into Pokémon: Let's Go, Pikachu! and Pokémon: Let's Go, Eevee!, which is something we wouldn't be able to do without that technology. Behind the scenes, it's kind of a complicated setup, but we always try to make it feel very simple for the player."
Similarly to Pokemon GO, Pokemon Let's Go features visible wild Pokemon in the grassy areas, Pokeball throwing mechanics and a CP system that's not much unlike the one we're using in Pokemon GO on a daily basis. Masuda also emphasized that Let's Go is mostly targeted at a younger generation that didn't own a smartphone when Pokemon GO hit the scene two years ago:
"Our approach to development of these games was to appeal to a broad audience. One of the big reasons for that is there are a lot of younger players who maybe didn't have their own smartphones and couldn't join in on the Pokémon GO boom. Because of this, Pokémon: Let's Go, Pikachu! andPokémon: Let's Go, Eevee! might be their first time playing a Pokémon video game."
Masuda's departure is not surprising, as directing a main line Pokemon game is a… exhausting experience, so to say. Masuda is well known as a composer, director and as "that GAME FREAK" guy, and we have no fears for his future. As far as Pokemon Let's Go series is concerned, our pre order is already in and we're anxiously waiting to get a Meltan!