Hello, Pokéfriends! Fashion Week is back, and while there are plenty of chic costumes and hoity-toity hairstyles to be had, I'm here to talk about what's brand new… and why new Pokémon TOXAPEX is going to be a BIG deal in PvP.
But first, of course, our Bottom Line Up Front:
B.L.U.F.
With bulk that puts even things like Registeel, Defense Deoxys, and Azumarill to shame, on stats alone Toxapex is poised to be a big deal in Great League.
But it can back up that bulk with persistent fast move pressure AND big closers to take advantage of sticking around in most battles.
Azumarill weeps (Toxapex resists everything Azu can throw at it), Grounds and Steels celebrate, and most of the rest of Great League shudders. This is a new arrival that will have direct, observable impacts on Great League Cups and Open GL as well.
And now for the deeper dive….
TOXAPEX Stats and Moves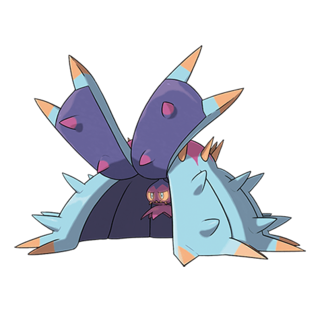 Toxapex
Poison
Water
Great League Stats
| Attack | Defense | HP |
| --- | --- | --- |
| 92 (90 High Stat Product) | 222 (228 High Stat Product) | 118 (120 High Stat Product) |
(Highest Stat Product IVs: 0-15-15, 1499 CP, Level 40.5)

Alright, starting with the stats, and a direct comparison to a couple things I'll be mentioning throughout this article. First, the other Poisonous Waters already in GO: Qwilfish and the recently-buffed Tentacruel. Poison/Water is actually a really good defensive typing, with eight resistances — Fighting, Fairy, Poison, Water, Fire, Ice, Steel, and Bug — stacked up against only three vulnerabilities: Electric, Ground, and Psychic.
Let's compare their average stats (with middle-of-the-road IVs):
| Pokémon | Attack | Defense | HP |
| --- | --- | --- | --- |
| Qwilfish | 130 | 106 | 123 |
| Tentacruel | 110 | 140 | 132 |
| Toxapex | 92 | 222 | 118 |
So Toxapex has the lowest HP of the three… but obviously it has the highest bulk by far. Just look at that monstrous Defense! Higher than Probopass, higher than Registeel… even higher than Defense Forme Deoxys! Toxapex has greater bulk and a higher stat product (basically a combination of Attack, Defense, and HP — essentially the highest possible total stat points when you add them all up — while still staying within the 1500 CP cap) than any of those. I mean, you can kind of tell that already by the fact that it can exceed Level 40 and still fit in Great League.
The other comparison I want to make: Azumarill, the blue bunny terror of Great League. Yes, it is famously (perhaps infamously) a tank… but Toxapex is overall even tankier, and has a higher stat product to prove it. (Remaining 20-30 points higher consistently across various IV spreads.)
In short: Toxapex has a pretty great typing and top tier bulk. Short of running across a hard counter (Grounds are rather common already, but might this bring things like Hypno or Electrics more into the fore in Great League? 🤔), it would take some terrible moves to keep it from being at least somewhat relevant in Great League.
Thankfully, while the moves aren't the best it could have gotten, they are more than good enough!
Fast Moves
Poison Jab –

Poison

type, 3.5 DPT, 3.5 EPT, 1.0 CoolDown
Bite –

Dark

type, 4.0 DPT, 2.0 EPT, 0.5 CD
Toxapex is SO bulk that even Bite kind sorta almost works, but when you have Poison Jab, the second-best fast move in the game (behind only the mighty Counter), you run with Poison Jab. It's really just that simple.
And Jab is more more synergistic with Toxapex's charge moves too:
Charge Moves
Muddy Water –

Water

type, 35 damage, 35 energy, 30% Chance: Decrease Opponent Attack -1 Stage
Sludge Wave –

Poison

type, 110 damage, 65 energy
Gunk Shot –

Poison

type, 130 damage, 75 energy
Muddy Water comes cheap, and is Toxapex's only source of Water-type damage to at least tickle Ground types with, but it's really not a good PvP move. 35 damage for 35 energy is terrible, no sugar coating that, and having only a 30% chance of a single-level debuff on the opponent (and, frankly, with a Pokémon as bulky as Toxapex already is, reducing the opponent's Attack strength is perhaps not the highest priority anyway) doesn't really make up for that. There's a very good reason that good PvP Pokémon that have it don't run it, except perhaps for Goodra because it doesn't have much other choice (but even Goodra doesn't feel good about it).
However, Toxapex kind of needs Muddy for Water damage AND because its other moves cost 65+ energy: Sludge Wave and Gunk Shot. It does a lot better with JUST Jab and a closer than you might think, owing to that crazy bulk, and still manages to douse the vast majority of Fire, Fighting, and Fairy types that way. And thoroughly trounces Azumarill like few things can. There may be nothing else in PvP that has been dreading the arrival of Toxapex more than everyone's (least?) favorite blue bunny. 'Pex resists ALL of Azu's moves and piles on relentless super effective damage. There's not a whole lot that Toxapex can beat with nothing but Poison Jab, but poor helpless Azu is on that list. There's nothing it can do but curl up in the fetal position and wonder what it did to deserve this kind of bullying. (I'm sure many players would be happy to present a LONG list of offenses.)
But of course, Toxapex IS going to be running with Muddy Water, and that means some baiting potential and better overall numbers. Very, VERY good numbers, in fact. And it's equally good with Sludge Wave (as simmed above) or even the slower but harder hitting Gunk Shot, the only major difference being that Wave outraces Umbreon, while Shot overpowers Toxicroak instead. But either way, note that long and impressive win list. Or even easier, look at the losses: every single one is to a hard counter (Ground, Psychic, and/or Electric type), a Poison-resistant Steel or Ghost type (Registeel, Skarmory, Bastiodon, Cofagrigus, Sableye, Froslass), or either Toxicroak or Umbreon, as noted. Everything else in the Open GL meta, Toxapex can beat. Even things like Drapion that resist all of its Poison damage and hit back with spammy neutral damage. Even tanks like Mandibuzz and Lickitung and Altaria and Defense Deoxys and (Water Gun) Lanturn. It can tank a Walrein Earthquake, a Flame Charge-boosted Brave Bird from Talonflame, a PuP-boosted Psychic (the move) from Medicham, and that's with the Earthquake and Psychic (the move AND the typing) doing super effective damage!
And yet another rather amazing stat: Toxapex doesn't HAVE to use Muddy Water just for baiting, because in fact, it beats everything on that list except Altaria, Trevenant, Umbreon, and Venusaur with ONLY Muddy Water, and it ADDS Cresselia too as long as one of its FIVE Muddy Waters gets the debuff. And with high rank IVs, you can add Umbreon back to the win column as well! It's nice not to have to win just by baiting if you don't have to, right? Helps drive that consistency way up too.
'Pex remains consistently great in other shielding scenarios too. With shields down, it's slightly better with Gunk Shot than it is with Sludge Wave, overpowering Water Gun Lanturn with Shot. But the overall wins and losses are remarkably similar to those in 1v1 shielding, with just a little variance like Altaria, DD, and Medi moving to losses and Cresselia and Toxicroak becoming more solid wins.
In 2v2 shielding, Sludge Wave looks great, but Gunk Shot again has a higher ceiling, beating everything Wave can and adding Umbreon, Shadow Walrein, Froslass, and even Spark Lanturn onto it. Or, yet again, you can forgo all bait-into-closer games and stick to just Muddy Water and still beat Umbreon, Shadow Wally, and Froslass, and give up only Spark Lanturn, Cresselia, and Altaria and still pull a nearly 70% winrate. With only Poison Jab and lousy move Muddy Water. If THAT sort of performance doesn't tell you the kind of impact Toxapex is about to make in Great League, nothing will!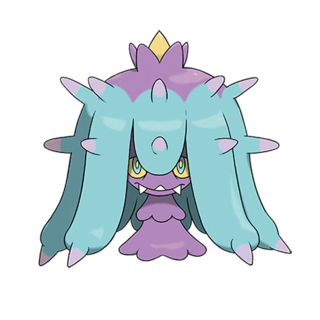 Mareanie
Poison
Water
The one and perhaps only downside? Toxapex is ONLY for Great League, as it doesn't reach anywhere near the size to do much of anything in Ultra League. And even going down to Little League, Toxapex does alright, but pre-evolution MAREANIE (with Poison Sting instead of Jab) doesn't fare nearly as well. I guess perhaps look for a sub-500 CP Toxapex once you secure your GL one? 0-13-10 are your #1 IVs there, hitting 500 CP at Level 12, so certainly doable. Good luck!
I always try and dig up the good with any new Pokémon release, but this one is easy. Toxapex WILL have immediate impacts on Great League as soon as it arrives, so be ready to start seeing them as soon as Fashion Week ramps up. Hope you find a great one!
Until next time, you can always find me on Twitter with near-daily PvP analysis nuggets or Patreon, if you're feeling extra generous.
Thanks for your faithful readership, and good hunting! Do be safe out there, and catch you next time, Pokéfriends!
P.S. – On a personal note, this is officially my 391st article. The countdown to #400 has begun! Not sure what I'll do this time yet, but I usually try to celebrate milestones on each hundred with something special. Got any ideas? Let me know below! Thanks for sticking with me for that many articles and close to FOUR years of PvP analysis!