So as I begin to type this, I'm on my way back to Seattle Airport after a wild 48 hour GO Fest blitz.
As long as I've been playing and writing about this game, believe it or not, this was my first live GO Fest experience. Saved up to go in 2020 and… yeah. We all know how THAT went. And of course 2021 too. I enjoyed the at-home Fests, no doubt, but for me, more than half the experience of this game is getting to meet and spend some time with the community. Especially as it has grown and morphed over time, and me along with it. As I've gotten to know and love this community more and the awesome players that are part of it. Not just the big "notable trainers", as Niantic has labelled those they fly out to see the fans… but those fans themselves. The community itself.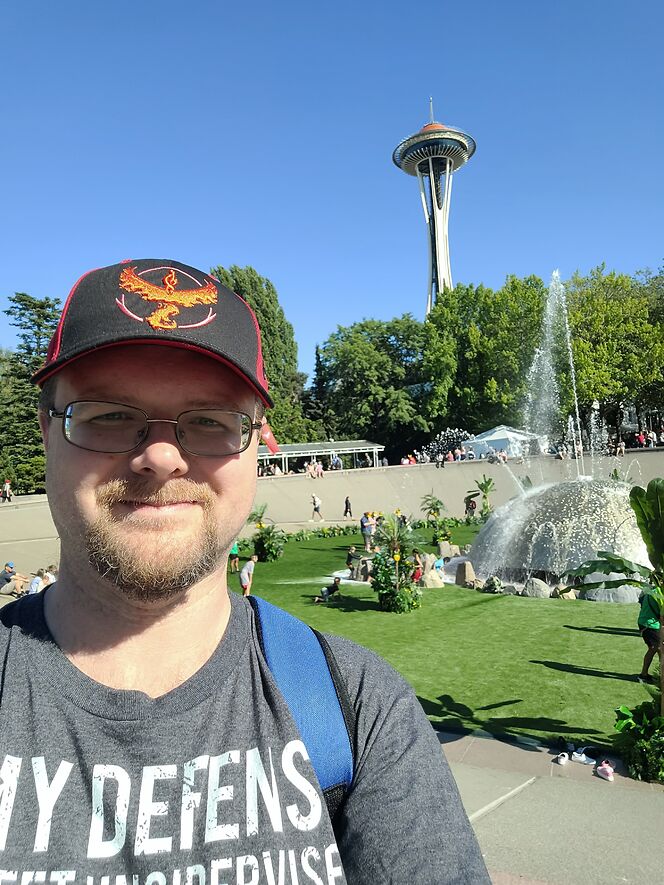 And so it's been killing me not to be able to do so. Yes, I have tried to champion the cause of those who can't go out and mingle with my constructive criticism on interaction distance and incense and Community Day hour changes and such (and I always will) but I'm an old-fashioned guy that likes to shake a hand and say hello face to face when I can. And I'm pleased to say I got to scratch that itch in a huge way on this trip.
My ticket was for Saturday, but I arrived early Friday (saving a bit on airfare) and, after checking in to the hotel, and despite knowing I was likely not going to find any spawns in Seattle Center Park (thank you to all who answered that, by the way!), I decided to head to the park anyway.
As suspected/reported, the entire park was geofenced. No ticket, no spawns. No stops either, though gyms were still active and you could join raids just like ticketed players (non-remotely, of course). But you could also participate in much more if you didn't care about catching digital monsters. Trading (at the Trading Post or elsewhere) was still on, of course. The merchandise store was open for all (though good luck getting through that line! 😬). The Battle Grounds were open, and PvP aficionado that I am, I ventured into battle and won the necessary three in a row to get top prize, pictured here (along with the prize of an Incubator and a couple Lures for winning two games). I also decided to take the time with no spawns to hit up the shop and made all my merch purchases on Friday as well, then decided to snap a bunch of photos (including a poor melting Jigglypuff!). It was great to be able to get all this in on a day I wasn't even technically playing, and free up my actual ticket day to just grind as I pleased without stressing those details at all. Props for letting us still come in and explore so much without needing a ticket, Niantic… that was nice.
Call Nurse Joy! Jigglypuff has sprung a leak! pic.twitter.com/hBkwaWiSW7

— JRESeawolf 🛩 Seattle GOFest! (@JreSeawolf) July 22, 2022
And I got to meet players. SO many players. Many I already knew, others knew ME and came over to say hi (which was so awesome and humbling), and there were also friends I got to meet for the first time. Group selfies were snapped, hands were shaken, friend codes were exchanged, and great little chats were had. I met folks from all over, PvPers and folks who didn't even know what PvP was, all brought together by mutual love of the game. And again, all the day before my own ticketed event even began!
As for the ticketed event itself, it was quite good. I did not personally get nearly as many shines as others I know, but that's okay. Shinies I DID get were new and exciting (to me), and I'm sure I could have had more if I was more dedicated to the grind. I just took my time and enjoyed the experience and the time chatting with fellow players. I linked up with friends old and new and walked the park, including one old friend in particular I finally got to meet IRL, walking the park for like two hours with him and his mom. It was awesome.
You all know I'm not always the biggest fan of Niantic's decision making, and while things were not perfect – the super short Unown spawns were hard for the game (and my poor GO Plus) to handle, there were a lot of phantom Pokémon that immediately ran akin to the Incense issues from Global GO Fest due to oddly drawn habitat borders, and while mostly stable there WERE login and lag issues for several players throughout – I gotta say that it was a pretty well run event. The habitats themselves were engaging and all had their own unique photo ops and activities going on… really top notch decorating and world building at most of them. The spawns were heavy and varied and filled with shiny potential on every check. There was TONS of staff that were actually helpful and friendly, if not all totally knowledgeable about activities and trivia they were managing. The Trading Post and Battle Grounds being in an actual stadium was a nice touch, and the areas set up for them were comfortable and thematic, with actual players (like Kieng and Caleb Peng and Birdpower) there to coach newer PvPers in the Battle Grounds. (Seeing them helping excited kids was heart-warming, NGL.) The team tents and other areas throughout the park were genuinely welcoming respites when you needed a break from the walking and the sun. And if the heat was still too much, you could literally take a splash in the Oasis and cool off, or hit up one of thankfully many water refill stations. And of course the park itself had MUCH to offer, with lots of indoor eating, the famous sky needle, and lots of indoor, clean bathrooms! It wasn't perfect, but I gotta say… the logistics and setup and staff and all truly made for a great and engaging experience. I'll give props where they're due, and I think that was all pretty great. 👏
As for me and my desire to meet folks – that was my main reason for going and why I spent my Friday there without spawns and why I took things relatively easy on Saturday – I got to meet PvPers I look up to that have helped grow the game like Kieng, Caleb Peng, Kevin Saludares, and Birdpower, amazing contributors I've been wanting to meet like Mr. PvPoke himself, good guy Marty from PokeMiners, my colleague and PvE expert Teban54, ytxpikachu from GO Battle Log, and the guys from the Battle Science podcast, the Cowboy Hat Caterpie guy, Michael Steranka after our chat months ago, and good folks from The Silph Road itself (with swag!), and many more.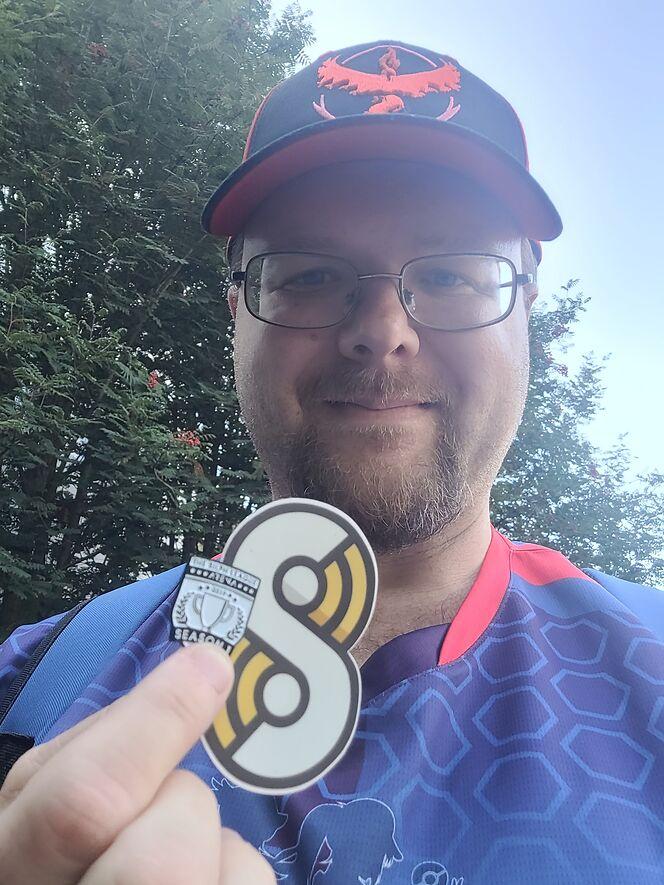 Anyone still going on Sunday… you're gonna have a blast. I know I did. I know the game has its issues, but at its best, it is nice to see how it can still bring folks together when run properly for a weekend.
I hope you all get to experience what I just did some day. It's well worth doing at least once.
Here's hoping I get to meet many more of you down the road. For now, I am now finishing this at the airport about to fly to the other side of the continental US. Cheers, everyone!
(If you also got to go and want to share your own experience, please do so below!)
All the best,
JRE