Pokémon Worlds takes place in London from 18-21 August 2022, with competitors battling it out in The Trading Card Game, Pokémon Unite, Pokémon GO and more. Our very own Avrip is flying over from Australia to compete, and will be supported by Kitty, JellyBean and Spindiana, so if you see us, come say hey!
You'll be able to watch the livestreams from Thursday 18 to Sunday 21 starting at 8:00 UTC every day, on the Pokémon GO Twitch Channel, or the Japanese stream. n conjunction, Pokémon GO will be celebrating with an in game event, and bonuses for those at Worlds, including a special pose for whoever is crowned the Pokémon GO Champion!
Related articles and reading:
Date & Time
From Thursday 18 August 2022 at 10:00 till Tuesday August 23 2022 at 8:00pm local time
Pokémon Debuts
Pikachu wearing a special Worlds Championship 2022 outfit will be appearing in raids, timed research and field research.
Event Bonuses
The maximum number of GO Battle league sets you can play per day will be increased from 5 to 10, for a total of 50 battles per day

Challengers with teams inspired by the ones used by trainers who won Pokémon Regional Championships will appear at PokéStops

3x Stardust from GO Battle League wins

Evolve Rhyperior, Gengar, Gyarados, Metagross and Talonflame during the event to get Pokémon that know exclusive Community Day moves.
Featured Attacks
A variety of past Community Day exclusive moves will be available during this event, and will be well worth evolving to get on your Pokémon!
Evolve Rhydon (Rhyhorn's Evolution) into Rhyperior during the event to get a Rhyperior that knows the Charged Attack Rock Wrecker

Evolve Haunter (Gastly's Evolution) into Gengar during the event to get a Gengar that knows the Charged Attack Shadow Punch

Evolve Magikarp into Gyarados during the event to get a Gyarados that knows the Charged Attack Aqua Tail

Evolve Metang (Beldum's Evolution) into Metagross during the event to get a Metagross that knows the Charged Attack Meteor Mash

Evolve Fletchinder (Fletchling's Evolution) into Talonflame during the event to get a Talonflame that knows the Fast Attack Incinerate
Wild Encounters
The following Pokémon will appear more frequently in the wild:
If you are lucky, you might encounter the following:
Raids
One-Star Raids
Three-Star Raids
Five-Star Raids
Mega Raids
Field Research Tasks and Encounters
Timed Research
Timed Research will be available during the event. Complete to earn rewards, including the following:
1

×

Elite Fast TM

1

×

Elite Charge TM
Challengers are NPC Challengers found at PokéStops, they are not Team GO Rocket or other trainers in PvP.
Task Text
Reward
Battle a Challenger

10

×

PokéBall

Battle 2 Challengers

1

×

Fast TM

Battle 3 Challengers

10

×

Great Ball

Battle 4 Challengers

1

×

Charge TM

Battle 5 Challengers

10

×

Ultra Ball
Challengers
Challengers appear near PokéStops around the world. Each battle is fought in the Master League format. Challengers do not usually use Shields, but they do use meta-relevant Teams.
Defeating a Challenger rewards 3 bundles, selected from the following options: 5 Poké Balls, 5 Great Balls, 500 Stardust, 3 Razz Berries, 3 Potions.
Ambitious Challenger (Deino hat)
Araquanid, Registeel, Talonflame
Araquanid, Registeel, Sableye
Swampert, Registeel, Sableye
Swampert, Registeel, Talonflame
Swampert, Walrein, Talonflame
Swampert, Walrein, Sableye
Obstagoon, Nidoqueen, Greedent
Trevenant, Nidoqueen, Greedent
Confident Challenger
Diggersby, Walrein, Cresselia
Walrein, Mandibuzz, Deoxys Defence
Walrein, Mandibuzz, Lickitung
Swampert, Mandibuzz, Deoxys Defence
Swampert, Mandibuzz, Lickitung
Swampert, Trevenant, Deoxys Defence
Scrafty, Nidoqueen, Cresselia
Scrafty, Walrein, Cresselia
Eager Challenger (black/white outfit)
Medicham, Sableye, Swampert
Medicham, Sableye, Walrein
Nidoqueen, Lickitung, Swampert
Eccentric Challenger
Sirfetch'd, Walrein, Talonflame
Walrein, Lickitung, Registeel
Sableye, Lickitung, Talonflame
Sableye, Walrein, Registeel
Novice Challenger (Pikachu onesie)
Sableye, Alolan Ninetales, Obstagoon
Sableye, Alolan Ninetales, Galarian Stunfisk
Trevenant, Azumarill, Galarian Stunfisk
Slick Challenger (black jacket)
Azumarill, Medicham, Registeel
Azumarill, Medicham, Trevenant
Walrein, Sableye, Trevenant
Featured Avatar Items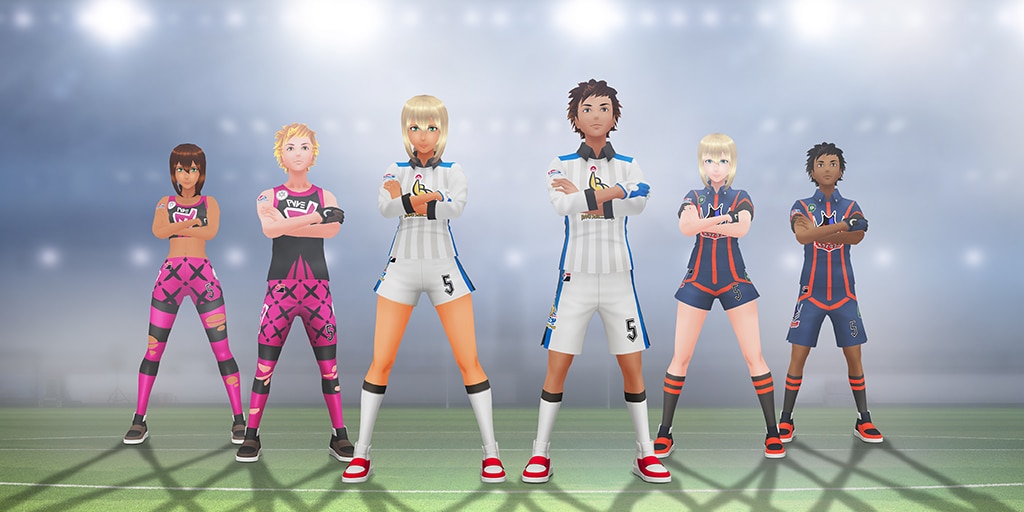 To celebrate the Pokémon World Championships Galar theme, the following Galar inspired items will be available in game:
Dragon-type Sport Top
Dragon-type Sport Shorts
Dark-type Sport Top
Dark-type Sport Shorts
Avatar Items
Get your Pokémon World Championships Event 2022 T-shirt!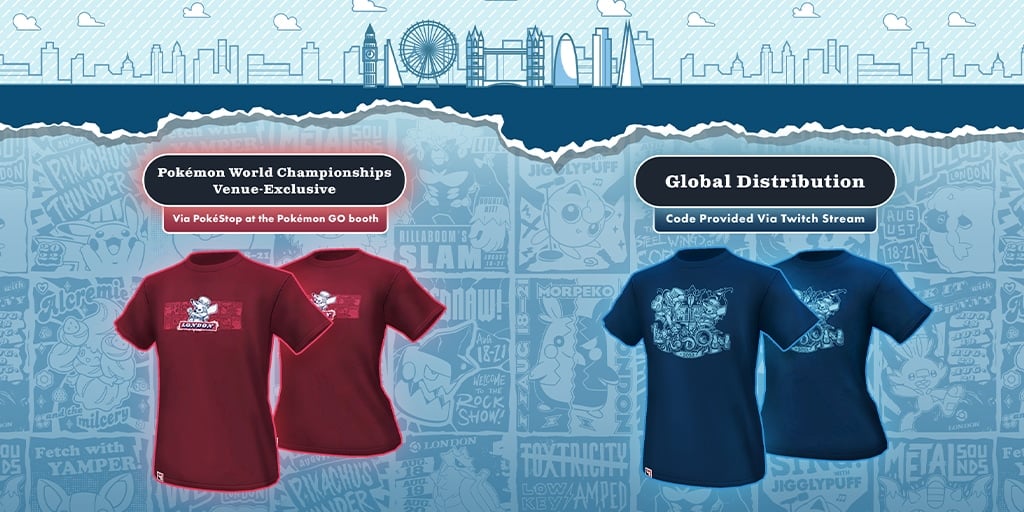 2022 Worlds Tee: Will be available globally via a code shared during the Worlds Championship Stream. The code will also be distributed via Pokémon GO social media afterwards, and will be valid through August 22, 2022 at 11:59pm UTC.
2022 Worlds Participant Tee: Available from the Pokéstop located at the Pokémon GO booth in the Championships venue in London during the event.