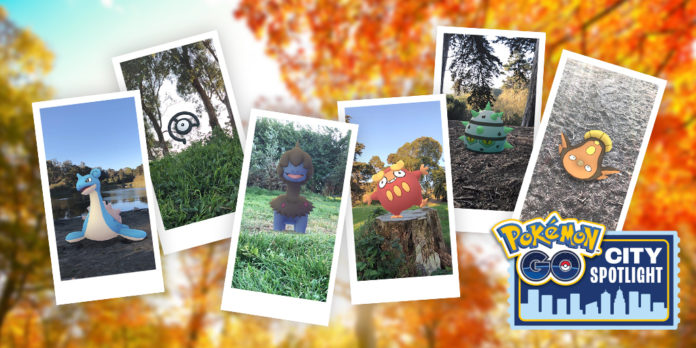 Hello Trainers, Niantic has announced a brand new event coming to select cities around the world. This new event will take trainers and their buddies on a treasure hunt around these cities.
Trainers will have the opportunity to discover exciting surprises through research tasks, walking around, and socially distanced bonuses. The City Spotlight event will feature both free and ticketed content.
Niantic has worked with each highlighted city to promote this new event and designed the gameplay to be in compliance with local health and safety guidelines.
Highlighted Cities
Tainan, Taiwan
Kyoto, Japan
Auckland, New Zealand
Busan, South Korea
Time and Date
Sunday, November 22, 2020, from 10:00 a.m. to 6:00 p.m. local time
Event Details
Here's what you can expect with the free citywide experience
The City Spotlight Timed Research will take you and your Buddy Pokémon all around your city.
Take snapshots to earn Pokémon encounters, a Poffin, Stardust, and a Lucky Egg.
Spin PokéStops for a chance to receive a special Gift sticker.
Take part in a PokéStop scanning competition against other participating cities! Check how your city is faring in the standings on an online leaderboard. The city with the most AR Mapping tasks completed at the end of the weekend will win an exclusive event featuring a 1/4 Hatch Distance bonus!
Receive a special reward when you complete an AR Mapping task.
Here's what you can expect with the ticketed citywide experience
Everything in the free citywide experience
The following Pokémon will be attracted to special event Incense: Onix, Lapras, Unown C, Nosepass, Rhyhorn, Doduo, Mantine, Pidgey, Pelipper, Pidgeot, and Stoutland If you're lucky, you may encounter a Shiny Unown C! Shiny Unown C will be available only for the duration of this event to Trainers who have a City Spotlight ticket.
Explore the city with your Buddy Pokémon using exclusive City Spotlight Special Research as a guide! Complete the Special Research to receive a Poffin, an Incense, a Super Incubator, three Lucky Eggs, a Lure Module, an encounter with Lapras, XP, and Stardust.
Earn up to three extra hearts with your buddy in every category.
Your buddy will know that an exciting adventure is ahead! Give it treats during the event, and it'll automatically become excited!
1/4 Hatch Distance when an Egg is placed in an Incubator while the City Spotlight initiative is active.
Incense will be more effective while you're walking and will last for two hours.
How to Purchase a Ticket
Tickets will be available in the Events tab in the Pokémon GO app starting Monday, November 9, 2020, at 8:00 a.m. PST until Sunday, November 22, 2020, at 2:00 p.m. local time. Tickets will be US$4.99, or your local currency equivalent, plus any applicable taxes and fees.  Tickets will be sold as a first-come-first-served basis.
Tickets cannot be purchased with PokéCoins.
To purchase a ticket, please follow these steps.
Open the Pokémon GO app.
On the map, tap the Poké Ball icon.
Tap Events.
On the following webpage, tap your city's City Spotlight event. You'll see "Tickets Available!" next to a first-come-first-served event if it hasn't yet sold out.
Tap the event to select the date and time you wish to attend the event, purchase tickets for yourself and friends, and input your payment information to complete your purchase.
On the payment-confirmation page, please take note of your order ID. You'll also receive a confirmation email at the address you entered right before the payment.
A few days before the event, you'll receive a medal. When you open the app on the event day at the scheduled time, you'll receive access to the City Spotlight experience, including the Special Research!
After you've obtained the Special Research, you can complete it at any time. Tickets to this event are nonrefundable (subject to applicable law and the exceptions set forth in the Terms of Service).
Tickets will also be available to purchase here.
Please be aware of your surroundings and follow guidelines from local health authorities when playing Pokémon GO. Upcoming events are subject to change due to local travel restrictions. Be sure to follow and Niantic on social media, opt in to receiving push notifications and subscribe to our emails to stay updated. For the latest on in-game events and feature updates, be sure to check this help center article.