Trainers, as you already know PvP has finally launched in Pokemon GO, bringing a completely new battle mode for us to enjoy, farm and thrive in. However, one "small change" was also silently added in the new Game Master file, aimed to completely shake up the meta game in PvP and raids alike: a complete revamp of Type Effectiveness modifiers! 
Here's what changed in Pokemon GO's Type Effectiveness:
| Effectiveness | Old | New |
| --- | --- | --- |
| Super Effective | x1.4 | x1.6 |
| Not Very Effective | x.0714 | x0.625 |
As a result, all of the complex effectiveness (double and triple) have also changed, creating the following effectiveness matrix:
| Effectiveness | Multiplier |
| --- | --- |
| Super Effective (SE) | 1.6 |
| SE 2x | 2.56 |
| Not very Effective (NvE) | 0.625 |
| NvE 2x | 0.390625 |
| NvE 3X | 0.2444140625 |
Here's how these changes will affect the Pokemon GO meta game:
Type advantage is now the most important aspect of Pokemon combat, both in PvP, Gyms and Raids. It was already very important, but for some Pokemon the difference in stats and moves could bridge the gap while dealing neutral damage (Meteor Mash Metagross or Smack Down Tyranitar for example). Now, Pokemon with moves that deal super effective damage to the opponent should be a straight up better option.
A large number of Pokemon will gain / lose their place in the meta game, but this is hard to project right now, we simply need more time and simulations before we can list the losers and winners.
Pokemon who have good type coverage (like Metagross) will perform better than the ones that don't. You still don't know what team your opponent has, so in light of this change, picking Pokemon with good type coverage has become even more important than we discussed in our Pokemon GO PvP: Understanding the importance of Type Coverage guide.
How do Type Charts look like now?
Honestly, they look the same, but the numerical values are different. We've already updated Pokemon profiles on our database web page, but we're still working on recalculating Pokemon counters (takes a while). Here's how Gengar's type chart looks like right now: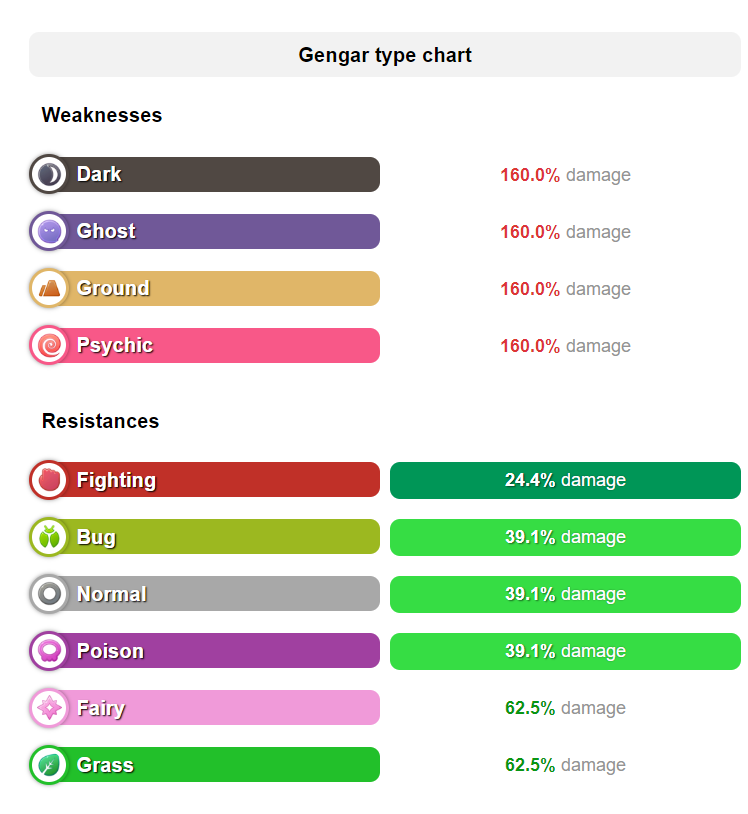 FAQ
Are these changes only active in PvP or everywhere? Everywhere. Pokemon GO uses only one type efficiency object to determine type advantages in every Pokemon combat scenario.
Did the other formulas change, for example the damage formula? No, to our knowledge nothing else has changed. We need more testing on this one, but it looks the same.
Is this the first time the Type Effectiveness have changed? No, they were already changed before. See Type Effectiveness has changed: Super Effective is now 1.4x, Not Very Effective is 0.714x published in June 2017. This time the change is more pronounced, as the values have gone up / down a bit more.
Are the new effectiveness in line with Pokemon Let's Go? Not sure, if you find info about this, let us know.
How did you find / verify this information?  The Game Master file was processed by ProHitman. Here's an excerpt for Dragon types (each attack_scalar represents one type pairing, for example, Dragon vs Normal, or Dragon vs Dragon):