Trainers,
The third weekend in February is shaping up to be special for Pokemon GO players and their friends! Starting at 8 a.m. local time on February 21st, a special friendship weekend event will be taking place in-game. This event will run through Monday, February 24th, until 10 p.m. local time, much the same as the rest of the month's events.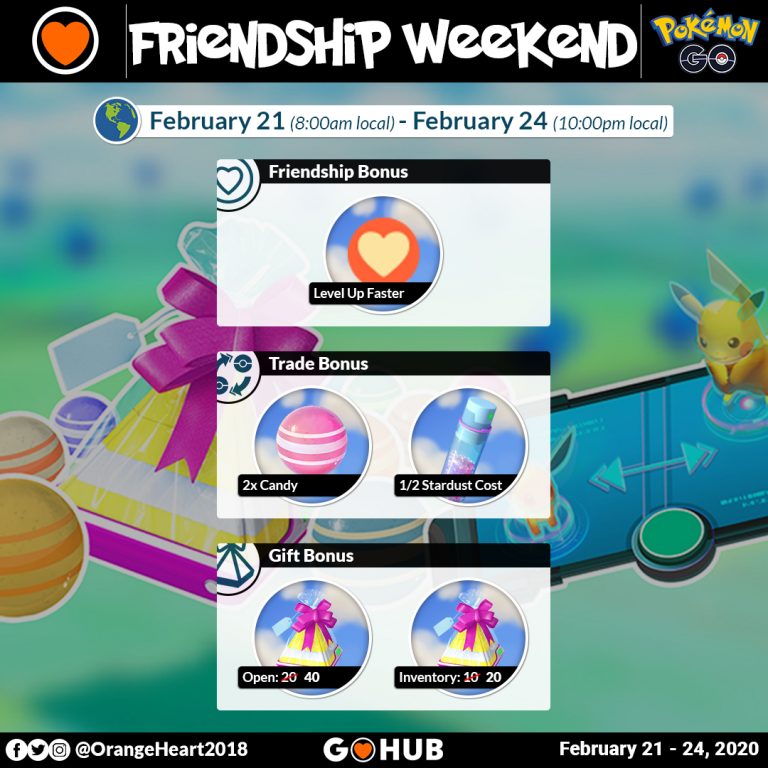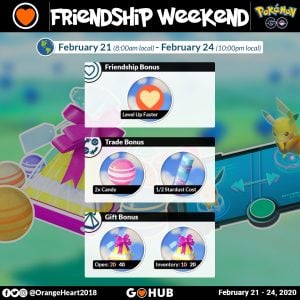 Bonuses
What exactly can you expect from this event? According to the official Niantic blog post, there will be:
2x Trade Candy
1/2 Trade Stardust cost
An increase from 20 to 40 in the amount of gifts you can open in a day
An increase from 10 to 20 gifts that you can carry in your inventory
Faster-increasing friendship levels (likely to be 2x as per past events)
By far in this writer's opinion the greatest bonuses for this event are the gift increases in terms of opening and carrying; especially for those who are looking to hatch eggs during the event for larger gains in Stardust.
Best Practices
Some best practices for this event are to stock up on Star Pieces if you have not already, and consistently have one enabled when you open gifts in order to maximize Stardust gains. Also, open gifts often, as hitting Lucky Friends and taking advantage of the 1/2 Trade Stardust costs for Special Lucky Trades will be a huge part of being successful during this event.
In Conclusion
While this is all that Niantic has revealed concerning the event so far, there is no saying that there won't be a surprise or two in store upon the actual launch of the event.
Also to look forward to this week: Wednesday, February 19th will be yet another Tornadus Raid Hour from 6 p.m. to 7 p.m. in your local time zone, and another Pokemon Spotlight Hour will be held Tuesday, February 18th during the same time frame as raid hour.