Have you been busy this week and lost in all the happenings of Pokémon Go? Do not worry; we have you covered in this News Roundup!
May/June Research Breakthrough
The New Research Breakthrough Rewards are very shiny, in comparison to the Regi Trio as well as the Beasts, Raikou, Suicune and Entei. See ya Regi Trio, don't let the box hit ya where the good Lawd split ya! Ho-Oh and Lugia will remain in the box, as we are greeted with the addition of Latios and Latias! Despite this being an excellent box for shiny hunting, PvP players can rejoice (or cry) at the thought of a Great League Latias, as most Latias (under 98%) at level 15 fall below the 1500 CP mark. You can also get a Great League Latios if you trade, and get a low IV roll (40% and below roughly).
For your viewing pleasure, here is our breakthrough infographic!
Egg Pool Shakeup
The most significant change in eggs revolves around the 5kms and 2kms. Now that the Eggstravaganza Event has ended, the babies are no longer taking over the 2kms, but the Sinnoh starters are! A comprehensive egg list has not been completely figured out, but we do have a rough idea of what changes were made. You can read our announcement article here: May/June Research Breakthrough and Egg Pool Shakeup Announced. Below is our egg infographic with all the confirmed shakeups.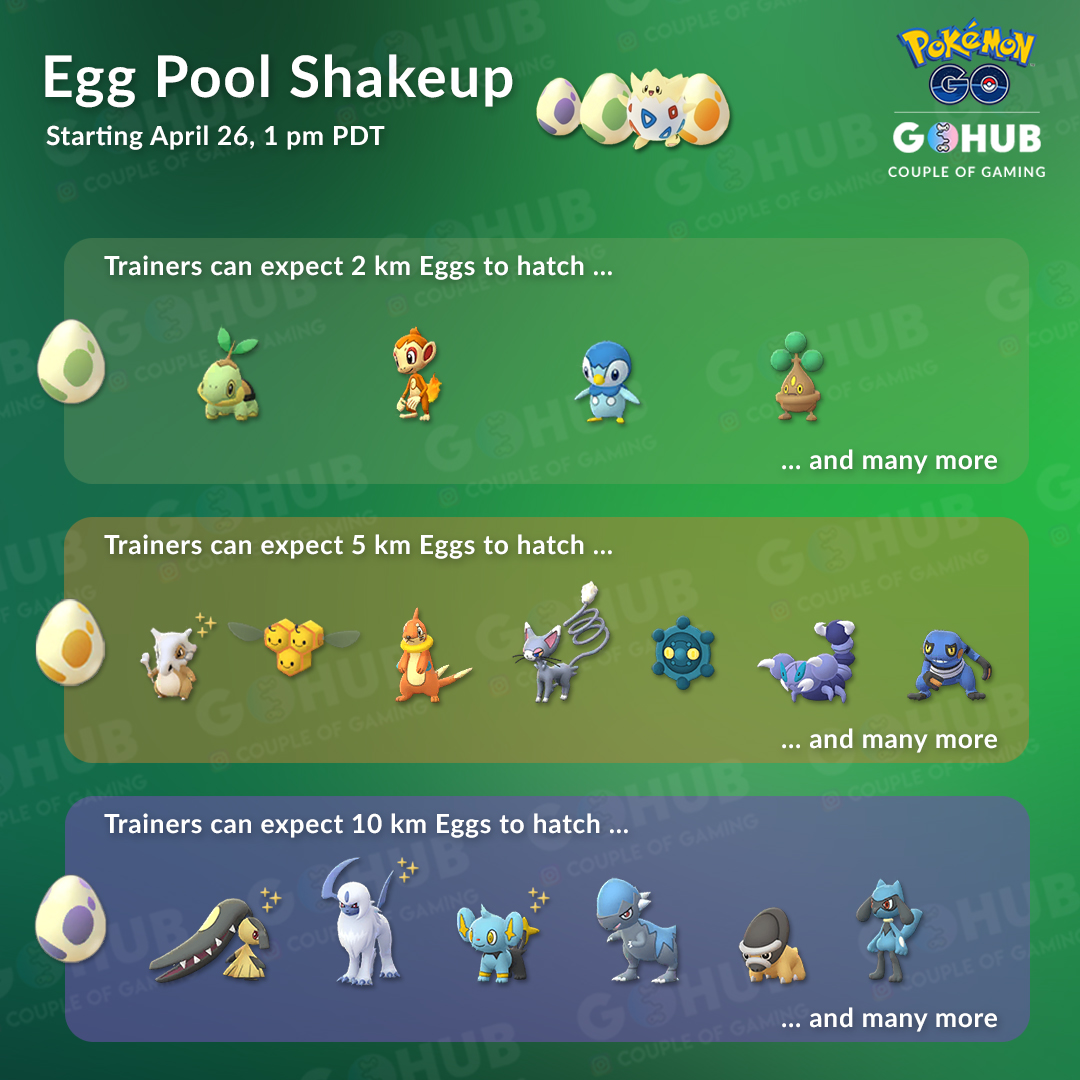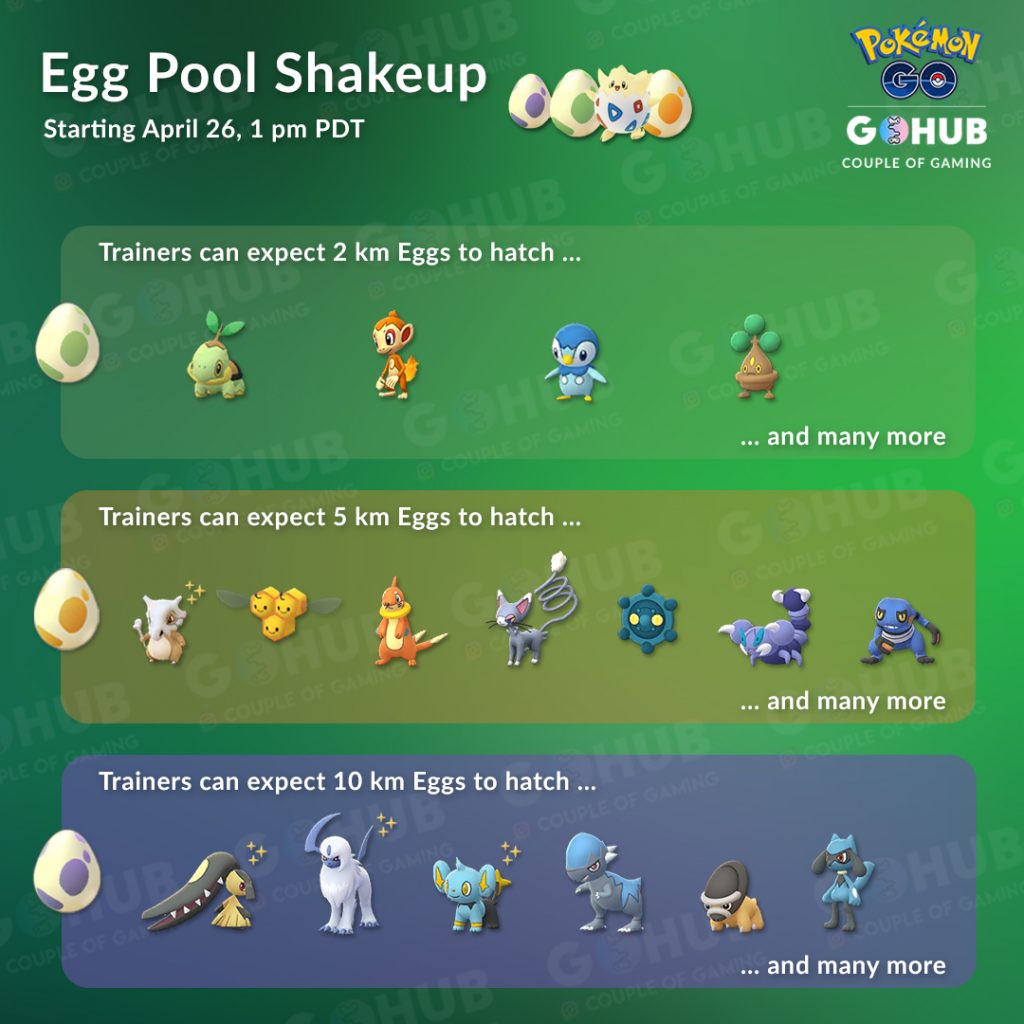 Hand reports have also shown Finneon in 5km eggs, as well as Happiny and Nincada in 10kms.
New Moves in the Pokémon Go Traffic
Unconfirmed by Niantic, yet mined by data miners, there was a handful of new moves found in the game traffic. All of these moves are stat lowering or raising moves found in the main series game, which could bring more variability to the PvP meta, and offer more Pokémon options for use in different leagues. Some of these moves include Superpower, Crabhammer, and Shadow Bone, but there are many more! You can see all the moves and which Pokémon are eligible to learn them in the article: New moves possibly added for select Pokémon
Shiny Meltan Returns
From April 24th, 2019 to May 5th, 2019, shiny Meltan will be available from Meltan Boxes. There seems to be more reports of people getting shiny, so it is possible that the rates for the shiny are higher than when the shiny was previously available.
Meltan Boxes are available from sending a Pokémon from Pokémon Go to the game Let's Go Pikachu/Eevee for the Nintendo Switch. One game can send out infinite Meltan Boxes, so it does not have to be your Switch, just someone you know.
Below is an infographic showing the Meltan shiny family.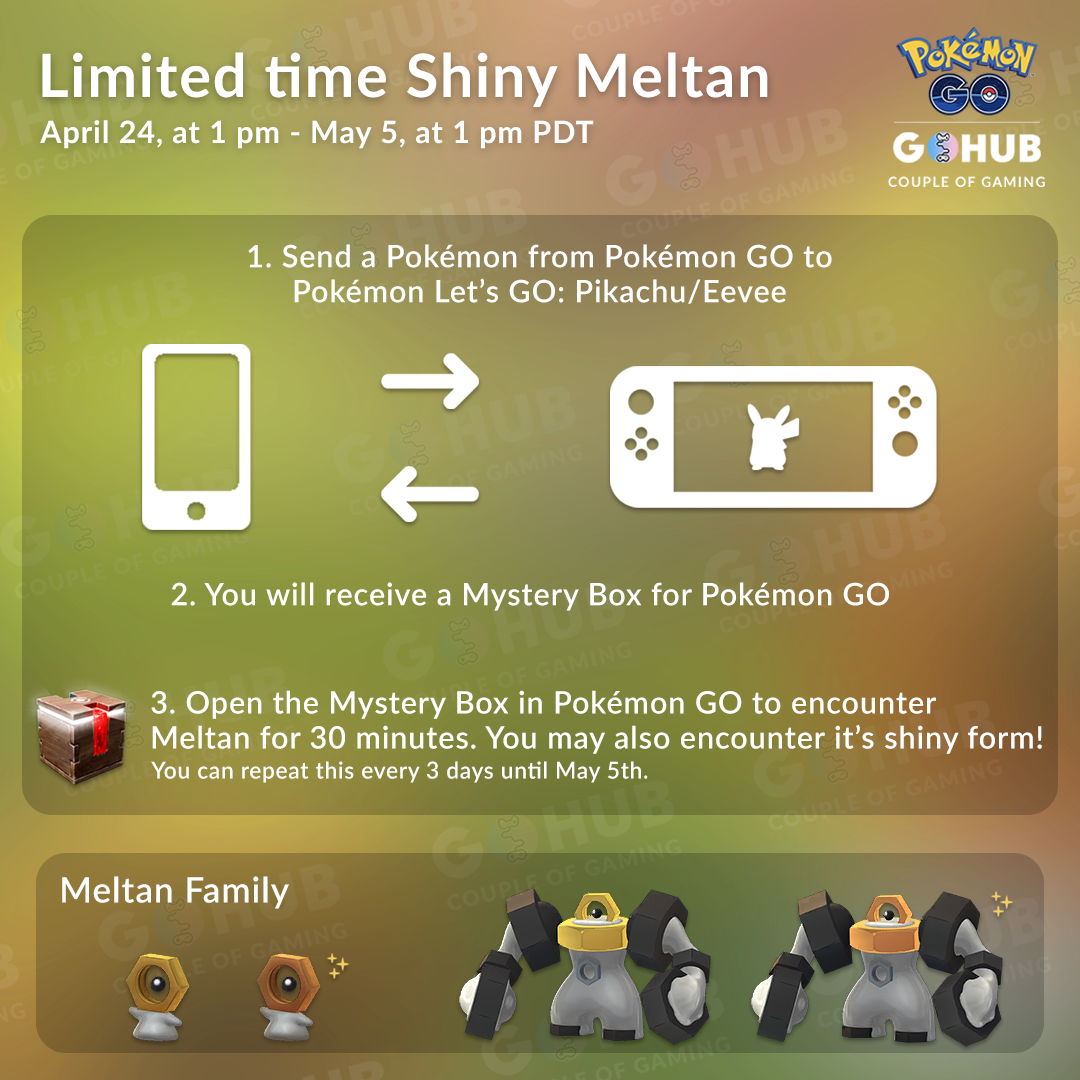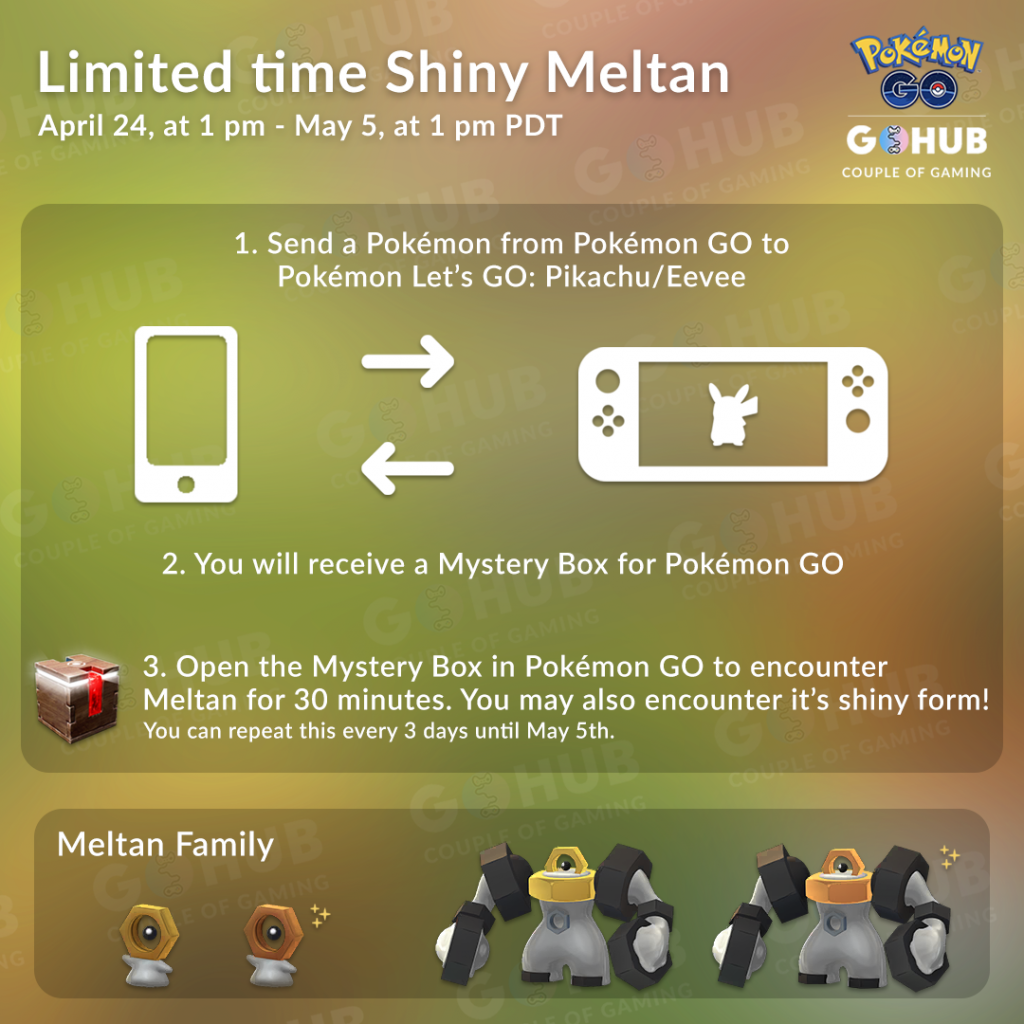 Pokémon Festa and Pokémon Go Week in South Korea
For the third year in a row, Niantic is holding an event at the Pokémon Festa event in South Korea. Located at Starfield Ha-Nam and Coex Mall, there is a LOT going on for the event, including a pop-up store and a Pikachu Parade! For Pokémon Go, there will be boosted spawn rates around all of South Korea, and at the Starfield Ha-Nam and Coex Mall, players will be able to find Corsola, Unown, as well as boosted spawns of Combee and Wailmer. The full details of the event can be found in this article: Pokémon Festa & Pokémon Go Week in South Korea.
Pokémon Go Fest Chicago Ticket Drawings
On April 24th, the ticket registration for Go Fest Chicago ended, and the first waves of tickets started.
Trainers, the first wave of Pokémon GO Fest Chicago ticket drawing winners have been notified! Check the in-app Events page to see if you've been selected. You have 48 hours after you've been selected to purchase your tickets. #PokemonGOFest2019

— Pokémon GO (@PokemonGoApp) April 24, 2019
There have been approximately ten waves of tickets sent out in total (according to reports from TSR), appearing to be very small waves at a time, and they will continue to do waves until they run out of tickets to be sold. If you have not received an email invitation to purchase tickets, there is still time to be drawn! Remember, you can share your tickets with anyone you are at Great Friends or up with, for a total of 4 tickets! Keep tabs on your friends; you never know who is going to get the invite. (Note: Great Friends only required seven days of interaction.)
Shiny Lapras and Shuckle Added
Shuckle Weekend happened over the Sentosa Safari Zone in Singapore, on the 20th and the 21st of April. Shuckle had boosted spawn and shiny rates over that weekend, but it is still possible to get shiny Shuckle from wild encounters and raids (a reminder not to try and solo T3 Shuckle. It cannot happen!).
To the surprise of many players, shiny Lapras has also made itself known with the boosted Lapras rates in Sentosa, though these boosted spawns were not released globally. Shiny Lapras can be encountered in the wild, Research Tasks, and if it ever comes back to raids. The easiest way to hunt Lapras is with the Research Task: 'Win 5 Gym Battles'.
| Shuckle | Lapras |
| --- | --- |
| | |
Torchic Community Day
A reminder that the next Community Day is our Hoenn bird, Torchic. Below are all the bonuses and details associated with May's Community Day!
Event
Torchic Community Day
Date & Time
Globally May 19, 2019, from 3:00 p.m. to 6:00 p.m. (local time)
Features

Torchic will appear more frequently in the wild.
Lure Modules will last three hours for the duration of the event.
You may encounter a Shiny Torchic if you're lucky!
Evolve Combusken during the event or up to one hour afterwards to obtain Blaziken that will know an exclusive move!

Bonuses
3× Catch Stardust
For your viewing pleasure, here is the Torchic family along with their shinies.

As always, our full-detailed article can be found: Torchic Community Day is Coming May 19, 2019!
Earth Day Cleanup Progress
On April 25th, Niantic announced that 5000 people have participated in the Earth Day Cleanup event, and with one weekend left to go, we need to reach 7000 players to unlock all the bonuses with the event, including Groudon.
Over 5,000 players have already participated in #EarthDay cleanups around the world, but there's only one more weekend to go to unlock the final rewards! Find an event near you and help unlock amazing rewards in @Ingress & @PokemonGoApp. #AugmentingReality https://t.co/bA4Gh2Wy4T

— Niantic, Inc. (@NianticLabs) April 26, 2019
All the details of the bonuses that can be unlocked by this event can be found here: Niantic's Earth Day Cleanup
Final Thoughts
A lot has happened in Pokémon Go recently, and there is a lot to come! So, start opening those Meltan Boxes, searching for the Lapras Tasks (Win 5 Gym Battles), and prepare yourself for the new Research Breakthrough beginning May 1st, 2019 at 1 pm PDT (do not claim the box before then if you want a shot at the new line-up!).